Grimoire 3rd Anniversary – Dolly Kei Hair Styling Extravaganza
A magnificently dressed Japanese crowd – including numerous Dolly Kei girls – converged on Aoyama earlier this month to celebrate the third anniversary of Grimoire – one of Tokyo's most beloved vintage clothing boutiques. Everyone here at TokyoFashion.com is a fan of the Grimoire crew, and we are really happy for them for all that they've accomplished. This last year has been a great one for Grimoire, with their popularity ever increasing and the opening of their new shop, Grimoire Almadel. The influence that Grimoire – and the Dolly Kei movement for which it's best known – has had on the Tokyo fashion scene in the last three years is truly incredible.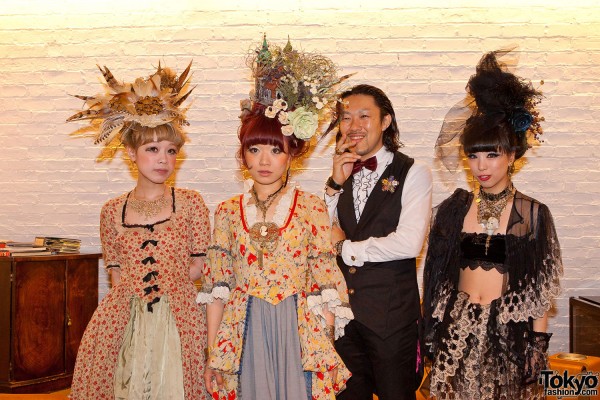 Grimoire is a vintage clothing boutique in Shibuya – but it's more than just a shop. There's a very dedicated community of Dolly Kei and Dolly Kei-influenced girls (and even some boys) in Tokyo. This style tribe is centered around Grimoire and a few other vintage boutiques (including Cult Party and The Virgin Mary). When Grimoire/Dolly Kei first appeared on the streets several years ago, the look was completely new and fresh. (Even Courtney Love was intrigued).
As time passed, the Dolly Kei looks became more diverse. Now, we often see Dolly Kei influence in outfits from totally different styles and subcultures. And we've even seen mainstream Japanese brands and fashion magazines adopting some of the Dolly Kei stylings. All of this has happened in the three short years since Grimoire first opened. Pretty amazing!
None of Grimoire's incredible success would have been possible without the hard work and creativity of the shop's manager Hitomi Nomura and the owner Naoaki Tobe. There are also a core group of Grimoire customers who have helped to spread the Dolly Kei gospel throughout Tokyo and the world, via countless snaps in magazines as well as their presence on the streets and at fashion events. Of that core group, Kaori, Saki, and Heri were all at the Grimoire 3rd Anniversary Party (just as they were at the Grimoire 2nd Anniversary last year).
We felt very lucky to score an invite to Grimoire's big bash, and we were excited to be able to bring back a report to share with all of you who couldn't make it. Knowing how supportive TokyoFashion.com readers have been of Grimoire over the years, Hitomi-san and Naoaki-san amazed us with their kindness by offering us an extra-special opportunity to witness the behind-the-scenes preparation for the party. The Grimoire crew invited us to tag along as they prepared their fashion, hair, and makeup for the big event. We thought this was so awesome that we are dedicating this first report just to the pre-party preparations. If you've ever wondered how Hitomi's hair can possibly look so amazing, this one's for you!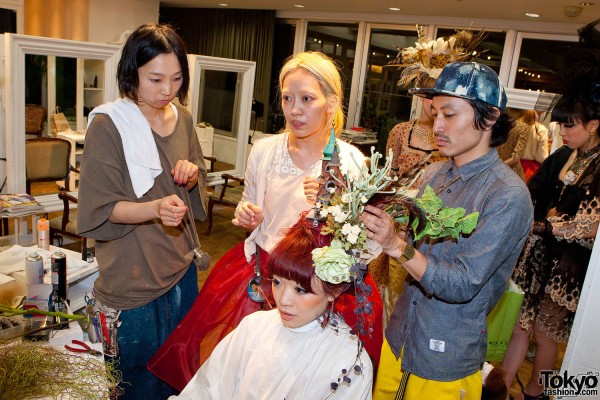 The first stop of the afternoon was the Grimoire shop – where Naoaki, Hitomi, and Kaori chose the perfect outfits and accessories for the party. After perfecting their fashion, the three were joined by Saki as they headed out to the famous Bloc de Gemmes hair salon in Shibuya. Bloc de gemmes is known for the talent of its hairdressers as well as for its beautiful vintage interior design, which was a perfect match for the vintage stylings of the Grimoire crew. At Bloc, we watched as the stylists did their magic. The magic included the creation of Hitomi's incredible headdress – featuring a miniature haunted house!
Rather than reading our explanations, we think you'd be much better off just looking at all of the pretty pictures. Every one of these photos can be clicked to see in glorious high resolution. And remember, this is just the first part of our report. In part two, the fully-styled Grimoire entourage will depart Bloc de Gemmes and meet up with hundreds of friends and fans at the big birthday bash! For now, enjoy the pre-party pictures!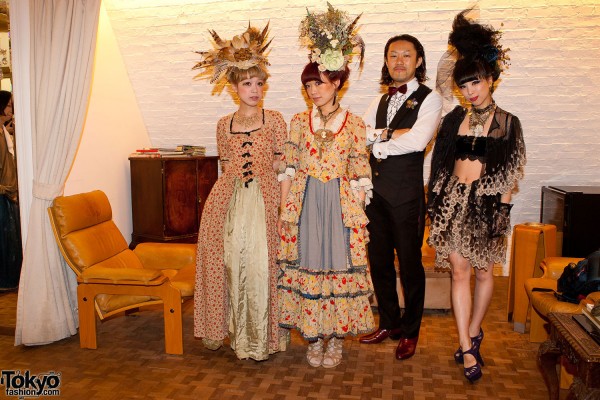 Once Bloc de gemmes finished their amazing hair styling, everyone headed out for the Grimoire third anniversary party in Aoyama. Check back soon for the second part of our Grimoire report with 100+ amazing pictures from the party.
Until then, check out the following links for more info:
About the photographer: Michael Steinebach has been fortunate enough to travel and see the world. Exposed to the limitless possibilities of photography 20 years ago, he grew up looking at things differently. He currently shoots in the areas of people, fashion, and news photography in Japan. He maintains a Facebook page with samples of his work. He can be emailed about contract work or with questions or comments on his photography.