Halloween in Japan 2014 – Costume Pictures & Video
The Halloween countdown is on, and there is no more fun place to celebrate a holiday based around costumes than in the cosplay capitol of the world – Japan!
For years, TokyoFashion.com has been covering the amazing costumes that we see on the streets of Tokyo during the Halloween season. In the last few years, Halloween has exploded in popularity in Japan, and that means even more fun – and more amazing costumes.
Although we cover several different events – and we shoot in both Harajuku and Shibuya – our central focus every Halloween is the streets of Shibuya. The famous Center Street and Shibuya Scramble areas turn into a big cosplay street party on the weekend-before-Halloween and, of course, on Halloween night.
We will be posting another massive Halloween Night Shibuya Street Party Video right after the party ends, and we're planning to shoot hundreds of videos as well, so make sure to check back on Halloween. In the meantime, please enjoy our ongoing coverage of the events leading up to Halloween in Japan.
Tokyo Halloween Costume Street Party Video (Watch on YouTube)
Halloween Night Tokyo Costume Street Snaps (See All Pics)

Click here to see the full photo set on Flickr.
Weekend-before-Halloween Costume Street Snaps in Shibuya (See All Pics)

Click here to see the full photo set on Flickr.
VAMPS Halloween Party 2014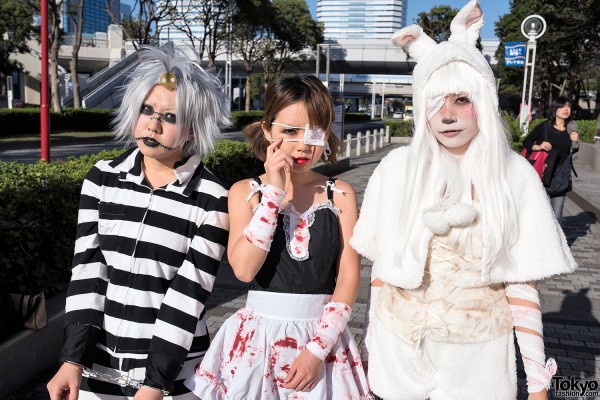 Click the photo to see our VAMPS Halloween Party 2014 pictures & video.
Keep checking back as we update this page with new Halloween pictures and video!
Happy Halloween everyone!