"Harajuku Collection" by Spinns – Spring 2012 Fashion Show with Silent Siren & Kyary
Spinns is one of the most popular shops in Harajuku, appealing to young Japanese girls and guys seeking the latest trendy street fashion at a price they can afford. Located next door to international mega-chains H&M and Forever21, Spinns has made a name for itself by remaining proudly Harajuku-centric. Kyary Pamyu Pamyu was participating in Spinns fashion shows and events long before she was a household name. Other loved-in-Harajuku models like Una and Seto Ayumi had their breakthrough moments while working with Spinns. The shop has also collaborated with up-and-coming Japanese musicians, idols and performers. Harajuku has exploded in popularity in the last year, and Spinns has been an important part of that boom.
So when Spinns held their Spring 2012 "Harajuku Collection" fashion show at Astro Hall last week, it was guaranteed to be packed with excited Harajuku kids – and many of the top models and performers from the Harajuku scene were sure to participate. Another thing that was guaranteed as well – TokyoFashion.com wouldn't miss it!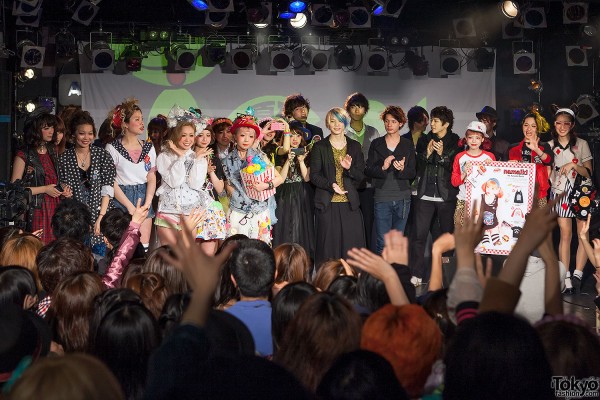 The Spinns "Harajuku Collection" Spring 2012 fashion show was presented in a format pioneered by Tokyo Girls Collection: a mix of fashion shows, musical acts, and special guest appearances, all in a party atmosphere. The line outside of Astro Hall in Harajuku was long hours before the event started. The crowd, almost all teen girls, dressed up in the latest Harajuku trend items – plenty of tattoo tights, denim shirts, acid wash, and cat-graphic bags.
Harajuku Collection featured fashion shows by each of the major Spinns brands – Tricolour, Apply, Re Plus, God Harajuku, and Namiki. In between fashion shows, guests were treated to a quiz show featuring the models (Una won!), a talk show with the stylish Japanese actor Chiba Yudai, a snap session where members of the audience could take photos with well-known Harajuku models (Seto Ayumi, Una, etc.), and the finals of the "Spimo" modeling contest where girls (and one guy) competed for the chance to become the next Spinns model (and win a trip to South Korea).
The musical guests for Spinns Harajuku Collection were Silent Siren (a Japanese pop-rock group featuring several popular magazine models) and Kyary Pamyu Pamyu. Both acts entertained the crowd with enthusiastic live sets. Kyary and her cute kid dancers even came back for an encore after the crowd demanded more more more!
We've been reporting on Spinns Harajuku since before the shop even opened, so we were lucky enough to be invited to the Spring 2012 Harajuku Collection show. We brought back lots of pictures so you can share in the fun. The Spinns events are more like big parties than traditional fashion shows, so it can be difficult to properly photograph the stage. Basically, it's like being in the pit at a rock concert and trying to photograph what's going on while battling huge excited crowds. You might notice a few heads and hands in the pictures. Hopefully, that will make you feel more like you were right there in the middle of the crowd with us!
Enjoy the pictures (and video) and remember that you can click any of the images to see them in high resolution.
Tricolour Fashion Show at Spinns Harajuku Collection
Apply Fashion Show at Spinns Harajuku Collection
Model Quiz Show at Spinns Spring 2012 Fashion Show
Model Contest at Spinns Harajuku Fashion Show
Spinns Harajuku Talk Show with Chiba Yudai
Audience Snaps at Spinns Harajuku Collection
Silent Siren at Spinns Harajuku Collection
Re Plus Fashion Show at Spinns Harajuku Collection
God Harajuku Fashion Show at Spinns Collection
Namiki by Seto Ayumi Fashion Show
Spinns Harajuku Model Contest Winner
Kyary Pamyu Pamyu at Spinns Harajuku Collection
Spinns Harajuku Collection Grand Finale
Spinns Harajuku Collection – Behind the Scenes Pictures
Spinns Harajuku Collection – Behind the Scenes Video
The cast of models at Harajuku Collection included Seto Ayumi, Una, Kurumi Nakada, Yura, Yako, Minami Katsu, Mito Natsume, Sumire Yoshida, Aina Yamauchi, Umemura Hinako, Sogawa Ayana, Mako Nakamura, Mikki, Kouki Yoneshige, Ryo Kitamura, Hirata You, Nojima Tomohiro, Ryosuke Fujiki, Tatsuro Kawashima, Yohei Soeda, GOD & more.
The next time you're in Harajuku, don't forget to stop into Spinns and check it out. We want to send out a big "Thank You" to Spinns for once again inviting us to their event. If you'd like to know when the next Harajuku Collection show will be held – or if you have any other questions about Spinns – check out the brand's official website!
Most photos by Kira, exclusive to TokyoFashion.com. Kyary, Silent Siren, and backstage images copyright Spinns, used by permission.
***
About the photographer:
Born in Japan, educated in Japan and the US, Kira shoots exclusively with Canon DSLRs. Photography assignments include fashion, bands, sporting events, and portraiture for various companies and bands throughout Japan & the world. His portfolio can be viewed at Artist-Photo.