Harajuku Fashion Walk #11 – Kawaii Summer Fashion & Fun in Tokyo
Tokyo summers can be pretty hot and humid, but neither brutal heat nor freezing cold can stop the colorful kids of Harajuku. It's been a couple of months since Harajuku Fashion Walk #10. That can mean only one thing – it's time to walk again. Last weekend, over fifty people gathered in Tokyo's center of youth culture for the Summer 2012 edition of Harajuku Fashion Walk. (If you aren't familiar with the walk, check out our recent HFW documentary movie.)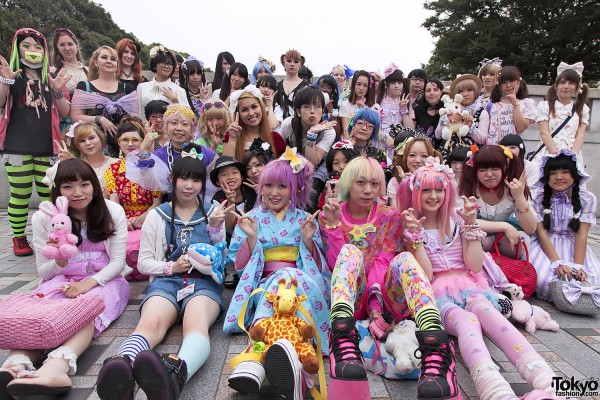 The 11th Harajuku Fashion Walk featured all of the colorful, cute, and sometimes dark fashion that the walk has become famous for – along with lots of familiar faces, a number of new walkers, the return of Kumamiki (she was sick last time), and quite a few international guests (from as far away as Iceland). One of the goals of the Harajuku Fashion Walk organizers is to promote Harajuku culture around the world. This HFW included the highest numbe of international participants yet. Everyone seemed to be having a good time and making friends (two of the other goals of the walk), so it looked like a big success to us.
But don't take our word about the fun had by all on this edition of the walk. Check out all of the pictures and video below and enjoy Harajuku Fashion Walk #11 for yourself. Also, check back soon for our street snaps of the HFW participants!
Harajuku Fashion Walk #11 Video (by Kaila)

Please subscribe to the official TokyoFashion YouTube Channel!
Harajuku Fashion Walk #11 Pictures
Click any of the Harajuku Fashion Walk #11 pics to enlarge them!
A big thank-you to all of the Harajuku Fashion Walk participants, as well as to the HFW organizers. Harajuku Fashion Walk is always a fun time. We definitely encourage you to take part if you're ever in Harajuku at the time of the event.
For information on the next Harajuku Fashion Walk, as well as other related events (like the Pop N Cute parties), check the official HFW blog or follow them on Twitter.
Photos by Daishi. Video by Kaila.
***
Daishi Hamada is a Japanese photographer and musician who specializes in band photography in Tokyo. You can find out more about him and see more of his work at his official website.
About the filmmaker:
Kaila is a graduate of Bunka Fashion College's sister school — Bunka Institute of Language. She loves taking photographs, getting lost in her own world and discovering new places with her fisheye, making accessories out of boredom and blogging whatever goes in her Japan life.