Harajuku Fashion Walk #9 – Kawaii Japanese Street Fashion Parade
Harajuku Fashion Walk is a fun Japanese street fashion event we've been covering since it began. As winter gives way to spring in Tokyo, the Harajuku Fashion Walk crew celebrated the warming weather by gathering for the 9th edition of the walk. Harajuku Fashion Walk #9 featured lots of the kawaii and colorful fashion the event is famous for, plenty of (smiling) familiar faces, a number of new members, and fun fun fun!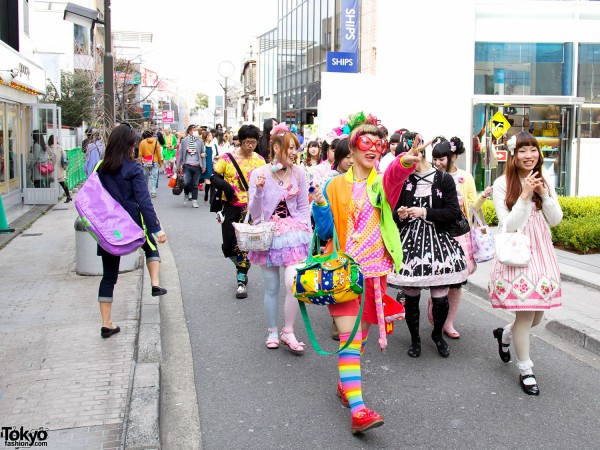 The concept behind Harajuku Fashion Walk is to promote freedom in fashion, encourage people to have fun in Harajuku, and to build friendships. Fashion Walk members support each other in wearing whatever makes each of them happy. The walk, which takes place on a Sunday usually every other month, starts at Harajuku Station and makes its way past the famous LaForet Harajuku, down Cat Street and Omotesando Dori, and passes many well-known Harajuku sights including the 6%DOKIDOKI shop and Design Festa Gallery. After the walk, Harajuku Fashion Walk participants gather at a space in Harajuku for a party and sweets.
Thanks to the kindness of the Harajuku Fashion Walk organizers, we were once again invited to take pictures and video of the walk to share with those of you who couldn't make it in person. Harajuku Fashion Walk is an event that actively encourages international participation, so if you do happen to be coming to Japan in the near future, please check the official website for the HFW schedule! Enjoy the pictures and video and hope to see you at a Harajuku Fashion Walk in the near future!
Harajuku Fashion Walk #9 Video

Please subscribe to the official TokyoFashion YouTube Channel!
Harajuku Fashion Walk #9 Participant Street Snaps
Click any of the Harajuku Fashion Walk #9 street snaps to enlarge them!
Harajuku Fashion Walk #9 Pictures
Click any of the Harajuku Fashion Walk #9 pictures to enlarge them!
For more information on Harajuku Fashion Walk, check out the official website or the Harajuku Fashion Walk Twitter.
Photos by Kira & 1K Films. Video by Kaila.
***
About the photographers:
Born in Japan, educated in Japan and the US, Kira shoots exclusively with Canon DSLRs. Photography assignments include fashion, bands, sporting events, and portraiture for various companies and bands throughout Japan & the world. His portfolio can be viewed at Artist-Photo.
1K Films is a full production independent video company working in both the US & Japan. For more info, check out the 1K Films website.
About the filmmaker:
Kaila is a graduate of Bunka Fashion College's sister school — Bunka Institute of Language. She loves taking photographs, getting lost in her own world and discovering new places with her fisheye, making accessories out of boredom and blogging whatever goes in her Japan life.