Harajuku Fashion Walk Presents "Pop N Cute" with Broken Doll
Harajuku Fashion Walk – Tokyo's most kawaii street fashion parade – takes place every other month, with the next one planned for this coming weekend. When the Fashion Walk kids aren't out walking the streets of Harajuku together in colorful outfits, what do they do for fun? They organize parties where they can dress up in even more colorful fashion and hang out with friends. The latest Harajuku Fashion Walk-produced "Pop N Cute" party – held recently at Shibuya Milkyway in Tokyo – was their biggest party yet!
Pop N Cute featured a mix of artists, models, musicians, fashion designers, and lots of random people with one common goal – fun!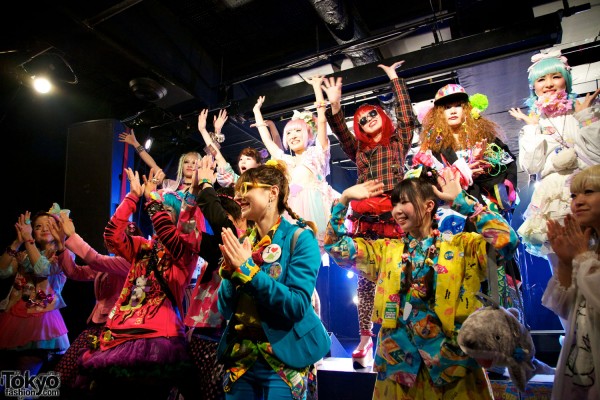 The lineup for this edition of Pop N Cute included Broken Doll (celebrating the release of their new album) and The Lady Spade (who joined Broken Doll on stage for a cover of Madonna's "Material Girl") as musical guests; fashion shows by Hyper Core, Super Lovers, and the Harajuku Fashion Walk Kids; popup shops by Broken Doll, 90884, Party Baby, and Maro's brand; dancing by Shakey; live art by Kurebayashi (Kera model) and Karin & Machico; live sewing by Kumamiki; and DJing by Nico and Choco. The crowd was also delighted when Harajuku legend Neeko made a surprise appearance!
The party-goers at this edition of Pop N Cute were mostly Japanese, but there were also several international attendees. The promoters are actively encouraging foreigners to attend future Pop N Cute and Harajuku Fashion Walk events with the goal of building friendships and spreading Harajuku culture. So if you're planning to visit Tokyo, definitely check the Harajuku Fashion Walk schedule!
Over the last few years we have become good friends with the Harajuku Fashion Walk crew, so we were very happy to attend this event and bring back photos and video to share with you. We hope that the images will give you an idea of how much fun everyone was having. We also hope that you'll get a chance to join in person sometime soon! Enjoy all of the Pop N Cute awesomeness, and remember that you can click any of the pictures to see them in high resolution!
Also, check out the second part of our coverage, featuring snaps of the kawaii fashion worn by Pop N Cute party-goers.
Pop N Cute Party by Harajuku Fashion Walk Video
Don't forget to Follow TokyoFashion.com on YouTube.
Pop N Cute Party Pictures
Click on any of the Pop N Cute party pics to enlarge them!
A big thank you to the entire Harajuku Fashion Walk and Pop N Cute crew, as well as everyone who attended the party. We had a great time and appreciate everybody posing for our pictures and video.
Please don't miss the second part of our coverage featuring kawaii snaps of many of the Pop N Cute party-goers!
For more information on the Pop N Cute party participants, check the following links:
Photos by Kira. Video by Kaila.
***
About the photographer:
Born in Japan, educated in Japan and the US, Kira shoots exclusively with Canon DSLRs. Photography assignments include fashion, bands, sporting events, and portraiture for various companies and bands throughout Japan & the world. His portfolio can be viewed at Artist-Photo.
About the filmmaker:
Kaila is a graduate of Bunka Fashion College's sister school — Bunka Institute of Language. She loves taking photographs, getting lost in her own world and discovering new places with her fisheye, making accessories out of boredom and blogging whatever goes in her Japan life.