Harajuku Halloween Party by Pop N Cute Coming Oct 21, 2012
Halloween may not be a traditional Japanese holiday, but young people in Japan – like their contemporaries around the world – are always happy to have a chance to dress up and party! In the spirit of spooky fun, the Harajuku Fashion Walk crew announced that their 2012 Halloween party will be held on October 21, 2012 – and everyone is invited. We enjoyed last year's Harajuku Halloween party so we're sure this one will be a blast as well!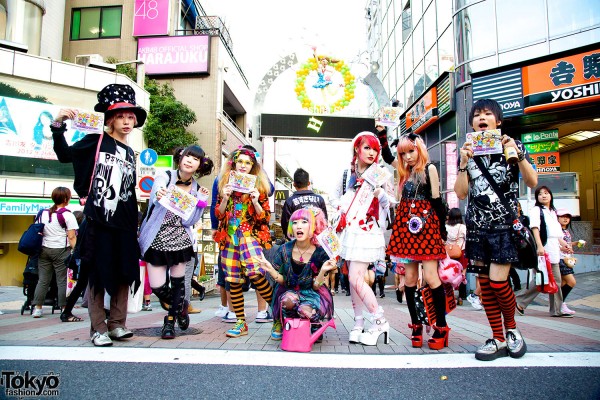 The 2012 Pop N Cute Halloween party will feature fashion shows (including one by the Harajuku Kids themselves), live bands (Harajuku favorites Broken Doll are on the bill), DJs (Choco from Spank! and Kumamiki will be spinning), popup shops (Party Baby, etc.), and more. Everyone is encouraged (but not required) to dress up for Halloween. The party will take place October 21st at Club Milkway in Shibuya with an entrance price of 2,300 yen (+ 1 drink ticket) at the door. Full details at the bottom of this article.
Last weekend, we met up with a group of Pop N Cute attendees in Harajuku for a quick photoshoot while they were out promoting the upcoming Halloween party. You will no doubt recognize most of the people in these pics from various Tokyo street fashion magazines and websites. We had a lot of fun taking photos of them around Harajuku. Please enjoy the pictures and we hope to see you at the Pop N Cute 2012 Harajuku-themed Halloween Party!
Click any of the spooky Harajuku pics to enlarge them.
We'd like to send out a thank,you to Junnyan, Kumamiki, and all of the Harajuku Fashion Walk / Pop N Cute crew for taking time to pose for our photos. We're looking forward to seeing the Harajuku Kids – and hopefully you – at the Halloween party later this month!
Here is all of the important Pop N Cute Halloween Party 2012 info:
What: A Halloween party featuring Harajuku-themed fashion, music, art, and more!
Featuring: Live bands, fashion shows, DJ, popup shops, and more!
When: Sunday, October 21, 2012
Where: Shibuya Milky Way
Hours: Doors Open 17:30, Party Starts 18:00, Ends 22:00
Ticket: (At the door) 2,300 yen +1 drink (1,500 yen +1 drink if you are a high school student)
Website & Map: Official HFW Website
All photos by Kira.
***
About the photographer:
Born in Japan, educated in Japan and the US, Kira shoots exclusively with Canon DSLRs. Photography assignments include fashion, bands, sporting events, and portraiture for various companies and bands throughout Japan & the world. His portfolio can be viewed at Artist-Photo.