Harajuku Kawaii Winter 2011-2012 – 5iVE Star Student Fashion Show Pictures
The Winter 2011-2012 Harajuku Kawaii fashion and music event – held recently in Tokyo – featured fashion shows from several famous brands, Japanese magazine models, and even Kyary Pamyu Pamyu. Our first Harajuku Kawaii photo report presented full coverage of all that super cute main stage fun. Now it's time to take a look at some of the more experimental/underground elements of Harajuku Kawaii. In addition to the big brands, there were several fashion shows dedicated to the creations of up-and-coming Japanese fashion students under the banner of "5iVE Star".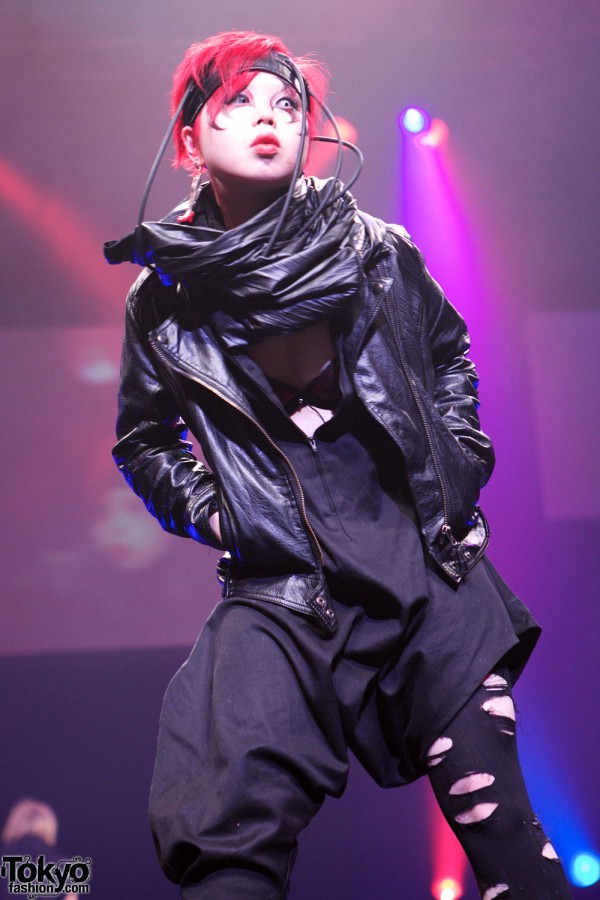 5iVE Star is an organization which works with ambitious Japanese fashion design students, giving them the resources to produce professional fashion shows during which they can show off their creations in a real world environment. 5iVE Star's mission statement explains their goals thus:
Nowadays, students at vocational schools and universities have fewer opportunities to demonstrate their creativity. Also, it is very difficult for them to find the creative jobs they have been dreaming of. 5iVE Star have been organizing events so that young fashion designers will be able to move on to become creative professionals.
With a goal of fostering creativity, 5iVE Star fashion shows don't have the same constraints as commercial fashion shows. The up-and-coming designers involved in the 5iVE Star shows at Harajuku Kawaii were given the freedom to choose both the themes of the shows and the individual outfits and pieces to be shown. One trait the 5iVE Star shows shared with the main Harajuku Kawaii fashion shows is that both were as much about making sure the audience had fun as they were about fashion.
The 5iVE Star designers presented five different shows at Harajuku Kawaii – "Twenty Party", "Thousand Leaves", "Starlight", "he:ptagon" and "Re:noiR". The fashion on display ranged from candy sweet Harajuku designs (with candy, literally) to dolly/cult party-inspired styles to dark gothic looks to kimono. In addition to the variety of creative fashion on display, we were also happy to see a number of up-and-coming Japanese models walking in the 5iVE Star fashion shows. If you look close, you'll recognize several models we've street snapped in Harajuku.
Enjoy all of our Harajuku Kawaii 5iVE Star fashion show pictures. The next generation of Japanese fashion designers created all of these looks, so you might just be getting a sneak peak at the future of fashion in Japan! Click any of the photos to see them beautiful high resolution!
Twenty Party Fashion Show by 5iVE Star at Harajuku Kawaii
Thousand Leaves Fashion Show by 5iVE Star at Harajuku Kawaii
Starlight Fashion Show by 5iVE Star at Harajuku Kawaii
he:ptagon Fashion Show by 5iVE Star at Harajuku Kawaii
Re:noiR Fashion Show by 5iVE Star at Harajuku Kawaii
Click any of the Harajuku Kawaii 5iVE Star pictures to enlarge them!
Make sure you also check out the first part of our Harajuku Kawaii coverage, with 200+ more pictures of the main fashion shows and Kyary Pamyu Pamyu's concert! We want to send out another big thank you to the Harajuku Kawaii organizers for inviting us to cover their event. We're already looking forward to the next edition!
For more information on Harajuku Kawaii check the following links:
All photographs by Will Robb.
About the photographer:
As long as he is behind his camera Will is a happy man. He has photographed everything from the slums of Bangkok to the catwalks of Tokyo. He is a contract photographer for Lonely Planet, his images and photo essays have appeared in Time Out, The Japan Times, Sportswear International and a variety of other newspapers, magazines and guidebooks around the world and his photo essays from Iraq for The Griffith Review even earned him a mention in the Australian book review of the year in 2006. In addition to his media related work, Will also shoots events, portraits, weddings and the occasional CD cover. His full portfolio can be found at WillRob.com and whatever he's working on, he always writes about his jobs and how he goes about them at Will Robb Photography.