"Harajuku Kawaii" Pictures Winter 2011-2012 – Cute Japanese Fashion & Kyary Pamyu Pamyu
"Harajuku Kawaii" is not just a phrase describing the lifestyle of denizens in Tokyo's most fashionable neighborhood. It's also the name of an event packed with fashion, music and fun taking place in Tokyo several times a year. Harajuku Kawaii is similar to the famous Tokyo Girls Collection. However, whereas TGC leans toward Shibuya and mainstream real clothes brands, Harajuku Kawaii is a showcase for the cute fashion worn by girls who roam the streets of Harajuku. In addition to the many fashion shows, the Winter 2011-2012 event also featured the reigning queen of all-things kawaii-in-Harajuku – Kyary Pamyu Pamyu!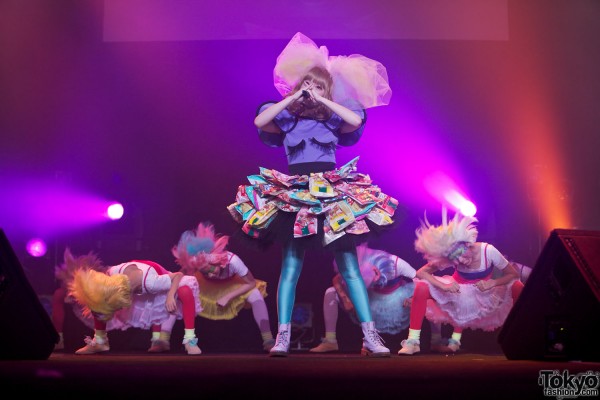 Harajuku Kawaii Winter Edition was held at Studio Coast and hosted by the famous Japanese twin models, Ami and Aya. The event featured fun runway fashion shows from a dozen established Harajuku-friendly fashion brands (Spinns, Galaxxxy, Namaiki, etc.) as well as a kimono fashion show, a live performance by Kyary, and a set of fashion shows presented by Japanese fashion students. There was so much fun and fashion on display that we are going to break our coverage into two separate reports. This first report will show you the established Japanese fashion brands and Kyary. Our second report covers the more experimental Harajuku Kawaii 5iVE Star fashion shows.
Lovers of Harajuku fashion will recognize many familiar faces walking the Harajuku Kawaii catwalk. Well-known Harajuku models Ayumi Seto, Apochi, Una, Shiho Takechi, Yura, Fumiko Aoyagi, and more were on hand to show off this season's fashion while interacting with their excited fans. Attendees were also treated to seeing several of Harajuku's most famous models wearing colorful kimono during a special fashion show.
In between the Harajuku Kawaii fashion shows, Kyary Pamyu Pamyu appeared on stage and performed a high energy set featuring her hit "Pon Pon Pon" as well as her current single "Tsukema Tsukeru". Kyary was backed by a super-cute group of colorfully dressed young dancers. Harajuku Kawaii lived up to its name – from the fashion, to the music, to Kyary's adorable dancers – everything was cute, cute, and more cute!
See just how cute it all was by viewing all of our Harajuku Kawaii pictures below. Click any of the photos to see them in high resolution.
Ami & Aya Opening Harajuku Kawaii
Ciaopanic Fashion Show at Harajuku Kawaii
Double Name Fashion Show at Harajuku Kawaii
Ray Cassin Fashion Show at Harajuku Kawaii
Kimono Fashion Show at Harajuku Kawaii
Mystic Fashion Show at Harajuku Kawaii
Earth Music & Ecology Fashion Show at Harajuku Kawaii
Pageboy Fashion Show at Harajuku Kawaii
Spinns Fashion Show at Harajuku Kawaii
Namaiki Fashion Show at Harajuku Kawaii
Galaxxxy Fashion Show at Harajuku Kawaii
Kyary Pamyu Pamyu Concert at Harajuku Kawaii
Khaju Fashion Show at Harajuku Kawaii
E Hyphen World Gallery Fashion Show at Harajuku Kawaii
Mysty Woman Fashion Show at Harajuku Kawaii
Harajuku Kawaii Grand Finale
Click any of the Harajuku Kawaii pictures to enlarge them!
We'd like to send out a big "Thank You!" to all of the Harajuku Kawaii brands and performers, as well as the organizers for inviting us to their event. If you ever get a chance, we definitely recommend that you go see Harajuku Kawaii for yourself in person!
For more information on Harajuku Kawaii check the following links:
Don't forget to check out second part of our coverage – with 150 more pictures of Harajuku Kawaii 5iVE Star fashion shows. Also, don't miss our Harajuku Kawaii street snaps!
All photographs by Will Robb.
About the photographer:
As long as he is behind his camera Will is a happy man. He has photographed everything from the slums of Bangkok to the catwalks of Tokyo. He is a contract photographer for Lonely Planet, his images and photo essays have appeared in Time Out, The Japan Times, Sportswear International and a variety of other newspapers, magazines and guidebooks around the world and his photo essays from Iraq for The Griffith Review even earned him a mention in the Australian book review of the year in 2006. In addition to his media related work, Will also shoots events, portraits, weddings and the occasional CD cover. His full portfolio can be found at WillRob.com and whatever he's working on, he always writes about his jobs and how he goes about them at Will Robb Photography.