Harajuku New Year's Day 2010 Sales & Lucky Bags
New Year's Day is a day when many – maybe most – of us think of sleeping in to recover from the hard partying that we did the night before. But, in Tokyo, it's also a big shopping day. Some shops and department stores close on the first and re-open on the second, but the stores that do open on the first day of the year are usually packed.
Probably the most famous New Year's Day shopping spot for fashionable young Japanese girls (and a few guys too) is LaForet Harajuku. In fact, when we were stumbling home after our New Year's Eve parties – around 6am in the morning of New Year's Day – there were already girls lining up outside of LaForet so that they could be the first into the department store when it opened (opening time was still hours away). That's dedication!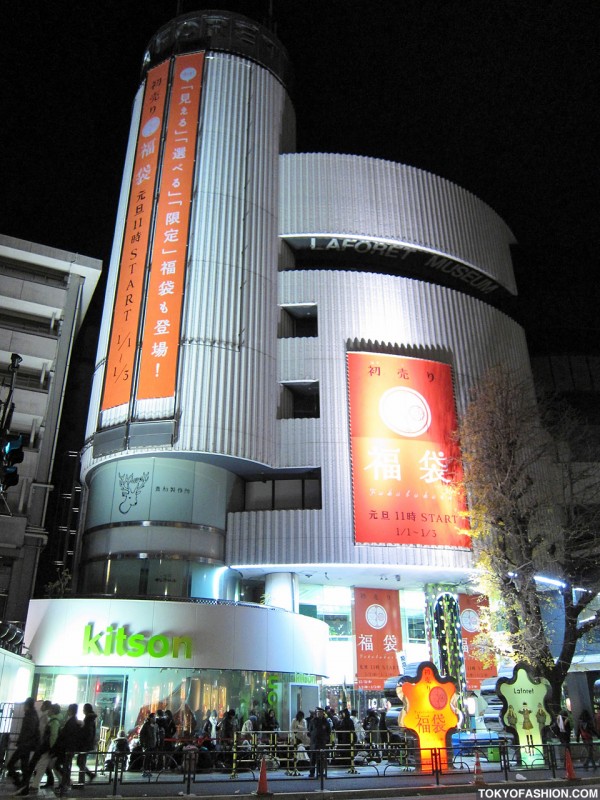 Most of the shops on Takeshita Dori are also open on the first day of the year in Japan. The shops that do open for New Year's Day usually have the famous Japanese fukubukuro on sale – attracting large crowds of excited shoppers. Fukubukuro (also known as Lucky Bags, Mystery Bags, Happy Bags, or Fun-Word-Here Bags) are fixed-price bags that you buy from a shop without knowing what's inside. The attraction is that you can get a huge value for your money. If the bag costs 10,000 yen (US$110), it might have 50,000 yen (US$535) worth of goodies inside. It's a way for shoppers to get much more from their favorite shops and brands than they can get at any other time of the year. The downside is that you don't know what's in the bag, so you might be getting some of last-year's fashion or something that doesn't fit or something strange that will shock you. But if that's the case, then you can always turn around and try to sell it on Yahoo Auctions, right?
While we were not able to wake up early enough to catch the morning mayhem at LaForet (we partied a little too hard on New Year's Eve for that), we did take a quick evening walk down Takeshita Dori and Meiji Dori to see what was going on. We tried to hit Cat Street too, but it looked like most of the shops there were waiting for January 2nd to get their fukubukuro on. So, please enjoy these photos from New Year's Day evening (sounds like a contradiction, but I think it's correct?) in Harajuku: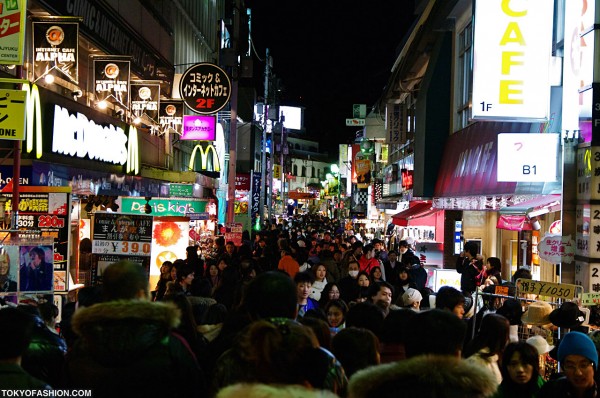 Looking down Takeshita from Harajuku Station.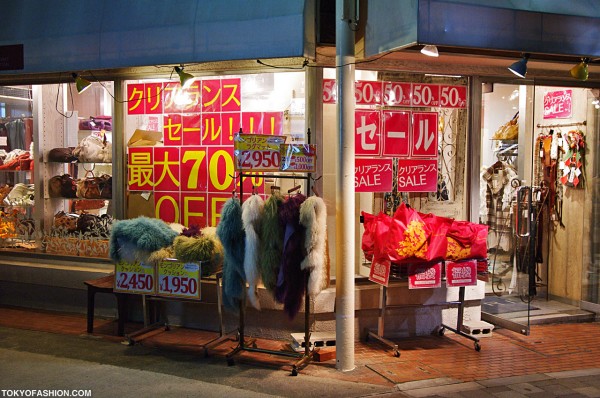 Trpp Girl Lucky Bags!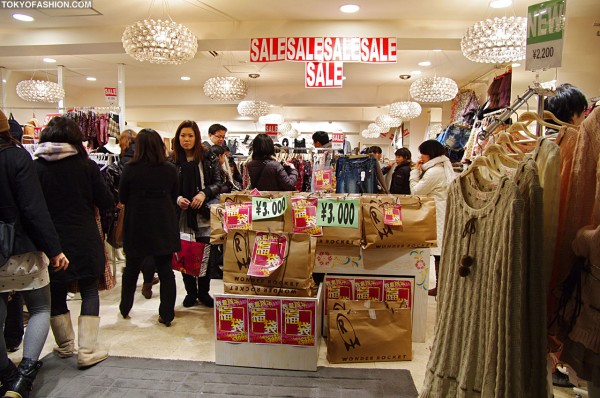 Wonder Rocket fukubukuro.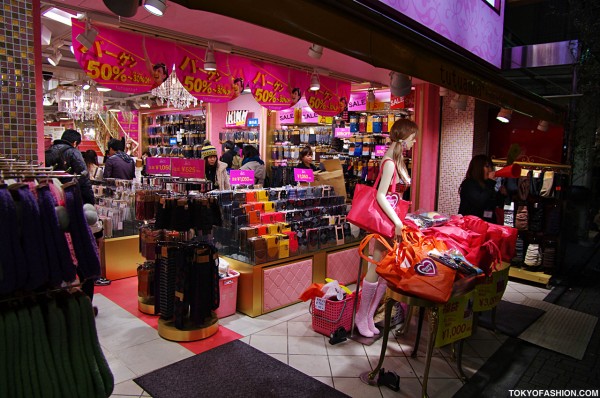 Tutuanna – underwear and leggings – everything on sale!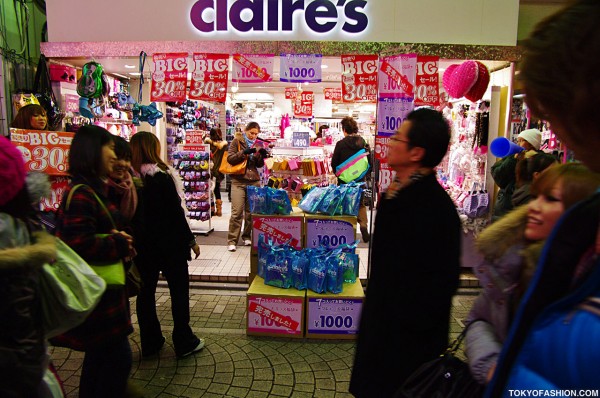 Claire's accessories.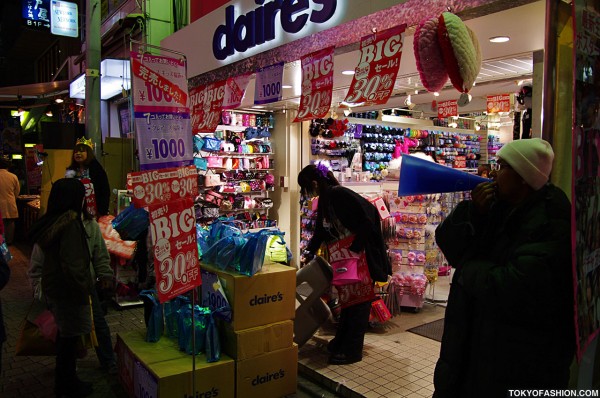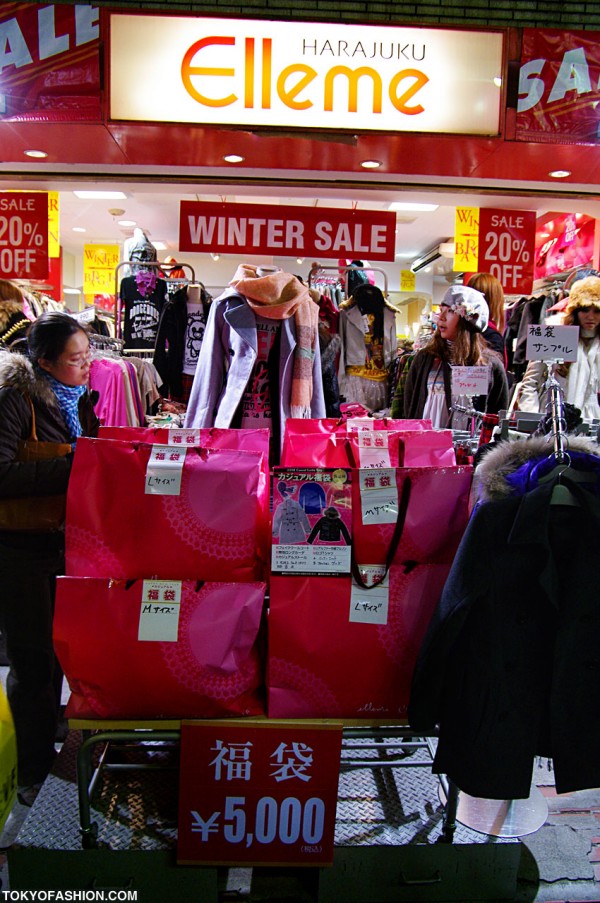 Elleme Winter Sale!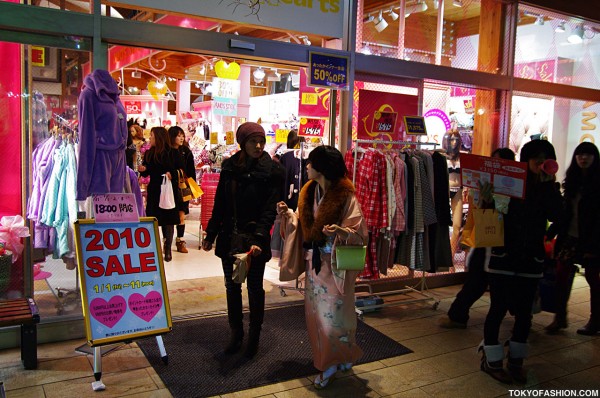 Amo's Style and a woman in a kimono!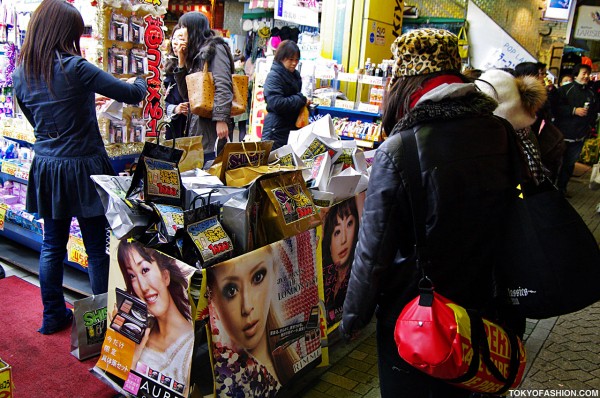 Lots of cosmetics on sale.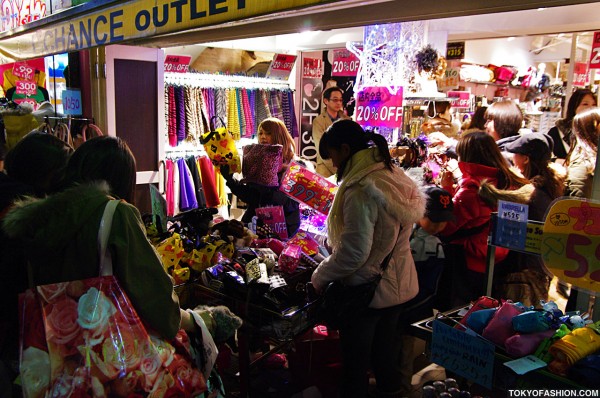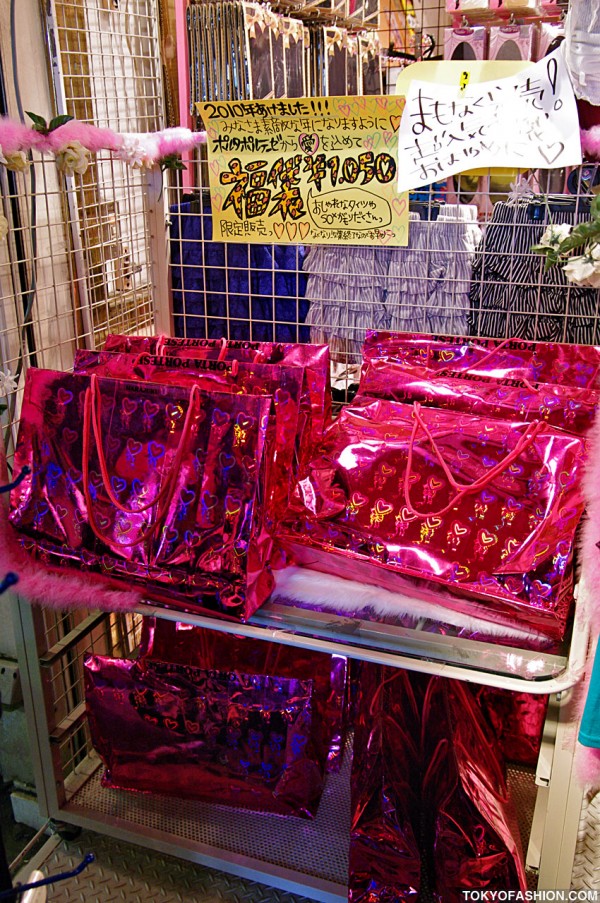 Porta Portese Harajuku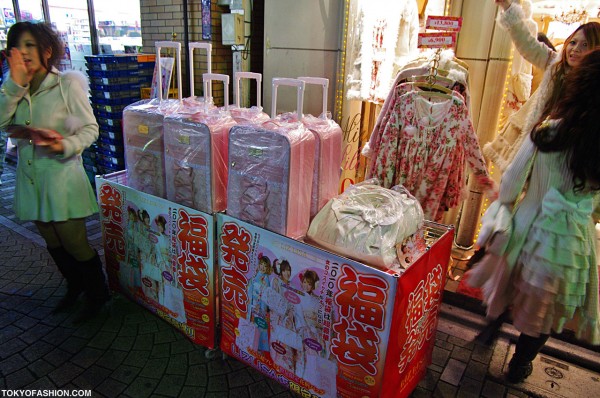 Liz Lisa big rolling lucky bags!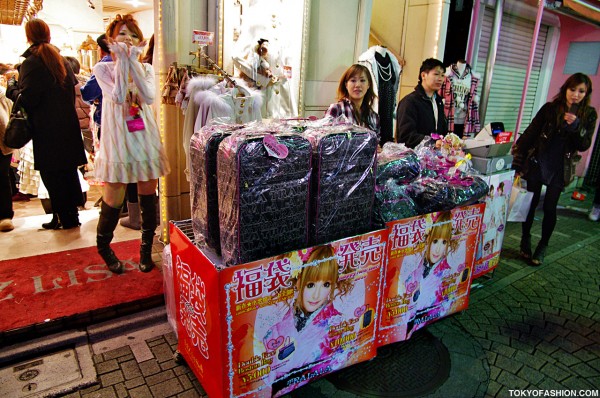 More Liz Lisa fukubukuro goodness!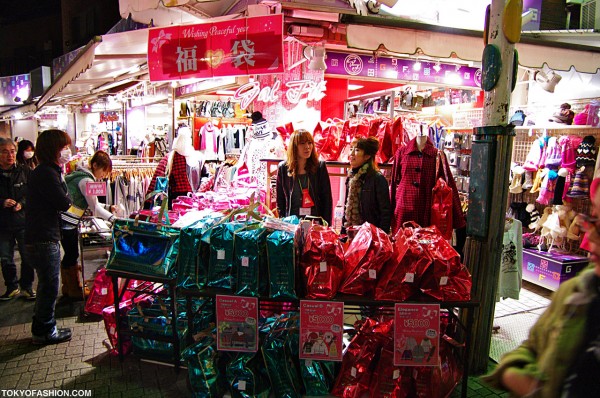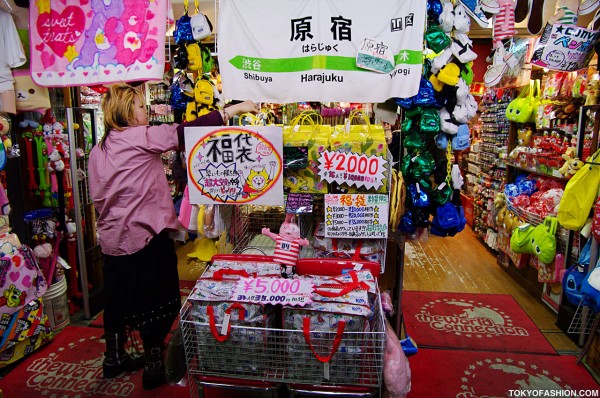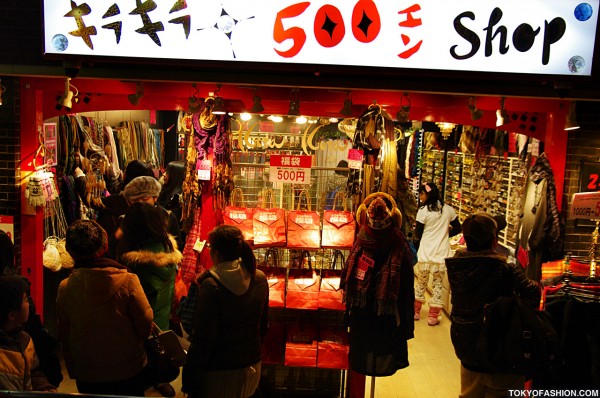 A 500 Yen Shop – their bags might have some fun stuff inside!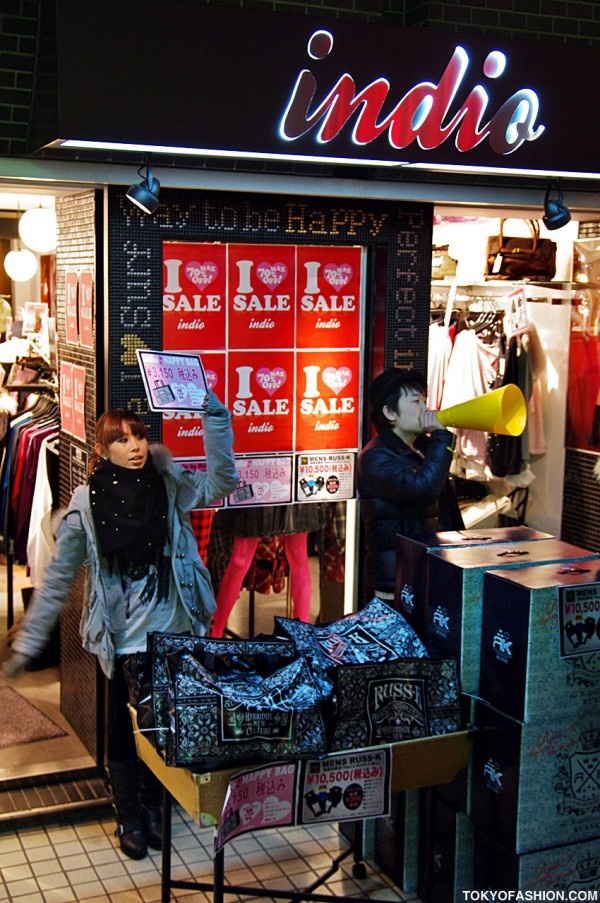 The Indio shop on Takeshita Dori.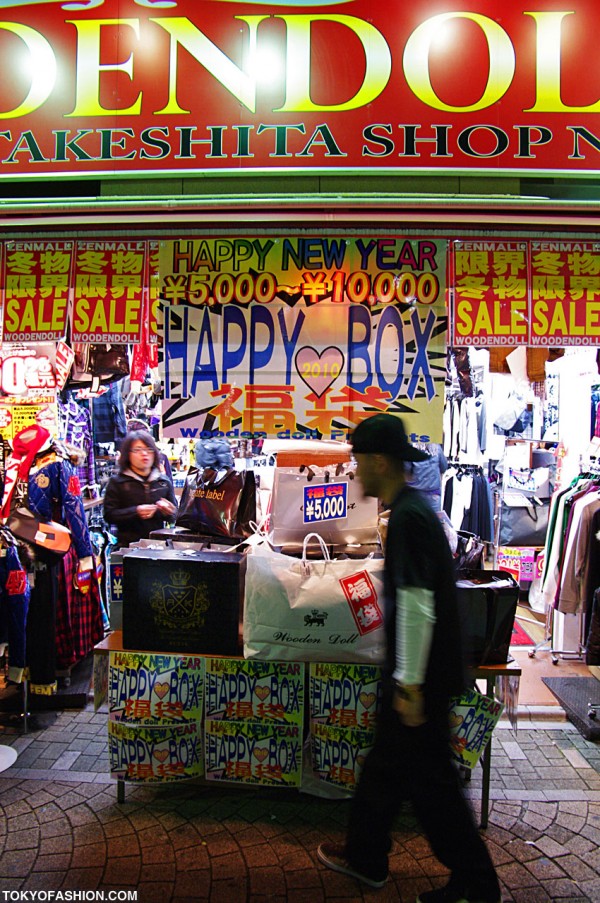 Zen Mall Lucky Bags.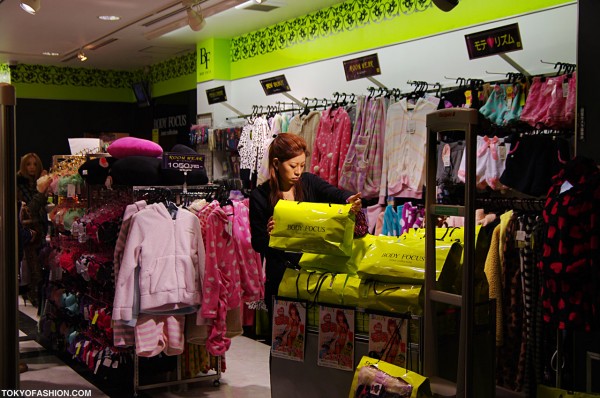 Fukubukuro inside of Body Focus.

Big sale at WEGO!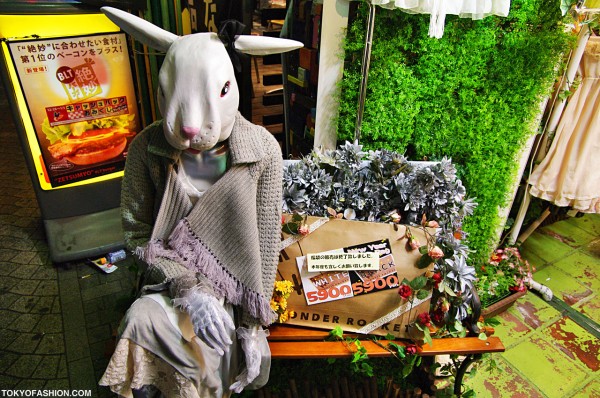 Another Wonder Rocket store – this one with a white rabbit out front.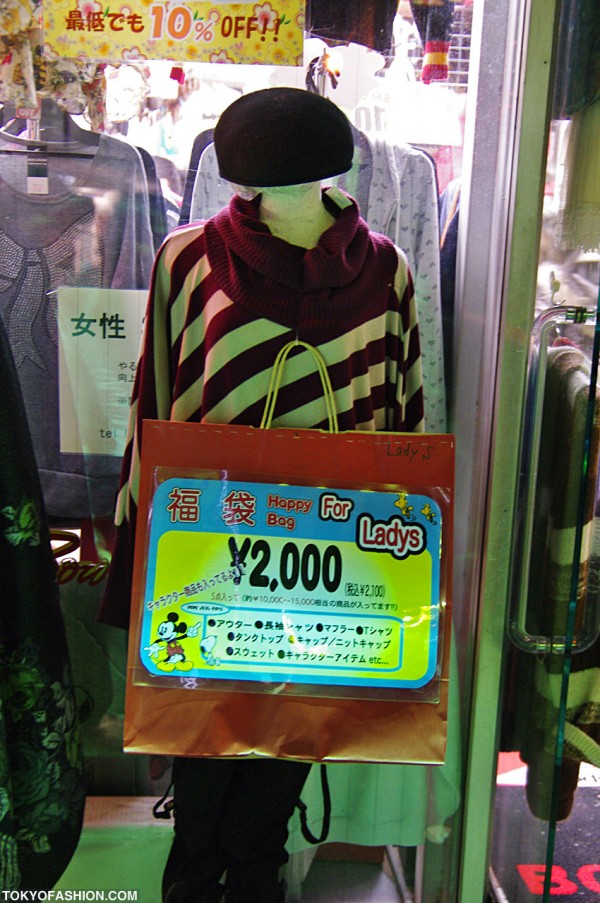 Happy Bag For Ladys.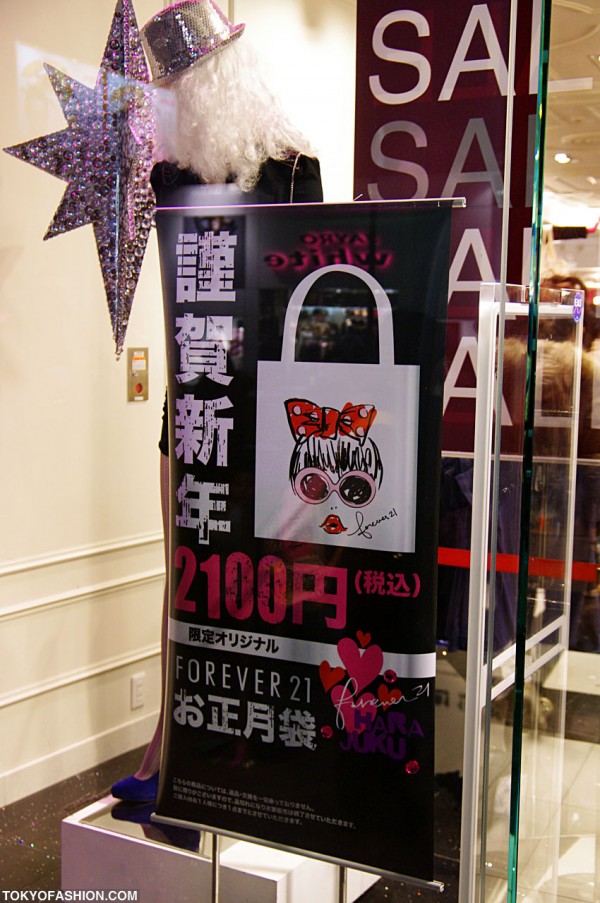 Forever 21 Harajuku sale bags!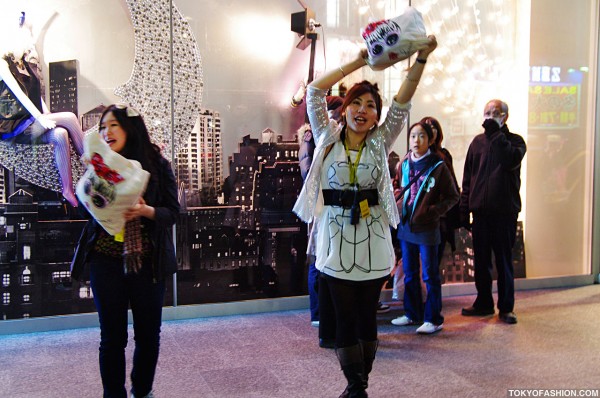 Forever 21 Harajuku staff promoting their New Year's Day sale.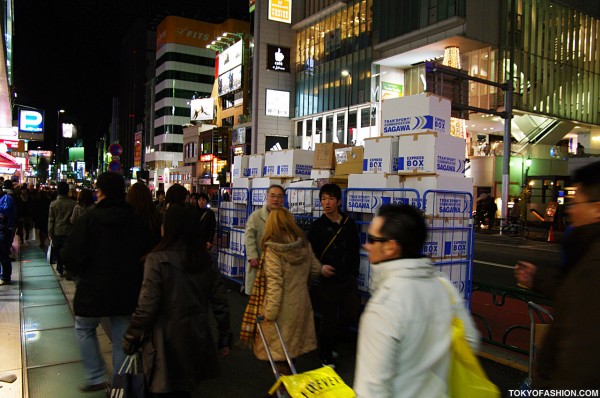 Hundreds of shipping boxes outside of LaForet Harajuku. After you buy too much stuff at the sales, you can have it shipped home instead of having to carry it all on the train.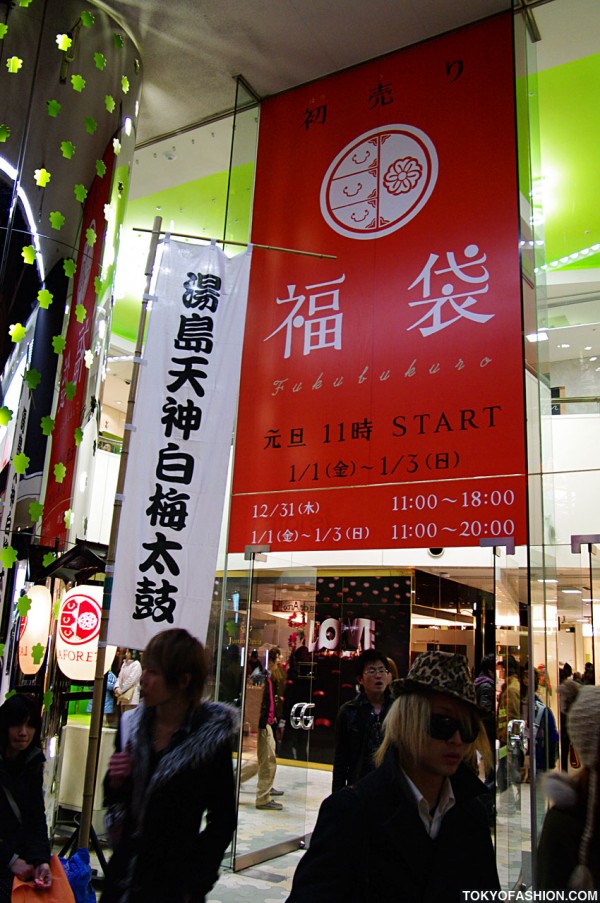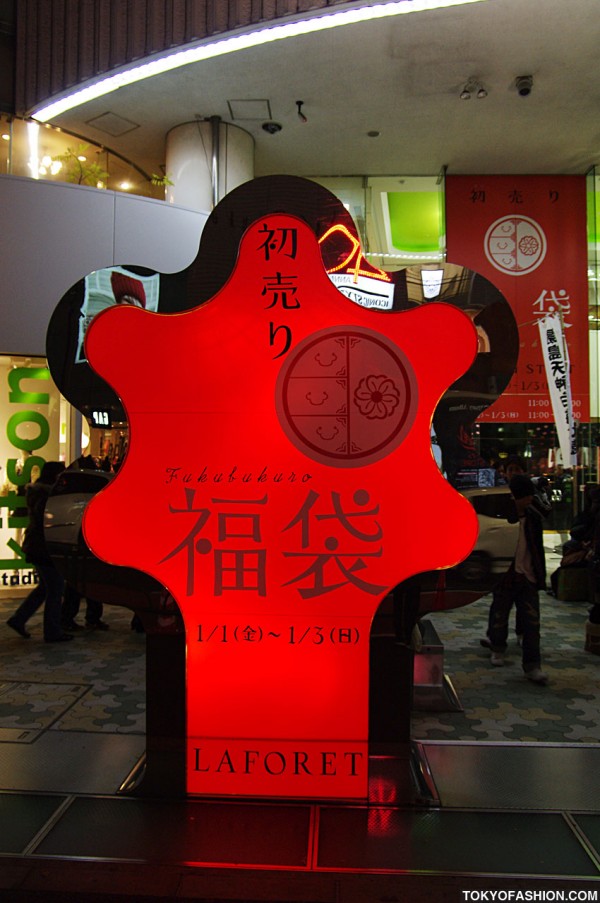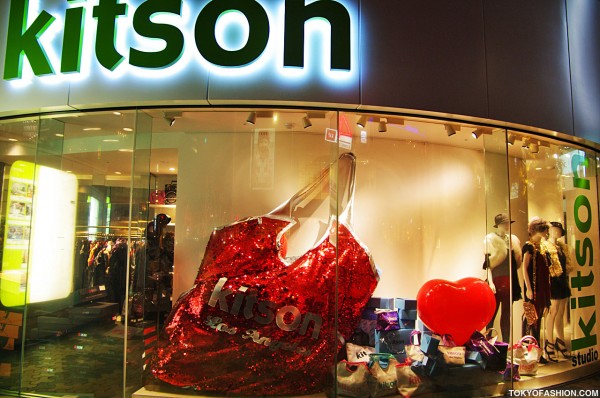 The world's biggest Kitson tote!
You can click any of the photos to see them in higher quality.
That's all we've got from the first day of the year. But, January 2nd is the day that Shibuya 109 opens for the first time in 2010. By then, we will have recovered from the holiday and we'll be up bright and early to get pictures of the insanity that goes on there. So, check back soon for more pictures of New Year's fukubukuro, big sales, and shopping madness!