Japanese Lucky Bags 2010 – Lots of Pictures!
The days following New Year's Day are huge shopping days in Japan. One of the biggest reasons for the shopping frenzy are the fukubukuro (Happy Bag, Lucky Bag, Mystery Bag, etc.) that many stores offer to kick off the New Year.
As we reported in our previous Takeshita Dori fukubukuro article, these bags contain items worth far more than what you pay for them. The catch is that you don't know what's inside of the bags. So, you might get $100 worth of clothing for $10 – but it might be clothing that doesn't fit your body or your style. That said, for many the value outweighs the risk – and the surprise is part of the fun – so many Japanese girls look forward to the New Year sales. Popular shops and brands will often see people lining up hours – if not days – ahead of time. Fukubukuro are almost always in limited supply, so getting into the store before everything is gone is crucial if you're a serious shopper.
While LaForet Harajuku famously starts their Lucky Bag sales on Jan 1st, many other shops – including Shibuya 109 – start theirs on Jan 2nd. We weren't able to wake up anytime near morning on New Year's day, but we were up bright and early on January 2, 2010 to bring you coverage of the Shibuya 109 morning madness – as well as pictures of Lucky Bags, shoppers, and shops all over Shibuya and Harajuku. There are 120 pictures of Japanese Lucky Bag goodness below, and another 40 photos in our related Flickr gallery. So, enjoy the pictures – and maybe next year you can visit Tokyo during New Year's for a little shopping of your own!
BTW, as usual, you can click any of these photos to see them in high resolution.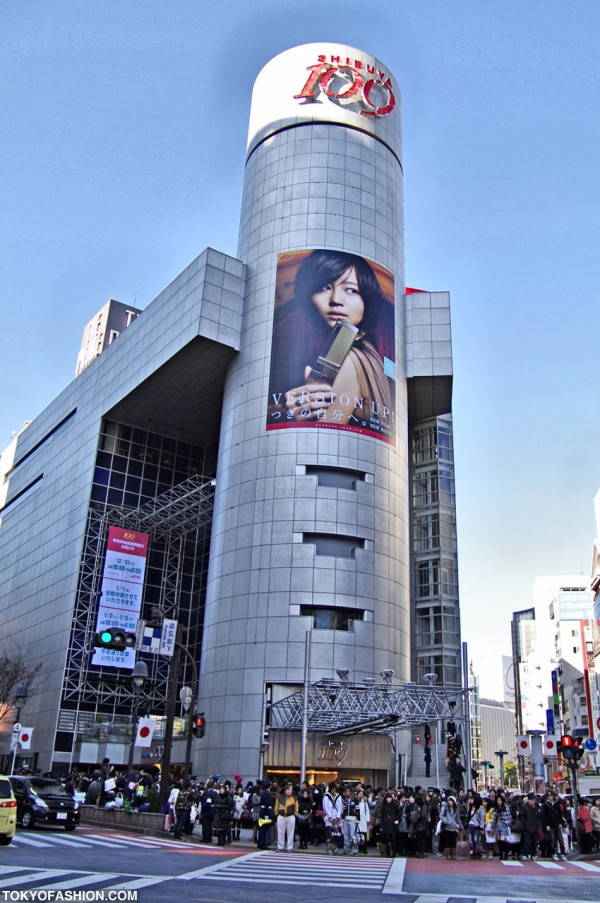 Shibuya 109 on the morning of January 2, 2010. Lucky bags, sales, and general mayhem.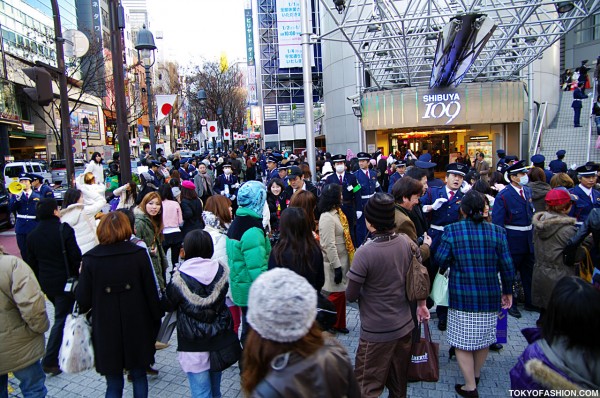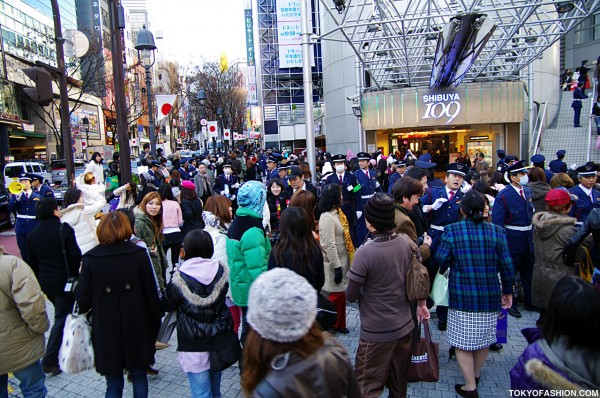 Lots of people!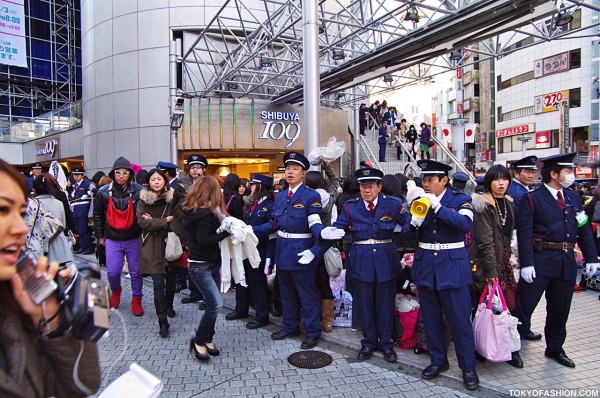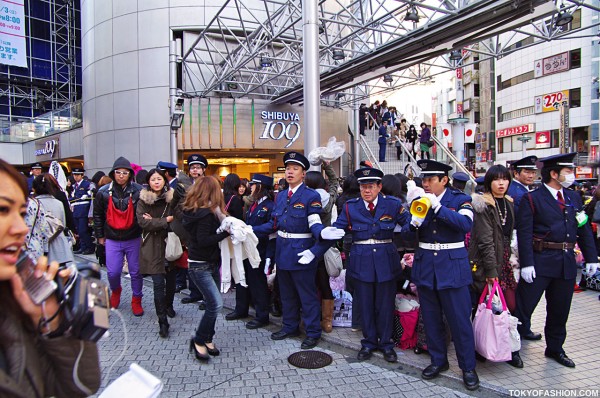 And lots of security!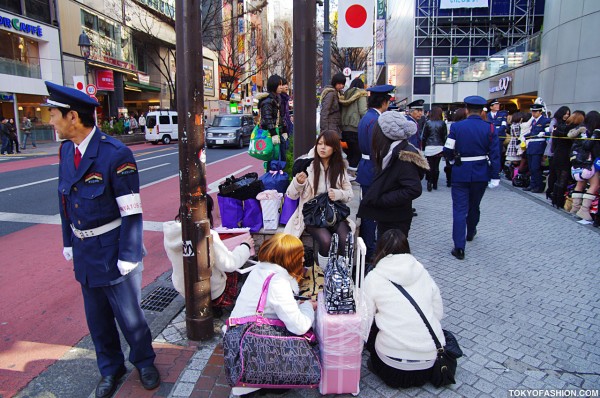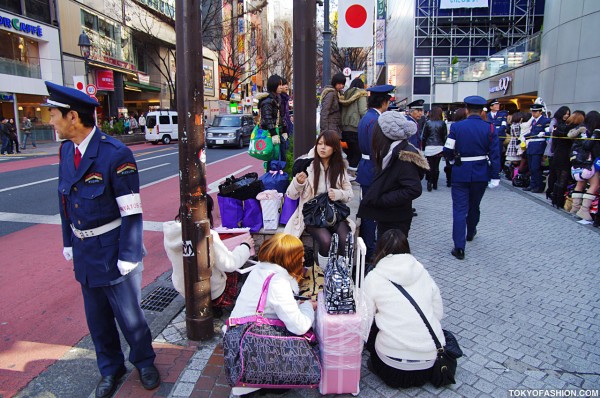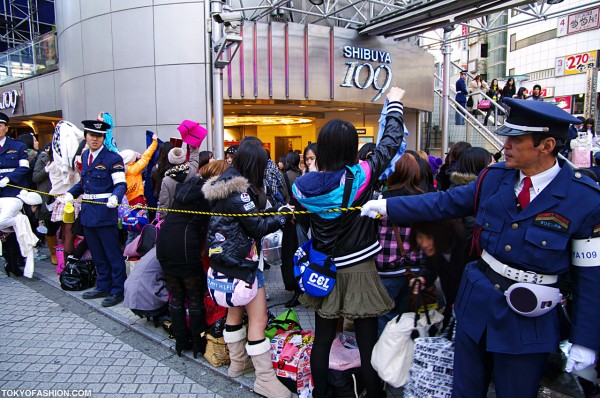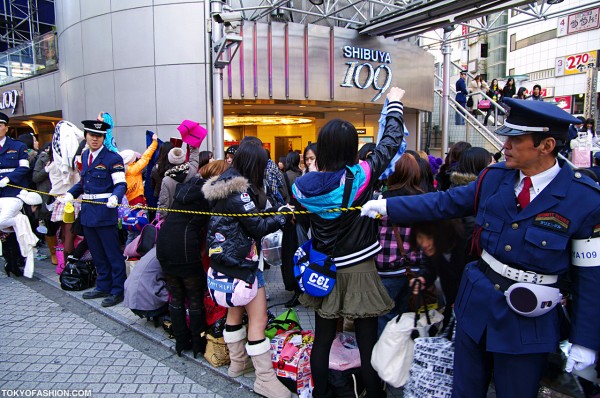 Girls with their purchases.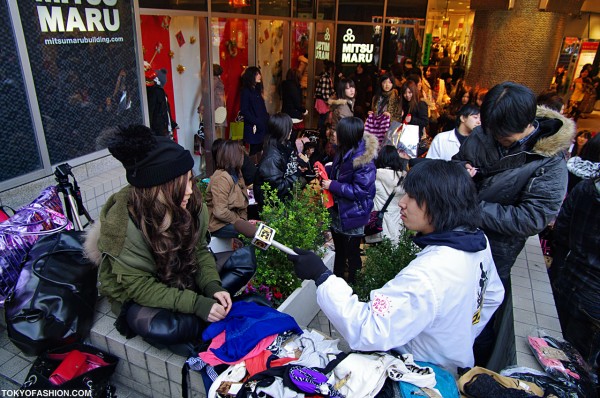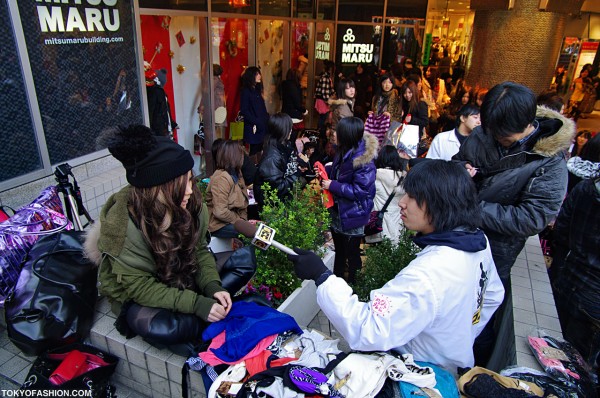 The Japanese media is on hand to film the madness.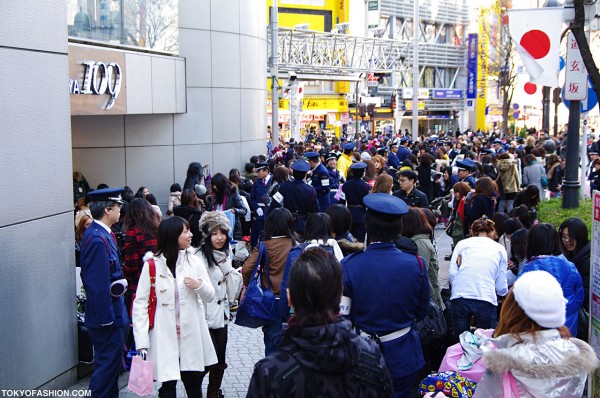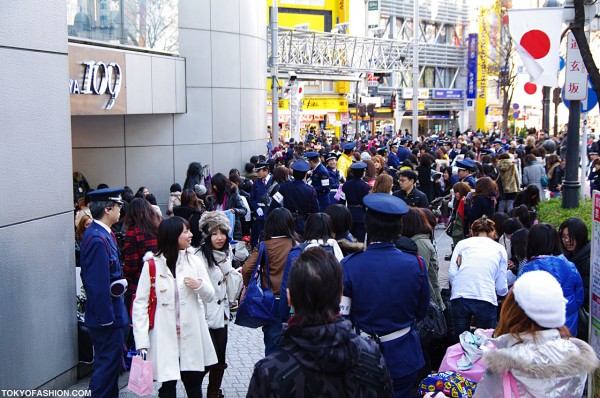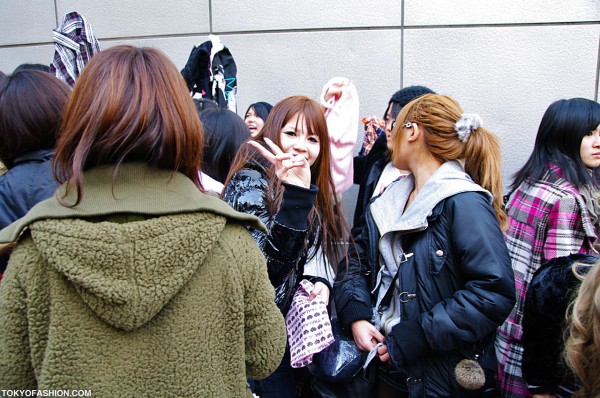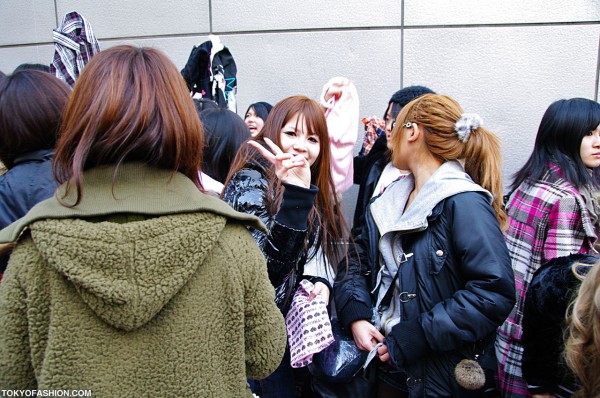 Lots of friendly girls here!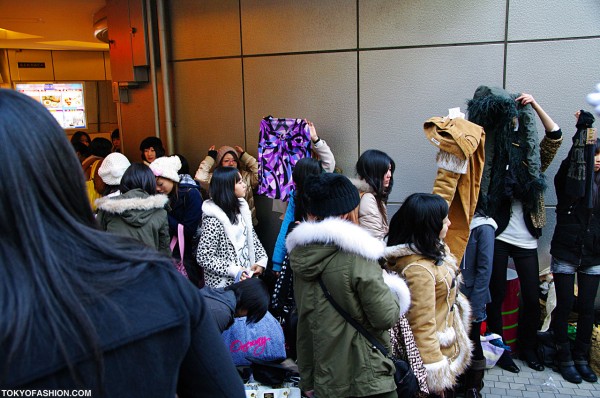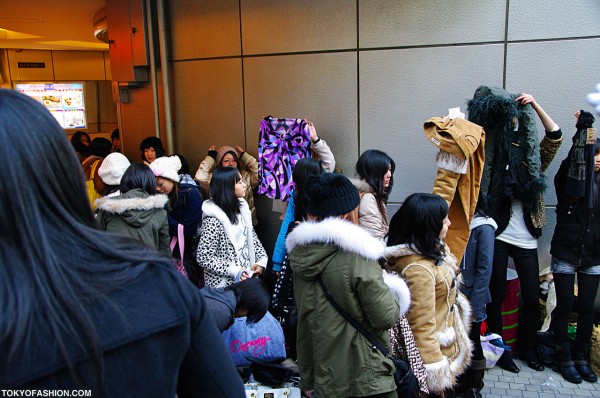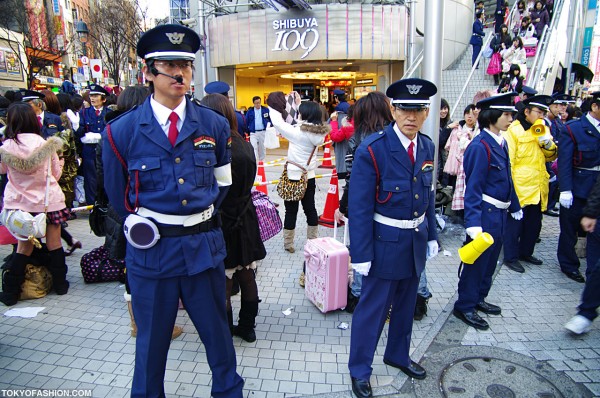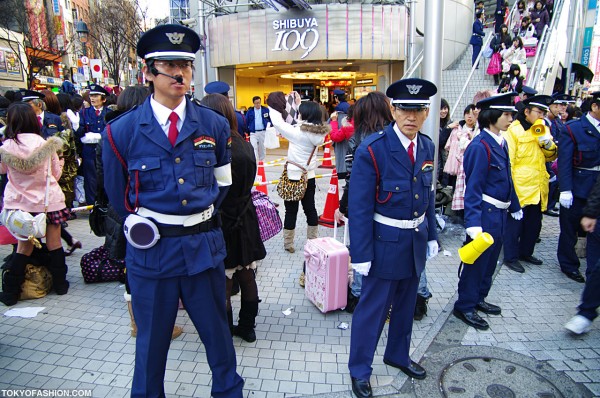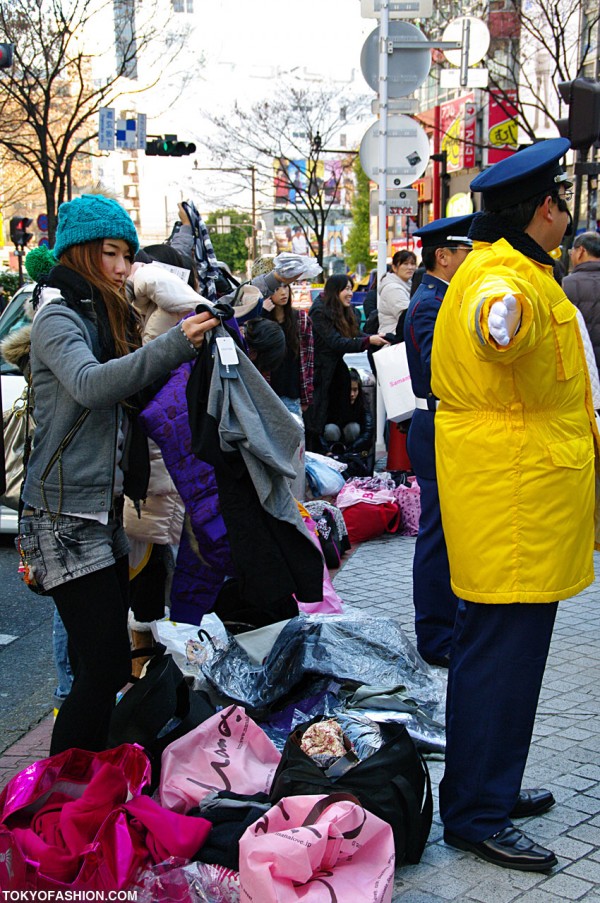 Sorting the fukubukuro and figuring out what's inside.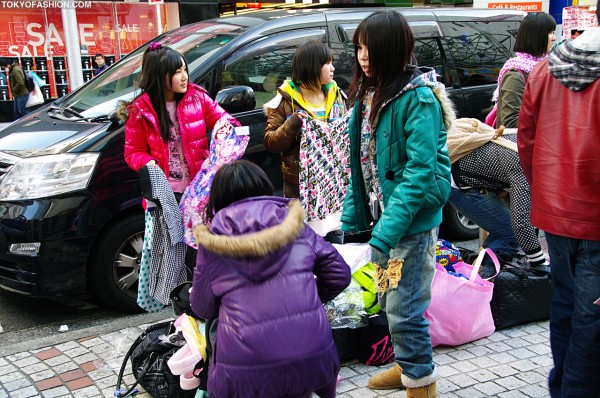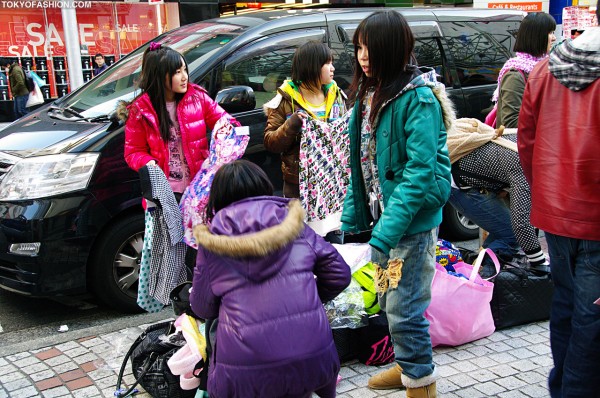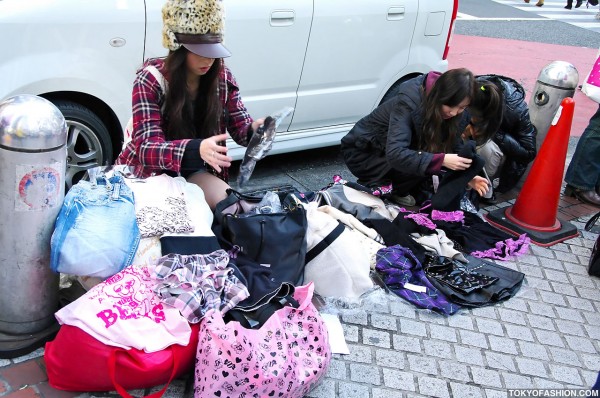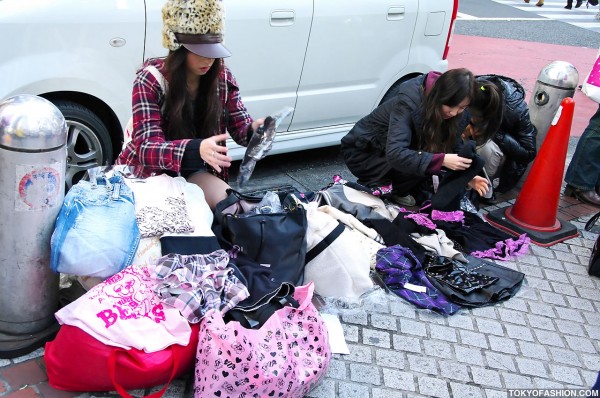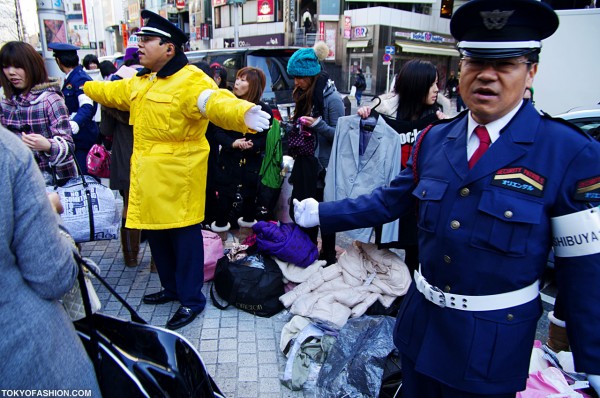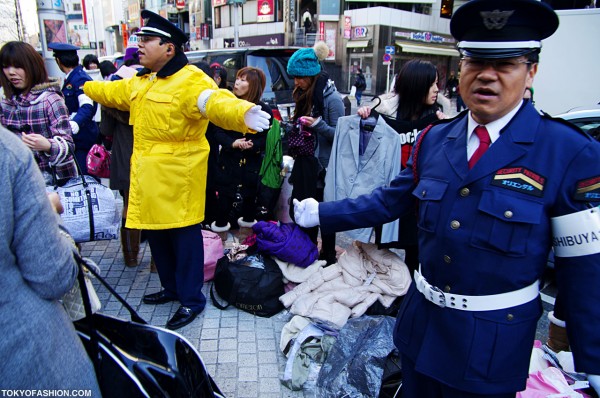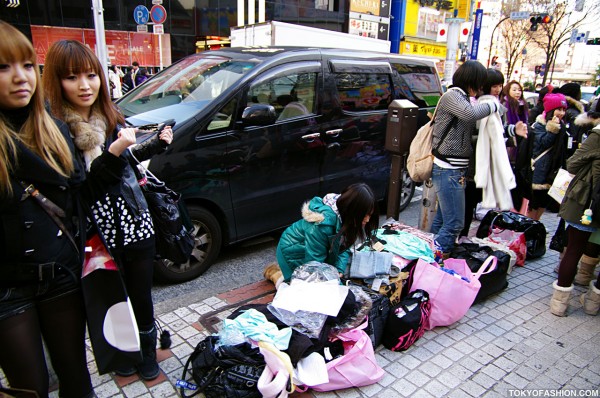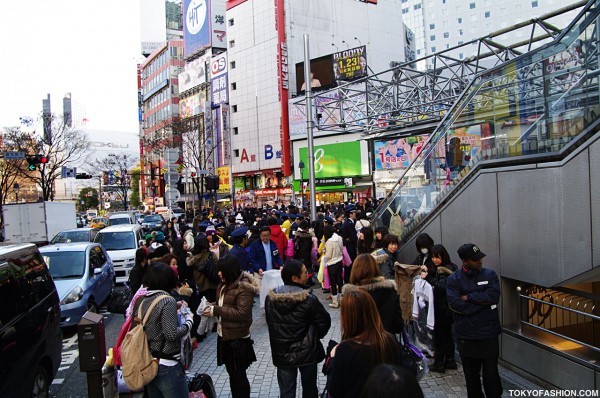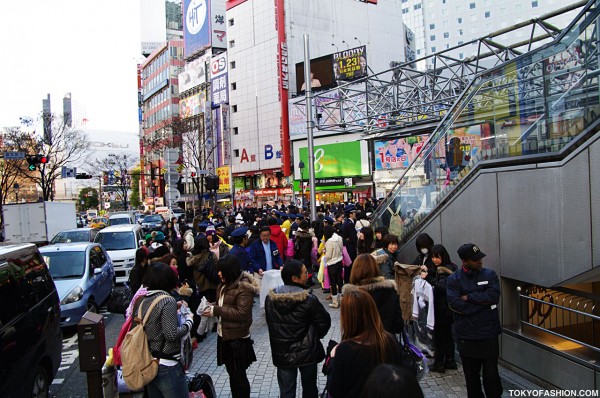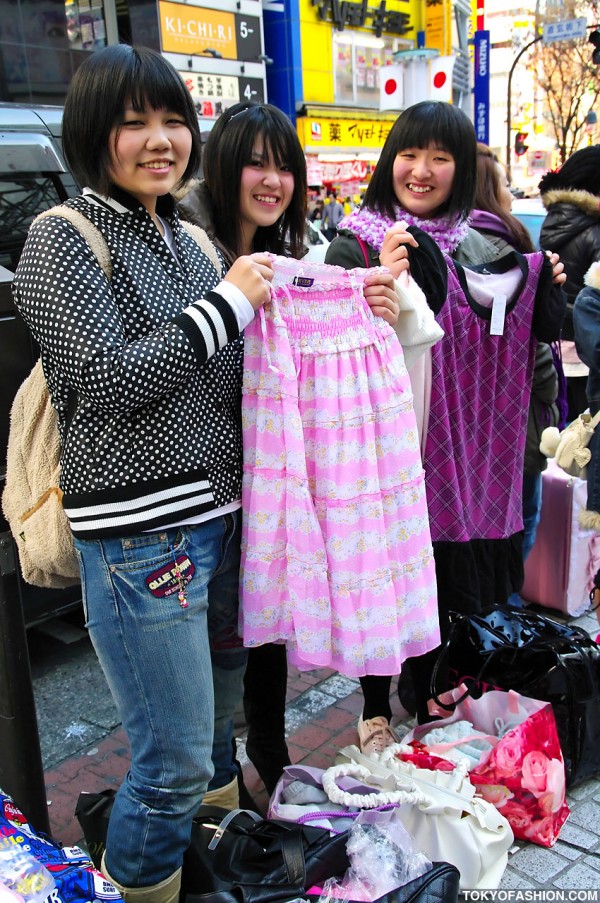 Some girls were trying to trade or sell the Lucky Bag stuff they didn't want!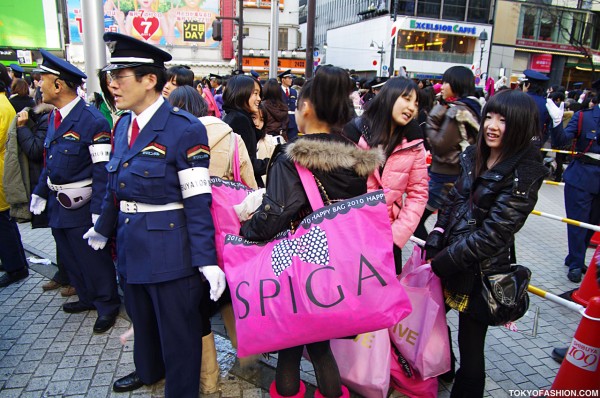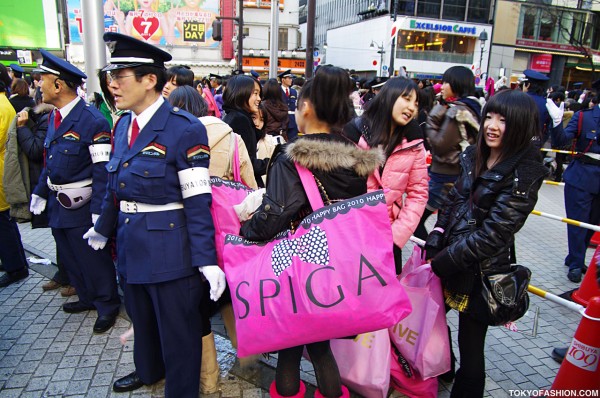 Spiga girls!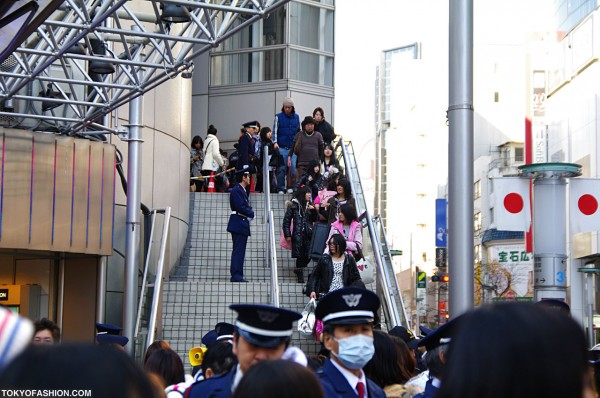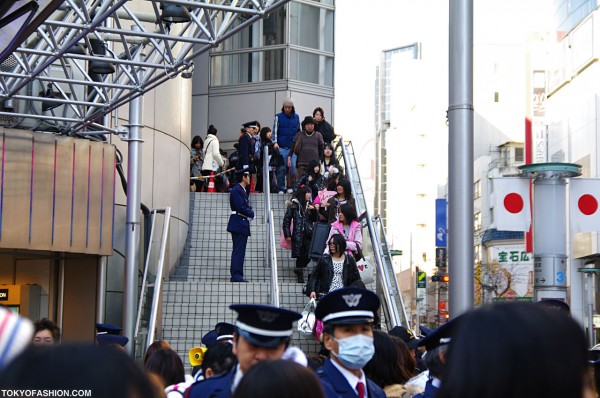 Shoppers leaving Shibuya 109 via the stairs.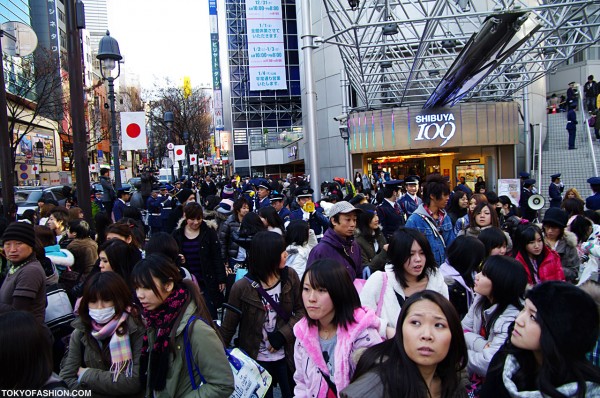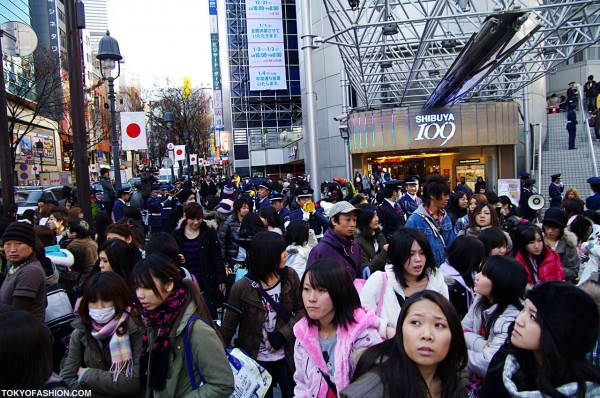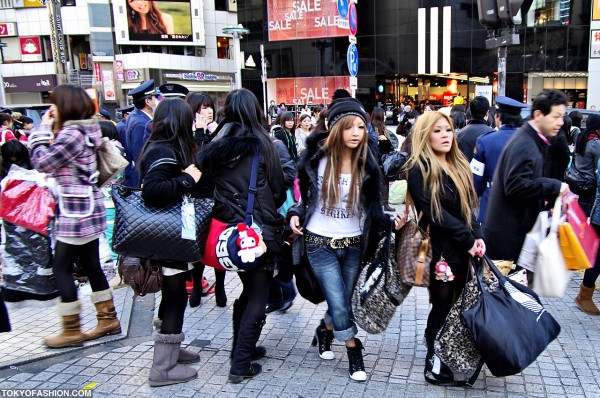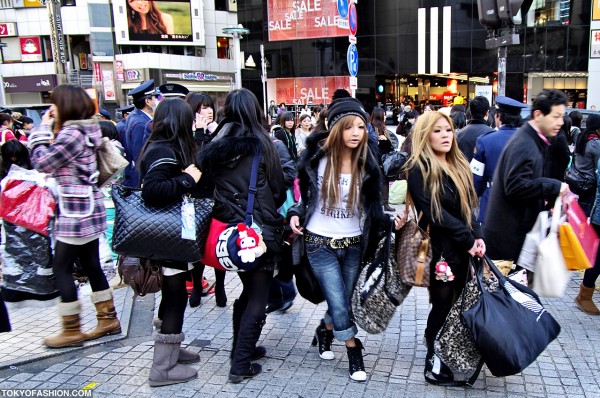 Everyone is moving in every direction.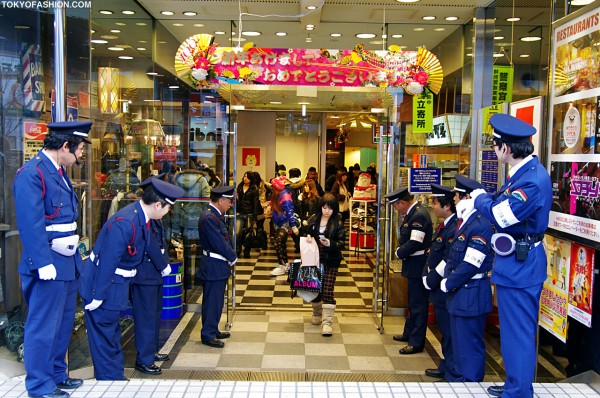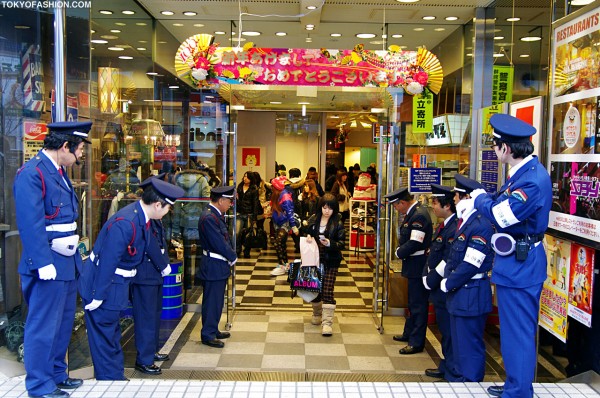 Japanese security guards bowing to a customer leaving Shibuya 109.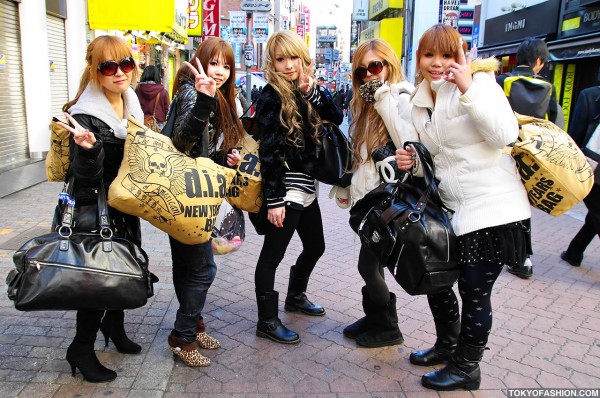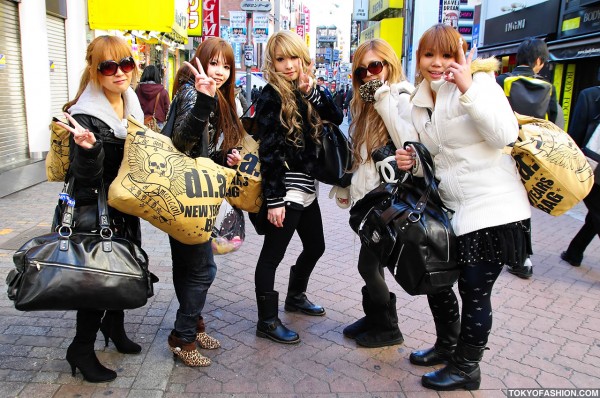 Happy Shibuya girls with Happy Bags. Their bag brands include D.I.A. and Gilfy.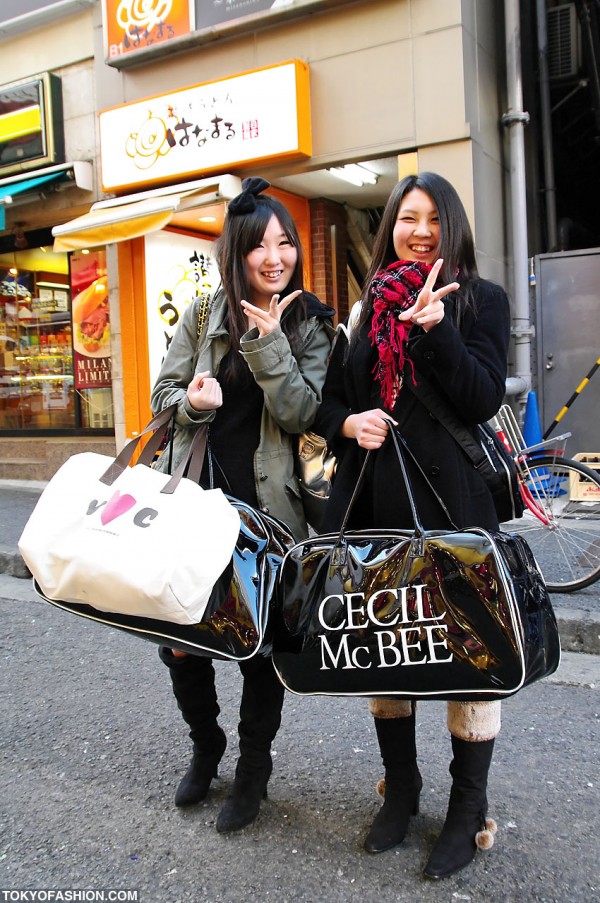 Smiling Cecil McBee & WC by Chinatsu Wakatsuki girls.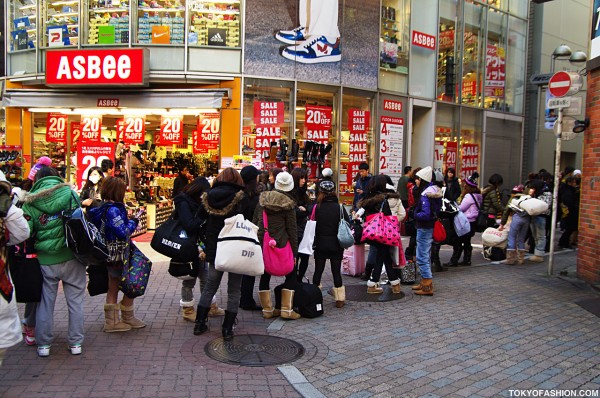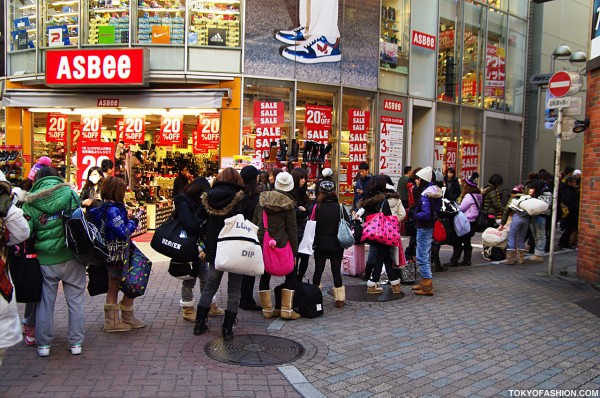 Long line for ANAP Shibuya Lucky Bags.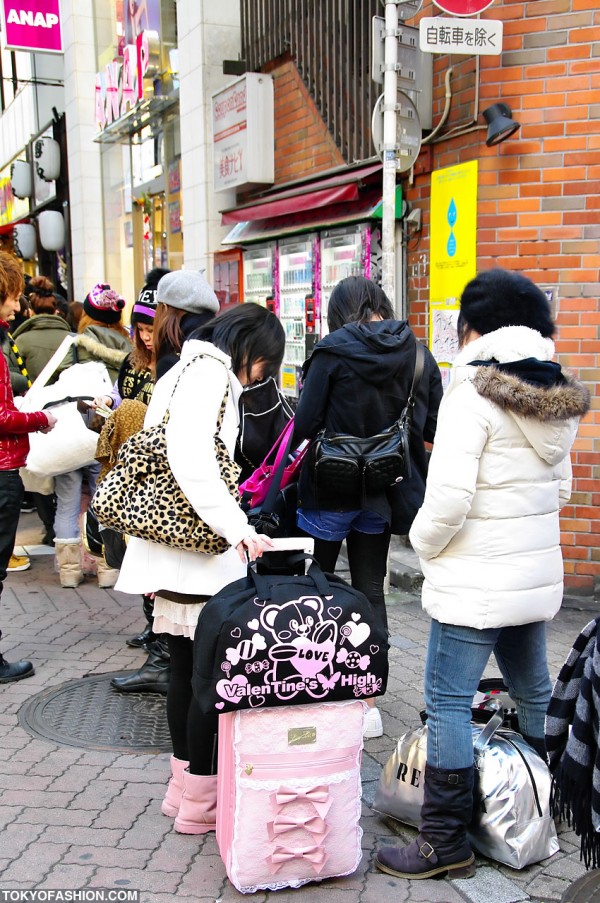 In line for ANAP with a Liz Lisa rolling Lucky Bag.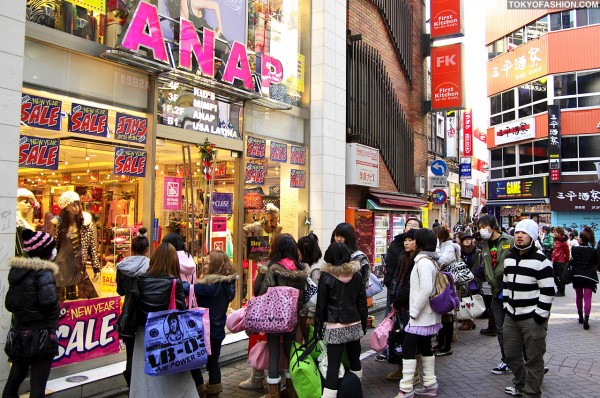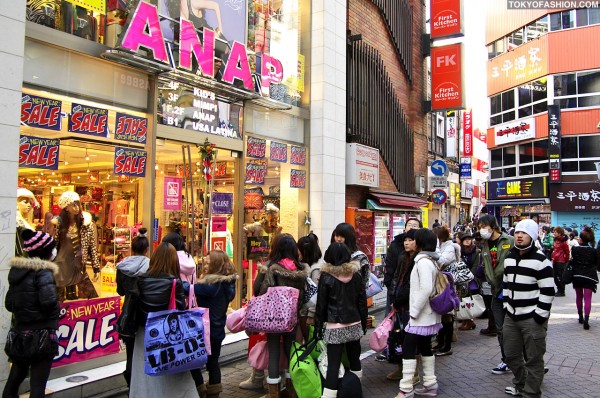 Around the corner, the front of the ANAP line.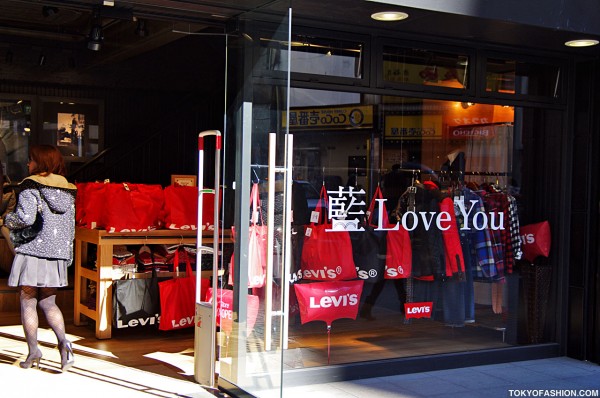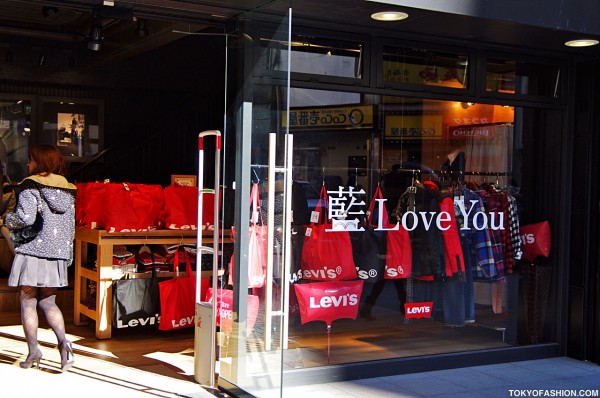 Fukubukuro at the new Levi's Shibuya store.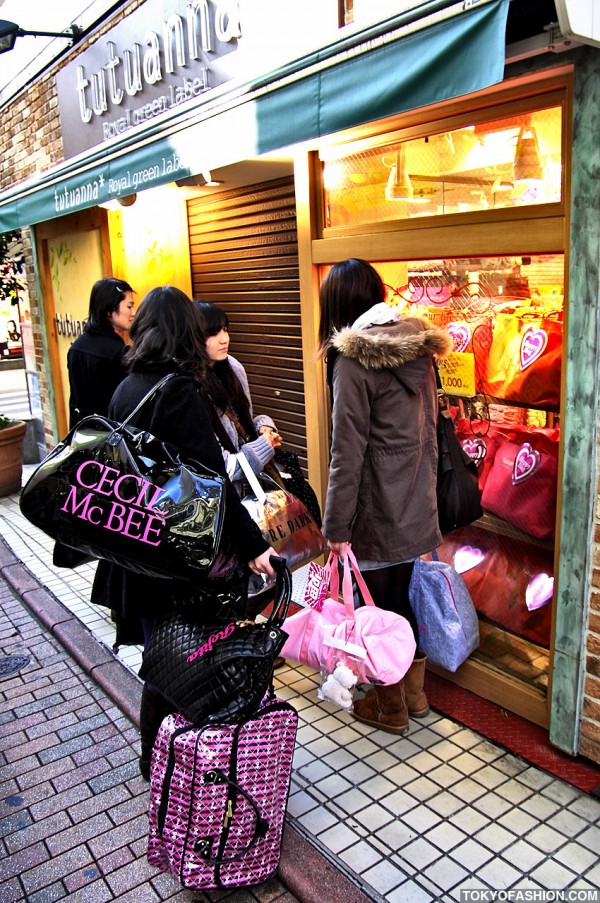 Girls waiting for the lingerie shop Tutuanna to open.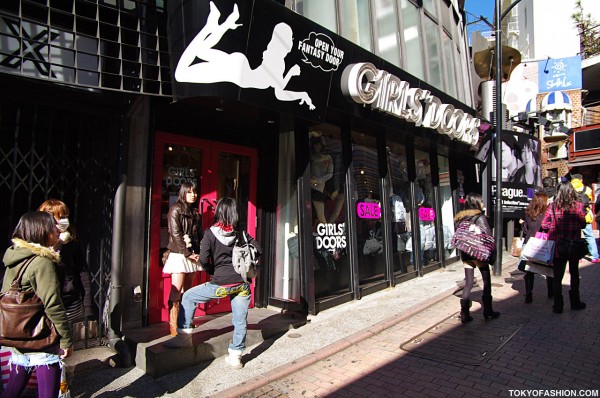 Girls waiting outside of the Girls Doors by Love Drug Store shop on Spain Zaka in Shibuya.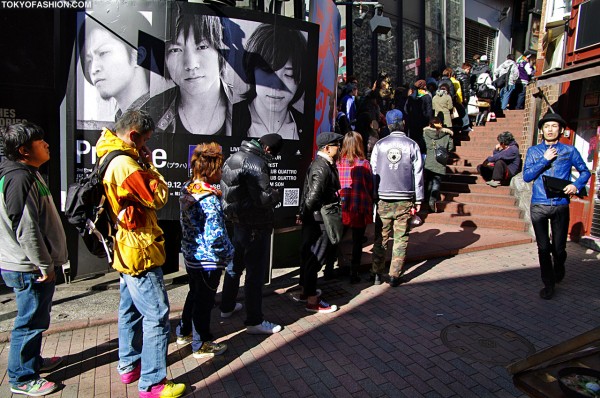 Wow, the end of the BAPE line is half way down Spain Zaka.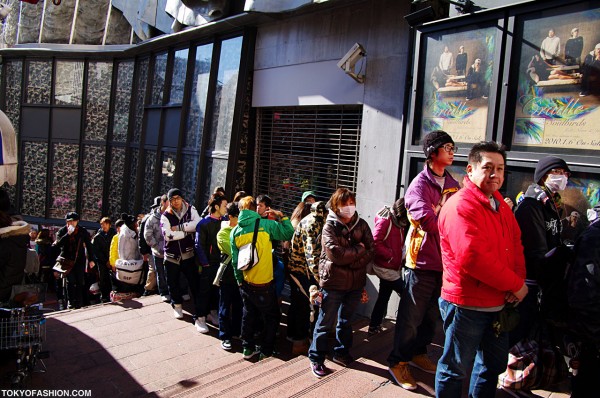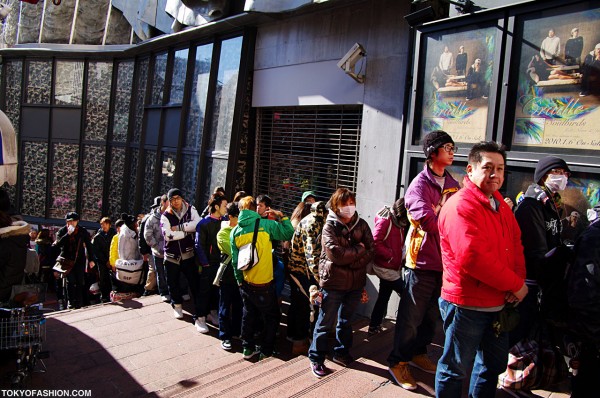 More BAPE line.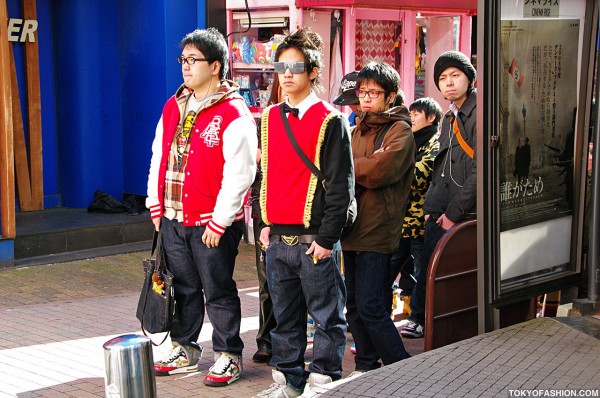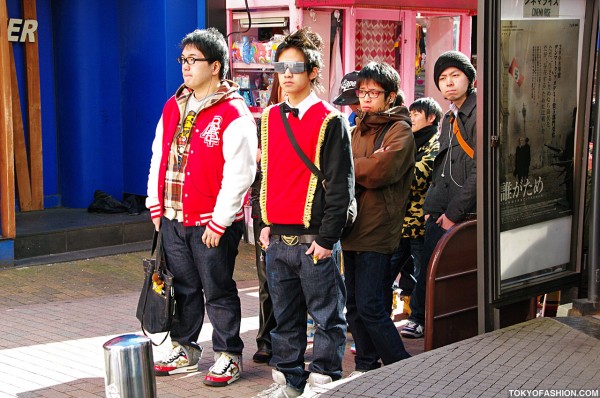 Even more A Bathing Ape line.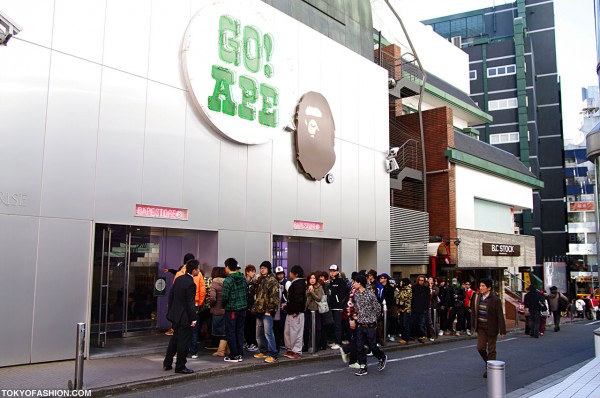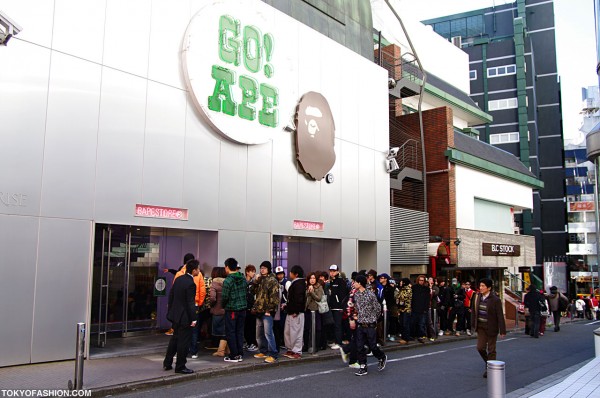 Here is the BAPE Shibuya store – seems like the line goes the opposite direction here. Not sure why.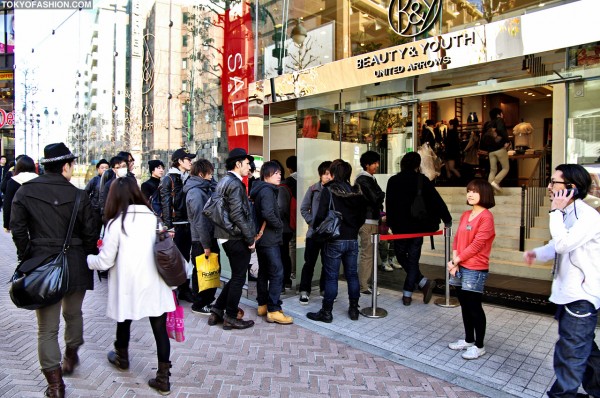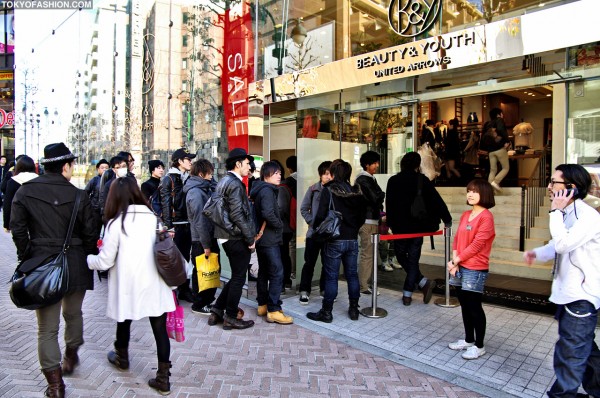 Beauty & Youth Shibuya.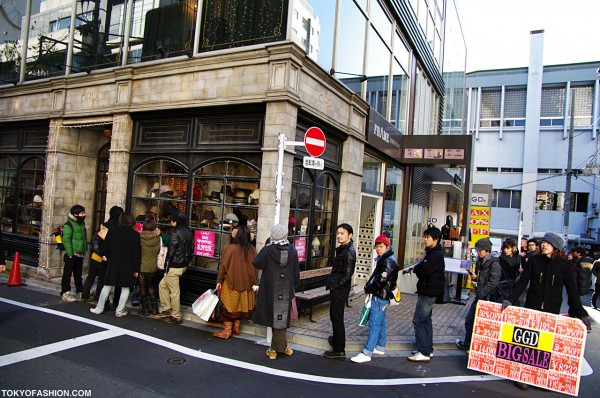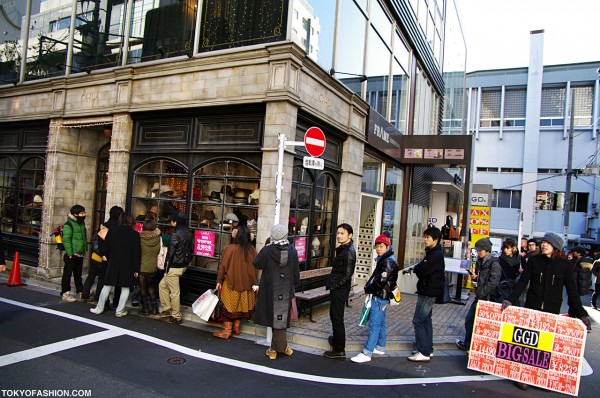 CA4LA hat shop line.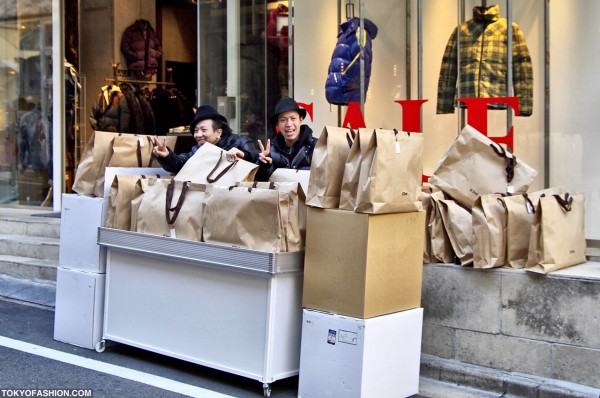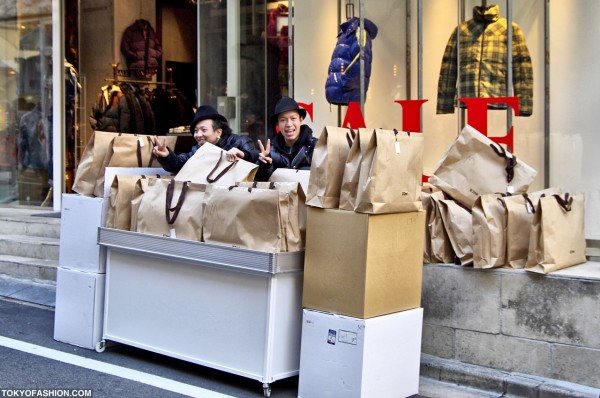 Fun B2nd guys with Lucky Bags.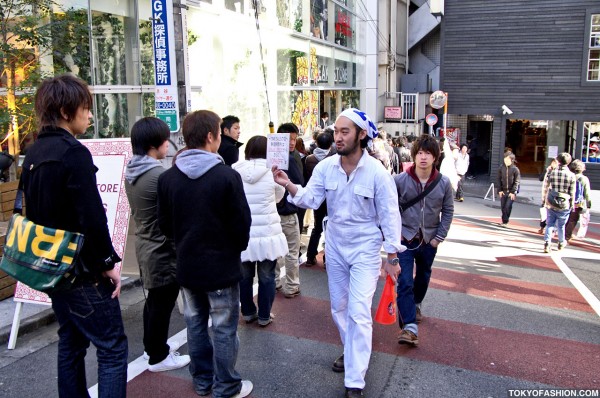 Freak's Store Shibuya New Year sale line.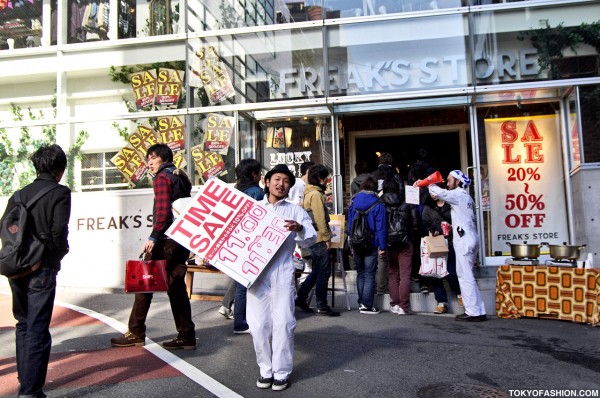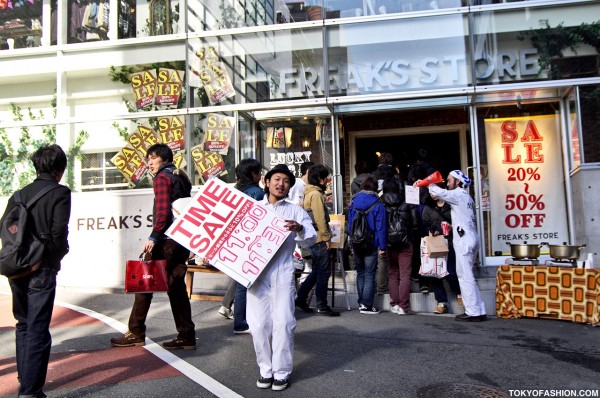 More Freak's Store staff being fun.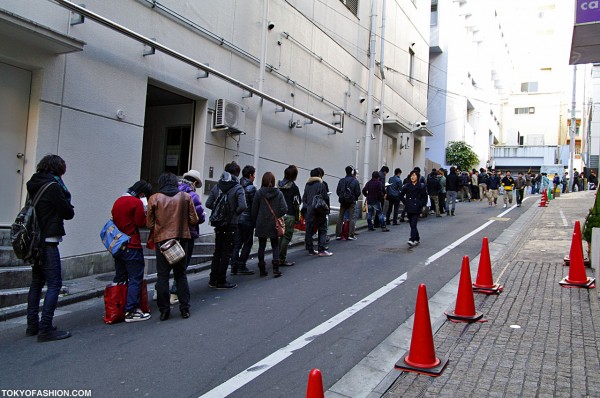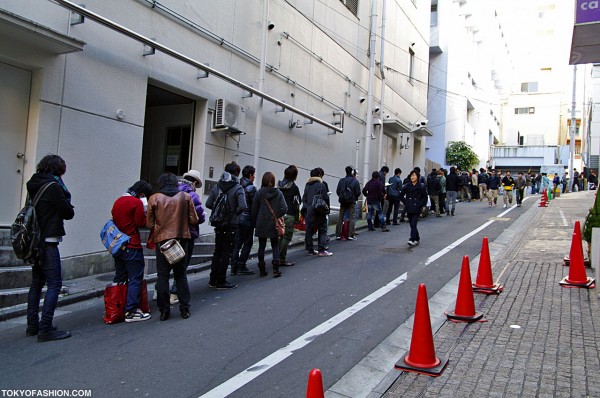 Just more random long lines waiting for Happy Bags in Shibuya.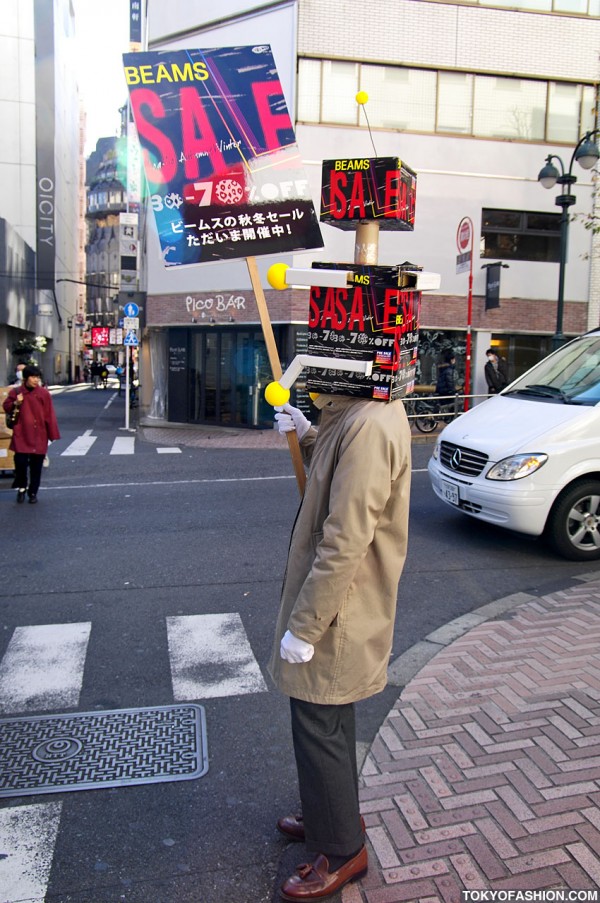 A Beams New Years sale promoter wearing a box on his head so he looks like a robot!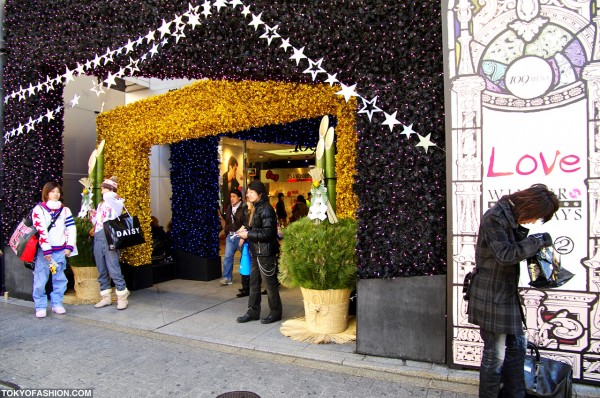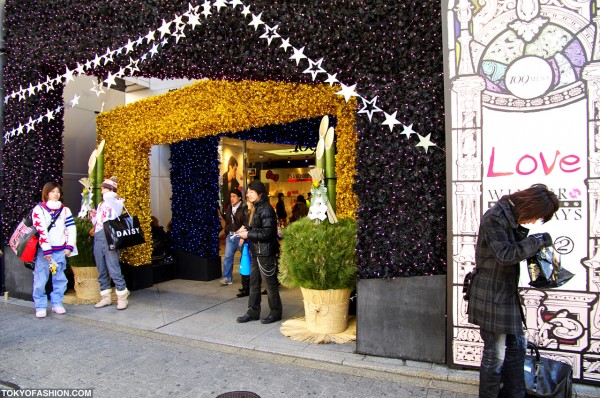 Big sale at Shibuya 109-2.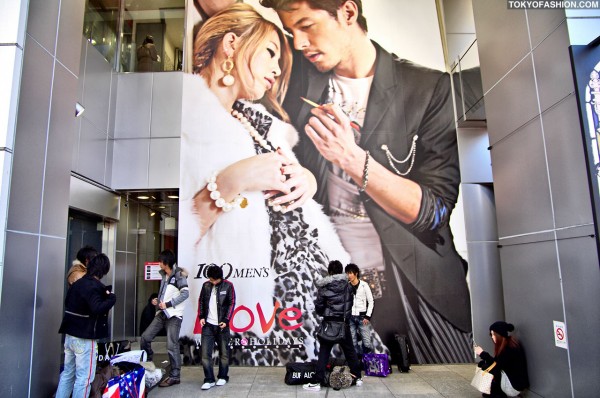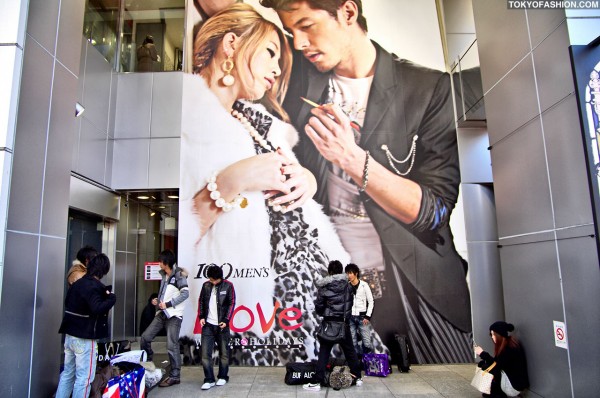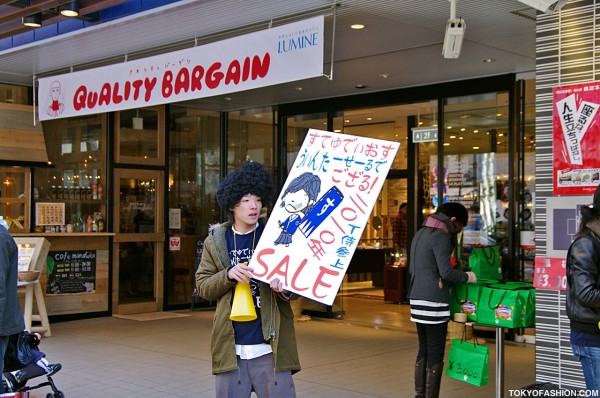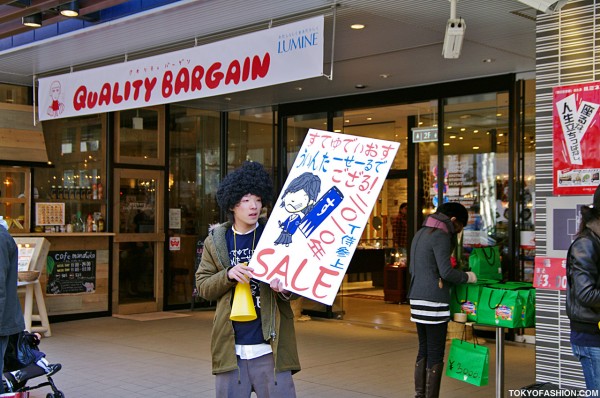 The new Lumine Men in Shibuya had fukubukuro & sales.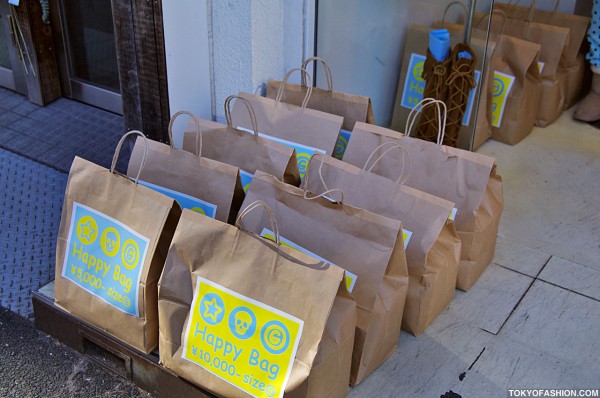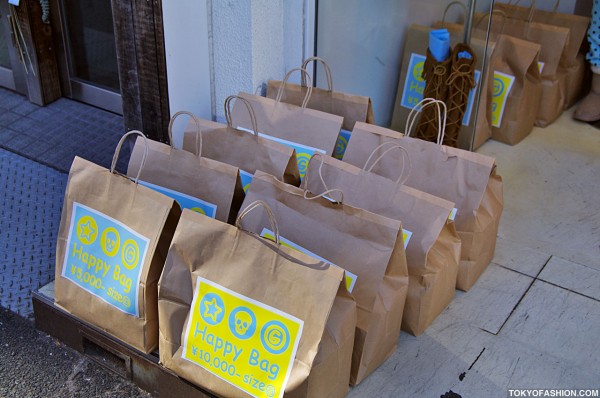 Cute Lucky Bags at Gemini Shibuya.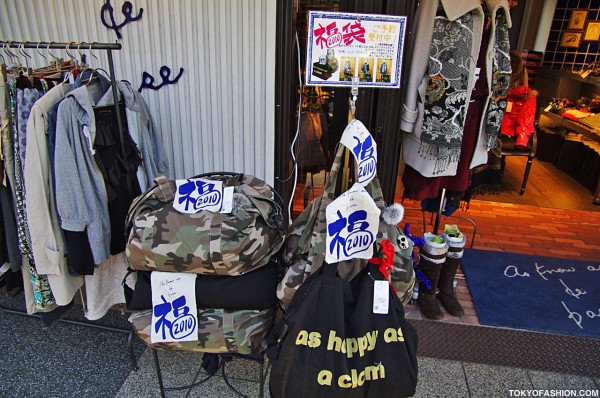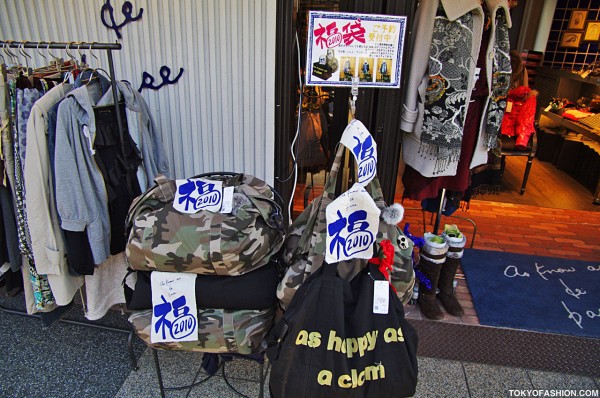 The As Know As de Base happy bag says "As Happy As A Clam" on the side.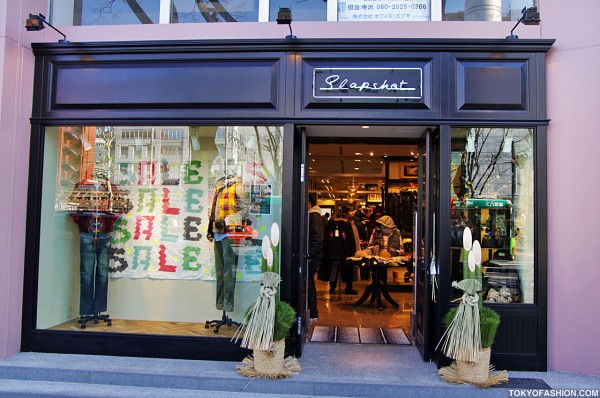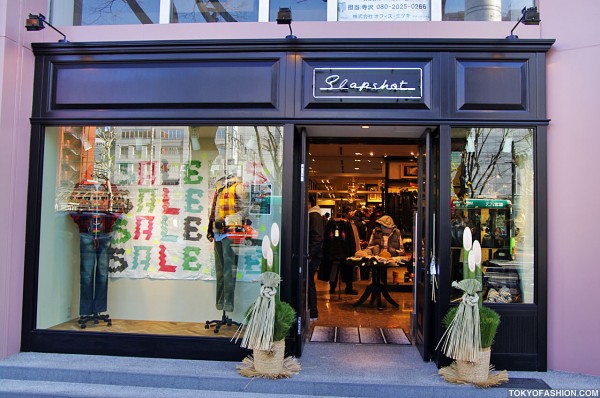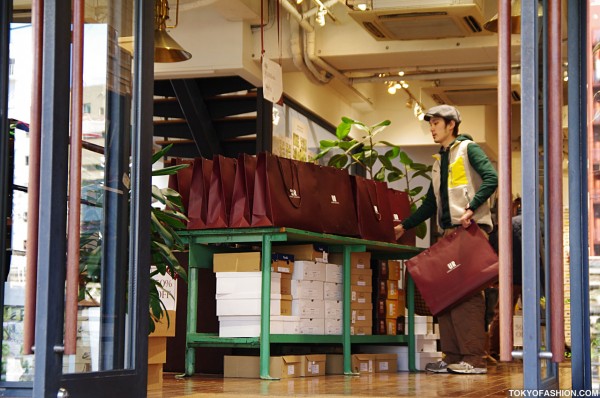 Inside of Urban Research Shibuya.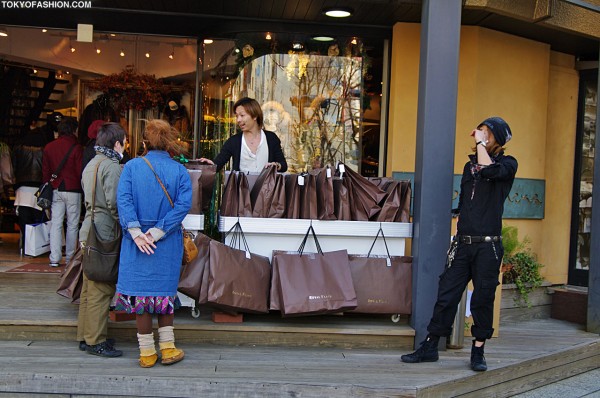 Fukubukuro outside of Royal Flash.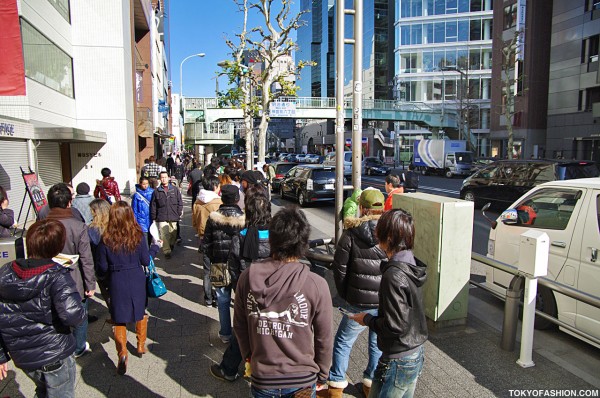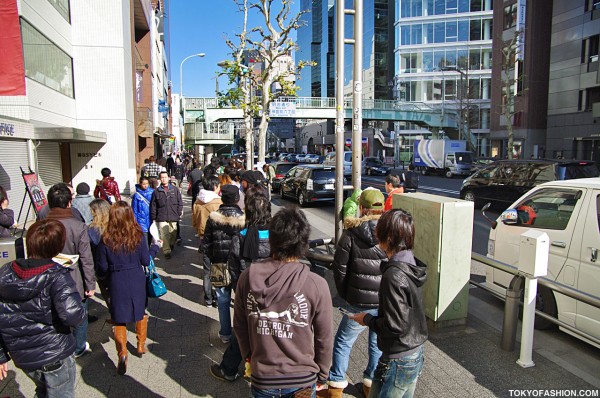 Long line for Hysteric Glamour lucky bags.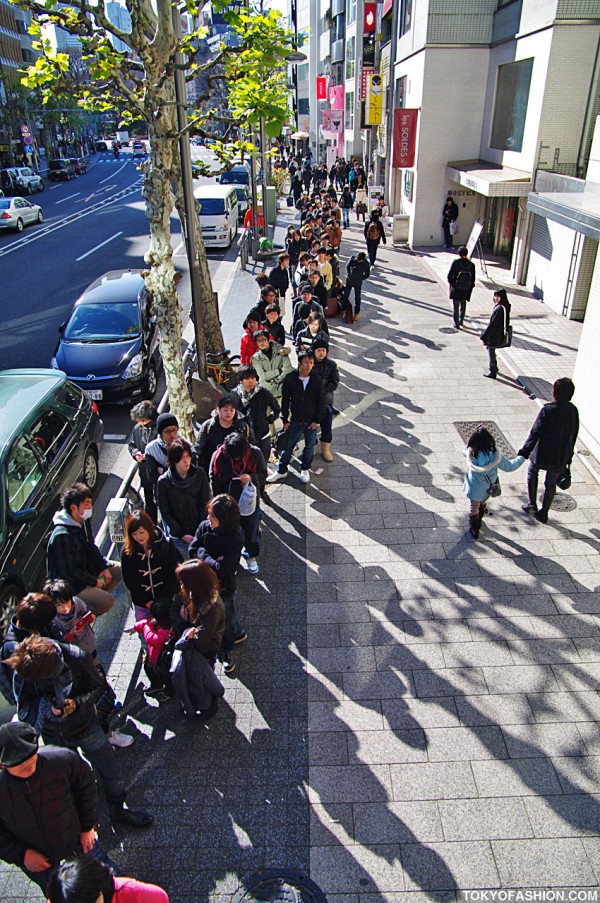 A view of the Hysteric Glamour New Years line from above.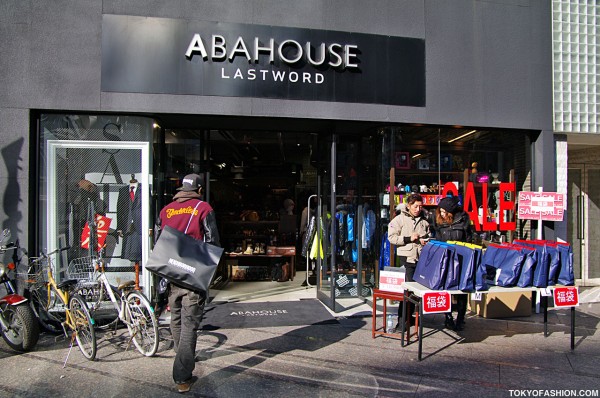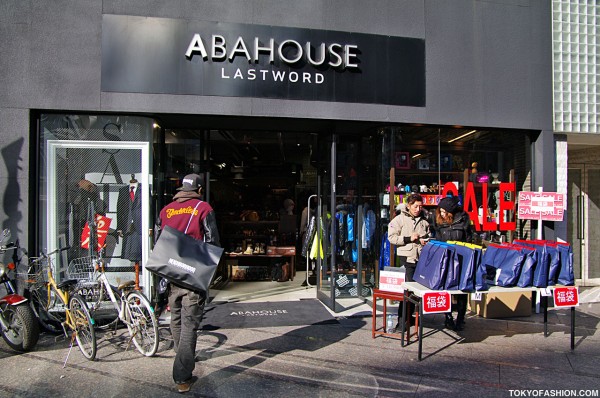 Abahouse.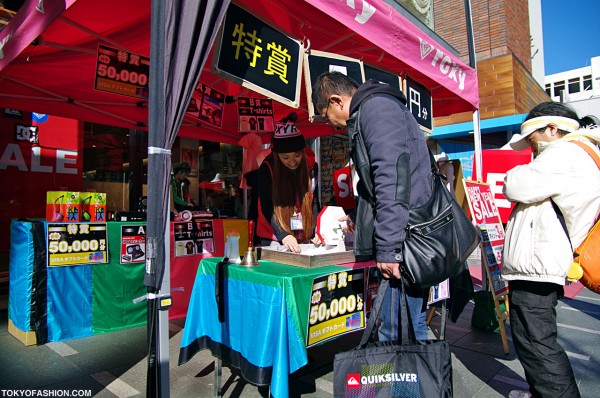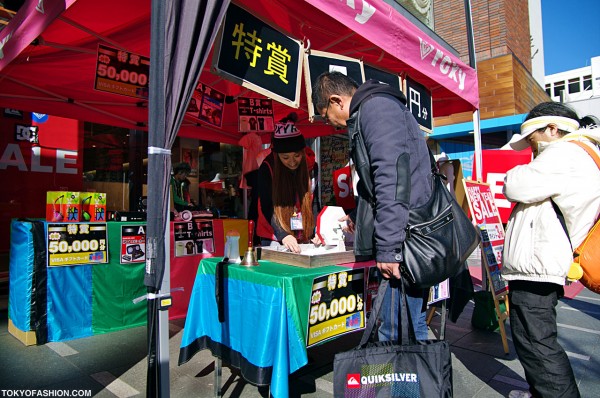 Roxy / Quicksilver having contests for customers.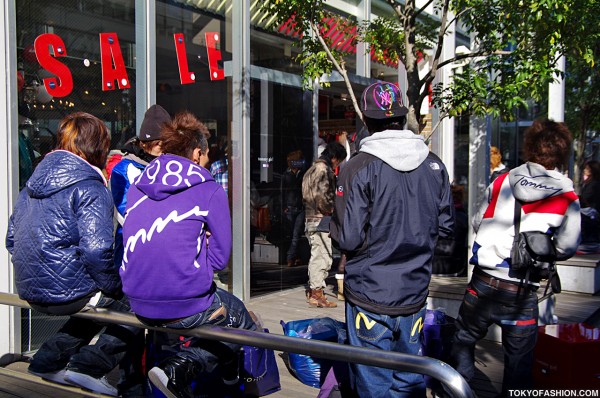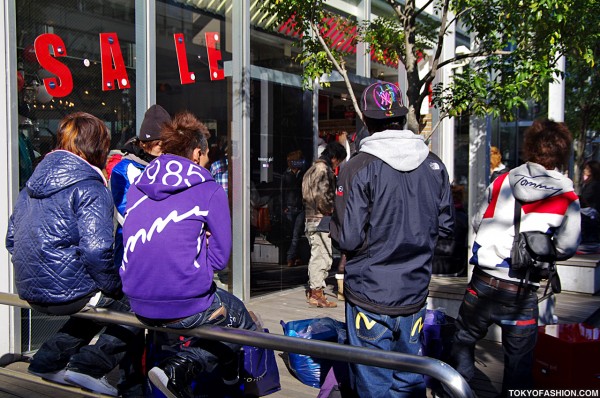 People waiting outside the Tommy Jeans shop.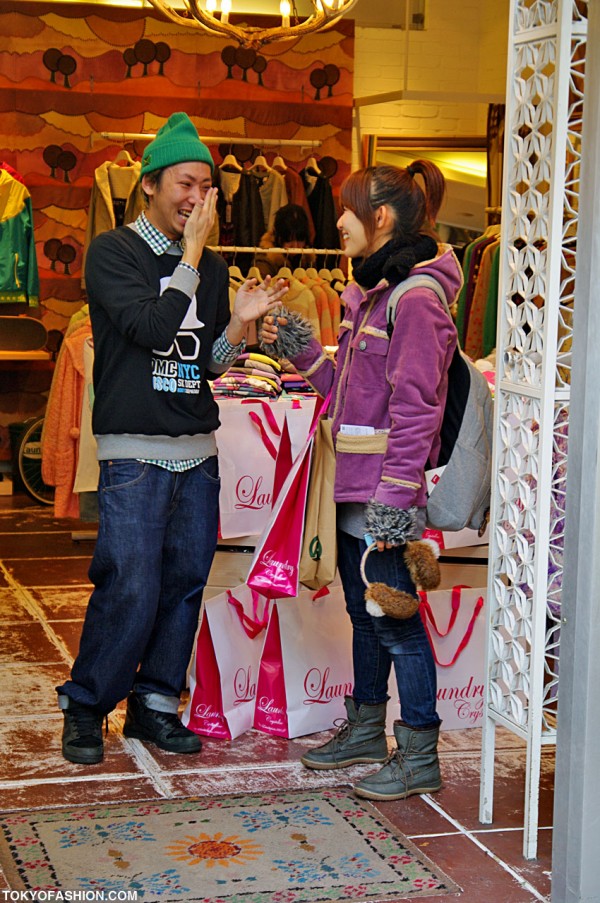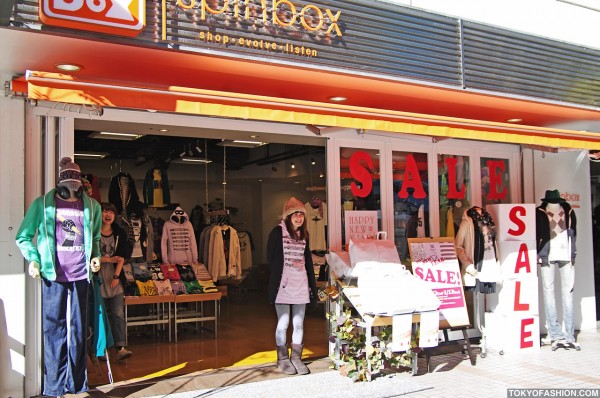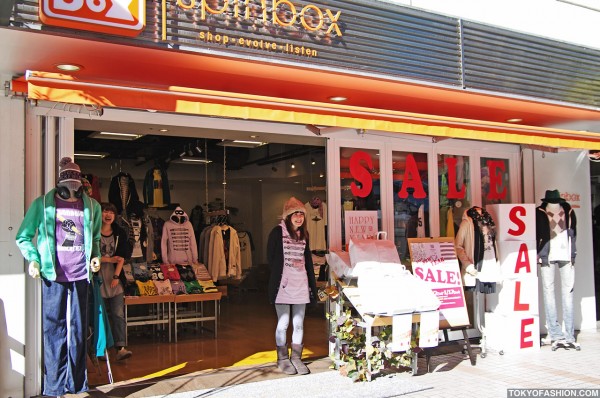 Cute girls promoting Happy Bags at Spinbox.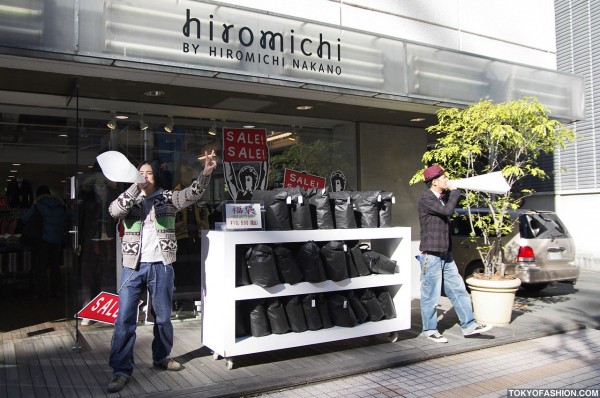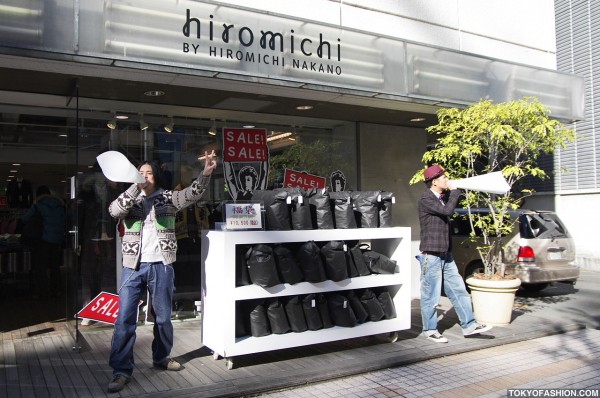 Fun guys outside of Hiromichi.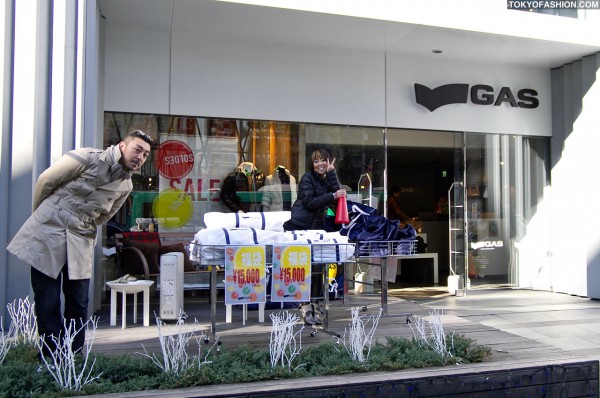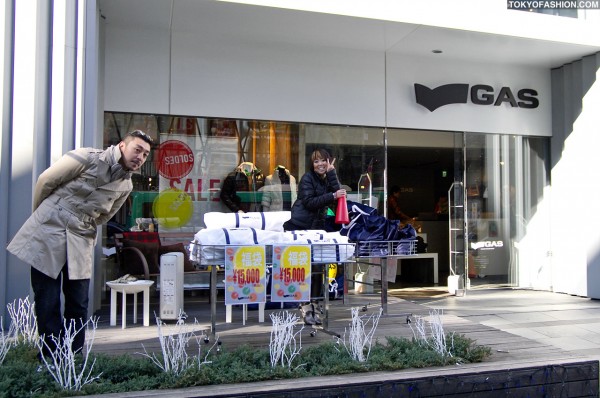 Friendly GAS staff posing for a photo!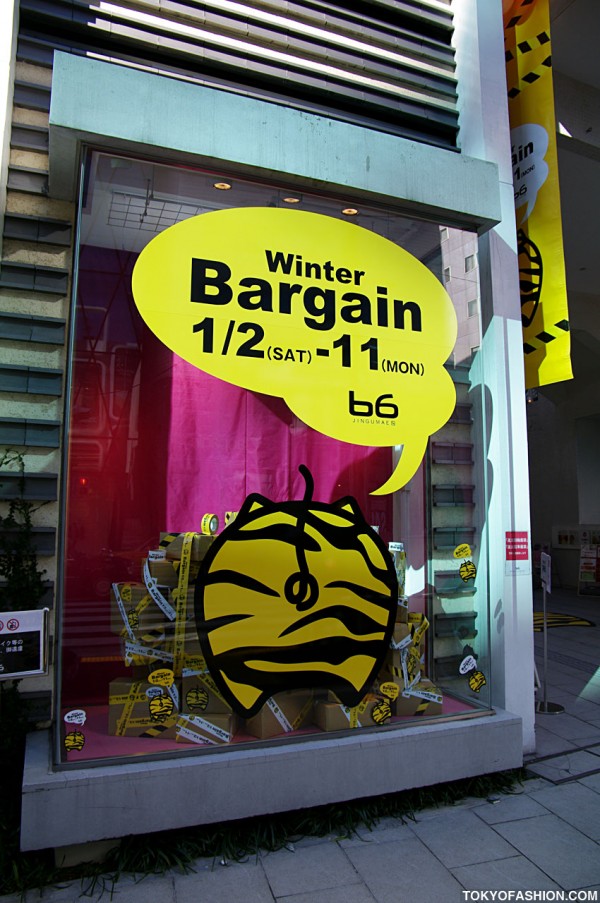 It's the year of the tiger now – which might be why B6 Harajuku has a pig with tiger stripes on their window.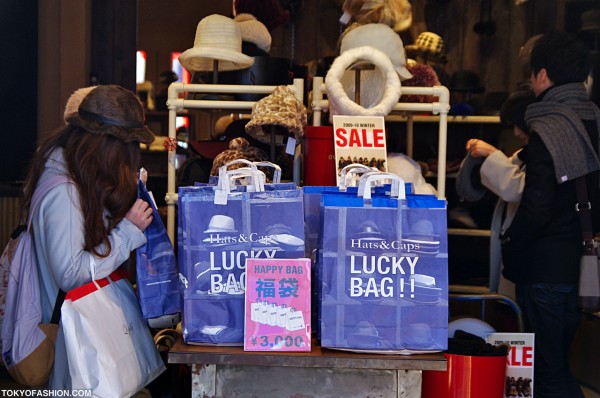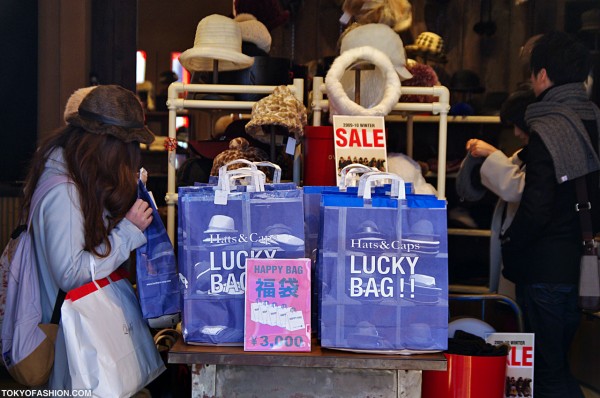 Lucky Bag!!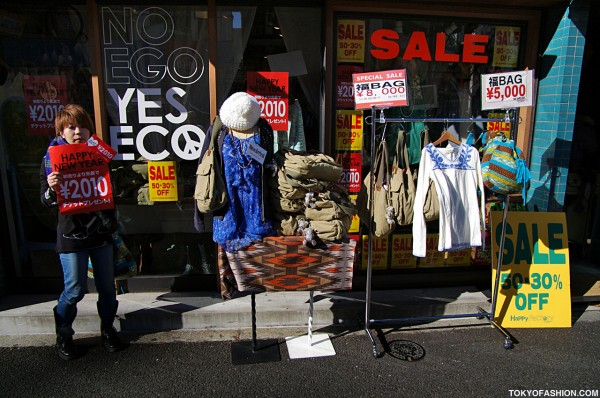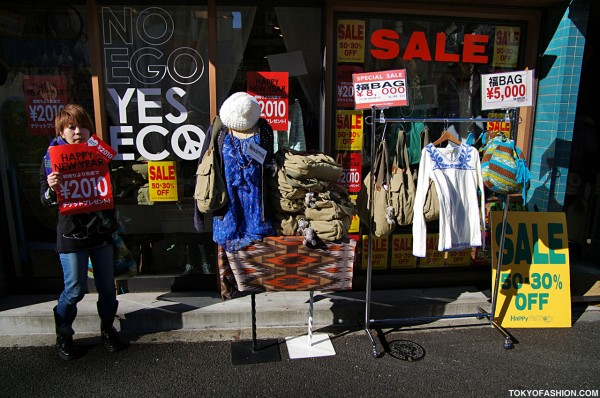 Love Girls Market.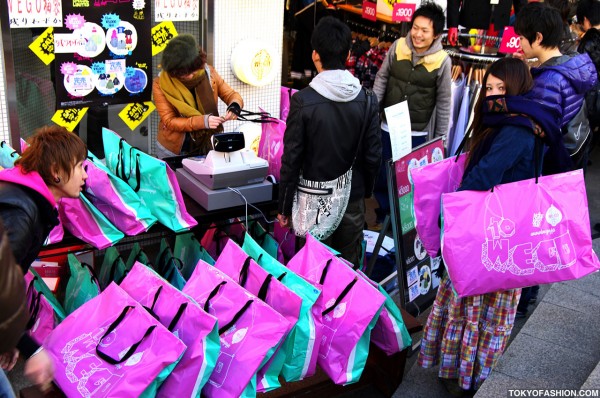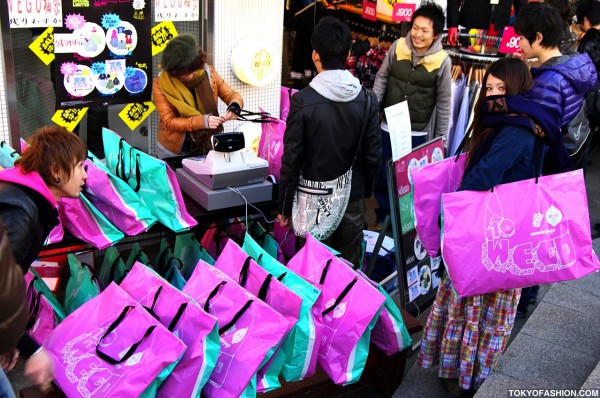 Cool girl peaking out of her scarf at WEGO Harajuku.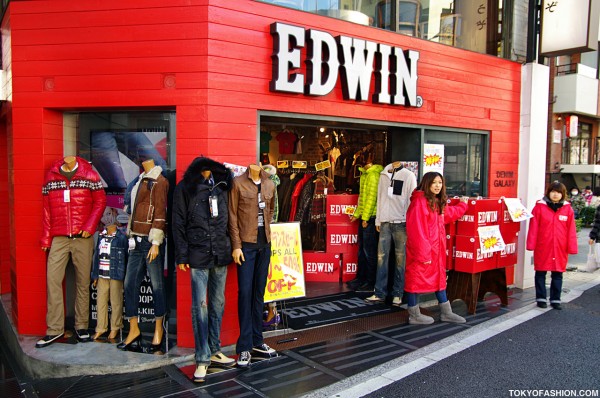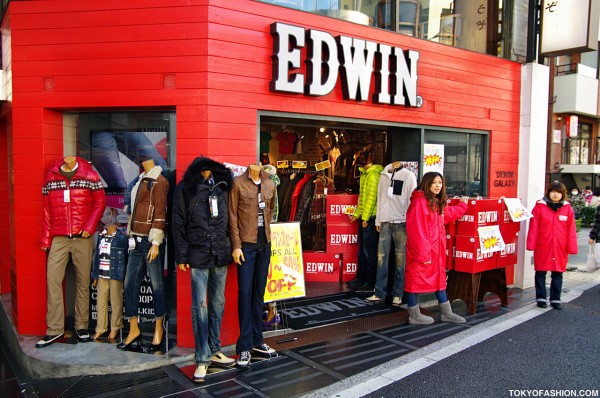 Edwin Jeans in Harajuku had red lucky bags.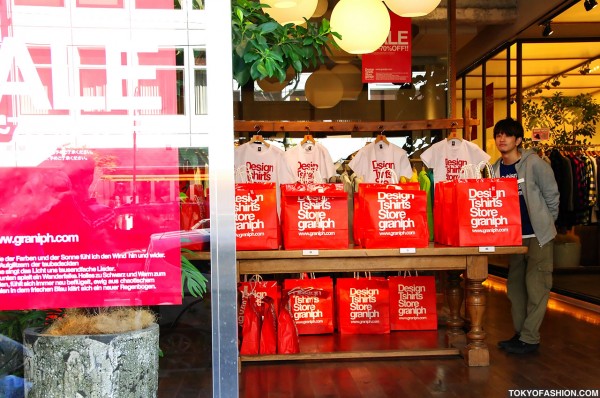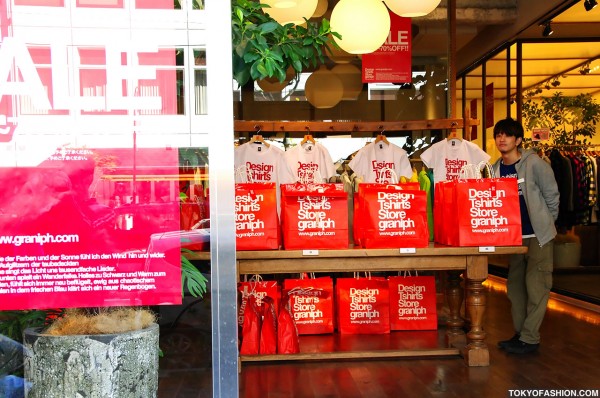 Graniph bags – bet they have t-shirts inside.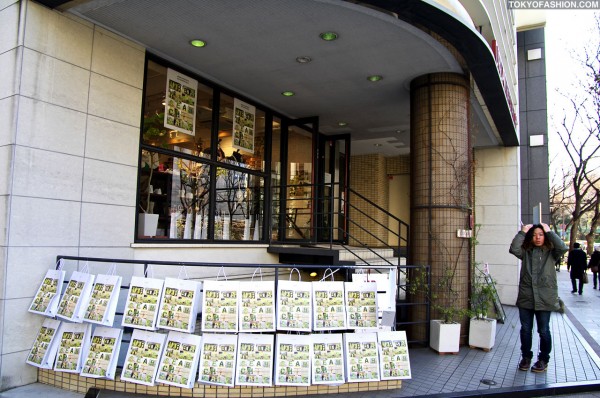 More Urban Research fukubukuro.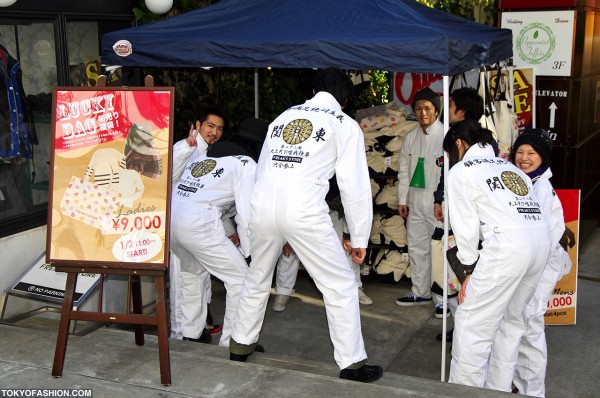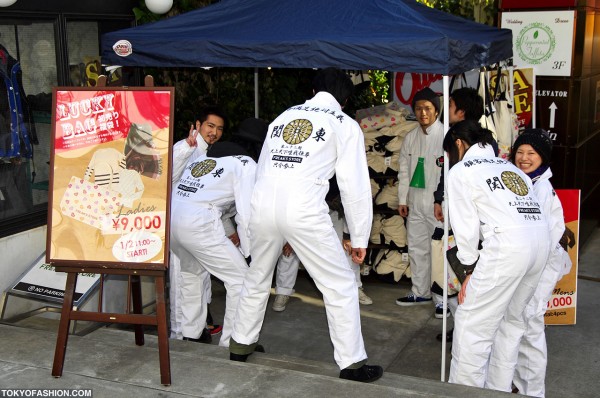 Fun Freak's Store staff wearing matching outfits and having a huddle while smiling for our photo.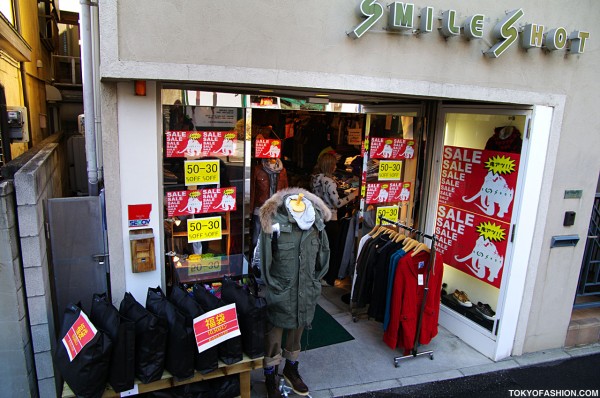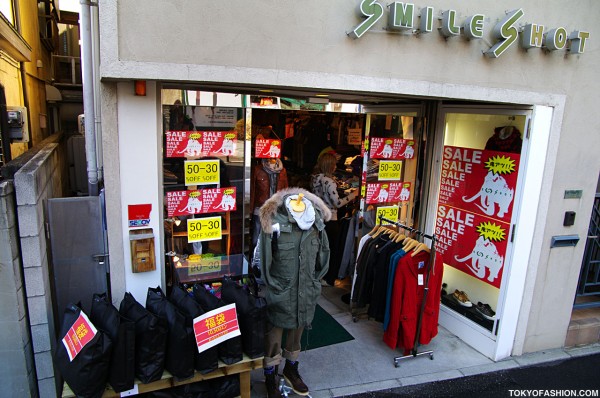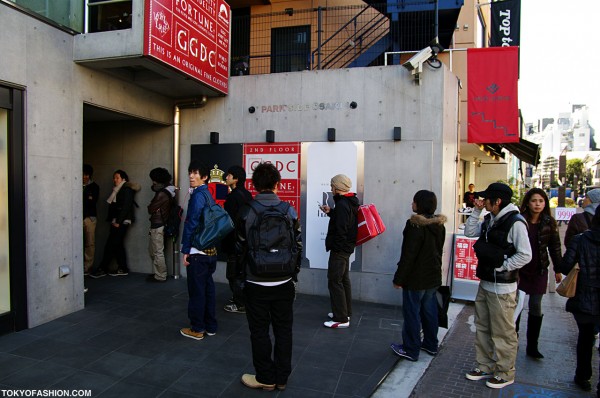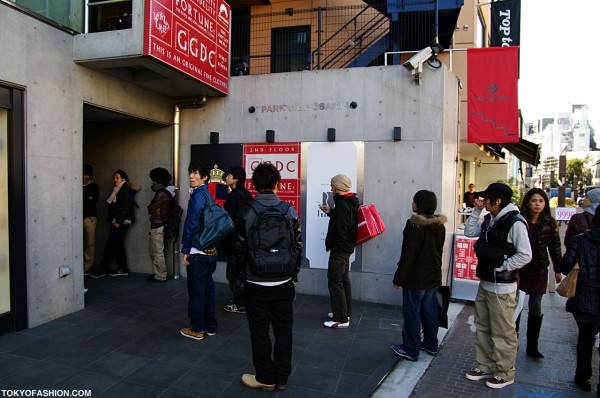 Guys waiting to get into the GGDC by GDC shop on Cat Street in Harajuku.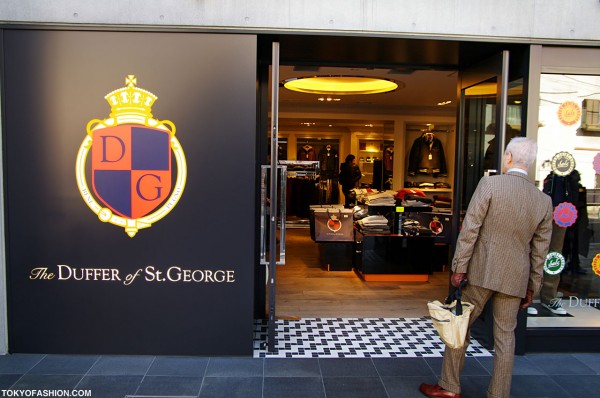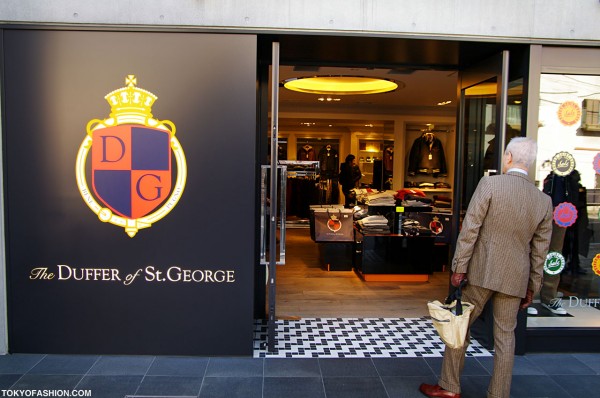 Really cool guy looking into The Duffer of St. George shop on Cat Street.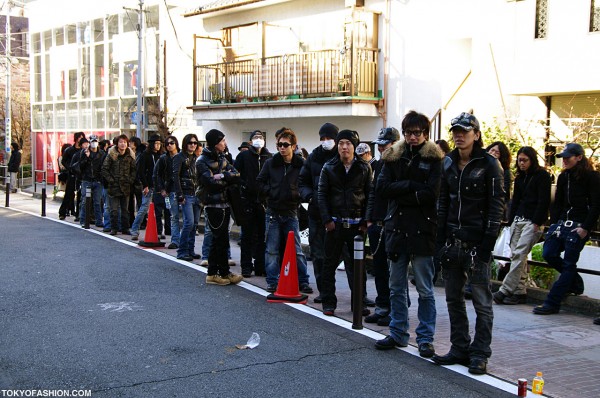 Another random long line waiting for fukubukuro at some store on Cat Street.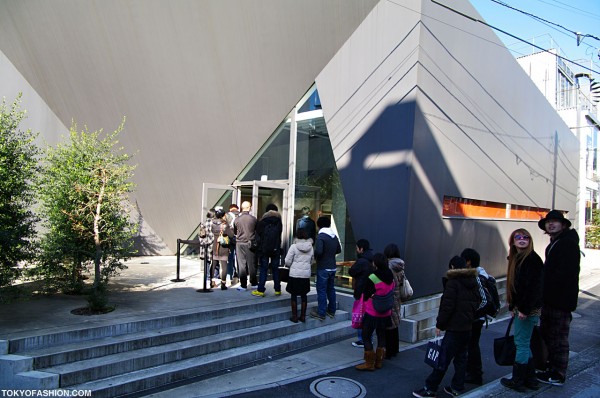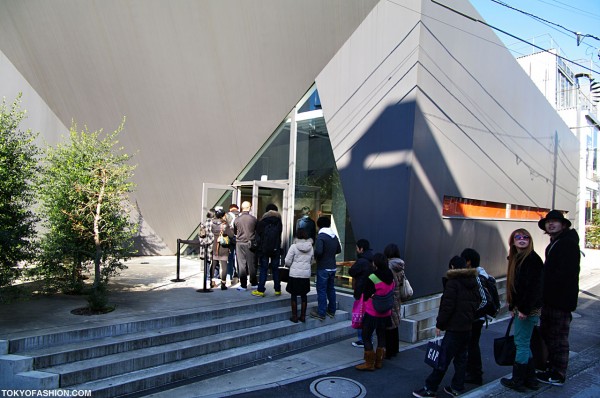 The Nike Harajuku store on Cat Street had a line to get in.

How about a mystery bag of jewelry from Aqua Silver?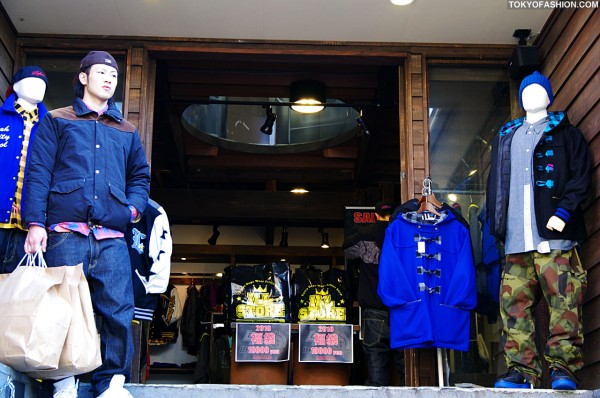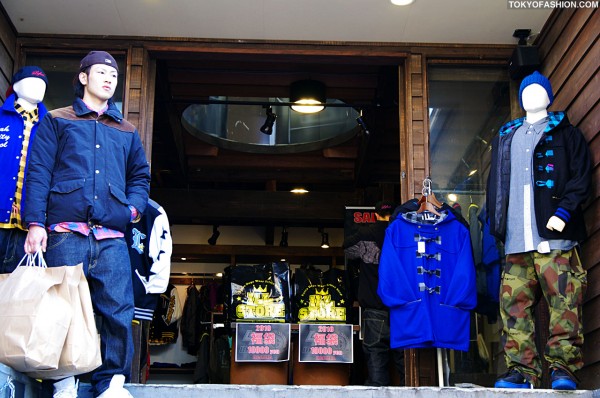 ILL Store Harajuku lucky bags.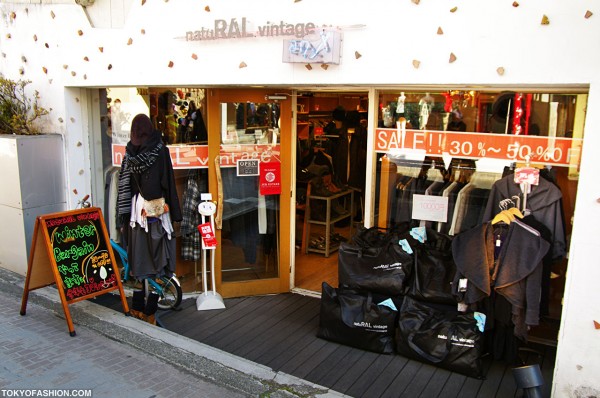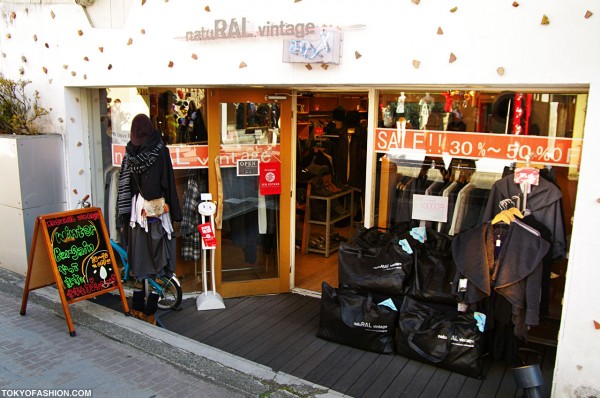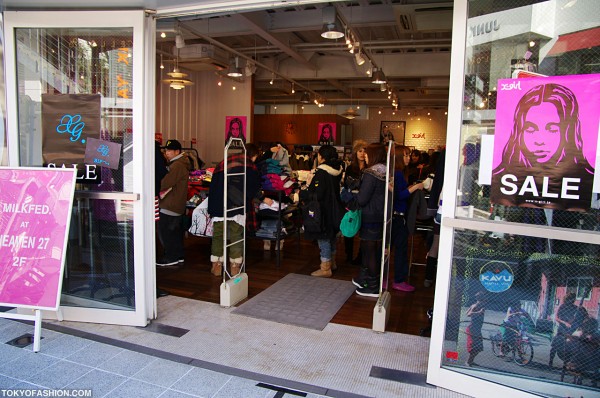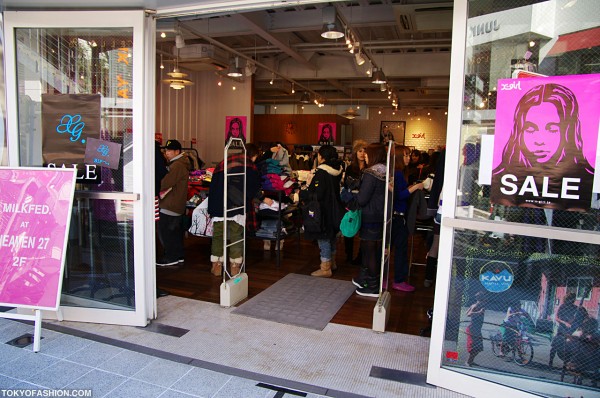 Big sale at X-Girl Harajuku.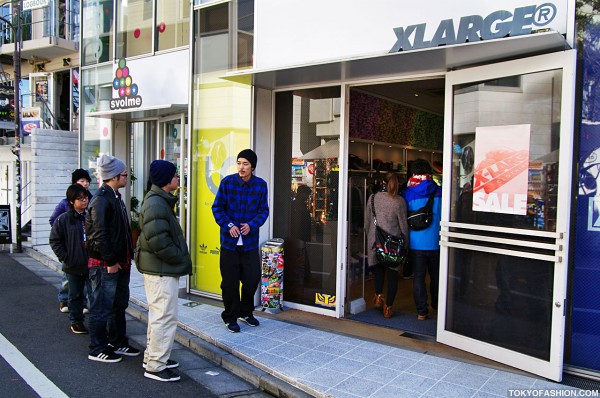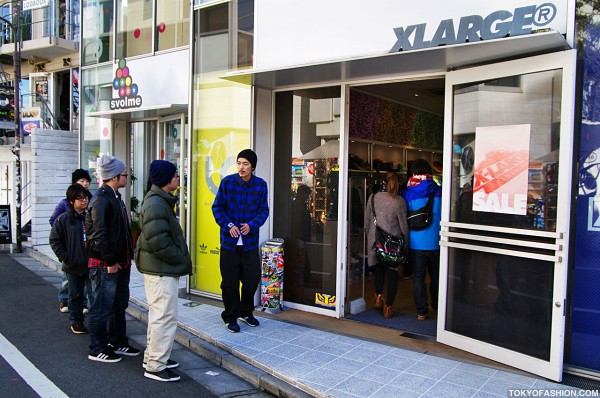 A line waiting to get into XLarge.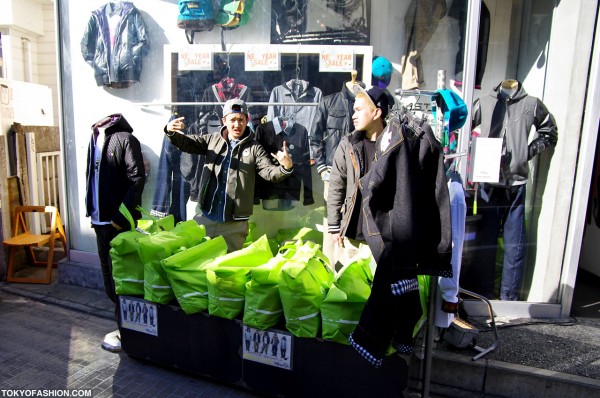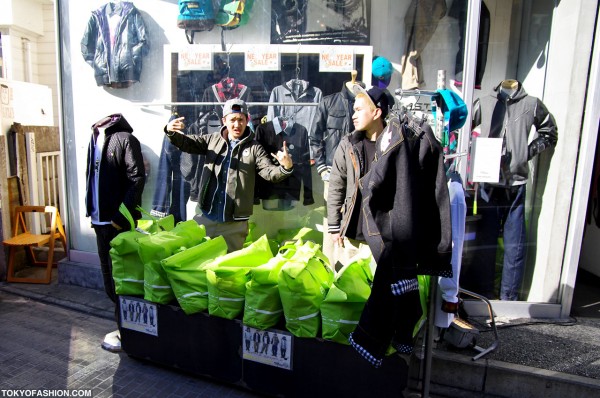 Awesome guys selling fukubukuro on Cat Street.

Big sale and Lucky Bags with ear muffs, gloves, and other warm gear.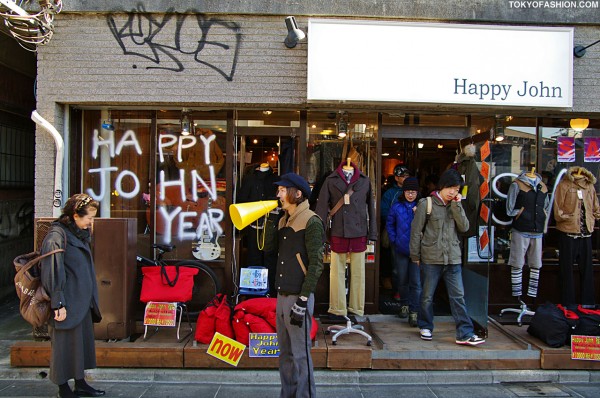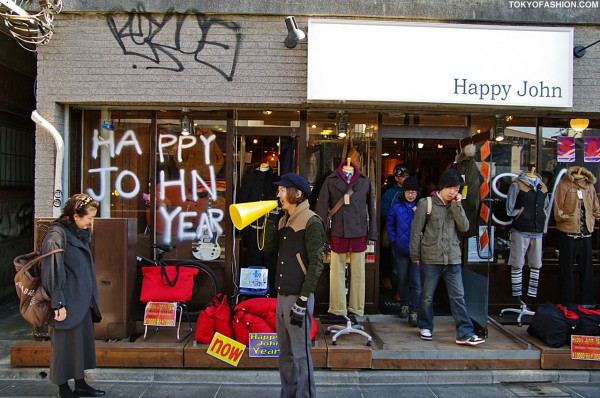 Happy John guy with a megaphone.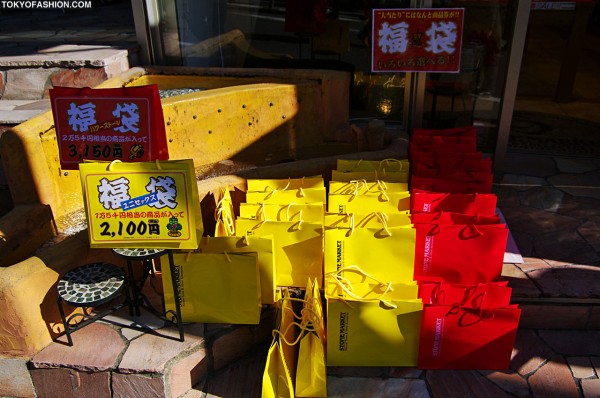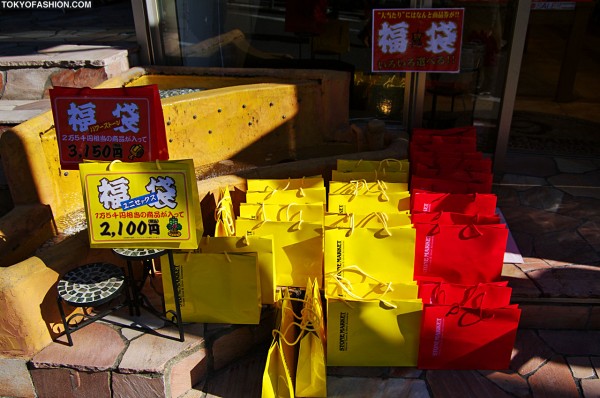 Stone Market had colorful bags.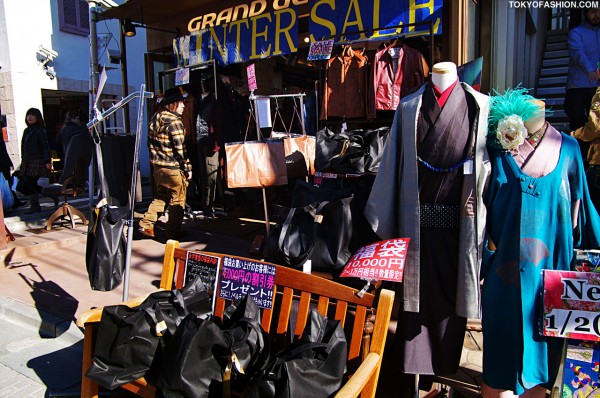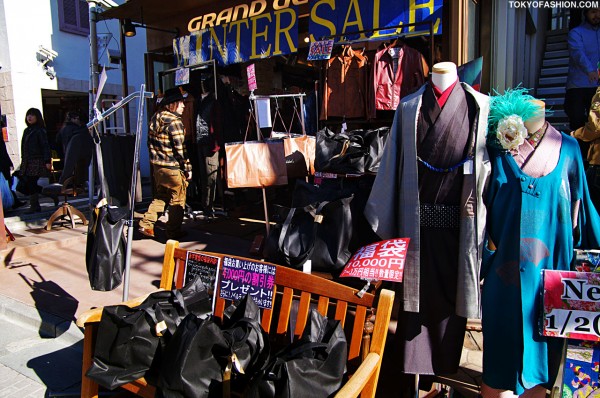 Grand Global bags.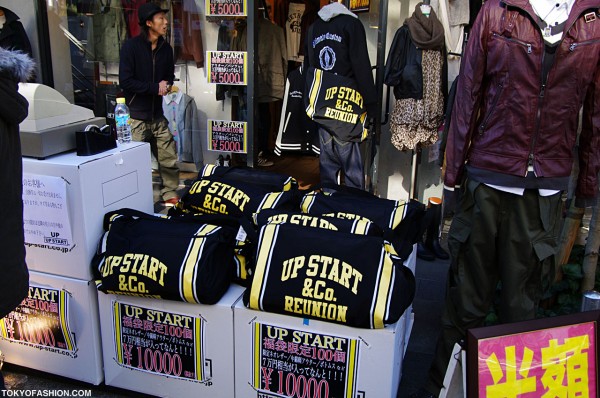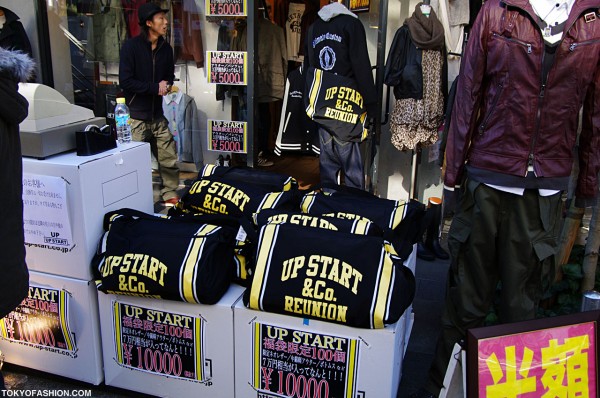 Big Lucky Bags at Upstart Harajuku.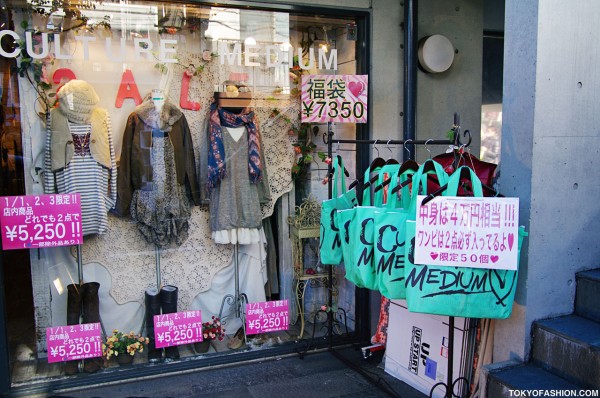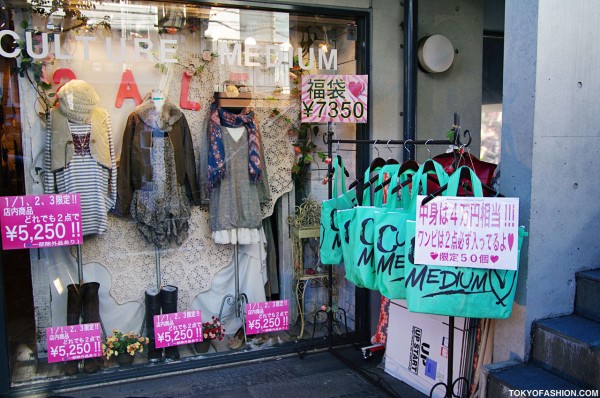 With a name like "Culture Medium", the bags have to be good!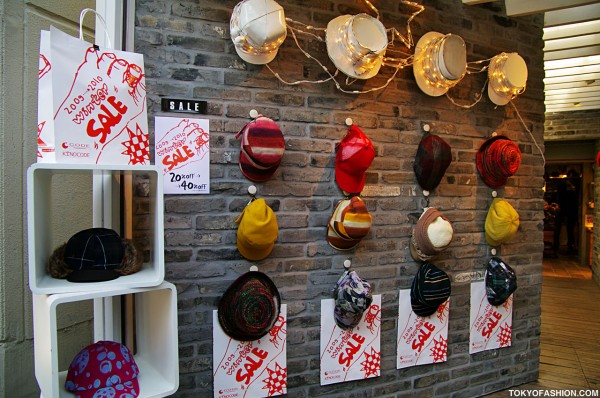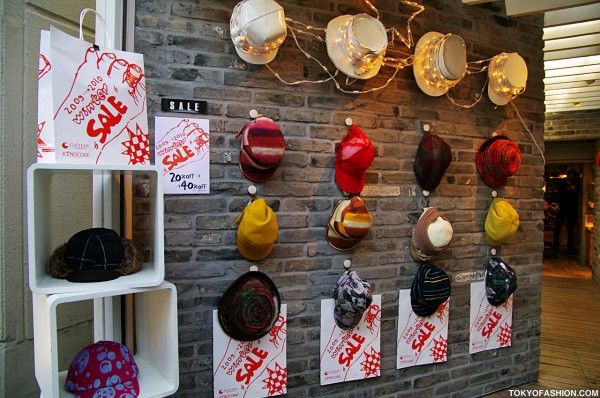 Want a mystery hat? Code Headwear has just the bag for you!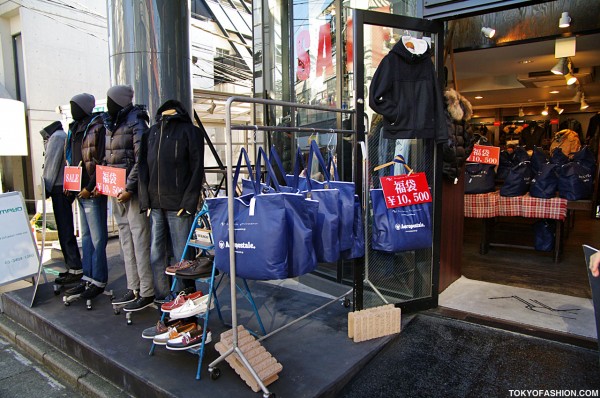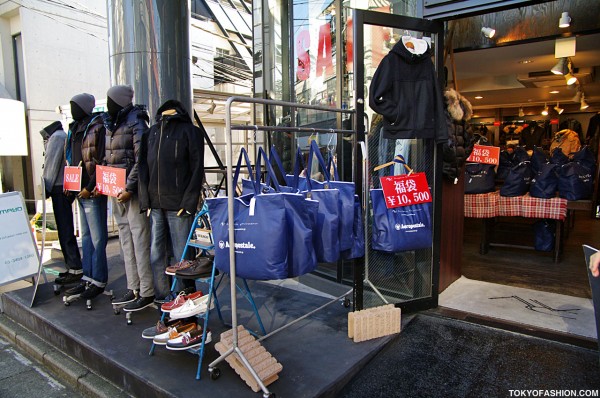 Aeropostal blue bags.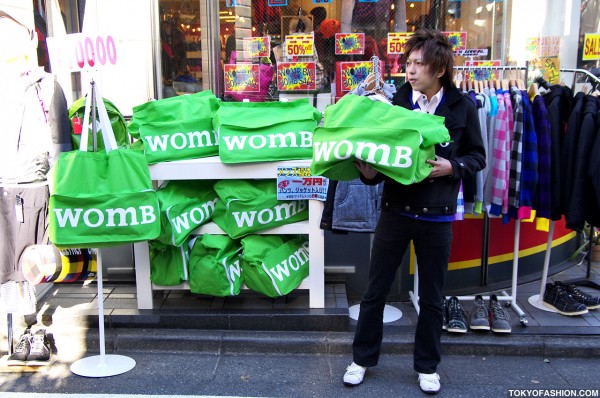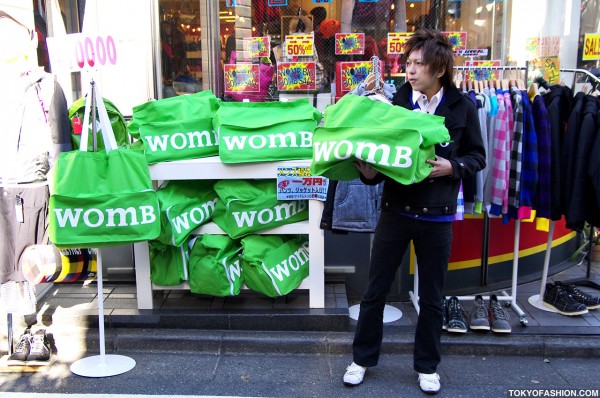 Insert Womb joke here – if you dare.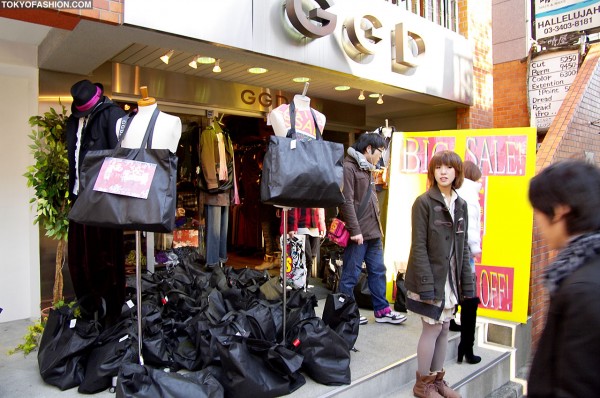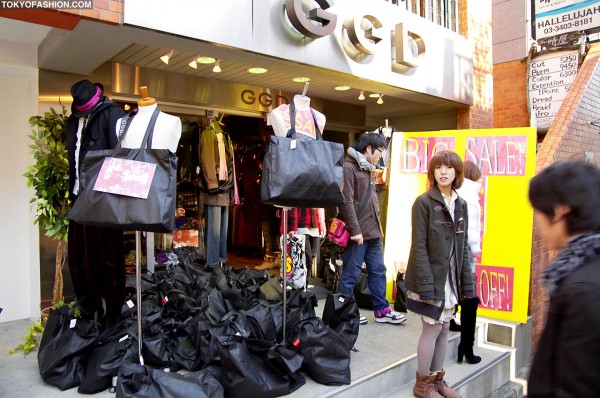 Lots of bags, and a cute Japanese girl, at GGD Harajuku.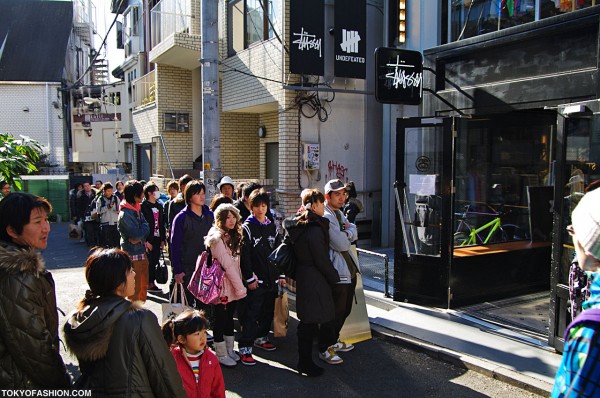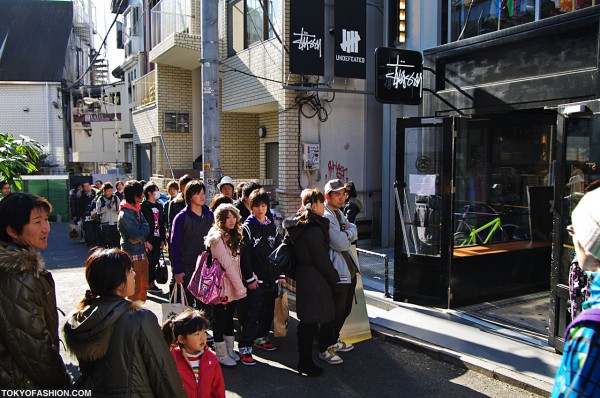 Big line for either the Stussy or Undefeated shop in Harajuku.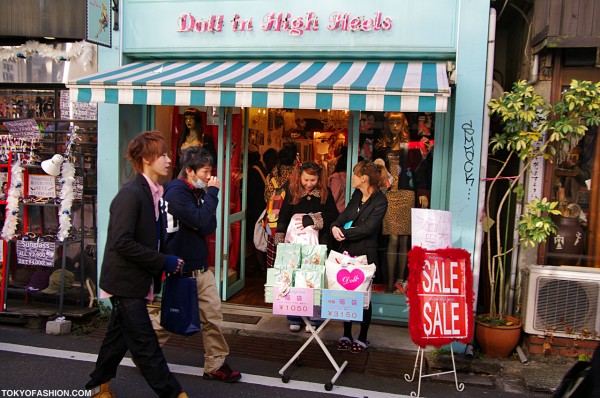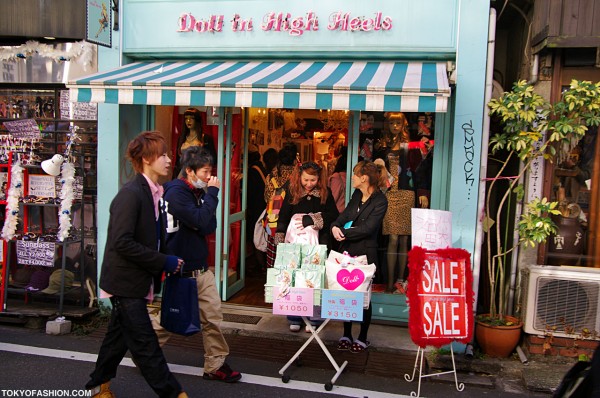 Doll in High Heels cute Happy Bags.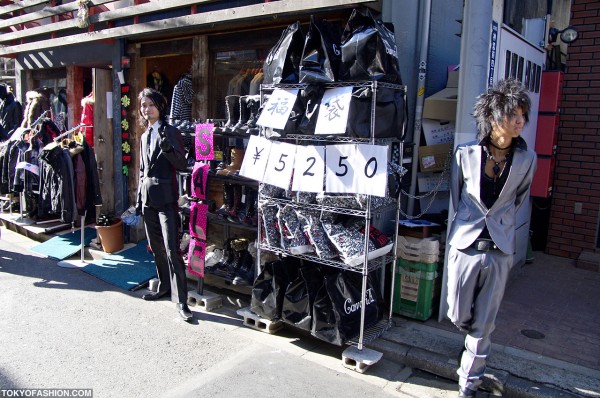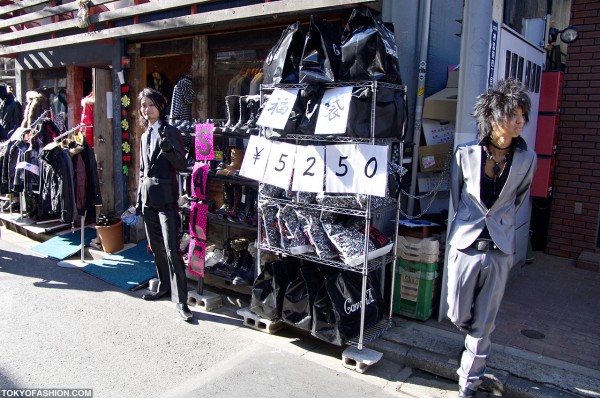 Cool guys outside of Silver Bullet.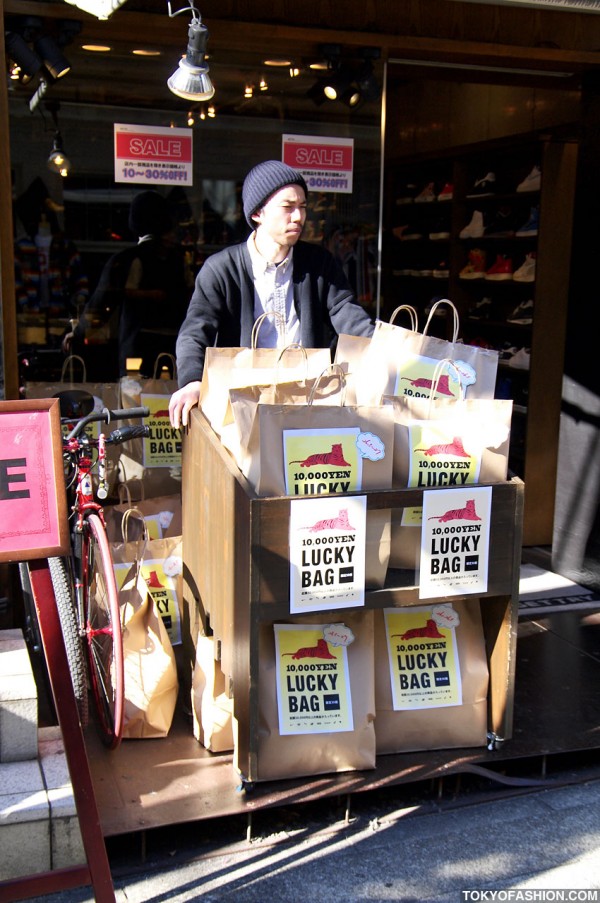 More Lucky Bags than you can carry!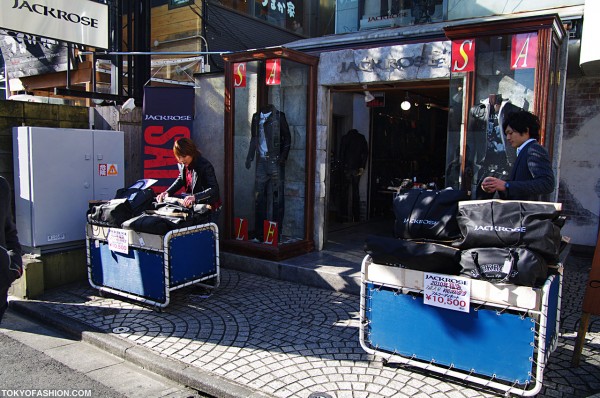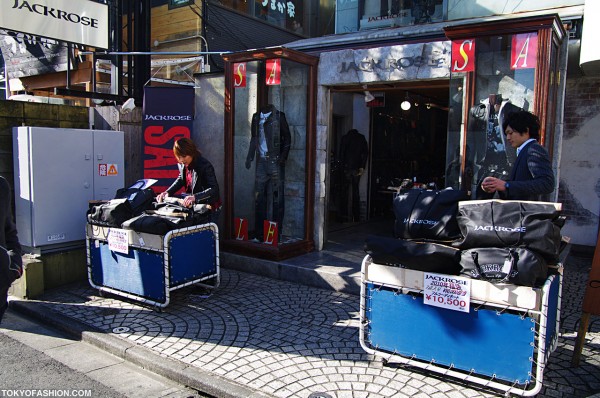 Jack Rose – do you have what it takes to wear what's in these bags?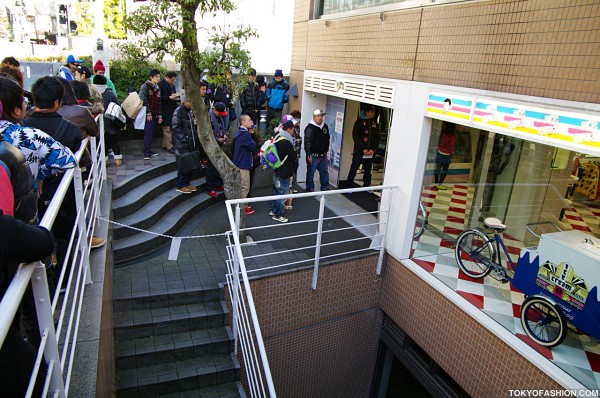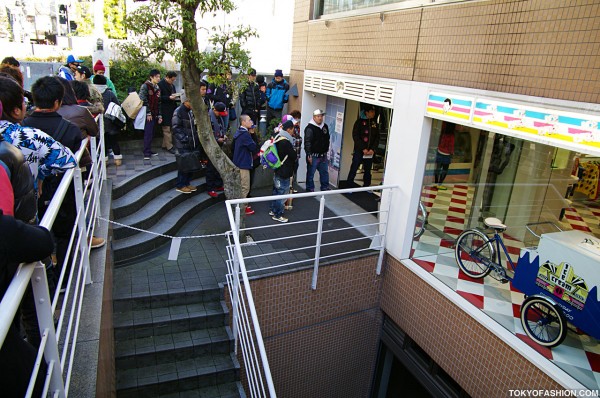 Long lines at the Billionaire Boys Club/Ice Cream shop in Harajuku.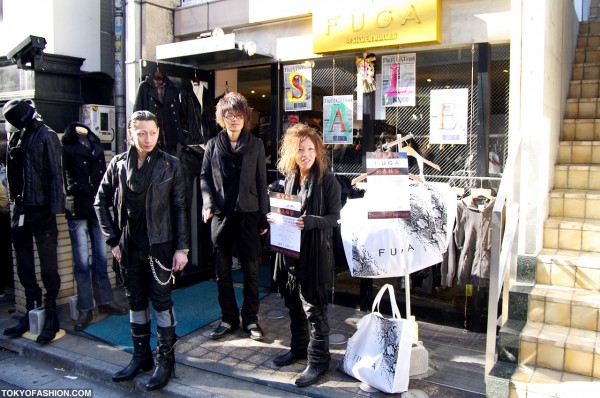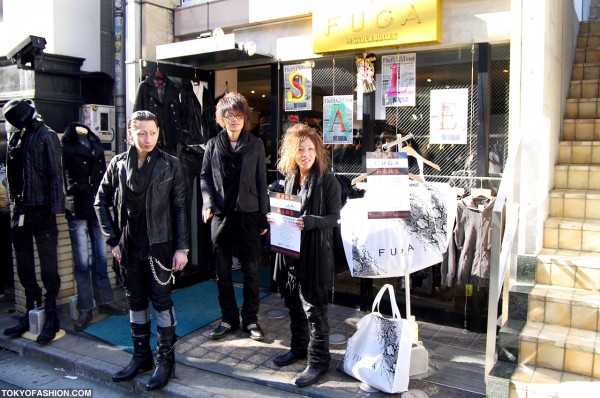 More cool guys – this time at FUGA.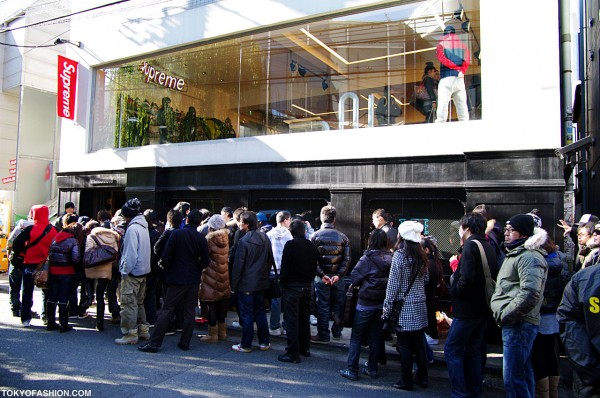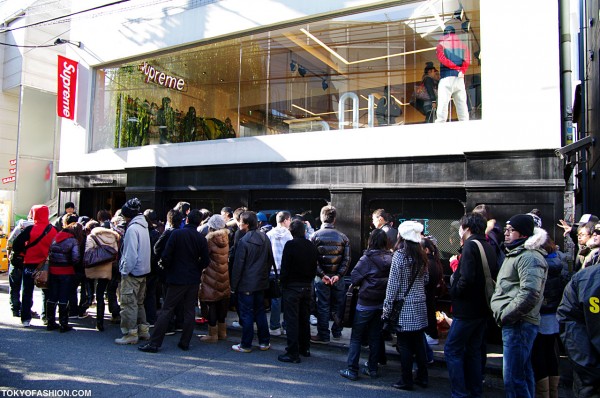 Long line for Supreme Harajuku fukubukuro.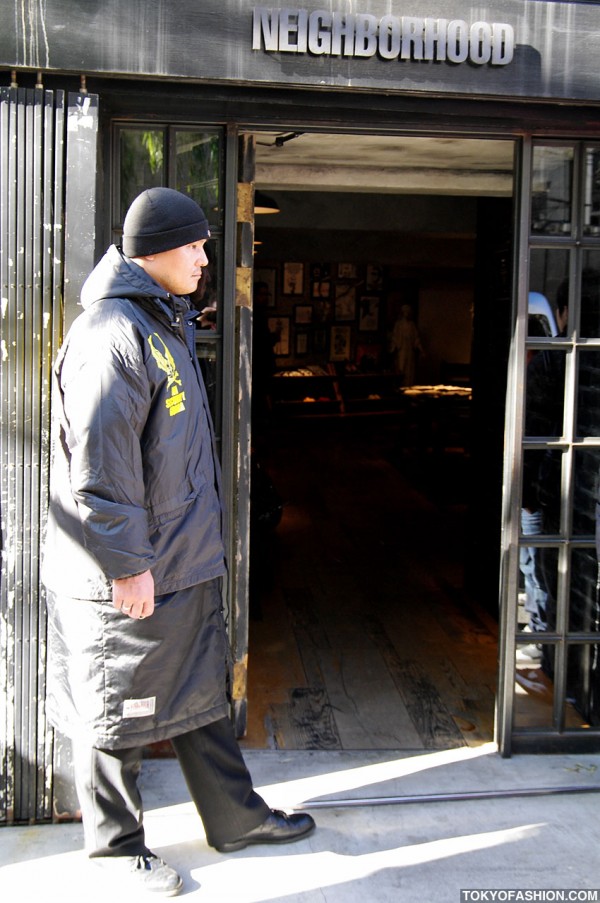 Cool – and quite big – security guard at Neighborhood Harajuku. No line cutting here!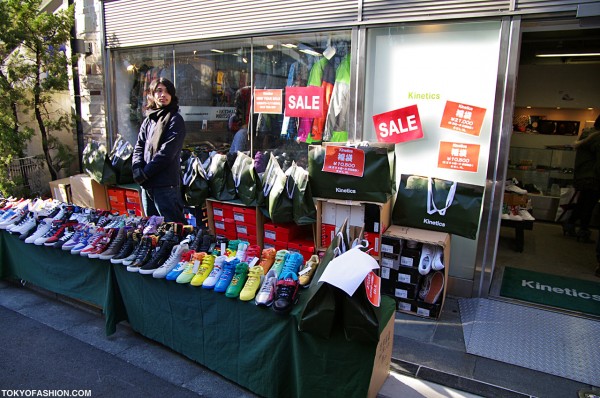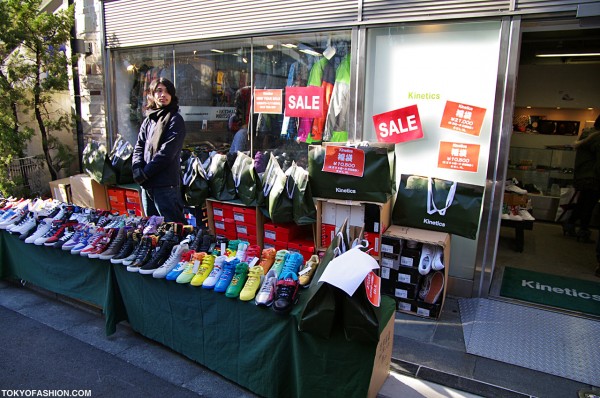 Lucky bags full of sneakers.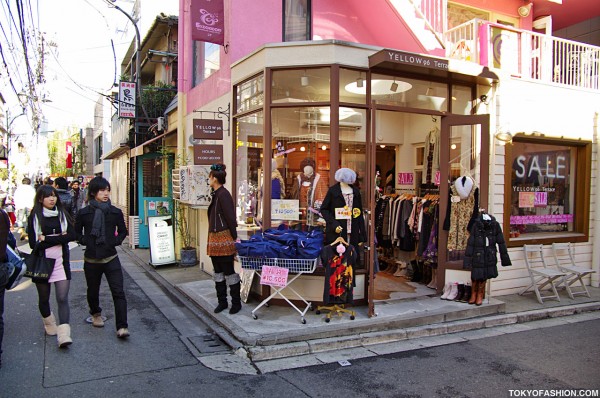 Yellow 96 bags.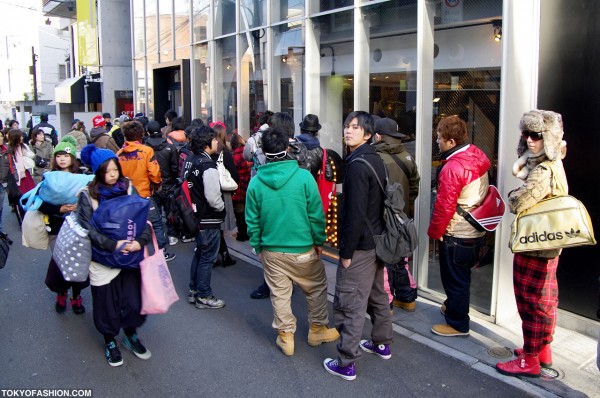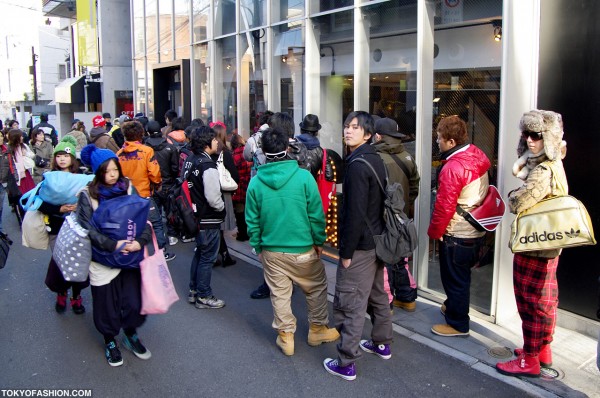 Another massive line – this one for Phenomenon. Some cool people in line and walking by.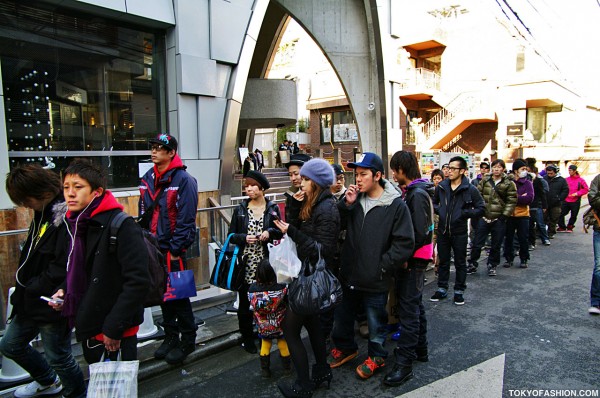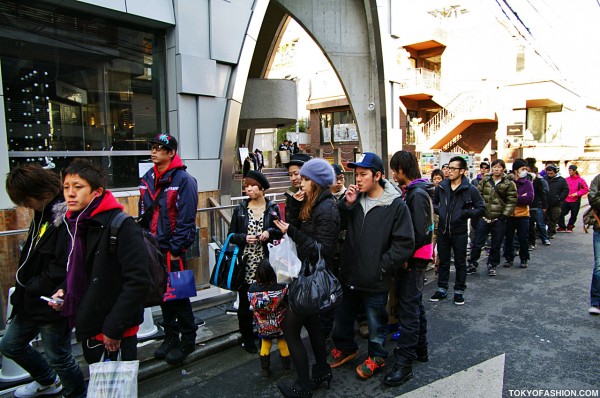 I think this was also Phenomenon, although it seems to go in the opposite direction.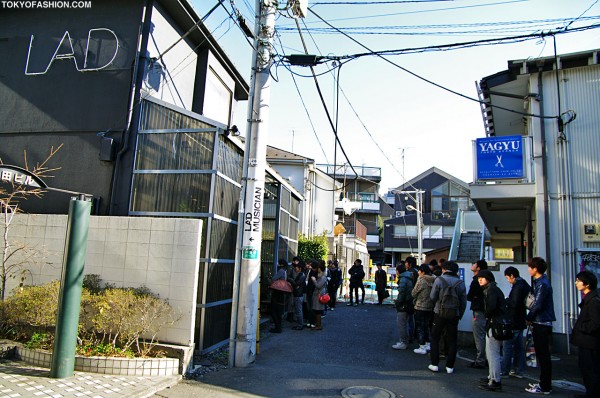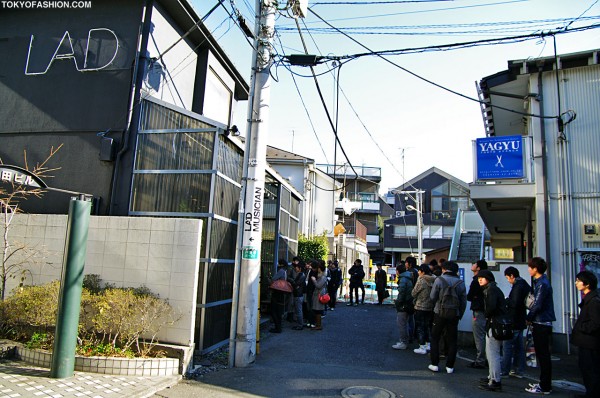 The line for LAD Musician fukubukuro. Some of these line-waiters seemed a bit suspicious of our photo taking.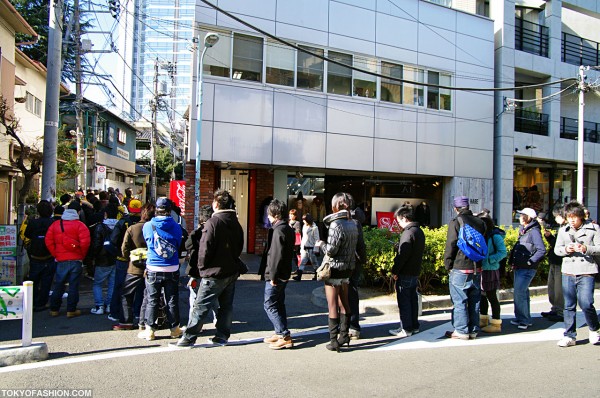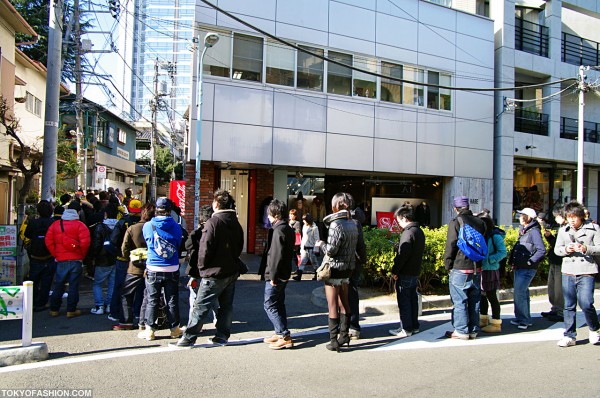 This line starts on Cat Street and goes who knows where – but far away for sure.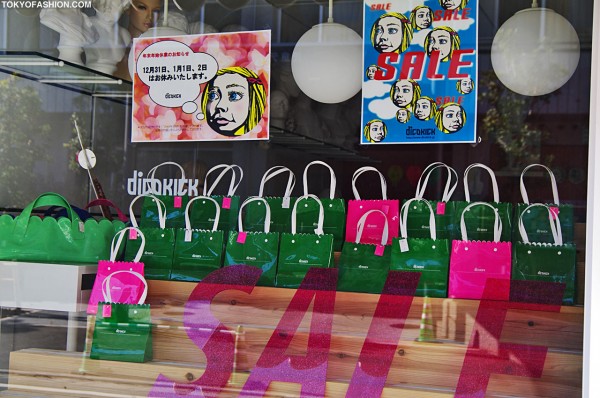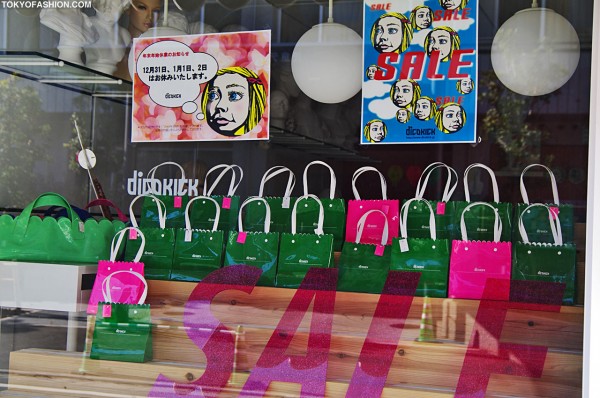 Cute Dicokick bags.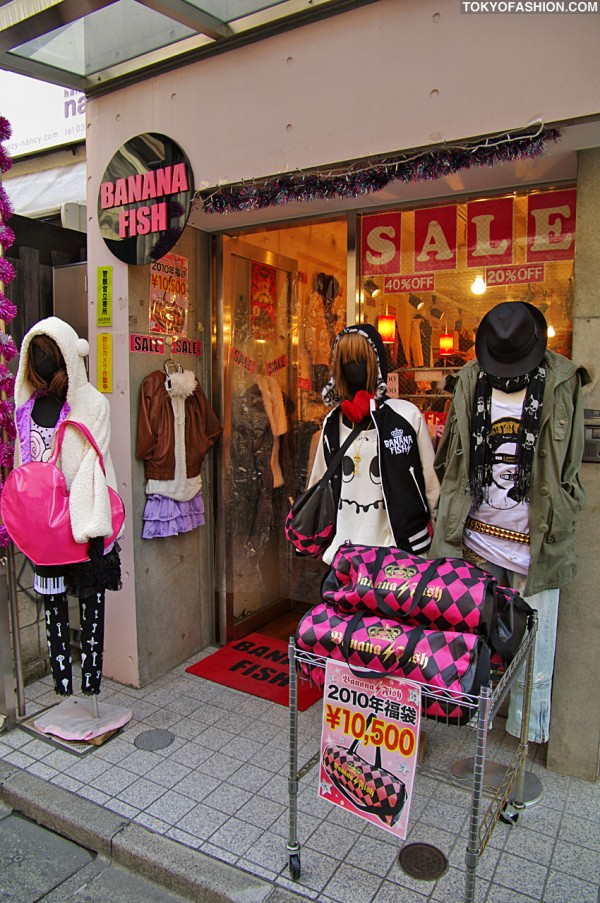 Banana Fish had cute Lucky Bags out front.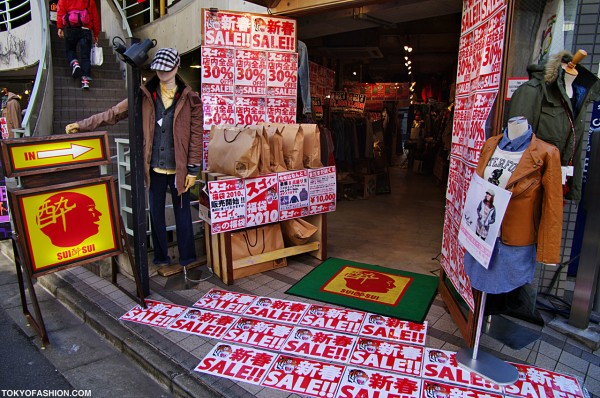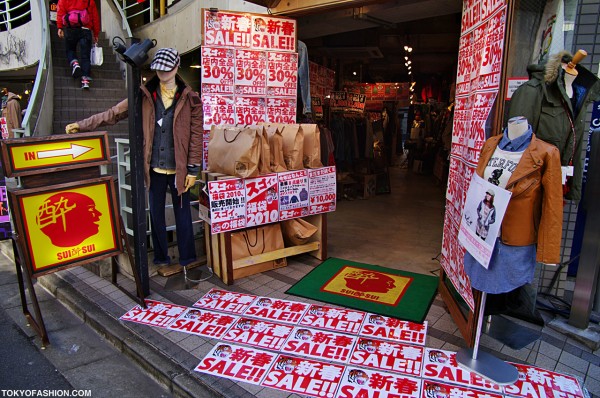 SuiSuiSui bags.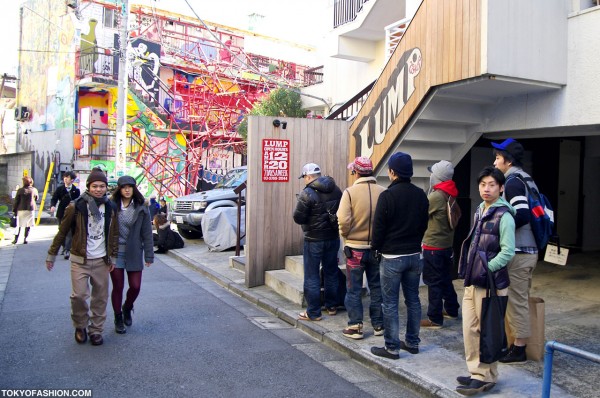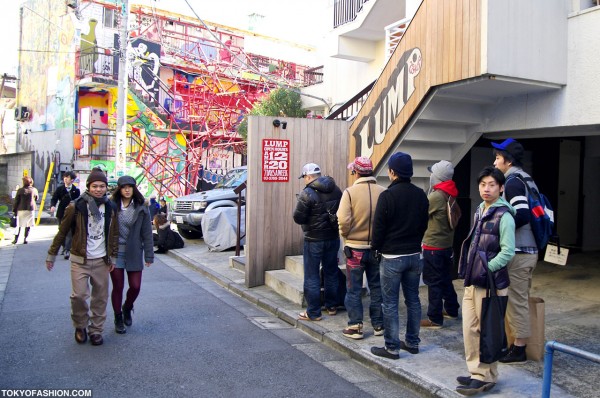 A small line for Lump Harajuku and the Design Festa gallery in the background.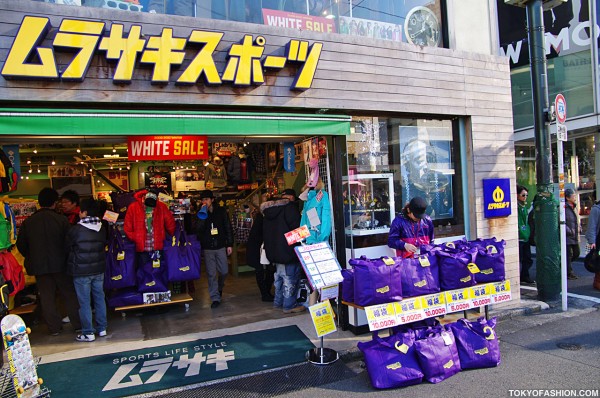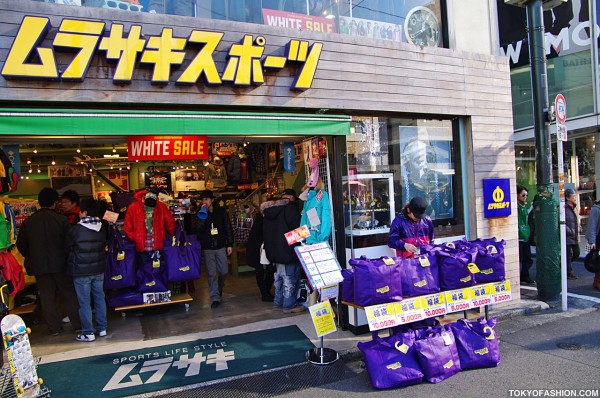 Murasaki Sports fukubukuro.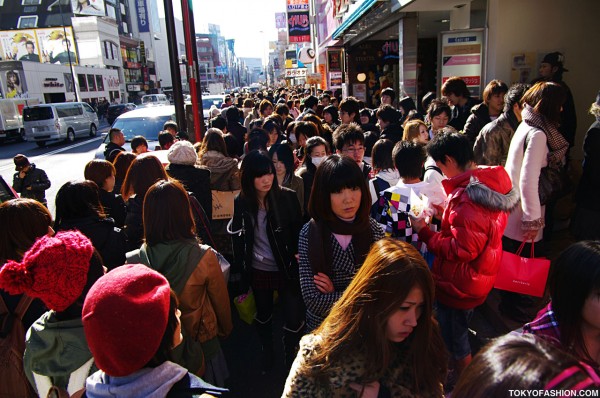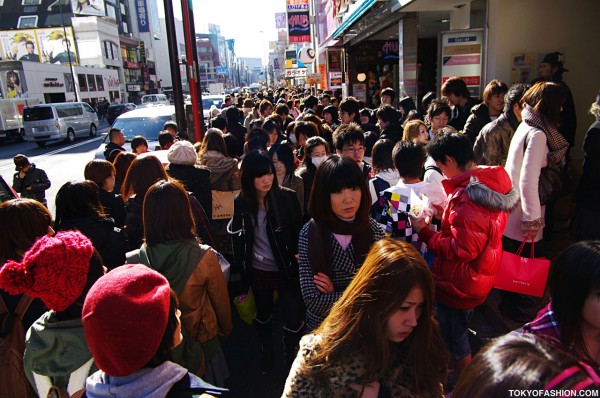 The crowds on Meiji Dori are crazy. This is between Takeshita Dori and Omotesando Dori.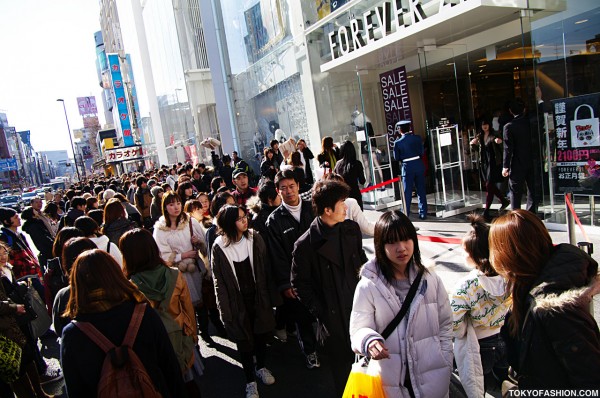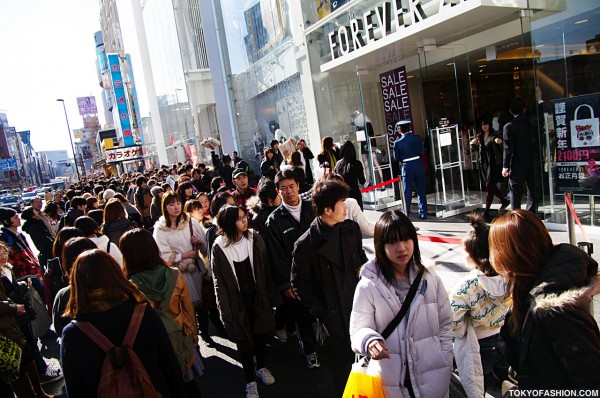 Now passing Forever 21 Harajuku – they do have some kind of Lucky Bags they're promoting.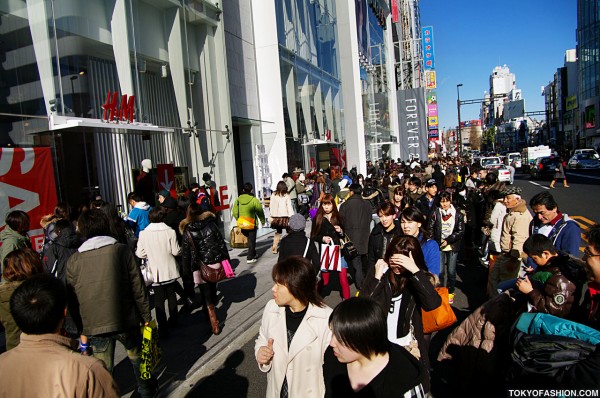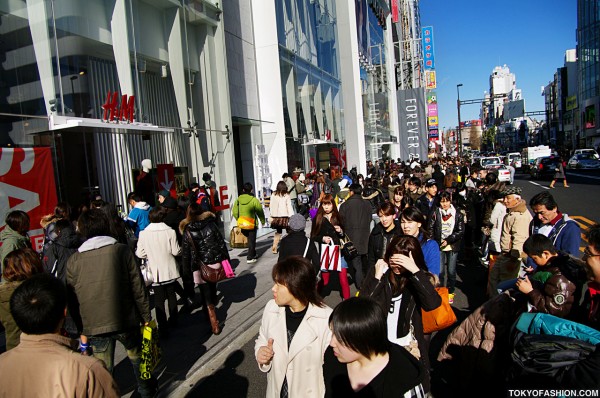 Now passing H&M Harajuku – no New Year bags we can see, but we can't see much except lots of people.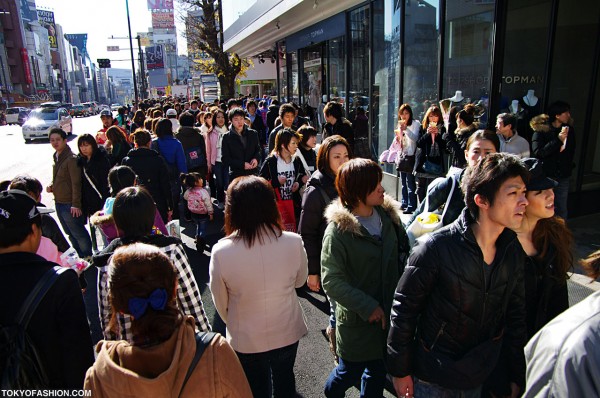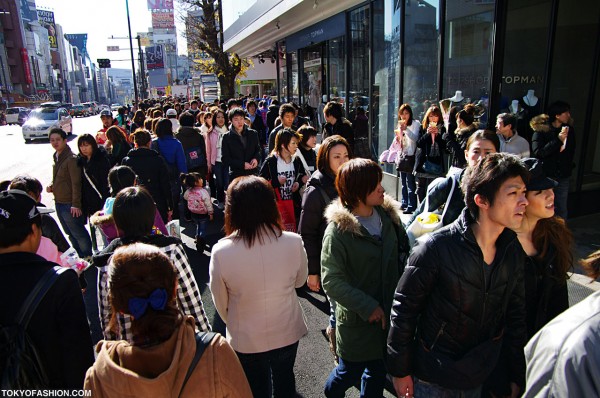 Getting closer to LaForet.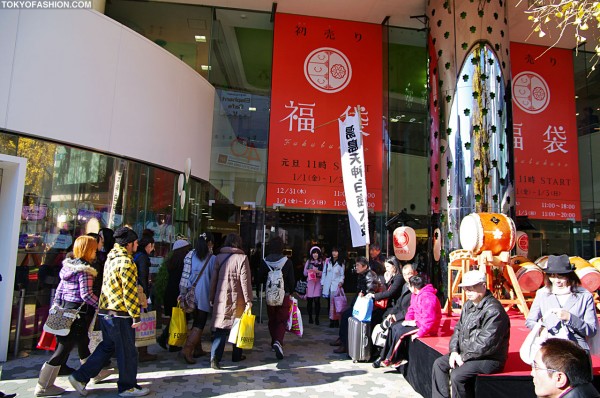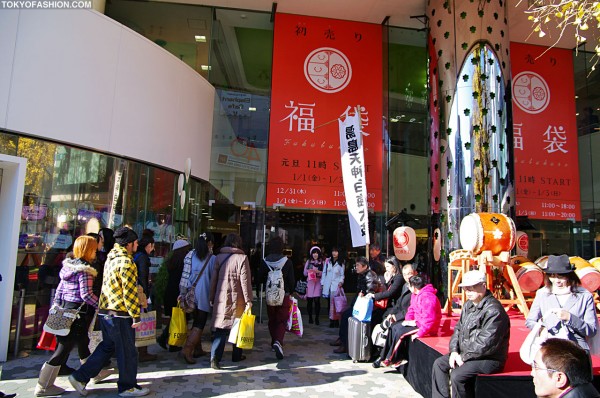 The entrance to LaForet isn't too crowded, but inside it looks busy!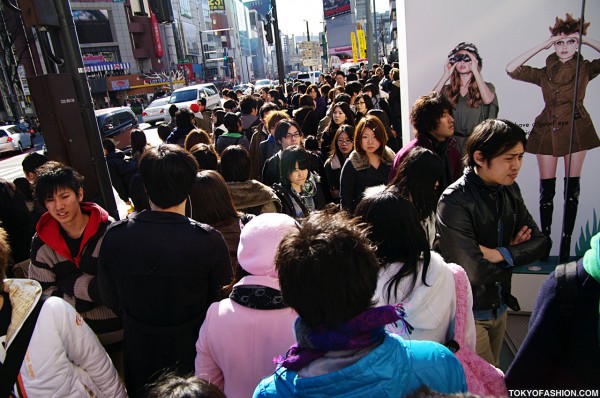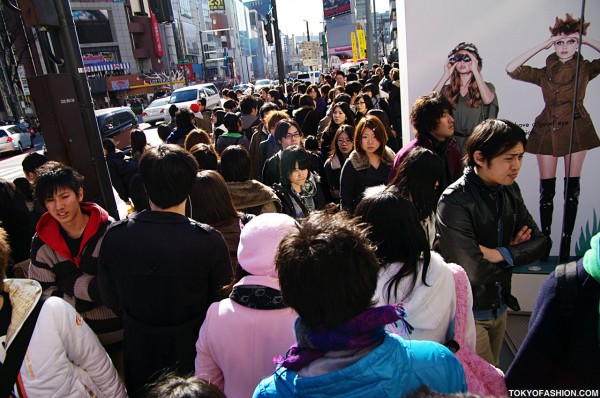 More people flooding toward LaForet. There are lots and lots of Lucky Bags to be had.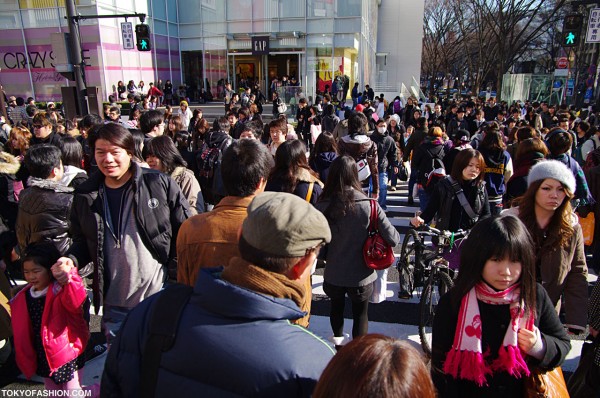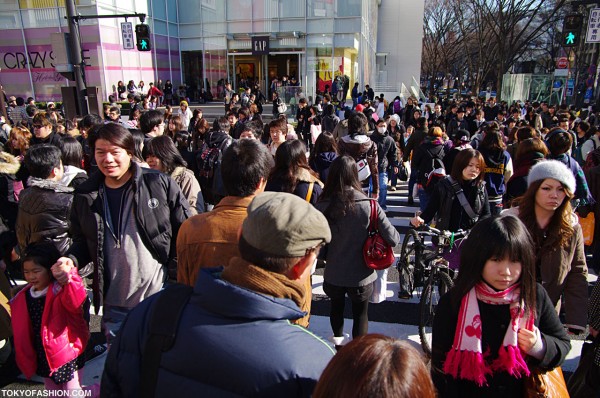 Crossing the street toward the old Gap Harajuku.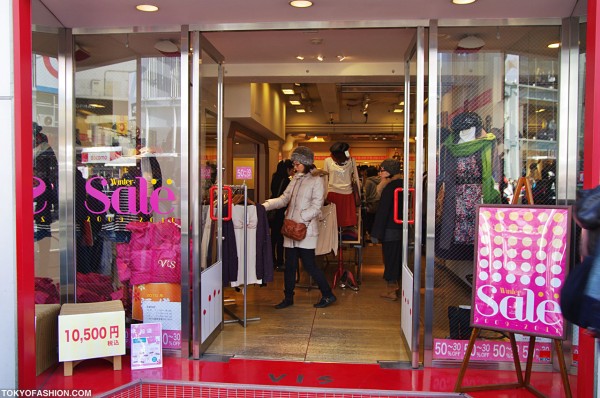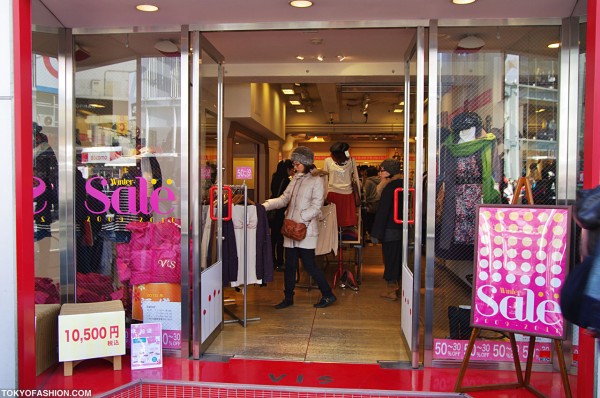 Vis Harajuku bags.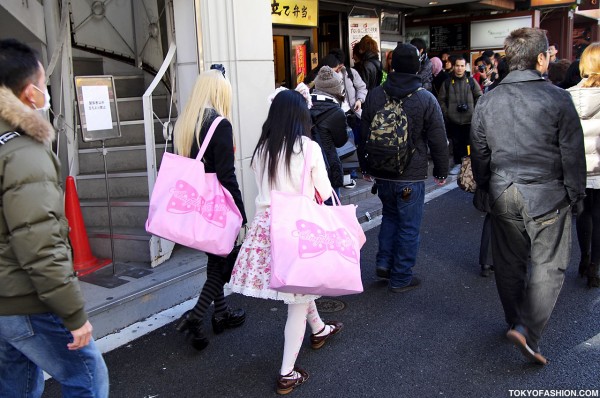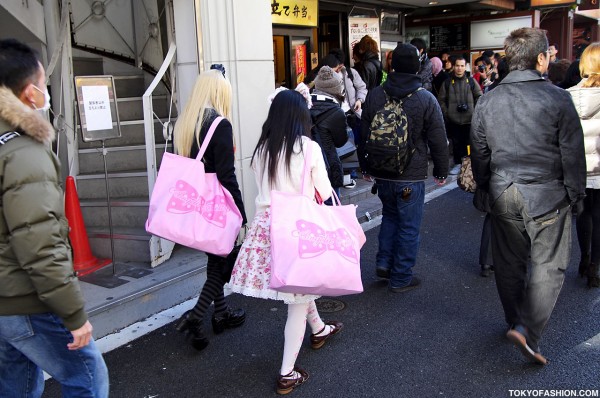 Some girls just walked past us carrying pink Angelic Pretty Lucky Bags.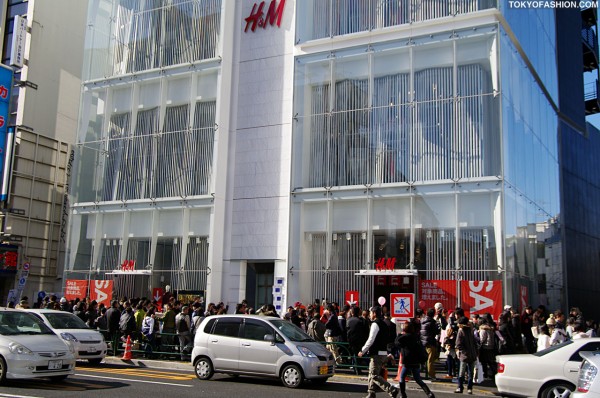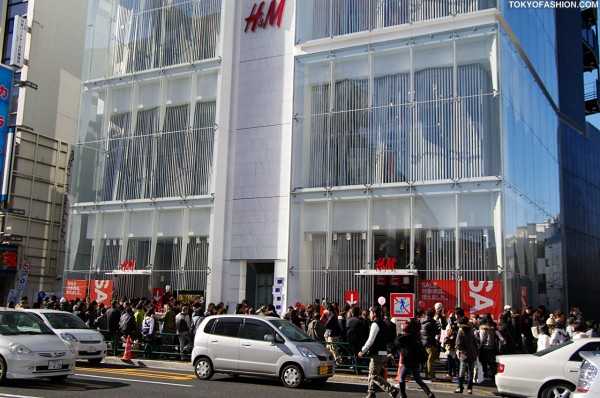 A shot across the street at the crowds outside of H&M.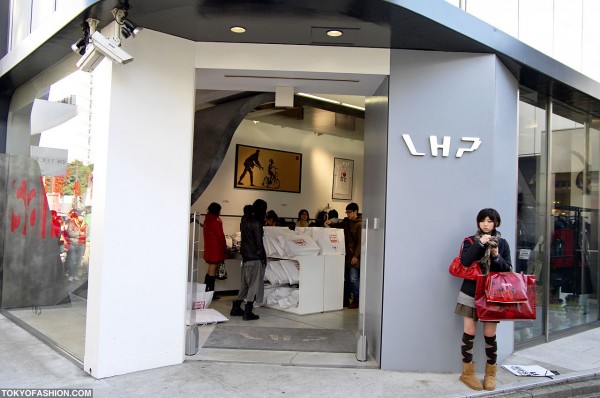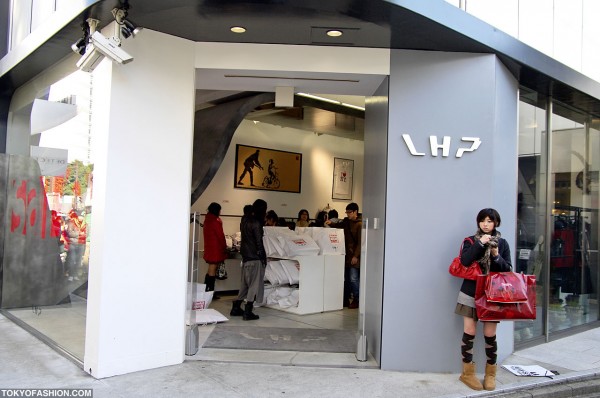 Cool girl standing outside of LHP (Lazy Hazy Planet). Inside, you can see Lucky Bags – and Banksy artwork.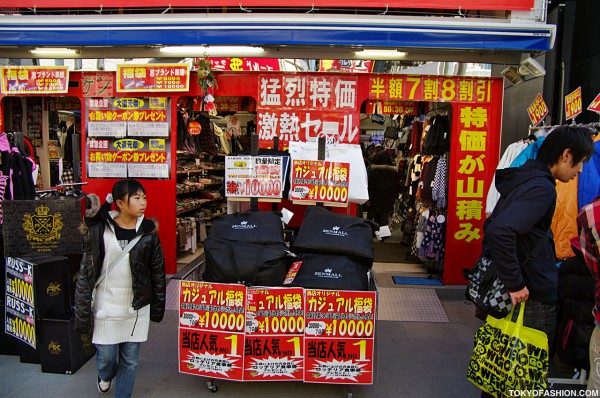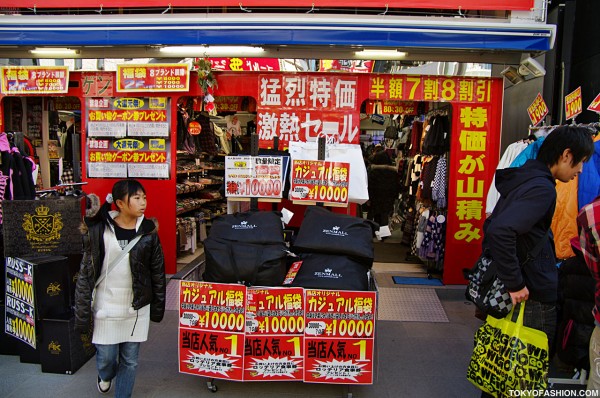 ZenMall – Lucky Bags and a perpetual state of SALE!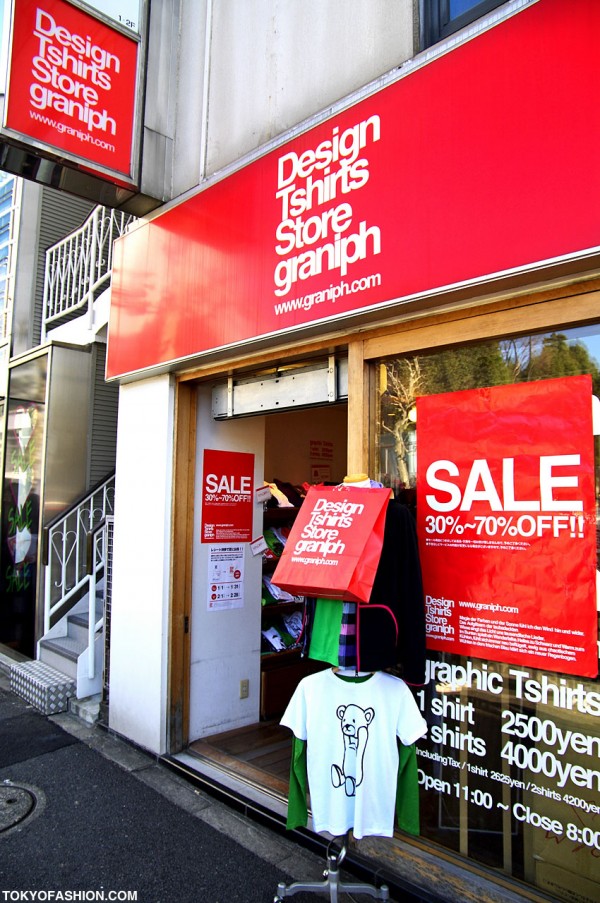 The Graniph Harajuku shop with lucky bags and cute bear t-shirt. A cute bear holding his own head in his hands?
A cute bear holding his head in his hands sounds like a good place to stop. But, in case 120 pictures wasn't enough for you, we've got even more fukubukuro images in our related Flickr Gallery.
Everyone here at TokyoFashion.com wishes you a great 2010, and please do try to visit Japan this year if you can!