Hello Kitty "Kittyrobot" Exhibition in Tokyo – 150+ Kawaii Kitty Pictures!
As the undisputed queen of Japanese kawaii, Hello Kitty has brought smiles to the faces of billions of people around the world. In addition to all of the fun products they sell, Kitty's creators also want her to be a positive force in the world. To this end, the "Kittyrobot" exhibition opened his week in Tokyo at Omotesando Hills with the goal of bringing both smiles and support to those affected by last year's Great Tohoku Earthquake and Tsunami.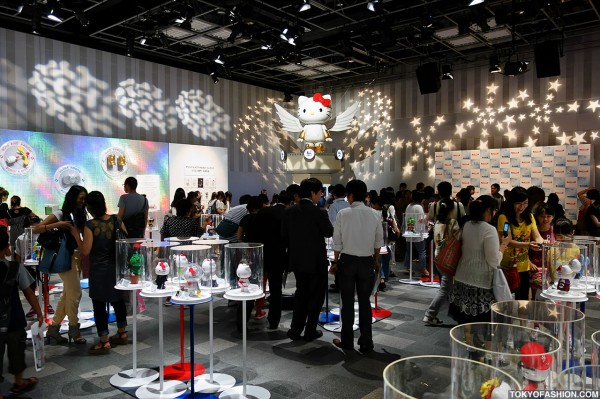 The "Kittyrobot" exhibition features over one hundred customized Hello Kitty dolls created by Japanese and international celebrities. After the exhibition is over, these one-of-a-kind Hello Kitty dolls will be sold at a charity auction for earthquake relief. Each of the creators has not only decorated their Kitty, but also shared their own "message to the future" to encourage a bright future for earthquake victims. [Update: We've been getting a lot of questions about how to bid on the Kitty figures. You can bid online via Yahoo Auctions! Click on any of the Kitty figures & check the English on the page.]
The exhibition itself is designed to immerse you in a futuristic Hello Kitty world. There is a giant Hello Kitty robot on one wall, a flying Hello Kitty suspended from the roof, and a giant winged Hello Kitty standing atop a rocket ship. There are even Hello Kitty games where you can try to bring an injured Kittyrobot back to life.
The list of celebrities who have customized Hello Kitty dolls is huge. Everyone from sports figures to bands (J-Pop & K-Pop) to TV stars and actors to fashion designers got in on the fun for the cause. Because we're a fashion website, the dolls that caught our eye right away included Hello Kittys created by Sebastian Masuda of Harajuku's 6%DOKIDOKI, Murua, Galaxxxy, Baby The Stars Shine Bright, Kumicky, Ayamo, Amo, Beams, JSG, Atmos, and dazzlin. Musicians included Ayumi Hamasaki, May's, Puffy, N-Train, Misono, Kreva, Super Girls, Girl's Day, and Girls Next Door. For the full list of participants, please see this list.
We checked out the Kittyrobot exhibition, and brought back pictures for those of you that aren't in Japan. If you are in Japan, we definitely recommend you go see it for yourself. More details on the event can be found at the bottom of the page. Enjoy the Hello Kitty pics. Remember, you can click any of them to blow them up.
Click any of the Kitty Robot pictures to enlarge them.
The Kittyrobot exhibition runs August 12th-19th, 2012 at Omotesando Hills. The entrance fee for adults is 500 yen, for junior high & high school students is 300 yen, and younger children get in free. The entire event is for charity, so whether you attend or bid on one of the dolls, it's all for a good cause. If you want more information, please check out the official Kitty Robot website, Facebook or Twitter!