Incubate Fashion College Shop In Tokyo
While walking down Cat Street in Harajuku the other day, I stumbled upon this cool clothing shop called "Incubate".
Here is a picture of the front window of the shop: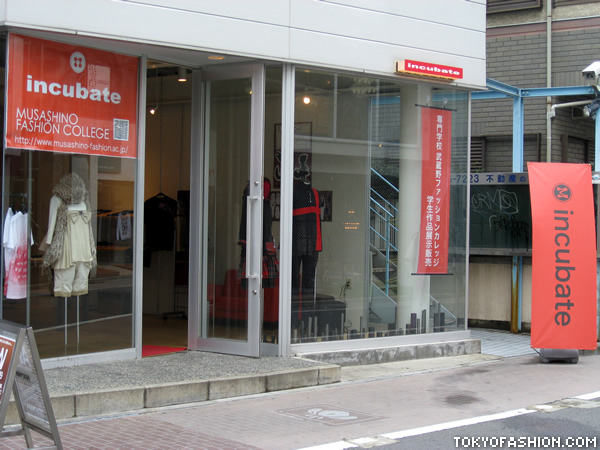 Basically, it looks like it's a shop featuring the works of students from Musashino Fashion College, one of the Tokyo fashion colleges. Many of the pieces inside looked like they might be one-of-a-kind. There were all kinds of clothing from t-shirts to dresses and accessories, including items for both men and women. There didn't seem to be any overall theme to the items in the store, though there did seem to be quite a few gothic looking pieces.
If you are interested in Japanese fashion, this shop might be a cool opportunity to pick up some unique items from Japanese fashion designers long before they get famous. Imagine having some Jun Takahashi sneakers that he created back in his college days! Don't forget that you'll be encouraging these young Japanese fashion designers by buying their creations, too. Also, the prices seemed really good for Tokyo – t-shirts with original prints on them were only 2000 yen (about 20 dollars US).
The Incubate shop is only open from September 23, 2008 through October 13, 2008, so you better get over there now if you're interested. Again, it's located on the famous Cat Street in Harajuku. The address is 4-26-5 Jingumae, but you can find the place pretty easy by checking out the map on the flier below.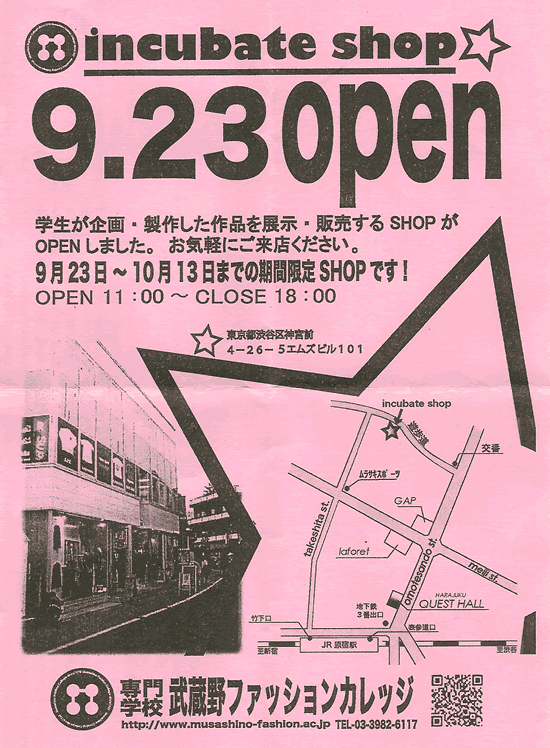 The store hours for the Musashino Incubate shop are 11am to 6pm daily.