Isetan Men's Shinjuku Christmas 2008
Today's Tokyo fashion Christmas 2008 update is from the Isetan Men's department store in Shinjuku. Though Isetan Men's holiday window displays aren't as interesting as the main Isetan Department Store X-mas window displays, they are still pretty cool. Here are a few of the Men's Store windows:
Pinstriped Giorgio Armani Suit at Isetan Men's in Tokyo: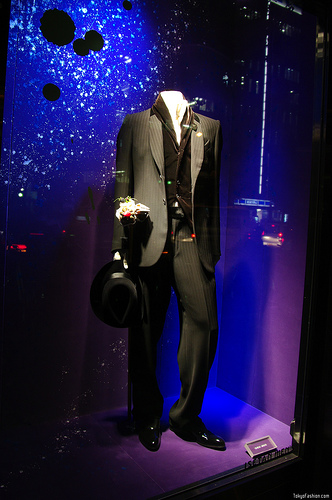 Merry Christmas 2008 from Isetan Mens:

Shoes and a Bag in the Isetan Men's X-mas Window Display:

Dior Suit with Cool Butterfly Bowtie:

Alexander McQueen Suit at Isetan

Even though the brands shown in these windows are mostly mainstream international luxury brands, Isetan Men's is actually one of the coolest department stores for fashion in all of Tokyo – if not thee coolest. They carry many amazing Japanese and international brands, including some stuff you can't find anywhere else. They have one floor with Undercover, Junya Watanabe, Visvim, Comme de Garcon, The Viridi Anne and lots of small hard to find brands.
Isetan Men's is in a different building from the main Isetan Department Store in Shinjuku, but they are very near each other and there is a walkway connecting them. The front of Isetan is on Meiji Dori and Istan Men's front on Yasukuni Dori.