Isetan Shinjuku X-Mas 2008 Windows II
A few weeks ago, we posted pictures of a few of the cool X-mas 2008 window displays at Istean Shinjuku. The display is called "Merry Christmas Cakes" and it shows letters of the alphabet and what each letter represents, like in a children's book.
Since then, we made another trip to take pictures of the rest of the windows. The first update we posted had pics of the A,B,C,D windows. This update will take you all the way through the rest of the alphabet.
It looks to us like they are leaving the main alphabet window displays, but changing some of the fashion in the windows. So, one week the item in the display might be Dior, the next week it might be Agnes B. That way, they can leave the cool Christmas display in place until Christmas, without having to leave the same clothing items in the window for a month or more.
So, enough words, here are the pictures of the rest of the Isetan Shinjuku Department Store X-Mas 2008 Windows…
Isetan Shinjuku E Window – Eat, Elf, Eclair (Giambattista Valli)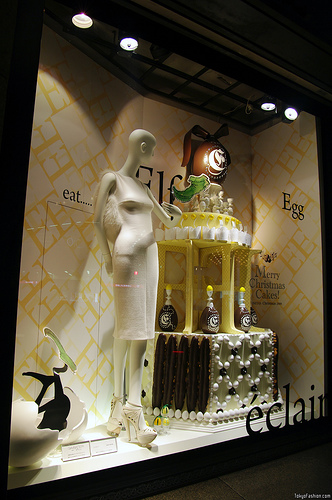 Isetan Shinjuku F Window – Fragrance, Fruit, France

Isetan Shinjuku G-H Window – Gold, Gift Box, Hat, House

Isetan Shinjuku I-J Window – Ice Cream, Jewelry, Jelly, Jam

Isetan Shinjuku K-L Window – Key, Knit, Lace, Lemon

Isetan Shinjuku M-N Window – Music, Muffin, Nuts, Nest

Isetan Shinjuku O-P Window – Ornament, Olive, Peach, Pudding

Isetan Shinjuku Q-Z Window
Queen, Ribbon, Stocking, Table, Umbrella, Vegetable, Waffle, Xylophone, Yummy, Zzzz

You can see they got a little lazy for the last window and included all of the letters Q through Z. Maybe the real issue is that they only have so many windows to use for the display, so that was required. Either way, this was an awesome idea for a set of windows and there were plenty of other people taking pictures when Tokyo Fashion last stopped by, so it's definitely getting attention from shoppers.
For more pictures, info on the shop location, and a map, check out our original A-D Isetan Shinjuku Window Displays article.