Japanese Fashion Brand M.Y.O.B Opening Boutique at LaForet Harajuku
M.Y.O.B is an independent Japanese fashion brand best known for its transparent ear cuffs and die cut accessories. We see M.Y.O.B items being worn on the streets of Harajuku often, and the brand has been championed by popular artists and musicians throughout Japan, Korea, America, and beyond. For Spring/Summer 2014, M.Y.O.B took a step beyond accessories and launched a full fashion collection. Coinciding with the brand's expansion, M.Y.O.B are opening their own dedicated boutique inside of Tokyo's most famous street fashion department store – LaForet Harajuku.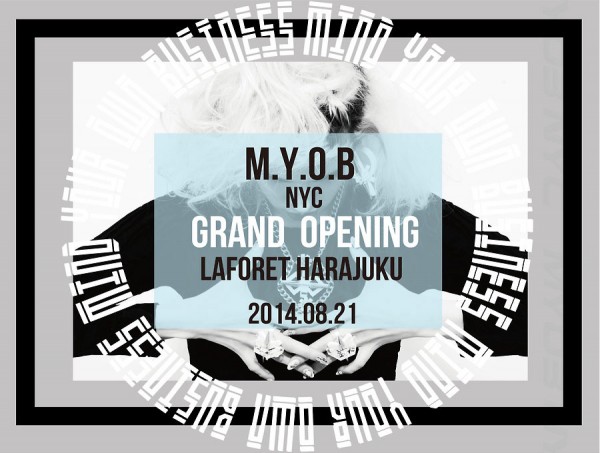 M.Y.O.B accessories have long been available at several of the coolest select shops in Tokyo. Earlier this year, the brand launched a limited time popup shop at LaForet Harajuku (Elleanor's Tokyo covered the opening party for TokyoFashion). The response to the popup shop was so great that the decision was made to open the first ever stand alone M.Y.O.B shop.
The M.Y.O.B boutique will open on the 4th floor of LaForet Harajuku on August 21, 2014. The M.Y.O.B shop will feature the brand's popular accessory line, as well as the new clothing line, and a rotating lineup of limited edition Harajuku exclusive pieces. There will be a big party to celebrate the shop opening on August 23rd at 9pm.
Founded by two female Japanese designers – Tanimi and Comi – in 2009, M.Y.O.B has had exhibitions in both Japan and New York. The brand's signature earrings have been featured in numerous music videos, fashion shows, and fashion editorials. For more information, check the Official M.Y.O.B website, or follow them on social media (Instagram, Tumblr, Twitter, Facebook).
Click on any photo to enlarge it.
About the M.Y.O.B Harajuku Shop:
What: Dedicated boutique of Japanese brand M.Y.O.B (sometimes called MYOB NYC)
Where: LaForet Harajuku, Tokyo, Japan
When: Opening Aug 21, 2014
Address: 1-11-6 Jingumae, Shibuya-ku, Tokyo, Japan 150-0001
Hours: 11:00 – 21:00
Map: Coming Soon
Website: MYOB Official
All photos courtesy of MYOB.