Japanese Brand Vive Vagina's "Blue Willow" Debut Collection
Japanese fashion brand Vive Vagina is best known for their trademark vagina-print tights, which are popular with many young women in Tokyo's street fashion scene. The brand was launched in 2011 by well-known Japanese model si oux. The first collection of tights became an immediate sensation with Japanese fashion bloggers and others in social media. Harajuku fashion icon Hirari Ikeda is a longtime fan of the brand, and was the featured model for the 2012 Vive Vagina accessories collection.
Taking a step beyond tights and accessories, Vive Vagina is launching their debut fashion collection in Autumn/Winter 2014.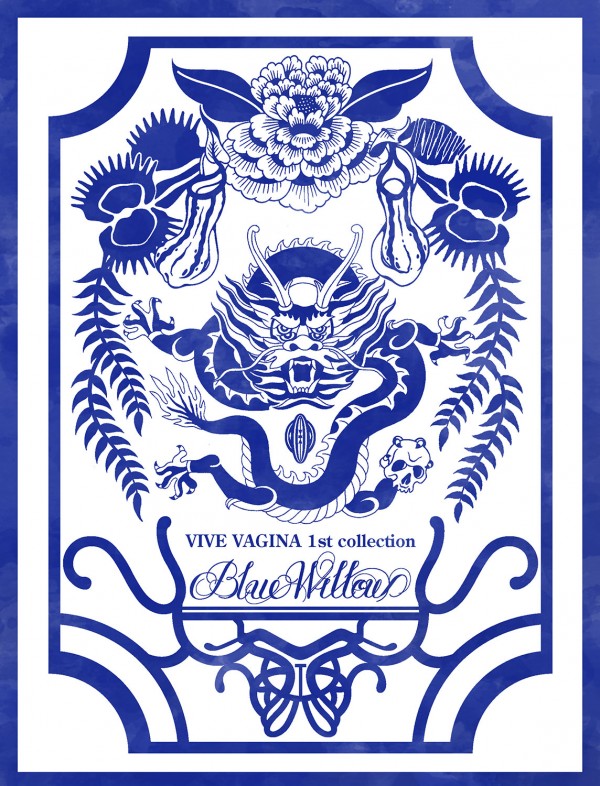 The theme of the Vive Vagina 2014 A/W collection is "Blue Willow" and inspiration is drawn from patterns found in traditional Chinese ceramics. The graphics used in the collection are by the Japanese artist Phazee, best known for creating album art for Japanese musicians including m-flo and OKAMOTO'S.
The collection features mostly dresses and tops, with a number of the dresses showing traditional Chinese influences going beyond the "Blue Willow" graphics. The designer's background as a Japanese street fashion icon are also evident in many pieces in the collection. Check out the Vive Vagina pieces below and watch for the collection to appear in stores – and on the street – in Japan later this year.
Click on any of the Vive Vagina images to enlarge them.
Vive Vagina Brand Concept – Taboos
Things that bring happiness in our daily lives that are made taboo under cultural norms which regulate the lives of individuals and groups. Such as the notions of what should not be done and what should be done. By appealing to these taboo aspects of pleasure which one is inhibited from, the sense of repression is awakened.
External Links: