Kawaii "Melty Go-Round" Christmas Tree Debuts at Roppongi Hills
Japanese art director (and kawaii culture evangelist) Sebastian Masuda has created a lot of cool things in his career – from founding the iconic Harajuku brand 6%DOKIDOKI, to art directing many of Kyary Pamyu Pamyu's music videos and tours to creating sets for Japanese musical stage productions to numerous projects in a variety of fields. This week, he added a new title to his ever-growing resume – Christmas tree designer!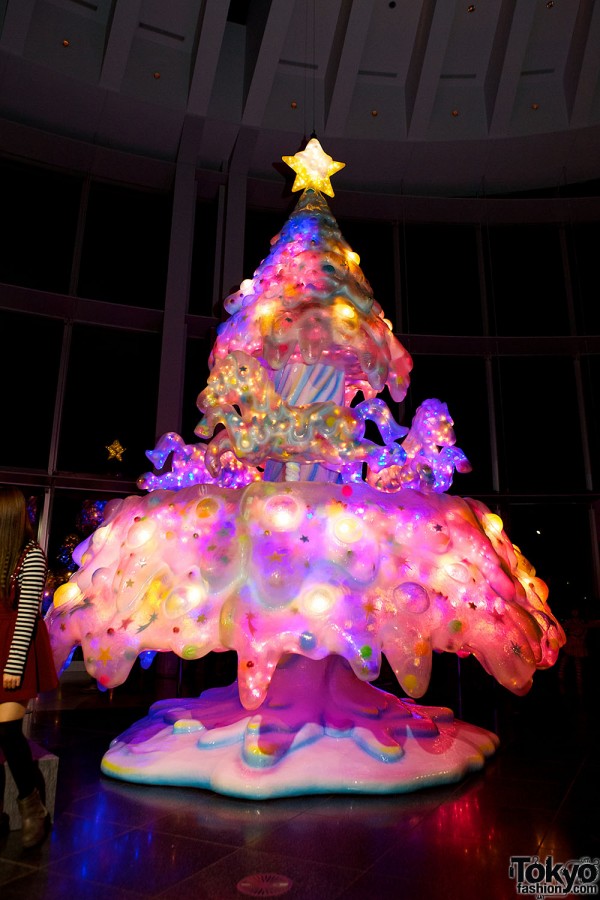 The "Melty Go-Round" Christmas tree – which will be on display until Christmas day – is part of the Roppongi Hills "Christmas in the Sky 2013 – SKY ILLUMINATION". The tree is located at Tokyo City View, an observation deck at the top (52nd floor) of Roppongi Hills. Tokyo City View offers a panoramic view of Tokyo from above.
Masuda's theme for the Melty Go-Round Christmas tree is "Dreams spinning on board a merry-go-round." The tree features animated merry-go-round horses (see the video below) as well as lots of colorful lights and cute items melted directly into the tree. Sebastian Masuda's brand, 6%DOKDIOKI, also has a popup shop at Tokyo City View with many kawaii Christmas-themed items.
For more information on the Melty Go-Round Tree, visit the Roppongi Hills website. For more information on 6%DOKIDOKI, check out the brand's official Facebook page.
Melty Go-Round Christmas Tree Lighting at Roppongi Hills

Don't forget to Follow TokyoFashion.com on YouTube.
Melty Go-Round Christmas Tree & 6%DOKIDOKI Popup Shop at Roppongi Hills
Click on any of the Melty Go-Round Christmas tree pictures to enlarge them.
Merry Christmas from Tokyo!!!
Photos by Kira.
***
About the photographer:
Born in Japan, educated in Japan and the US, Kira shoots exclusively with Canon DSLRs. Photography assignments include fashion, bands, sporting events, and portraiture for various companies and bands throughout Japan & the world. His portfolio can be viewed at Artist-Photo.