Kurt Cobain x Freak's Store Harajuku
For any Nirvana fans out there, the Japanese fashion brand and select shop chain Freak's Store is currently celebrating the legend of Kurt Cobain with some collaboration t-shirts. The Cobain t-shirts are on display at their Harajuku shop and they also have them available at their online store.
The collection is called "Forever 27 Club" and the promo materials also say "Great Artist To Die At 27" – the repeated references to "27" related to some of the great musicians and artists who, like Cobain, have died at the age of 27 years old.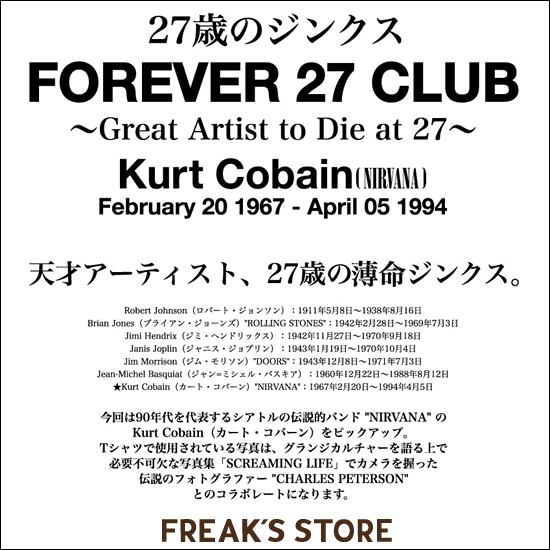 There are four shirts in the Kurt Cobain x Freak's Store collection and all of them are collaborations based on photographs of Cobain by Charles Peterson. Peterson is famous for documenting the Seattle rock & grunge scene of the 1990's. A few years ago, he published an iconic photo book showcasing some of his most memorable Seattle music scene photos.
There are four different Cobain x Peterson t-shirts in the current Freak's Store collection. You can see each one below: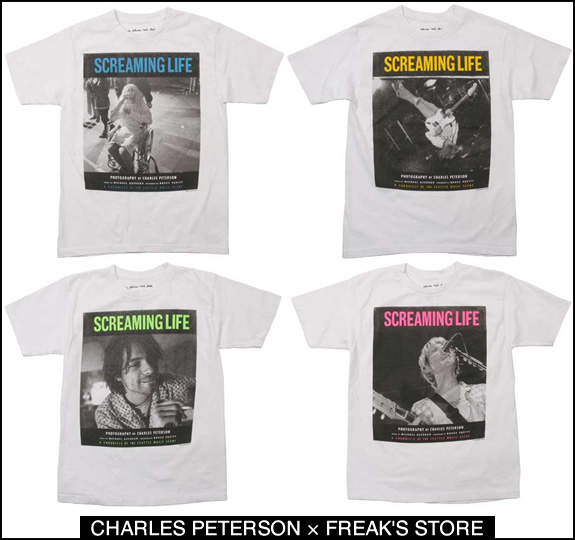 The t-shirts sell for 5,775 yen (about US$60) each and they will be available for a limited time at selected Freak's Store shops. You can also check their official website.
Above is a photo of the front window of the Freak's Store shop in Harajuku. Seeing the window reminded me that it's been 15 years this month since Kurt Cobain killed himself (presumably that's part of the reason for the timing of the new fashion collection). Kurt Cobain t-shirts are ok, but how much cooler would it be if he hadn't died?
R.I.P.