LaForet Harajuku Christmas Tree Lights
I was walking in Harajuku on Halloween night, after LaForet had closed for the night. They had Meiji Dori partially closed (with those cool lighted Japanese construction cones) and workers were using two big cranes to put lights on the LaForet Christmas tree. I have seen the tree each Christmas, but I had never seen them decorating it before – pretty cool.
Here is a picture of the LaForet Harajuku tree with the Christmas lights being added by the Japanese workers on the cranes: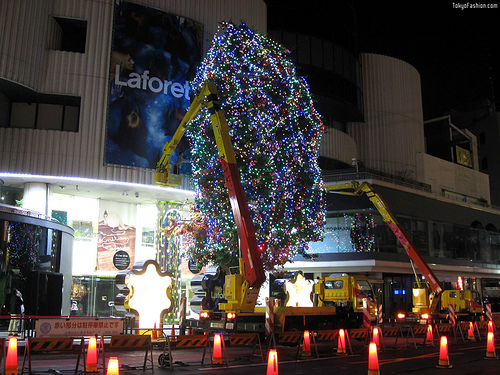 I guess this means that Christmas 2008 is coming. That should mean a lot of photos and updates here at TokyoFashion.com about Japanese fashion-related Christmas stuff going on around Tokyo. Merry Christmas and check back often!