Louis Vuitton Japan Lowering Prices
Louis Vuitton lowered prices on its brand goods in Japan by 7 percent yesterday according to Bloomberg. The main reason given for the price cut is because the Japanese yen has gained a lot against the euro in 2008. Most of Louis Vuitton's products sold in Japan are imported from France, so the weaker euro allows the company to lower the prices a bit for Japanese consumers.
The LV price cuts apply to almost everything that the brand sells in its 50+ shops in Japan including Louis Vuitton purses, hand bags, watches, wallets, shoes, boots, clothing, jewelry, and accessories.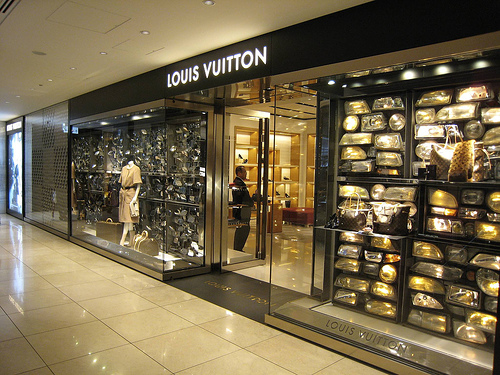 (Louis Vuitton Nagoya shop photo by bizmac.)
Louis Vuitton is part of LVMS, the largest maker of luxury goods in the world. The brand has seen more than a 5% decline in sales in Japan so far this year. It's not clear yet if that's because of the crashing Japanese (and world) economy or because Japanese consumers aren't as in love with the brand as they once were.
Louis Vuitton is an extremely popular brand with fashion conscious Japanese women (and even many men), both young and old. In central Tokyo areas like Omotesando, Shibuya, and Shinjuku, it would be hard to walk a few hundred meters without seeing several girls toting leather LV bags, wallets, purse mirrors, or other fashion accessories emblazoned with Takashi Murakami's colorful LV logos, or the good old embossed leather or gold print LV logo.
Although LV may undisputedly lay claim to being the most popular luxury bag brand in Japan, there is a cool article here pointing out that the brand isn't as popular as some studies would have you believe. The above linked article is not new, but it is worth a read whenever thinking of LV and Japan.
Whatever the exact reasons for the new pricing, Louis Vuitton is hoping that the new price discount will help bolster sales in Japan for the upcoming end of year holiday. Christmas eve in Tokyo is time when we often see long lines at the Louis Vuitton boutique on Omotesando Dori. Tokyo Fashion will try to check it this year and see how LV sales are looking.
Source: Bloomberg on LV Pricing