Louis Vuitton x Comme des Garcons Tokyo Shop
Jean Snow's tipped us off to an interesting article over at Cyril Duval's Collete blog about the Louis Vuitton x Comme des Garçons limited time collaboration shop in the Aoyama area of Tokyo. The actual article is scanned from 032c magazine, so you have to click on a graphic and blow the image up to read the text. Yes, it is in English!
The article focuses on Comme des Garcons mastermind — and Japanese fashion design superstar — Rei Kawakubo and what this recent collaboration shop means in the context of her history (and possible future) of pushing the accepted concepts of "brand" and "branding" in unexpected directions.
A picture of the Louis Vuitton x Comme des Garcons Aoyama shop: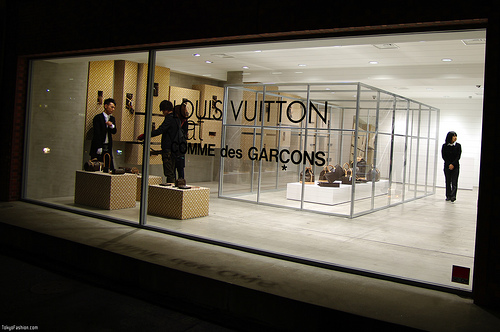 Sadly, Louis Vuitton x Comme des Garcons collaboration shop just closed this last weekend, so you'll have to check Yahoo Auctions, Rakuten, or Ebay if you're hoping to get any of the at this point. As usual with limited edition Comme des Garcons items, be prepared to pay top dollar.