Macaronic Moment – Takashi Aoki's Edgy Harajuku Brand Makes Tokyo Fashion Week Debut
Japanese designer and stylist Takashi Aoki has been a notable character in Harajuku's fashion scene since he was in his early twenties.
After graduating from Vantan Fashion Institute, then spending some time in Europe, Aoki returned to Japan in 2005 to launch his bleeding edge select shop Macaronic. The shop quickly gained a following with Tokyo's most daring dressers, as it focused on supporting and promoting young and unknown-outside-of-the-underground designers (Anrealage, Hiro, Hisui, In-Process, etc.) – many of whom have gone on to build highly respected brands.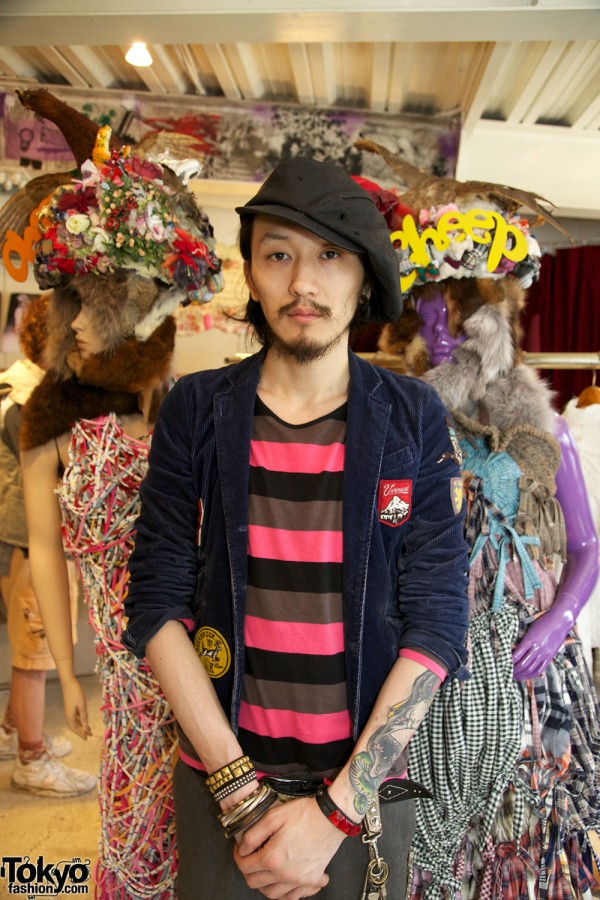 While running the select shop, Aoki also worked as a stylist for some of Japan's top fashion magazines (Nylon, Fudge, etc.) as well as with musical acts (Capsule, Mika Nakashima, etc.) and even creating costumes for a Japanese movie.
When Aoki finally decided to launch his own fashion brand under the Macaronic name, it came as no surprise to anyone that the pieces he created were not exactly targeting consumers of mainstream fashion. Every piece bearing the Macaronic brand name is handmade and one-of-a-kind, with the more extreme items looking at first glance more like fine art than wearable fashion.
Macaronic's Autumn/Winter 2011-2012 collection marked the debut of the brand at Japan Fashion Week in Tokyo. Titled "Onomatopoeia", the collection displays an incredible mix of materials – culled from the highest of high fashion (feathers and fur) all the way down to Harajuku street level (stuffed animals sewn together into wearable coordinates and sneakers covered in elaborate hand drawn comic illustrations.) The collection is so diverse that we think you're better off viewing it for yourself, rather than reading some text where we try to figure out how to describe it properly.
The Macaronic "Onomatopoeia" runway show was recorded, and we've included that video at the bottom of this article. In addition to the video, we also wanted to give you a closer look at the pieces in the collection. We met with Takashi Aoki at the Macaronic space in Harajuku last week, where he was nice enough to let us take close-up pictures of the individual items worn by the models on the catwalk. The attention to detail and the amount of effort Aoki puts into each of his handmade creations was readily apparent when we had a chance to touch them. We hope that you can get a feel for the materials and craftsmanship when you view the photos. The next time you're in Harajuku, consider stopping by the Macaronic shop and checking out his current collection for yourself.
As usual with our exclusive photos, each of the pictures of the Macaronic "Onomatopoeia" collection can be clicked on if you'd like to see high resolution versions.
Click any of the Macaronic pictures to enlarge them.
Macaronic A/W 2011-12 Fashion Show Video

Macaronic Harajuku Info
What: Macaronic Shop
Where: Harajuku, on the Shibuya side of Omotesando Dori
Address: 2nd Floor, 6-8-6 Jingumae, Shibuya-ku, Tokyo
Phone: 03-5466-2295
Hours: Noon – 8pm
Website: Official Site (Japanese)
All photos by Kira.