Maison de Julietta "Harajuku Lolita Experience" at Laforet Harajuku
When, Maison de Julietta introduced their concept of "Harajuku Lolita Experience" last year, it was a huge hit. Girls from all over Japan flocked to the salon to be transformed into a sweet lolita for a few hours. The concept was so popular that Maison de Julietta expanded into a larger location shortly after opening. In August, they made an even bigger move – this time into Harajuku's most famous fashion destination, the LaForet Department Store!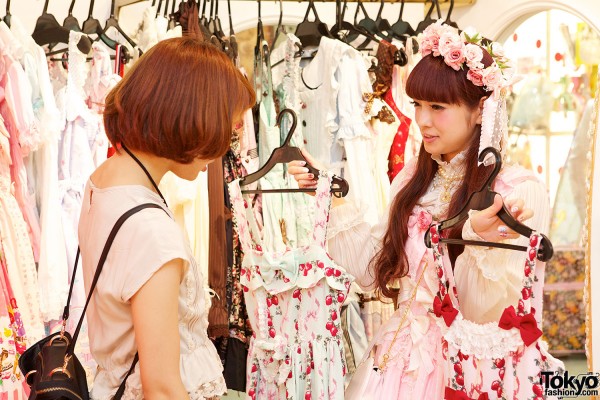 The new Maison de Julietta shop at LaForet Harajuku – located on the same floor (B1.5F) as several of Japan's most popular lolita brand boutiques – is filled with kawaii fashion and accessories. The shop's main focus is transforming customers into beautiful lolitas in collaboration with the brands Baby, The Stars Shine Bright, Alice and the Pirates, Angelic Pretty, and Metamorphose temps de fille. In addition to all of the lolita fashion, the new shop is equipped with a private makeup area and a mini Alice in Wonderland-themed photo studio.
At the grand opening of the new Maison de Julietta at LaForet Harajuku, Misako Aoki (one of Japan's most famous Lolitas) gave us a tour of the new shop and showed us the cute fashion and accessories that are available for purchase (including some items from her own collection). Misako Aoki also helped to coordinate the transformation of a model at the opening so that we could share the process with all of you (see the pictures and video below).
If you're interested in visiting Maison de Julietta when you're in Harajuku, please check out their Facebook page or official website for details. The current price of their services is 9,980 Yen (about US$100) for a full makeover (fashion, hair & makeup), photos, tea, and cookies. There are also extras available at extra cost (false eyelashes, wig, etc.)
Maison de Julietta at LaForet Harajuku Video

Don't forget to Follow TokyoFashion.com on YouTube.
Maison de Julietta at LaForet Harajuku Pictures – with Misako Aoki
Click on any of the Maison de Julietta pictures to enlarge them.
Thank you to all of the Maison de Julietta staff for allowing us to photograph their new shop. Also, thank you to Misako Aoki.
For more information on Maison de Julietta, please check out their official Facebook page (with English), Twitter, and website.
Photos by Kira.
***
About the photographer:
Born in Japan, educated in Japan and the US, Kira shoots exclusively with Canon DSLRs. Photography assignments include fashion, bands, sporting events, and portraiture for various companies and bands throughout Japan & the world. His portfolio can be viewed at Artist-Photo.