Motonari Ono 2012 S/S Collection
The 2012 S/S edition of Japan Fashion Week (aka Mercedes-Benz Fashion Week) in Tokyo is under way! Several times each day, TokyoFashion.com's contributors are reporting back from runway shows and events all over town. Be sure to check out all of our Mercedes-Benz Fashion Week Tokyo coverage.
On Monday, October 17th, Japanese label Motonari Ono showcased their 2012 Spring/Summer collection on the runway at Tokyo Midtown.
Motonari Ono is a 2002 graduate from Mejiro Design School. He then spent one year at the London College of Fashion Foundation, and enrolled in the Royal College of Fine Art in Antwerp with plans for furthering his education in fashion. These plans were interrupted by a job offer from London-based label Bora Aksu, where he spent two years as chief pattern maker before returning to Tokyo in 2006 to start his eponymous label. He's best known for his womenswear collection. He was a finalist for the Mango Fashion Award in 2010.
The Motonari Ono 2012 S/S collection show at Japan Fashion Week appeared to be themed on Parisian cabaret (ala Moulin Rouge). The show was mostly dark with spotlights giving the feel of a red light district. The models walked in sexy outfits featuring lace, garter belts, and corsets predominantly in black with occasional splashes of bold color (most notably red). Current Japanese street trends could have been the influence for some of the models' exaggerated double bun (odango) hairstyles. One of the outfits also featured a currently-hot-on-the-Tokyo-street sheer skirt. At the end of the show, the designer himself came out and took a bow surrounded by the models arranged in a nightclub-like setting.
Please click the thumbnails below to check out the full sized versions of all of the Motonari Ono 2012 S/S pictures.
Motonari Ono 2012 Spring/Summer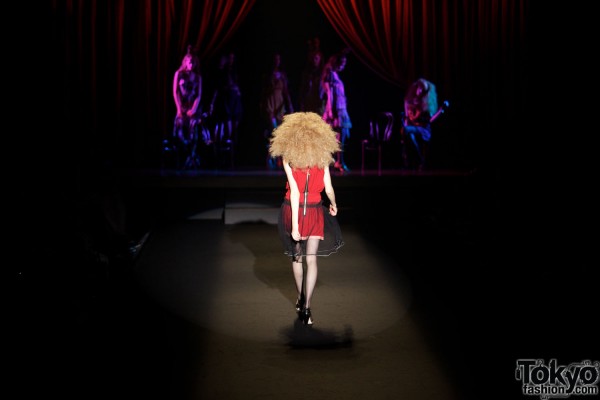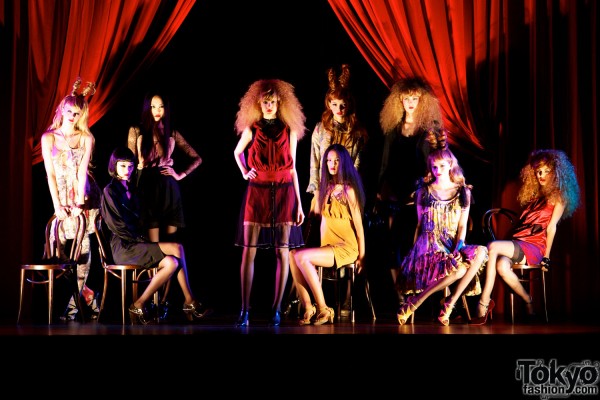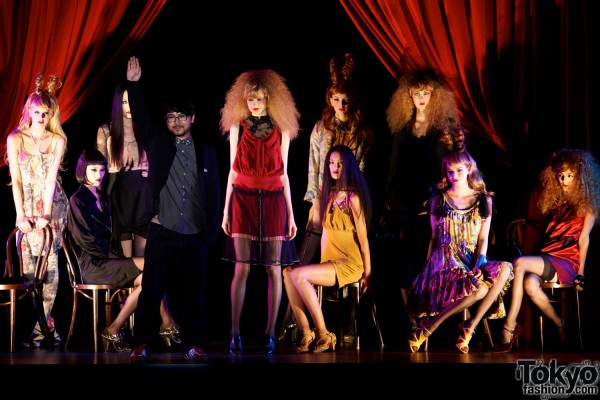 Click any of the Motonari Ono pictures to enlarge them!
External Link: Motonari Ono Official Website
***
About the photographer:
As long as he is behind his camera Will is a happy man. He has photographed everything from the slums of Bangkok to the catwalks of Tokyo. He is a contract photographer for Lonely Planet, his images and photo essays have appeared in Time Out, The Japan Times, Sportswear International and a variety of other newspapers, magazines and guidebooks around the world and his photo essays from Iraq for The Griffith Review even earned him a mention in the Australian book review of the year in 2006. In addition to his media related work, Will also shoots events, portraits, weddings and the occasional CD cover. Whatever he's working on, he always writes about his jobs and how he goes about them at Will Robb Photography.