Musashino Fashion College Incubate – Harajuku Popup Shop 2011
Every year, the students of Tokyo's Musashino Fashion College curate a temporary popup boutique in Harajuku. The popup shop is part of the school's incubation system with a goal of building the skills of young fashion designers. Thus, the shop is called "Incubate". We have reported on the previous Musashino Incubate shops, and we look forward to seeing what the students will come up with each year. The 2011 Incubate shop is only open from July 15th to July 31st. We highly recommend that you check it out soon if you're interested.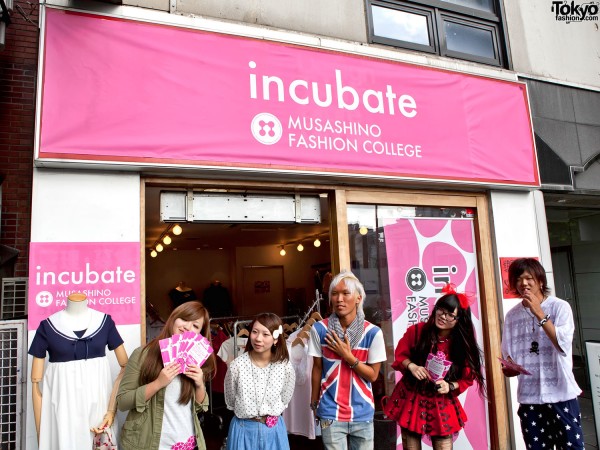 The idea behind the Incubate popup shop is to allow Musashino Fashion College students to get real-life experience in setting up a store, dealing with customers, getting feedback from shoppers, etc. For fashion students, we can hardly imagine a better way to get your feet wet than running a real shop in Harajuku – one of the coolest fashion neighborhoods on the planet.
For those interested in fashion, the Incubate shop gives you a chance to see and buy one-of-a-kind items handmade by the next generation of Japanese fashion designers. Every item in the Incubate store was created by a student of Musashino Fashion College. And those students are available at the shop to talk to you about the items and answer any questions you might have. The atmosphere at Incubate is always really fun, as the students are excited to see what real world customers think of their creations.
We love the idea of Incubate, and always try to find a few items to buy to support the young designers that we find interesting. (The fact that the prices are extremely reasonable doesn't hurt either.) If you have a chance to visit the shop, we definitely encourage you to do so. Unlike most other retail shops, there are designers (students) with a wide variety different aesthetics. You might see a Fairy Kei skirt next to a Gothic Lolita dress hanging on a rack with a Gyaru-o t-shirt. These are students, after all, and each has his or her own style.
What the Incubate designers have in common is they are all part of the next generation of Japanese fashion. So if you want to know what's next before everyone else, check out the Incubate popup shop before it closes!
More info:
What: Musashino Fashion College Incubate Shop
Where: Meiji Dori, between Takeshita Dori & Beams Harajuku (see map above)
When: Now through July 31, 2011