Nude N' Rude Couture 2012 S/S featuring Hirari Ikeda
Nude N' Rude has made a name for themselves in Japan with their Tokyo boutique catering to Japanese fans of edgy dark fashion. Nude N' Rude calls their philosophy "Bright Despair". The exact genre of the fashion is hard to describe – mixing elements of "scene kid" culture (Audrey Kitch, Jeffree Star, etc.), fetish & bondagewear, emo, gothic, horror, Japanese kawaii, and more. Nude N' Rude Koenji is more than just a shop. It's also a shrine to all things alternative, and a gathering place for people from various Tokyo's underground subcultures.
In addition to introducing a variety of international brands to Japan, Nude N' Rude produces their own collections called "Nude N' Rude Couture". The Nude N' Rude Couture 2012 Spring/Summer collection has just been released, and one of the featured models is the one-and-only Hirari Ikeda!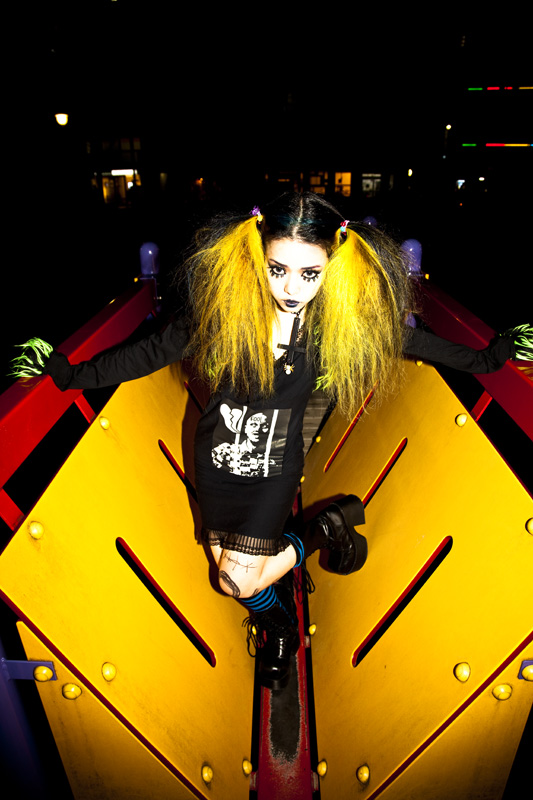 The Nude N' Rude Couture 2012 Spring Summer collection features dresses, corsets, and chokers. Three models star in the promotional shoot for the collection: Hirari Ikeda, Melory, and Miwa – all photographed by Shoko Ito.
Nude N' Rude released a short statement about their 2012 Spring/Summer collection, which we have translated into English. Hopefully, this will give you a little insight into the brand's philosophy, and the thinking behind this collection:
NUDE N' RUDE COUTURE 2012 S/S is a collection serving as the antithesis to our cutthroat nature. We wonder what sort of complexes and fetishes lurk within others…society pressures and scorns us, making the problem worse and, when we finally lose all control, we turn into demons. Why do you keep your foot on the brakes? To give into taboo doesn't mean that you've become corrupted.

Live a lifestyle of Bright Despair, standing strong against the foolishness of humanity with satire and pleasure.
Check out the pictures of the Nude N' Rude Couture 2012 S/S collection below. Details on each of the items are also available on the Nude N' Rude website.
Hirari Ikeda for Nude N' Rude Couture 2012 S/S
Melory for Nude N' Rude Couture 2012 S/S
Miwa for Nude N' Rude Couture 2012 S/S
Click on any of the Nude N Rude pictures to enlarge them.
Nude N Rude is located in the Koenji neighborhood of Tokyo. For more information on the shop or the brand, check out their official website or follow them on Twitter or Tumblr.
All photos courtesy of Nude N' Rude, used with permission.