Omotesando Christmas Pictures 2010
When you think of Christmas lights in Tokyo, one of the first areas that comes to mind is Omotesando. The so-called Champs-Elysees of Tokyo, Omotesando Dori is a long tree-lined shopping street that draws visitors from all over Japan during the holidays. Besides the insane variety of luxury flagship stores, the big draw here is the famous – and very beautiful – Omotesando Christmas Illumination.
The exact nature of the Omotesando Christmas Illumination changes every year, but one thing is constant – the lighting of the huge rows of Zelkova trees that run the entire length of the boulevard, from Harajuku Station all the way to Omotesando Station. This year in addition to the illuminated trees, there are special lighted bamboo installations near the intersection of Cat Street, a tree that changes colors when you touch it in front of Ralph Lauren, and all of the Omotesando Hills exterior lighting and decorations.
On top of all of that holiday goodness, Omotesando Dori is home to some of the most famous luxury store architecture in the world. Just walking along this street and keeping your eyes open will leave you in awe. We can't possibly recreate that feeling with pictures alone, but we'll do our best. So, let's stop talking and start our Omotesando Dori Holiday Photo Walk now!
As always, you can click on any of the pictures to see them in high resolution. And don't forget to check out our previous Omotesando Hills Christmas pictures.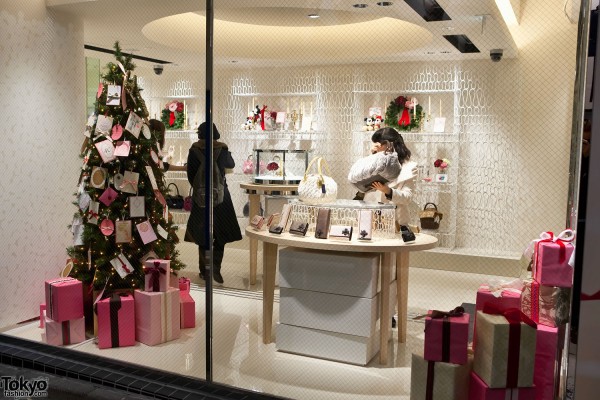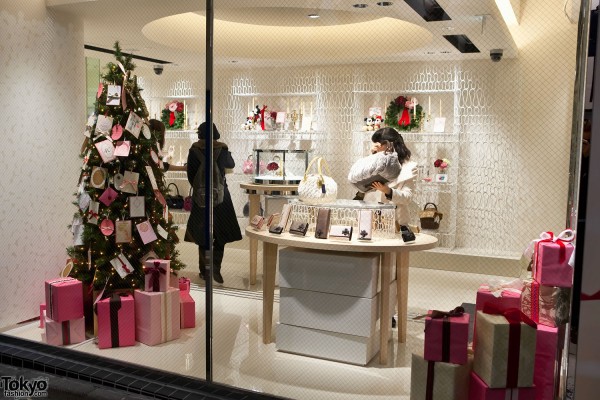 We are starting this walk at the corner of Omotesando Dori and Meiji Dori – the spot where the old Gap Harajuku used to be. There is nothing in the old Gap location now – just a big under-construction lot with a fence around it. It's not too exciting to photograph. So, we'll start walking up Omotesando Dori toward Omotesando Station. The first store that we snap on this walk is a jewelry and accessories brand called 4C. The shop is a good starting point for a Tokyo holiday photo walk for several reasons: 1) it has many Christmas decorations inside, including a tree; 2) there is a lot of pink inside the shop; and 3) it's a jewelry shop, and jewelry often plays a big part in Christmas gifting between Japanese couples. So, there's our first photo. Let's take lots more!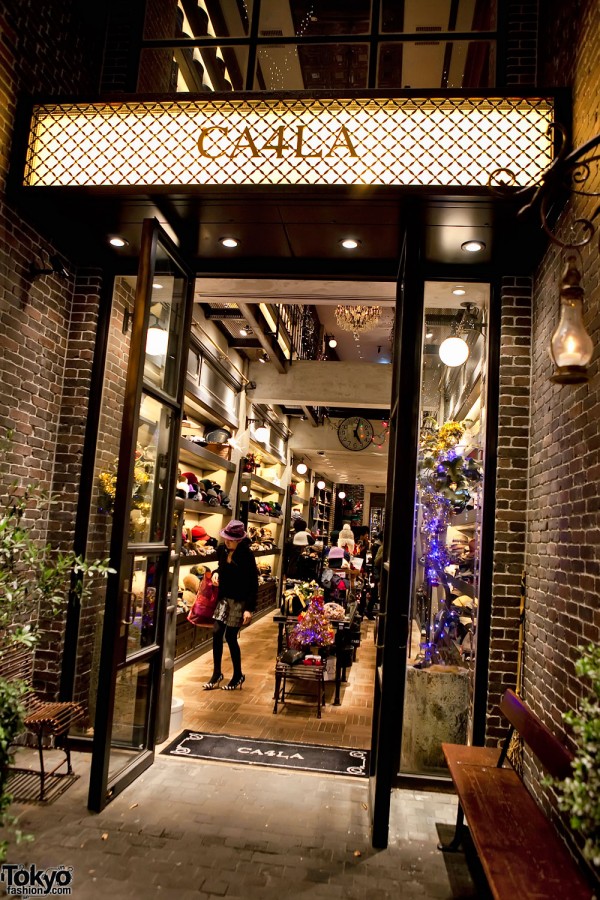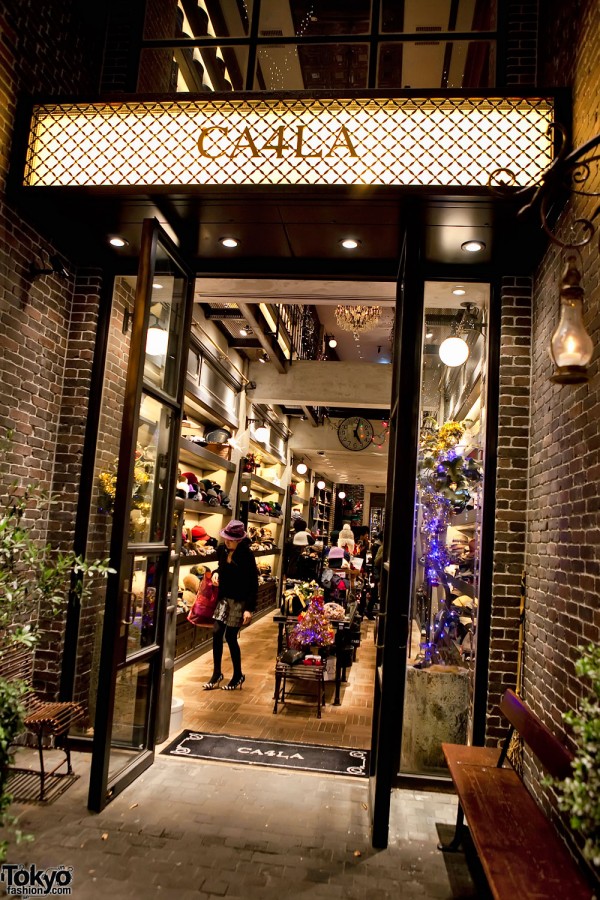 The CA4LA (pronounced "Kah-Shi-Lah") hat shop's flagship store on Omotesando Dori with lights, a small tree, and even some shoppers.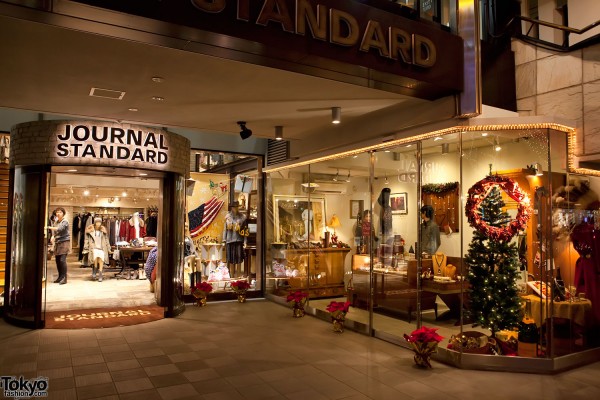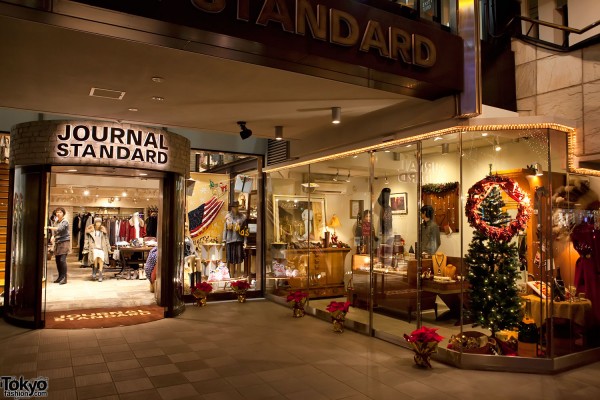 Poinsettias, a Christmas tree, and a large wreath in the front of Journal Standard…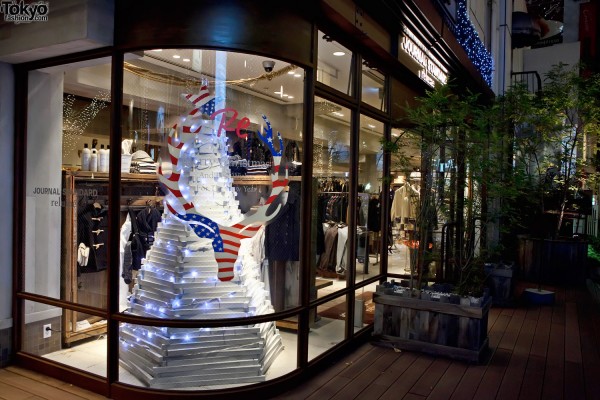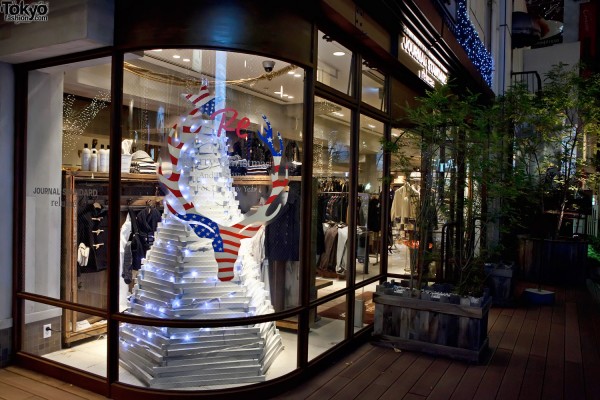 …along with a white geometric Christmas tree and – for some reason – a reindeer (or cow head?) graphic in the colors of the American flag.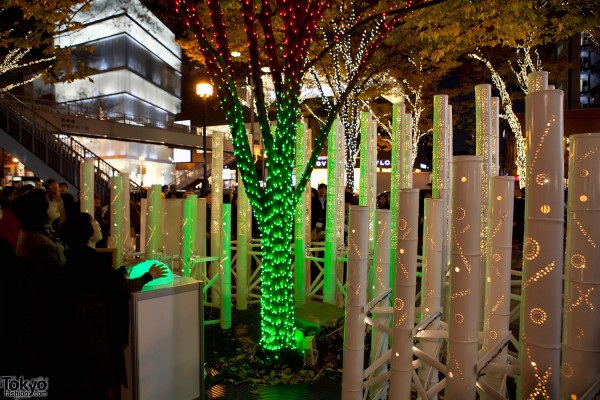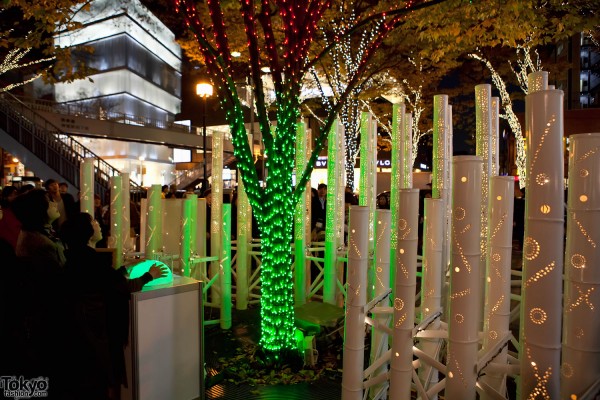 As we reach the intersection of Cat Street and Omotesando Dori, we'll take a closer look at this year's illumination. Here is one of the interactive parts of the holiday decorations. If you touch the glowing orb beneath this tree, lights flicker and music begins playing.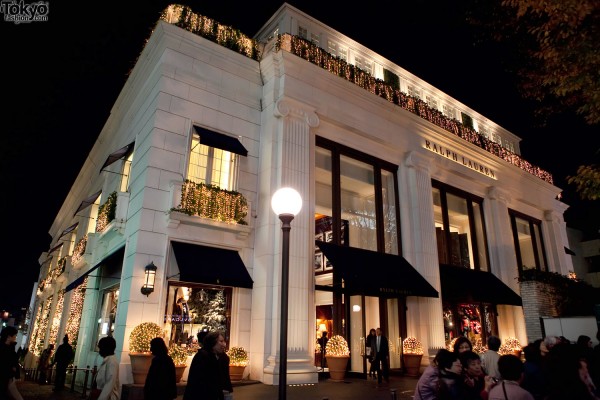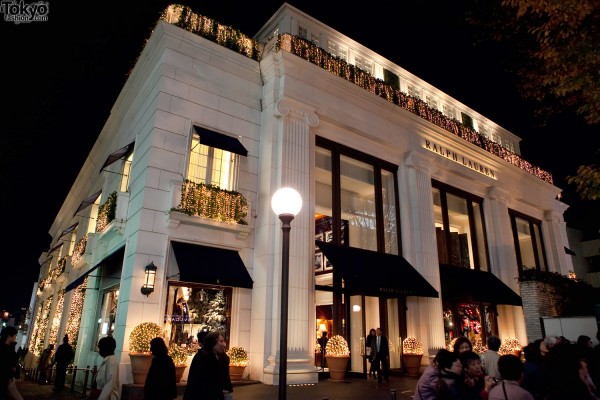 The Ralph Lauren building in Omotesando. We've spent many hours snapping photos in the shadow of this building!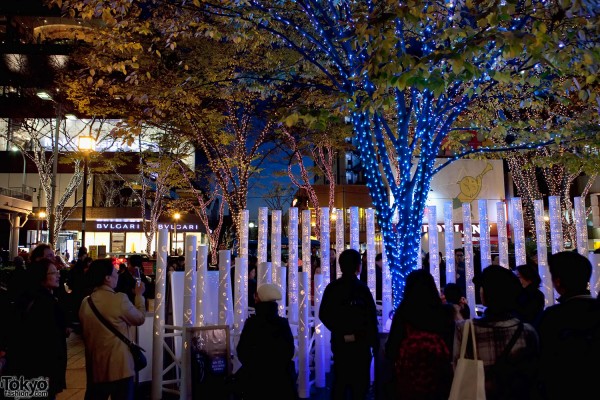 Here's another view of the musical trees with the glowing orb – this time the lights are blue.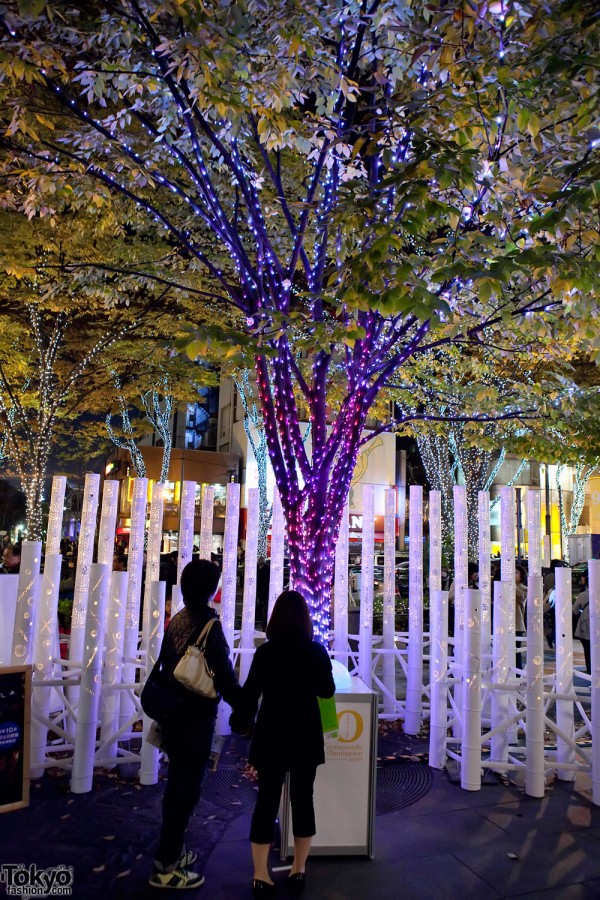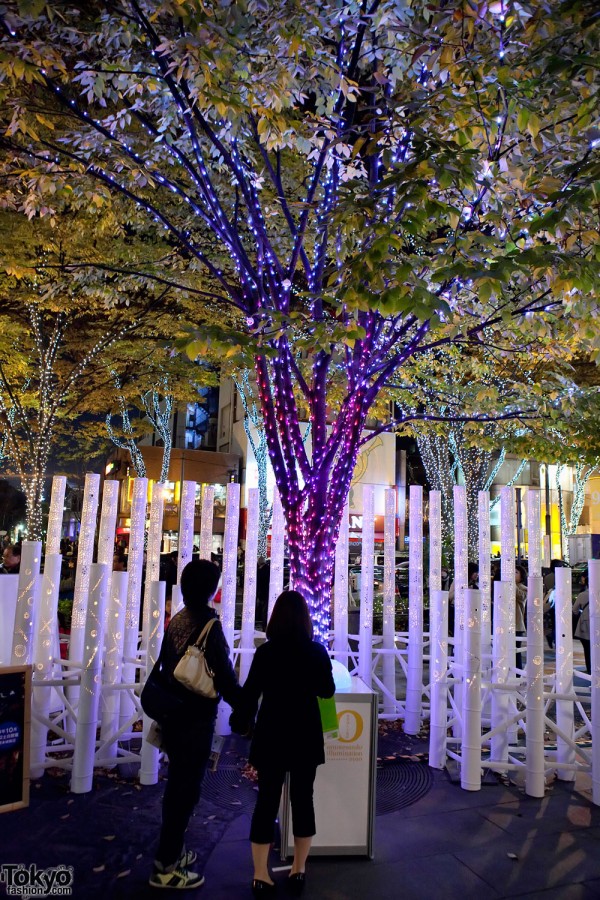 This couple tries their hand (literally) at the musical tree. The lights are purple and red. I wonder what music it will play for them.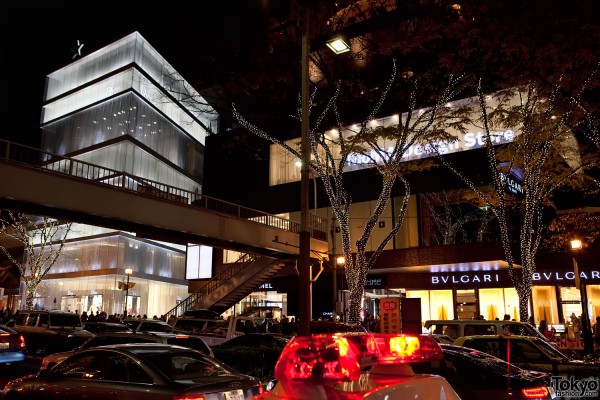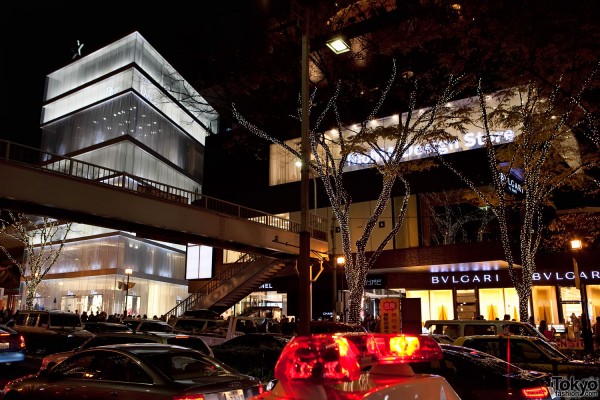 Aiming our camera across the street toward the famous Dior building. You can see the lights of a police car in the foreground. There's a lot of security staff on hand every night during the illumination to make sure that everything runs smoothly.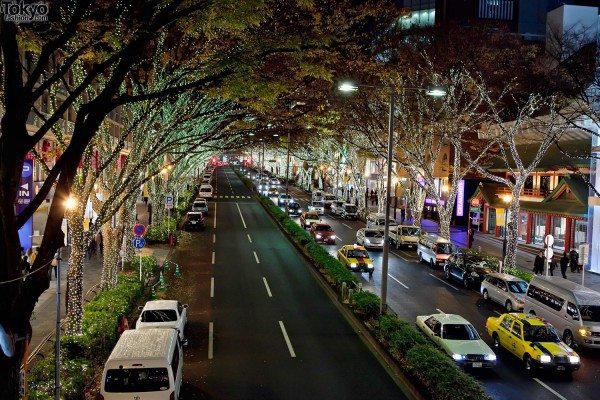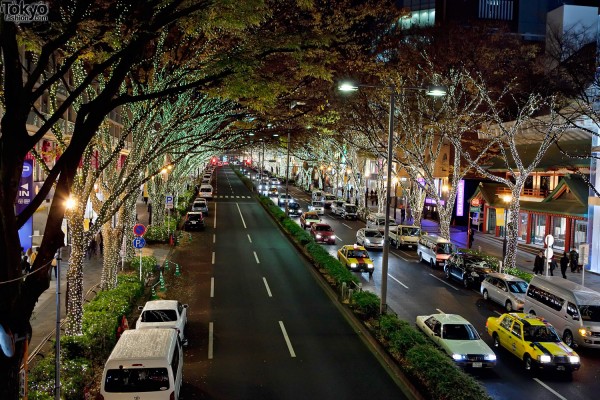 This is a shot looking up Omotesando Dori from the pedestrian bridge near Dior so that you can see the rows of illuminated trees. We had to snap this one quickly because the guards on the bridge keep everyone moving. When it gets too crowded, they close down the pedestrian bridges altogether to avoid problems.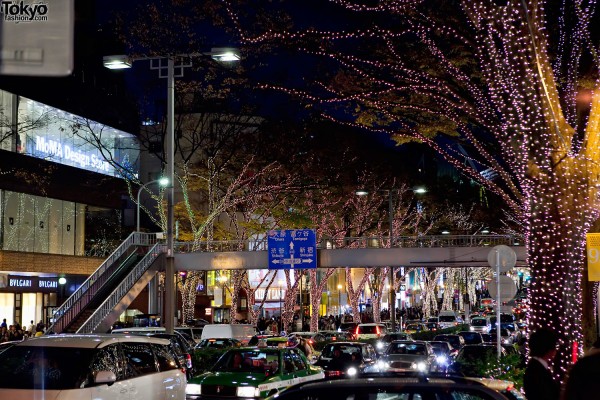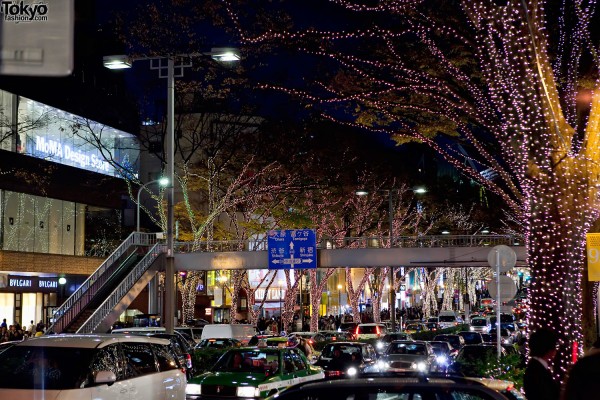 Here is a shot looking back down Omotesando Dori toward Meiji Dori.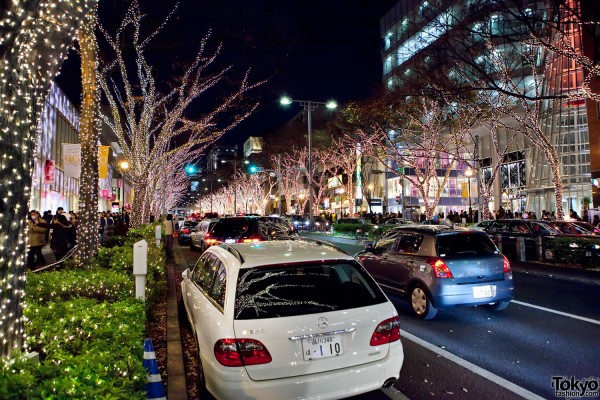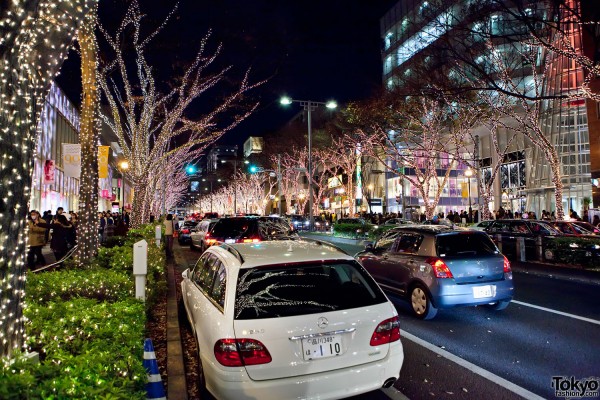 And looking up the hill in the other direction toward Omotesando Station. So many pretty lighted trees!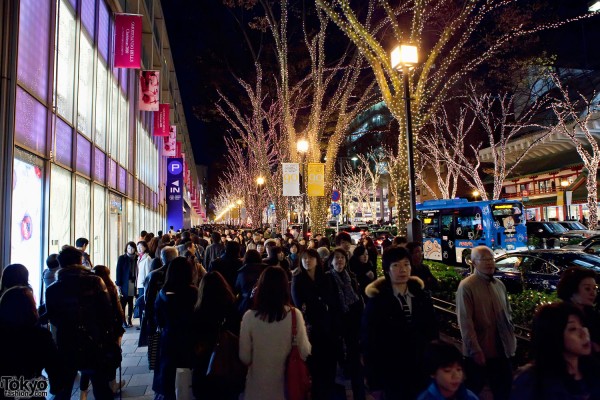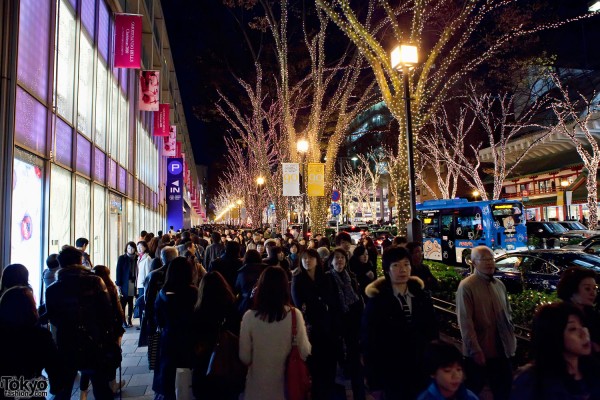 Enough illumination photos for now. We'll start moving up the hill again. Here we are in a huge crowd starting to walk by Omotesando Hills.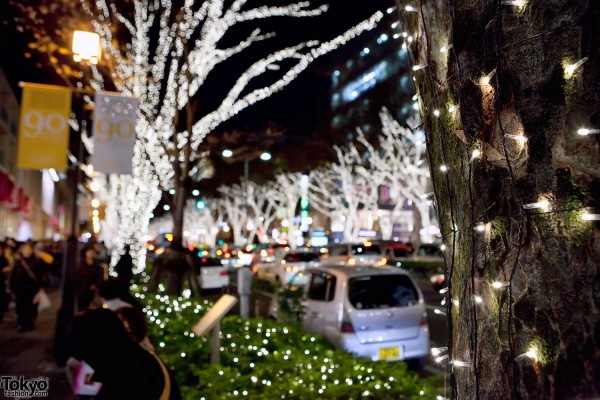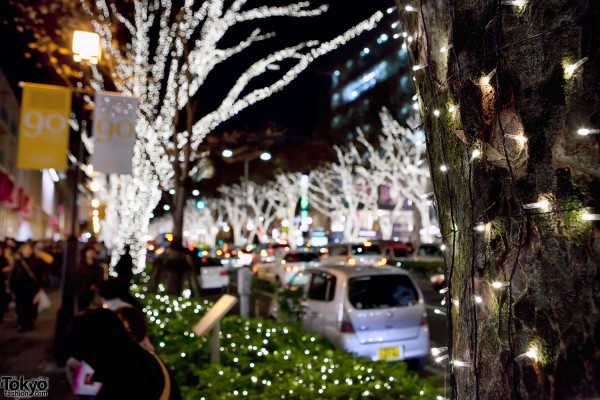 Here is an attempt at an artistic shot with some serious bokeh (out of focus blur on the lights). BTW, "bokeh" is a Japanese word, even though it's used around the world now.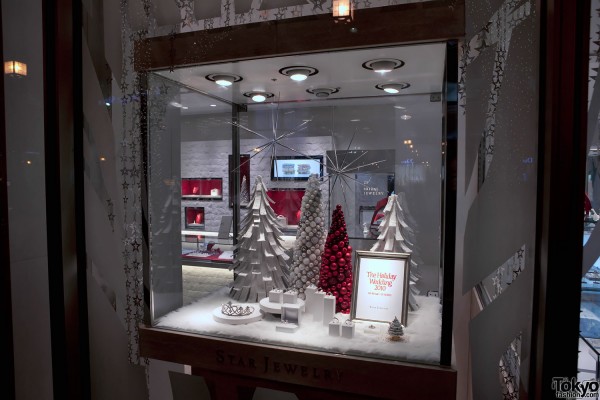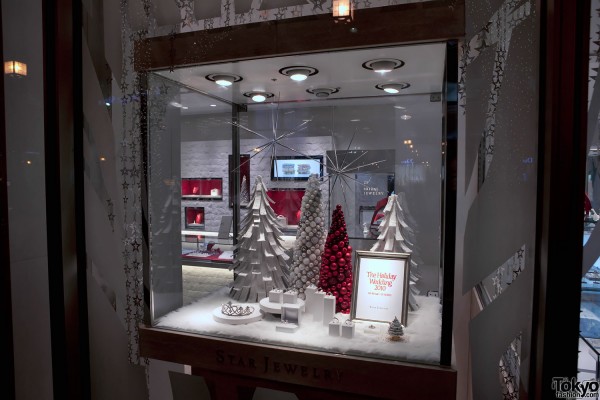 The Holiday Wedding 2010 at Star Jewelry in Omotesando Hills.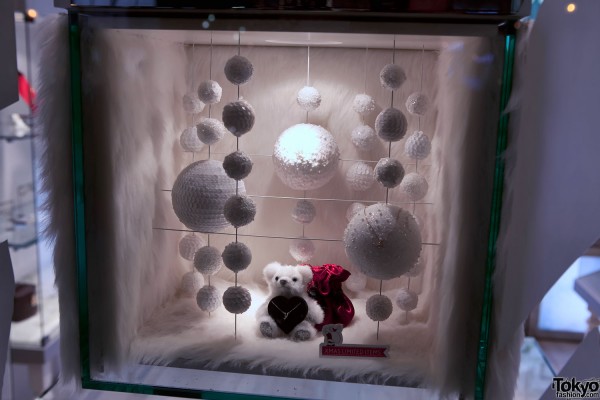 This cute white teddy bear wants you to buy jewelry for Christmas.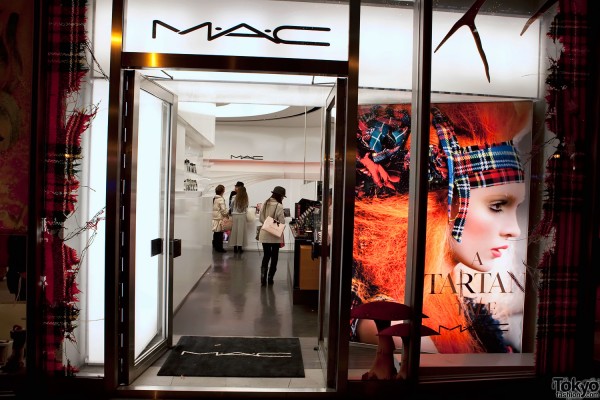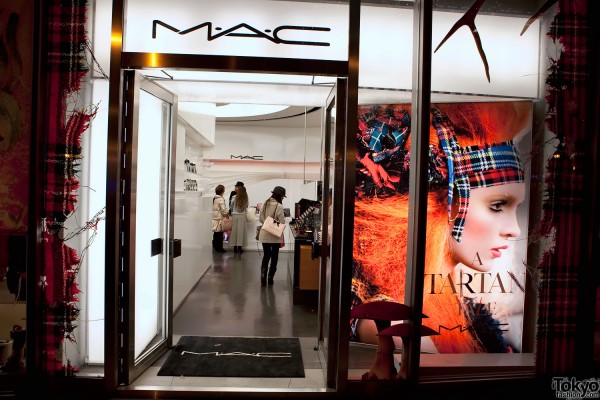 A Tartan Tale at Mac Omotesando.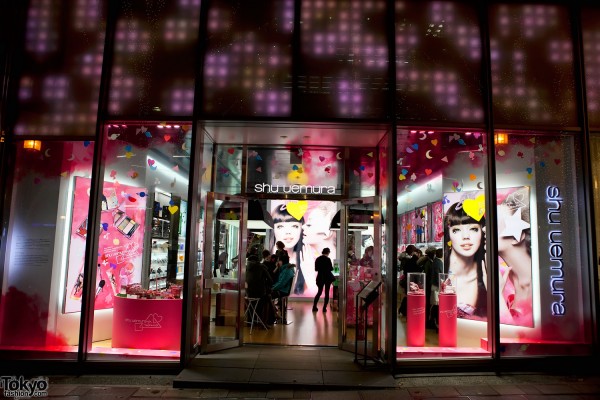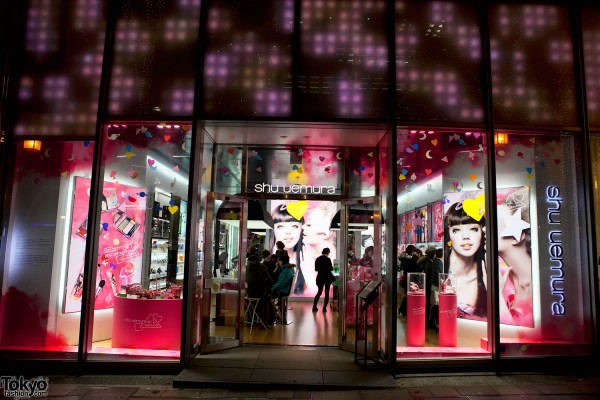 Shu Uemura x Aya Takano Christmas 2010 collaboration.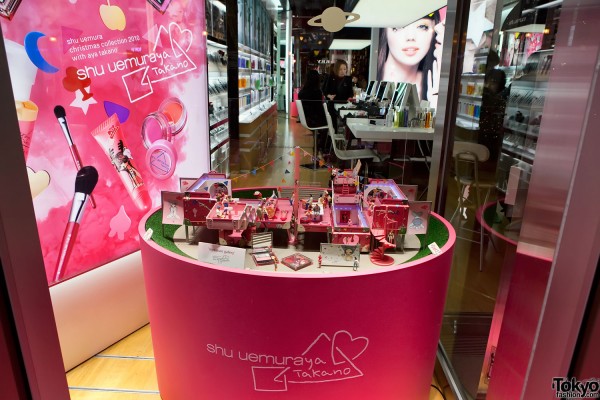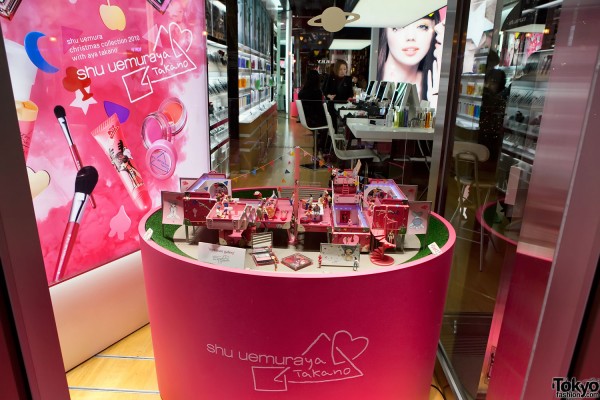 A cute little Aya Takano scene in the window of Shu Uemura at Omotesando Hills.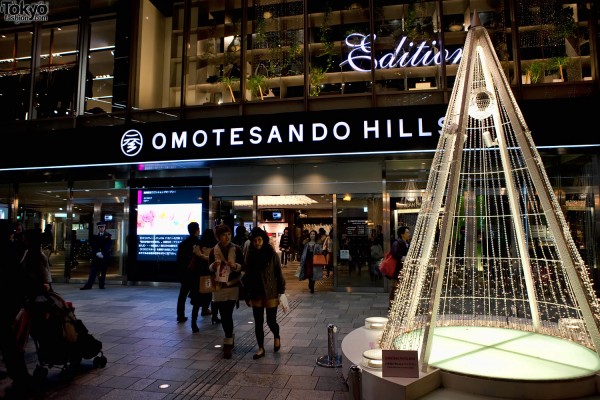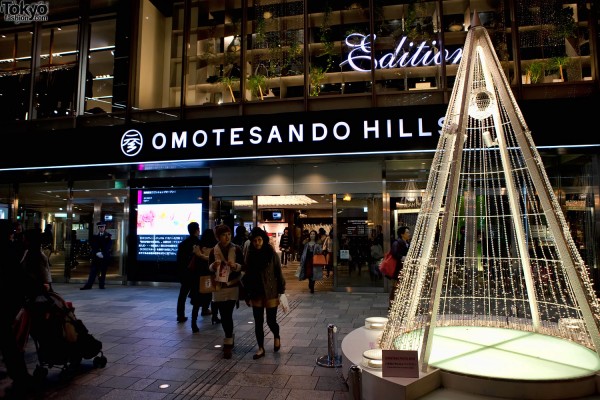 This is the entrance to Omotesando Hills. That lighted Christmas tree-like structure on the right side of the photo is a photo spot. You can go in there with your loved one (or anyone you randomly see on the street) and have your picture taken in front of the Omotesando Hill sign. There is a lot of Christmas stuff going on inside of Omotesando Hills too!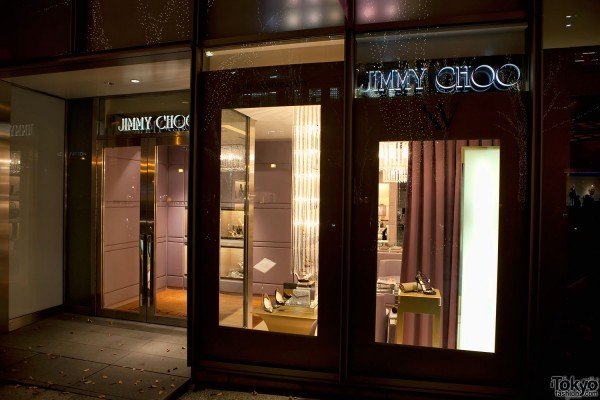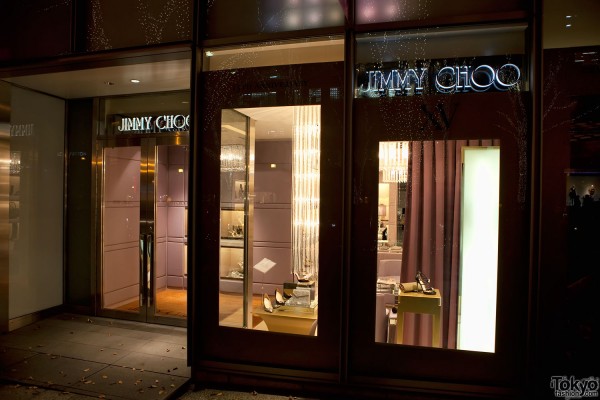 Jimmy Choo. Not much in the way of holiday decorations, but they do have shoes in the window.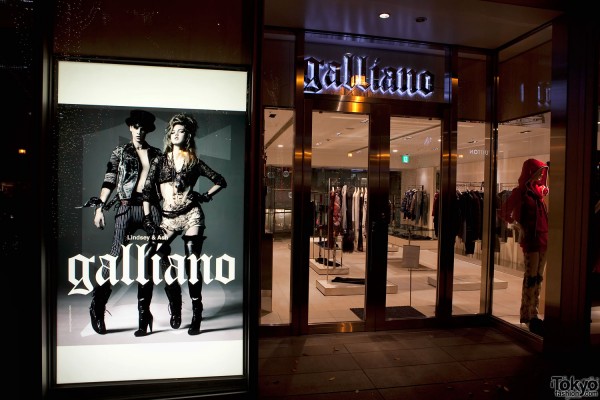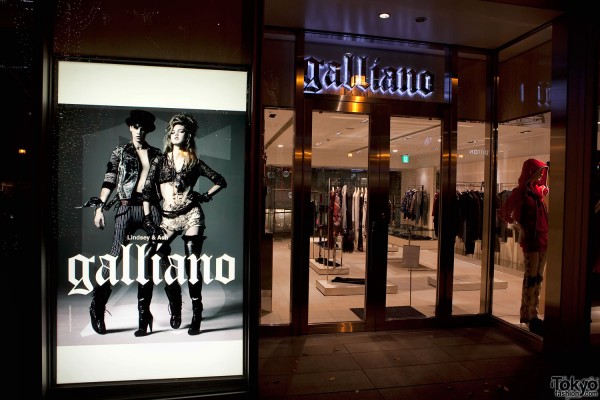 John Galliano Omotesando Hills, also not too Christmas-y.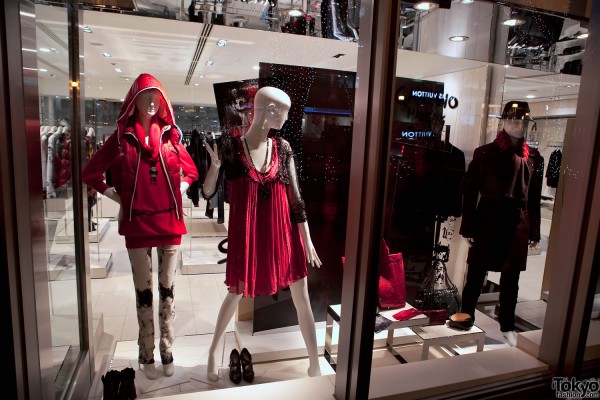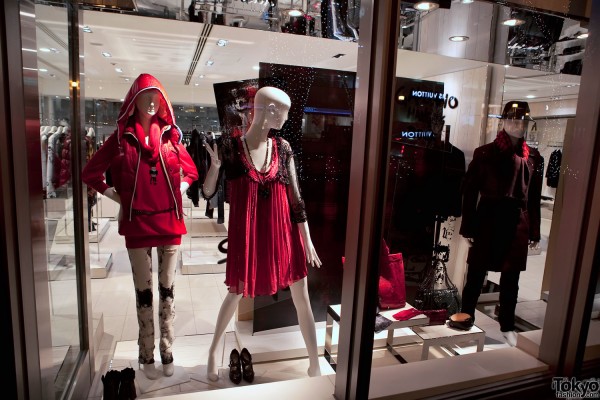 But at least Galliano has red clothing in this window. Red is a Christmas color, right? Coincidence?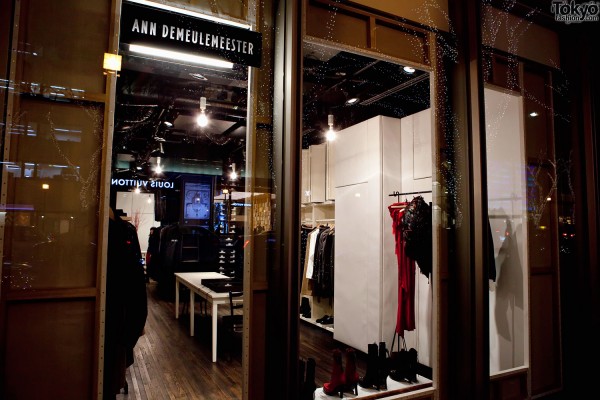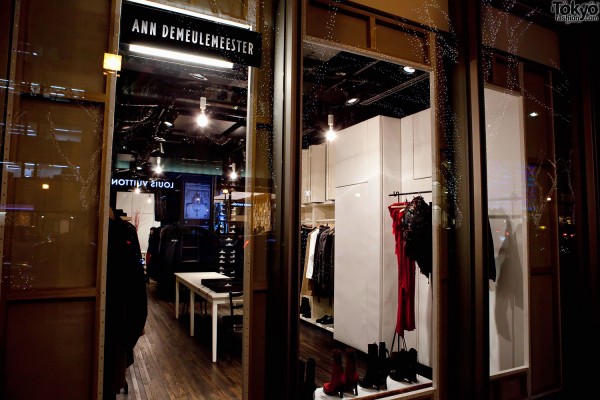 Ann Demeulemeester's Omotesando Hills shop. I love this brand. They can't really put up Christmas decorations because everything in the store is black. Well, except for those two red items you can see in the window. But usually, all black.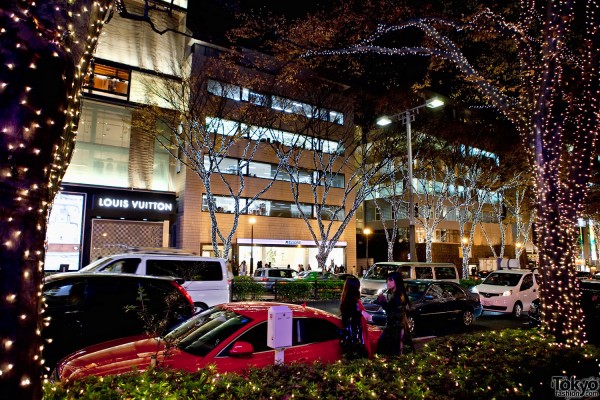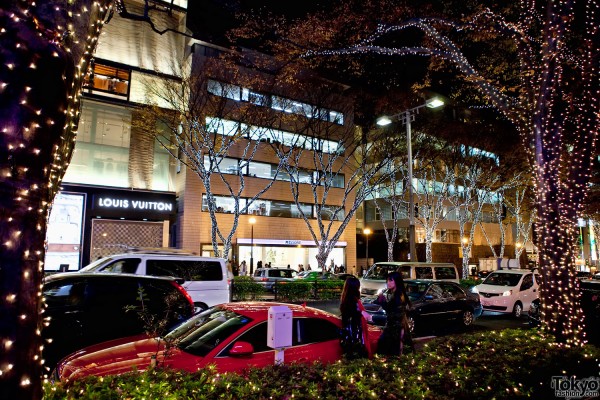 Looking across the street again, there's LV. We'll make our way over there later in the night, don't worry!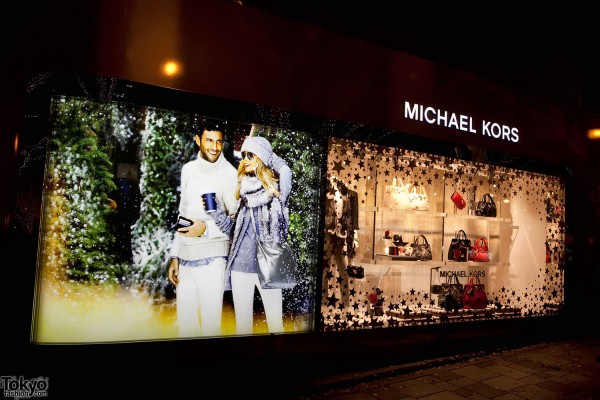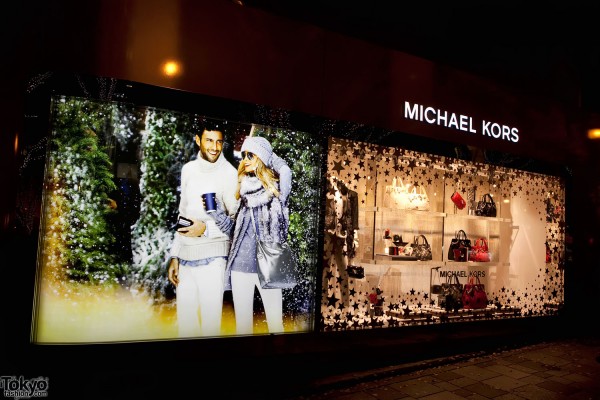 New Michael Kors shop in Omotesando.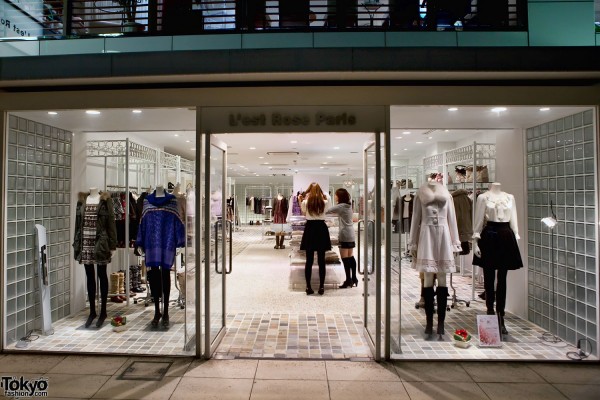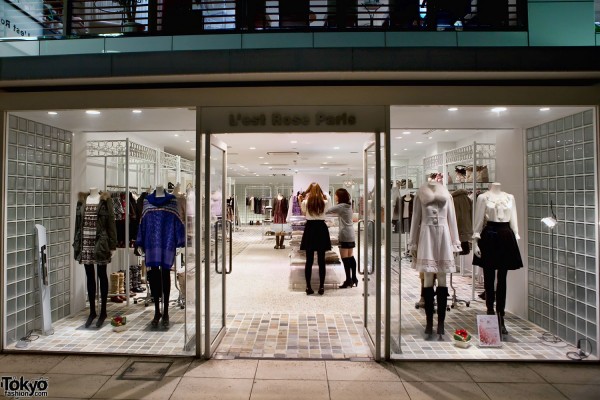 L'est Rose Paris Omotesando.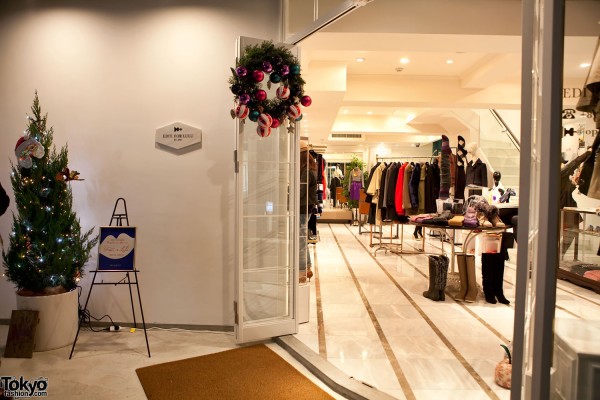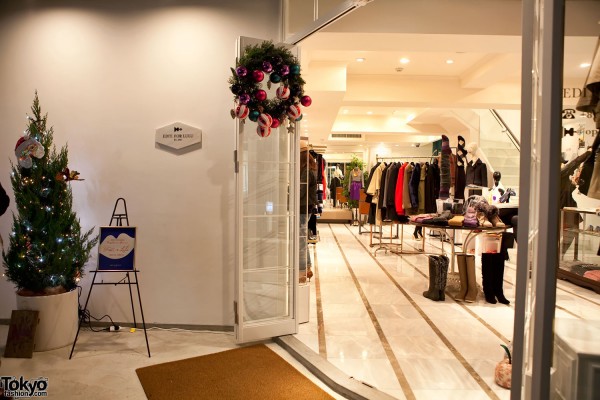 Even though this walk is supposed to be straight up Omotesando Dori and back, we've already been slightly derailed. We're taking a quick look down the little side street where FCUK used to have a shop. Here is Edit. for Lulu with a Christmas tree and wreath.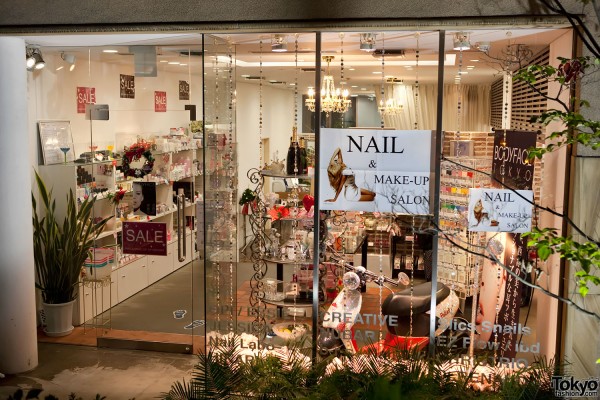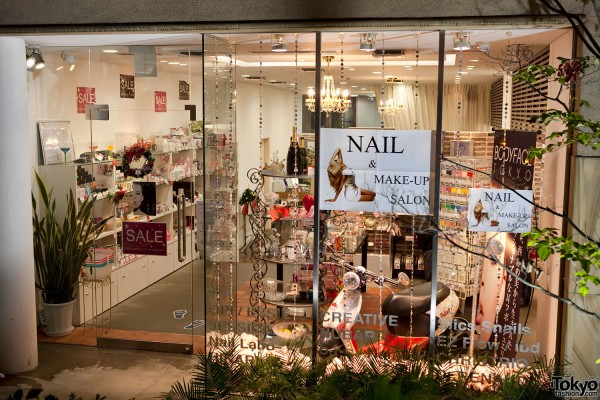 Omotesando nail & make-up salon!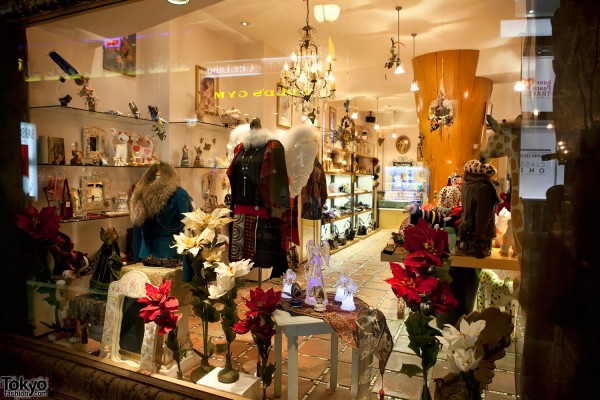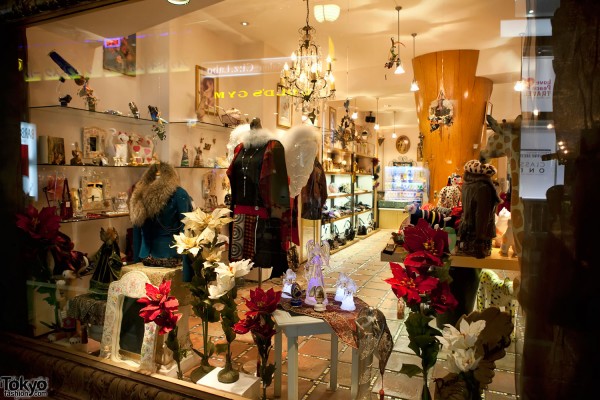 That mannequin in the window has wings.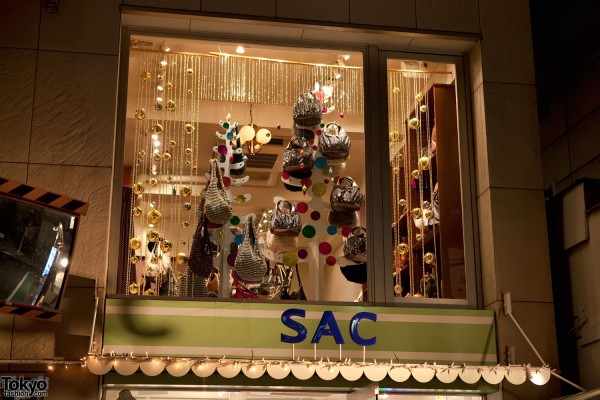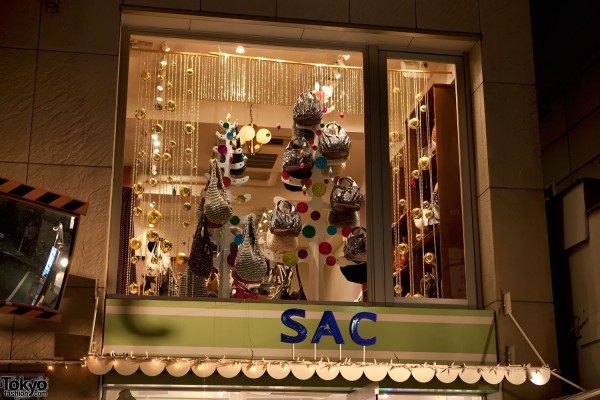 Sac!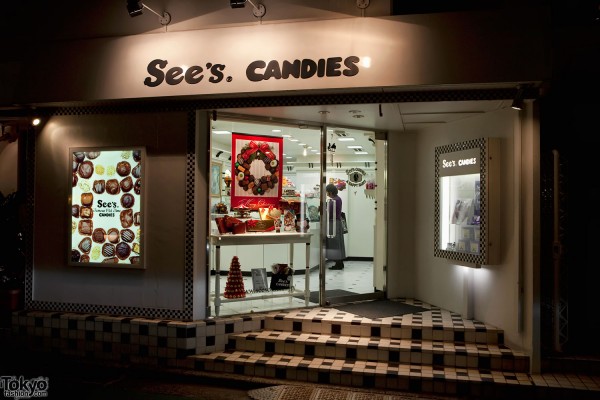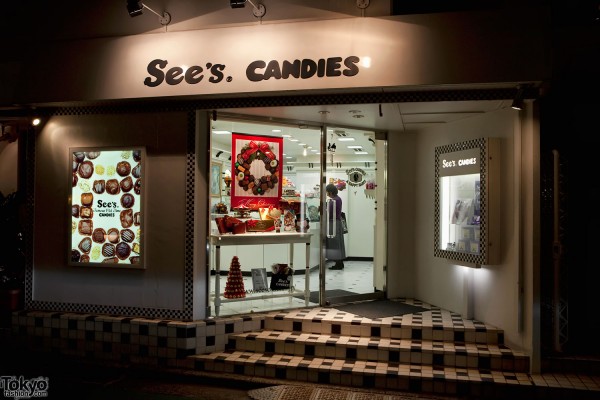 See's Candies? Did this little side street take us all the way to America?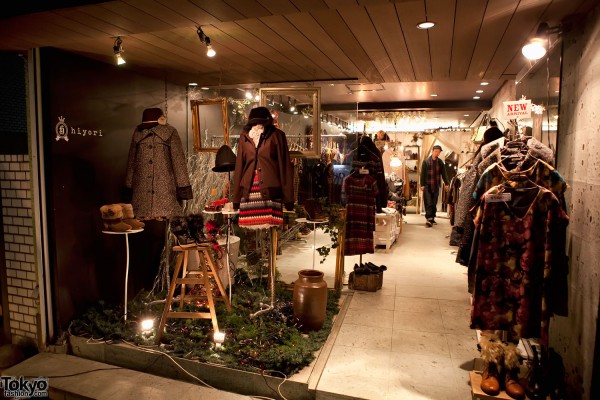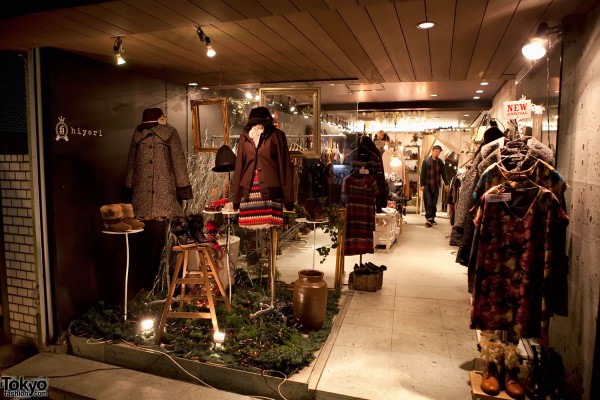 Cute Hiyori shop.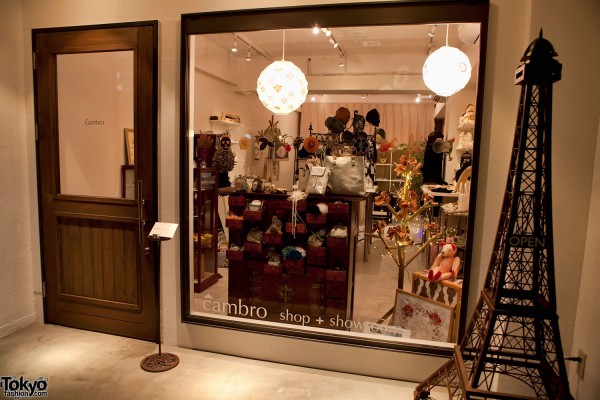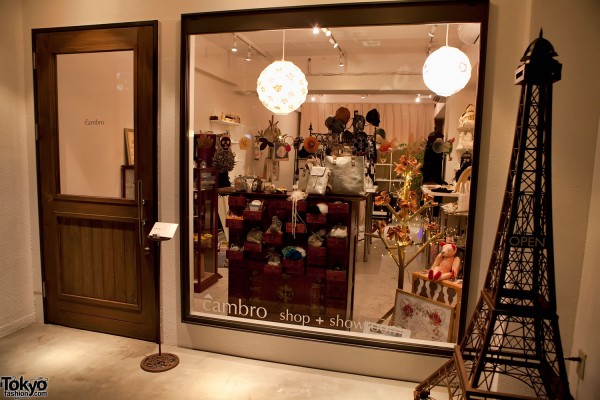 Another Eiffel Tower. We've seen several of those in our holiday walks this year. Viva Paris!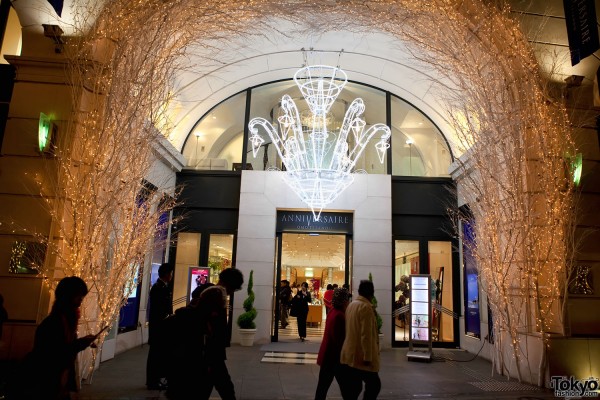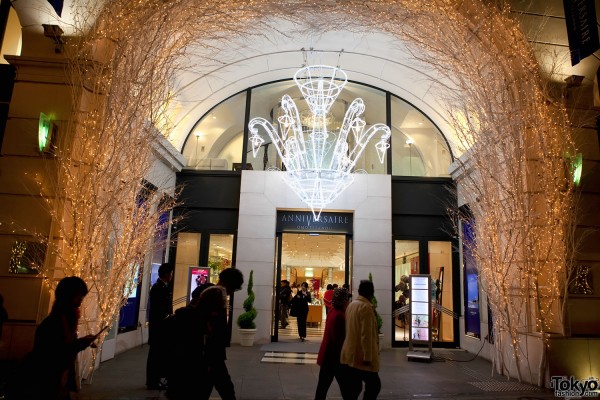 End of sidetracking and back to Omotesando Dori. Anniversaire Omotesando has this beautiful chandelier every year!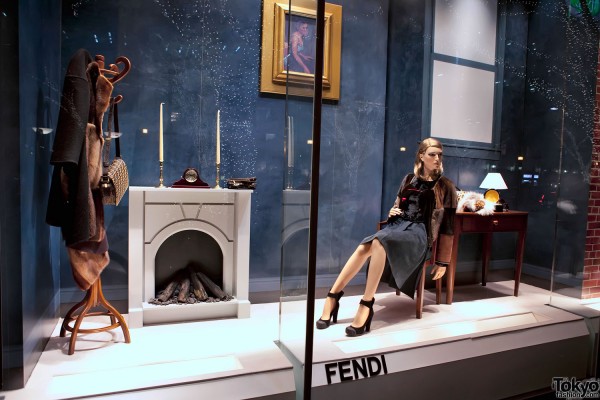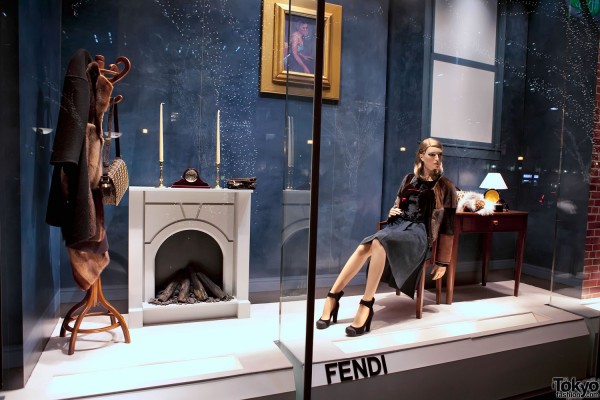 Fendi Omotesando!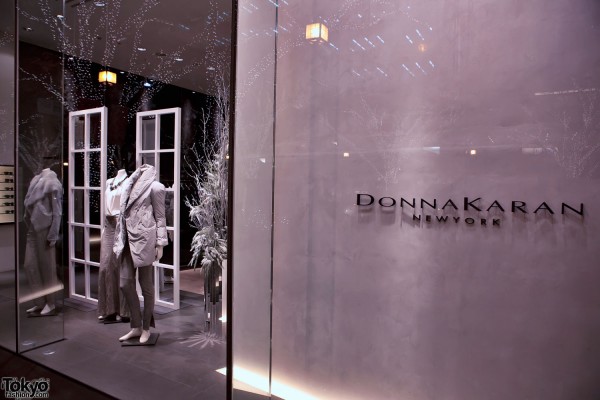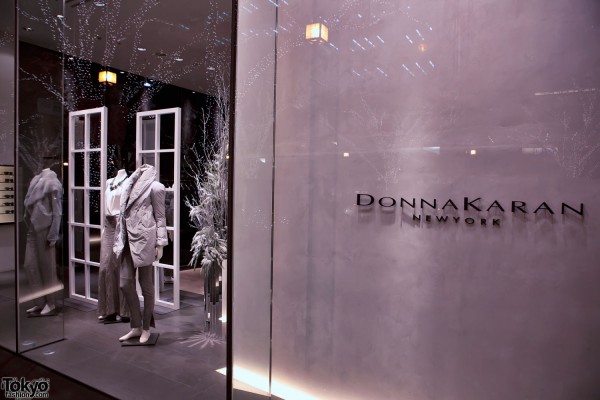 Donna Karan's window is white, white, white – very "winter".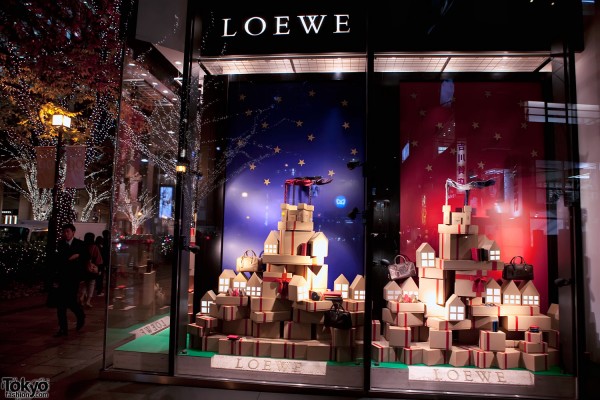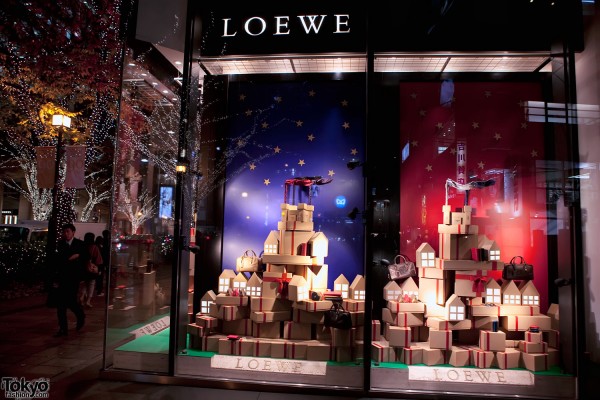 Getting very close to Aoyama Dori now. Here's the Loewe Omotesando store.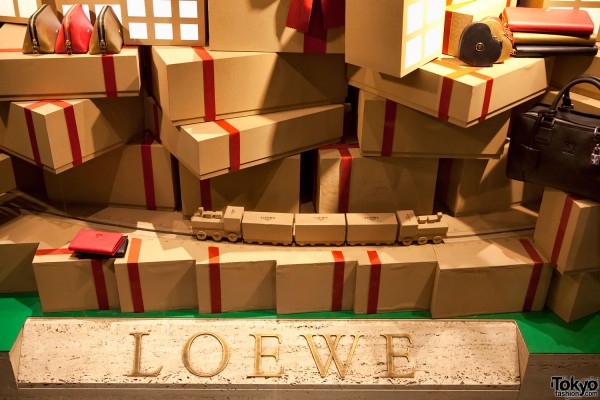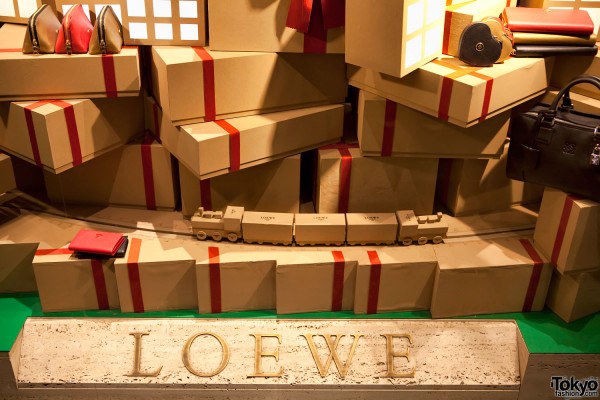 A closer look at the Loewe window where we can see a little Loewe gift train zooming in and out of the holiday gift boxes. This train was actually moving!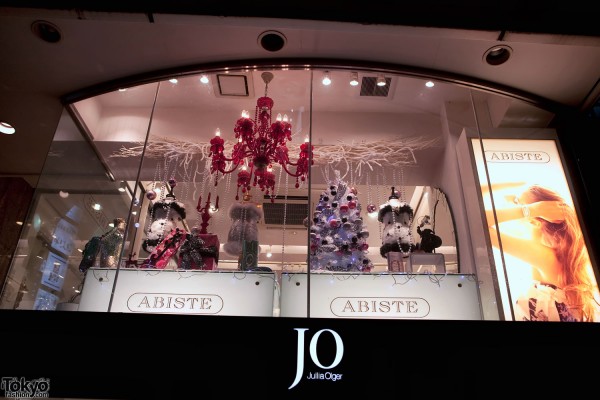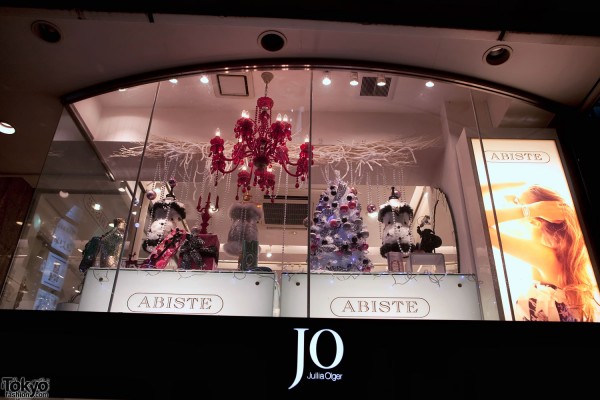 Okay, we've now crossed over Aoyama Dori and are continuing down Omotesando Dori. Technically, I think this area is really Aoyama, but because it's still on Omotesando Dori (or whatever it might be called over on this side of Aoyama Dori), we're going to keep going. For tonight's photowalk, doing the entire street from one end to the other makes more sense than turning back at Aoyama Dori. After crossing Aoyama, the first shop we stop to photograph is Abiste.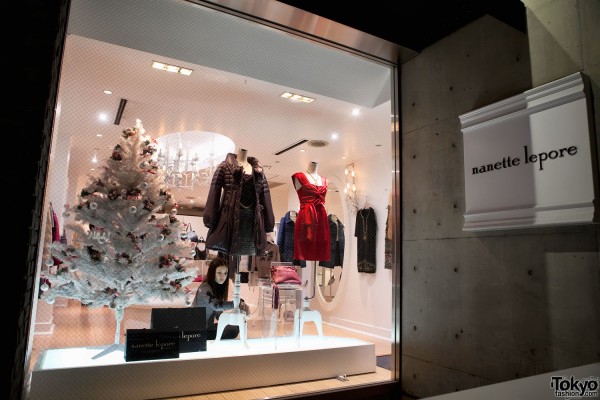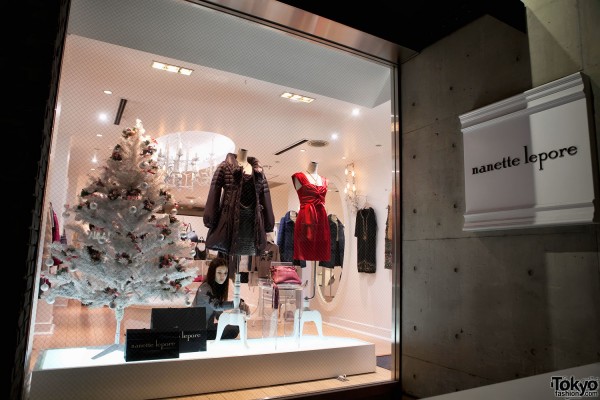 Hey, there's a woman (and a Christmas tree) in the window of Nanette Lepore!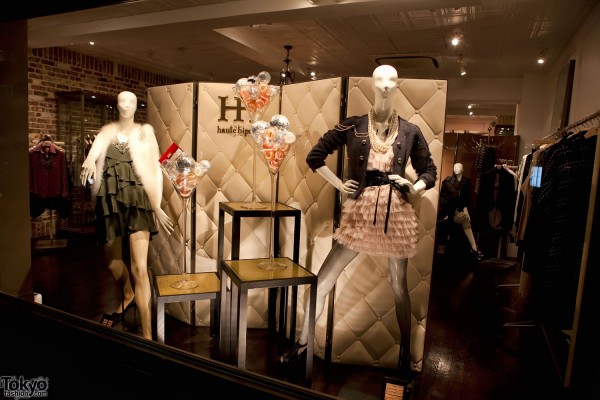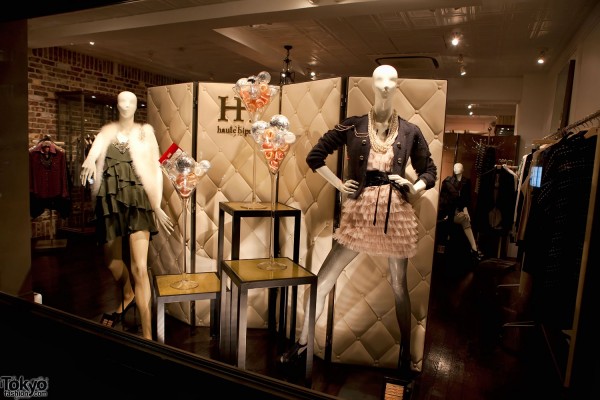 The mannequins in the window of Haute Hippie are dressed up for a holiday party.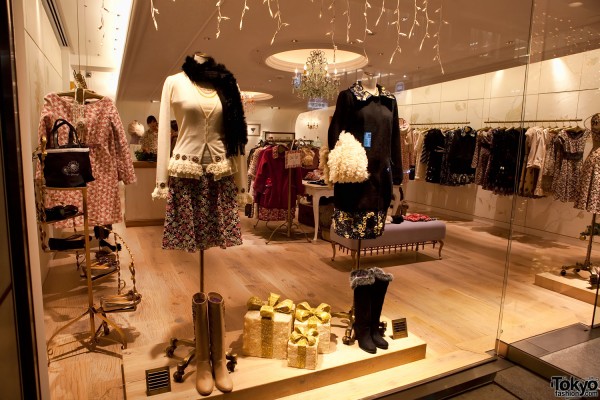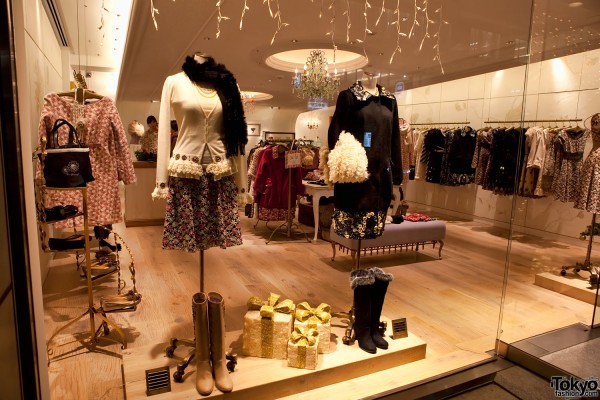 Christmas boxes in the window of Tocca.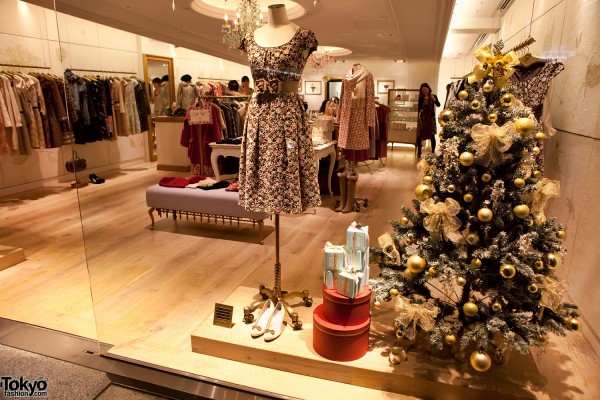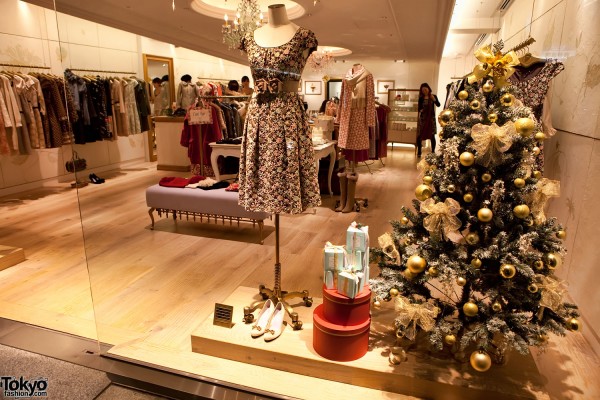 And a Christmas tree in the other Tocca window. Tocca is in the holiday mood.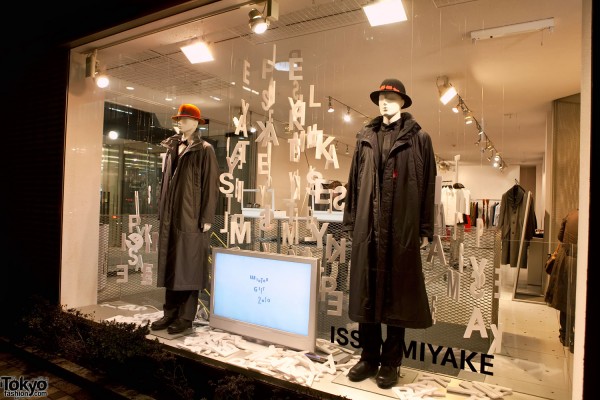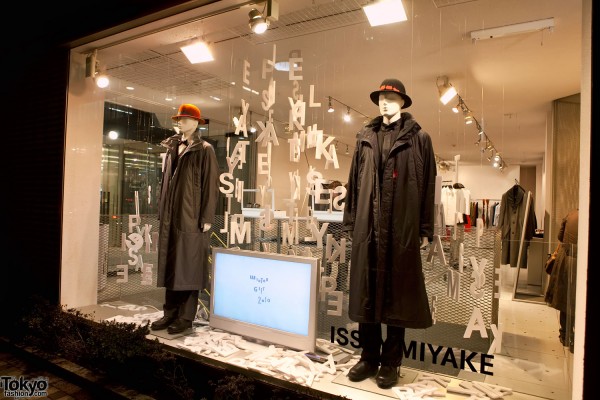 Issey Miyake with Christmas letters in the window. What does it all say? Whatever you want it to.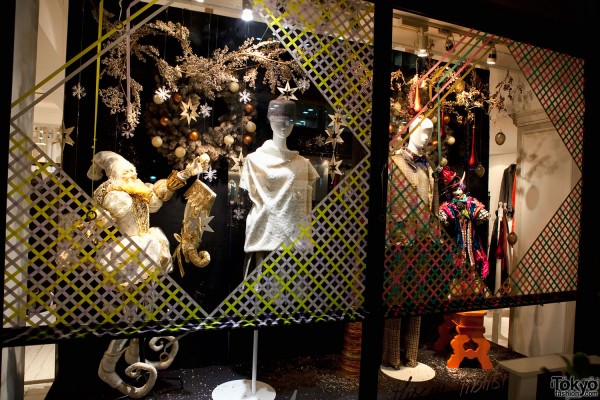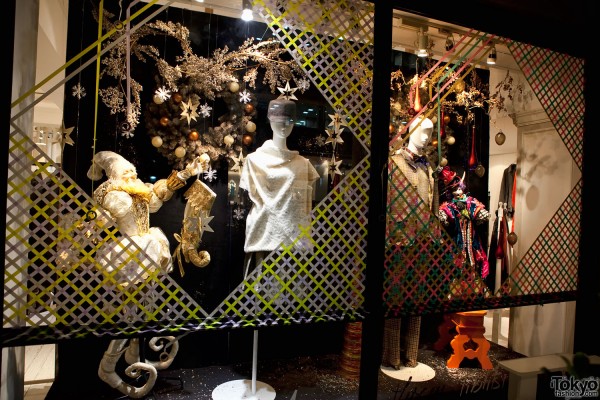 Once again we've been slightly derailed by a cute little side street. Once we spotted this window, we had to side step and photograph it.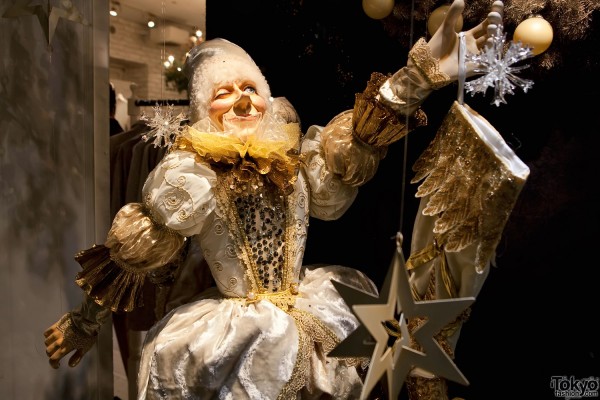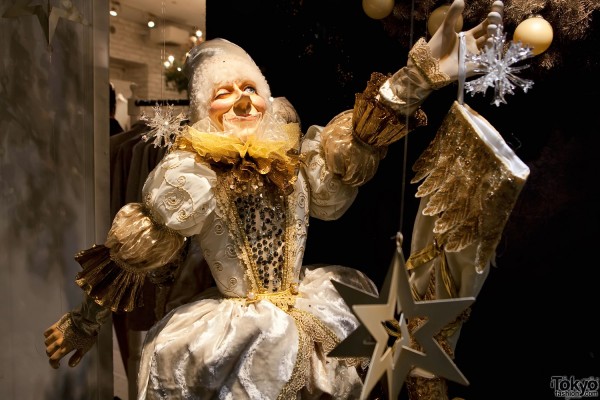 Close-up of the cool Christmas elf/clown/thing.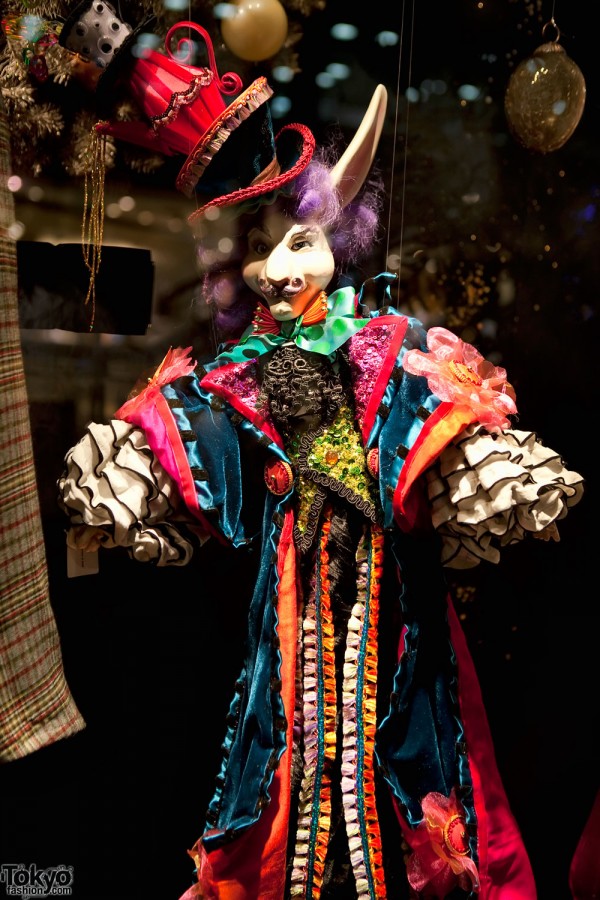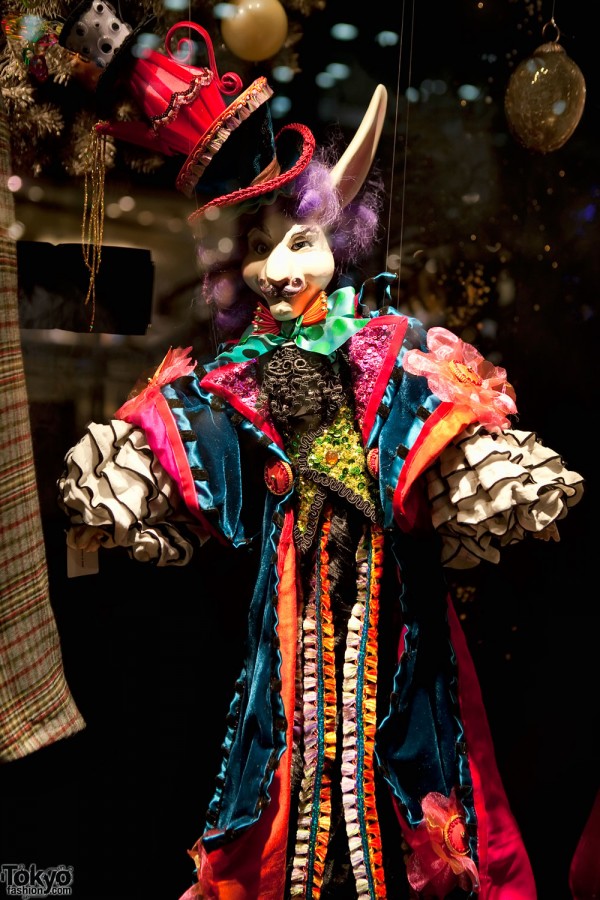 Another colorful character in this Christmas window.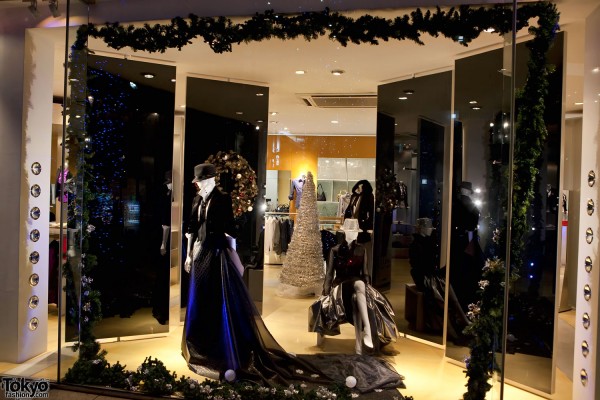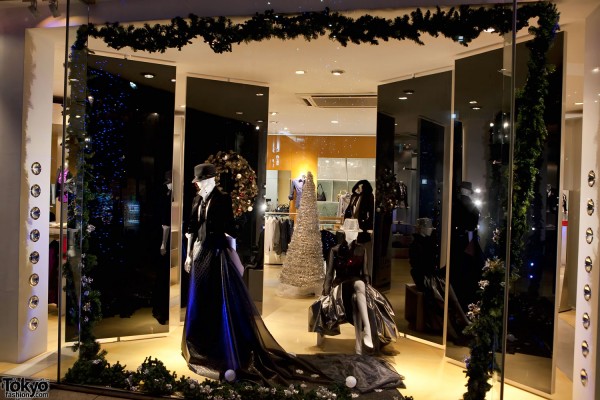 A Christmas tree and a black dress with a long train.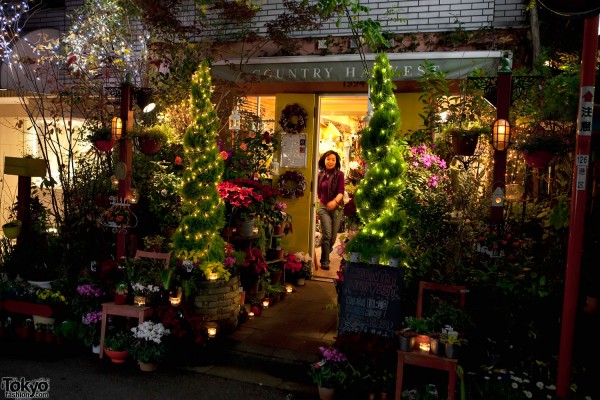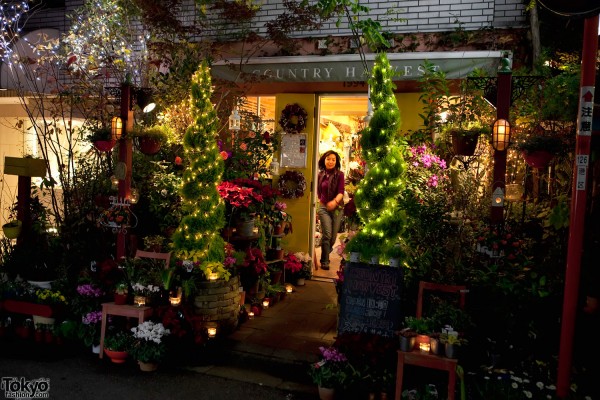 A florist shop with Christmas lights.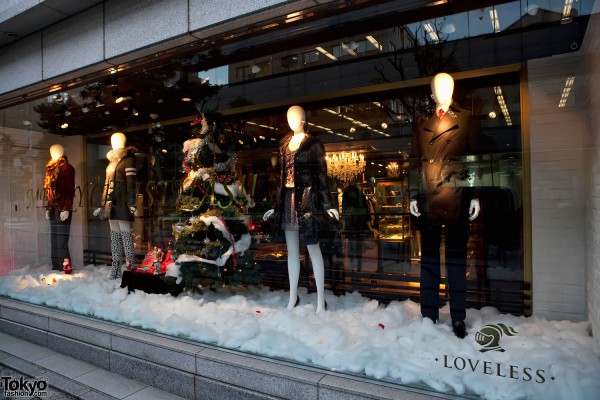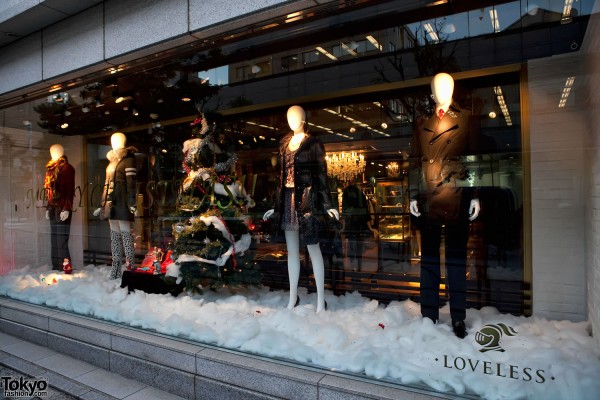 Back to the main road now. Here's one of our favorite shops – Loveless! If you come to Tokyo for fashion shopping and you miss Loveless, you will regret it. Go down the stairs, take a right and go down another flight of stairs, and there you'll find an amazing collection of mens streetwear from a variety of edgy brands.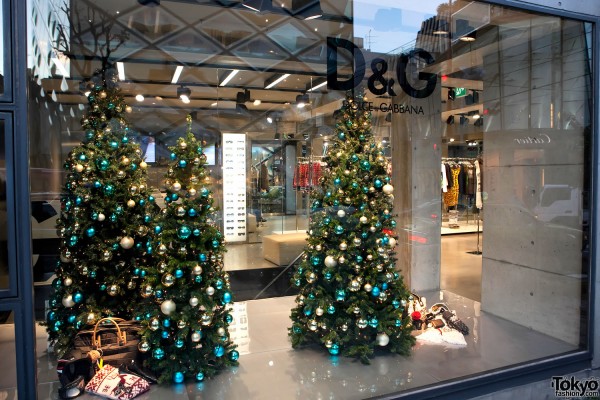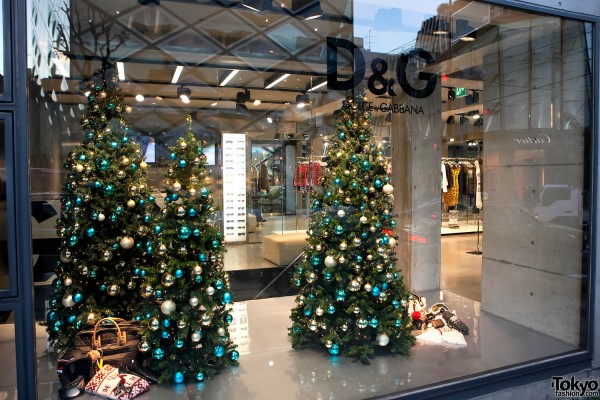 Dolce & Gabbana Christmas trees.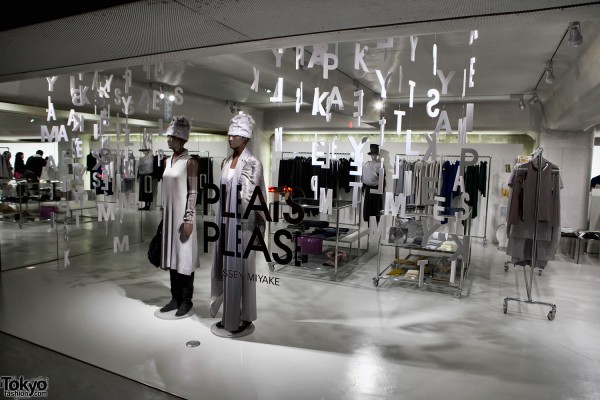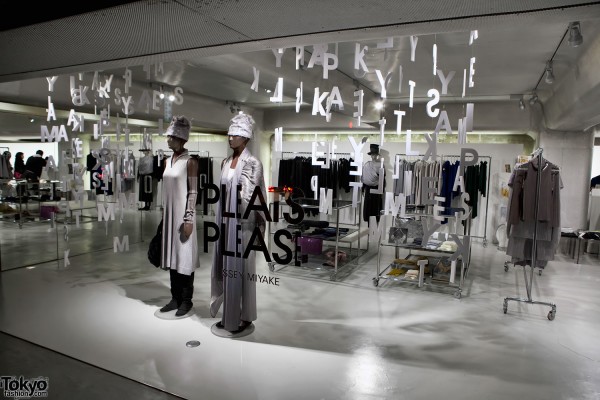 Issey Miyake Pleats Please.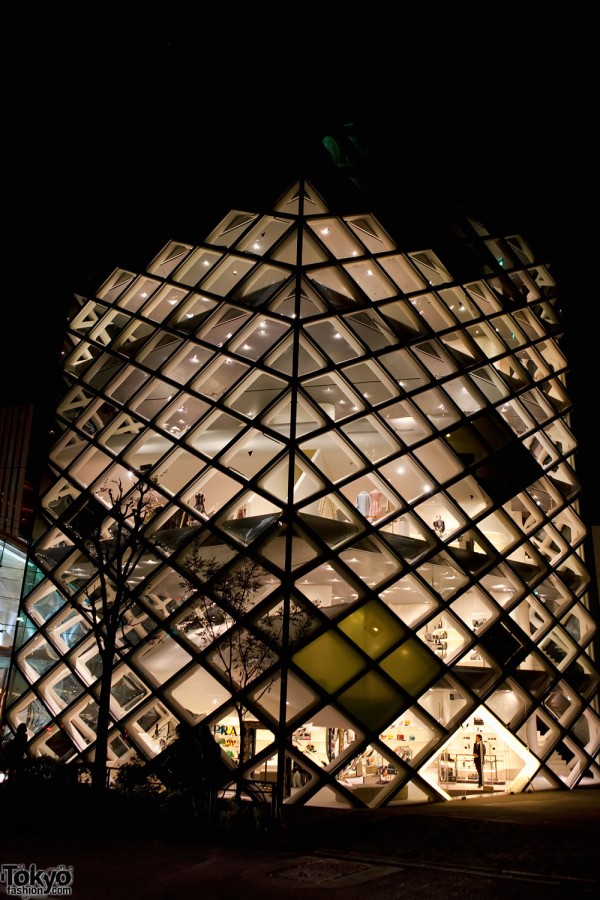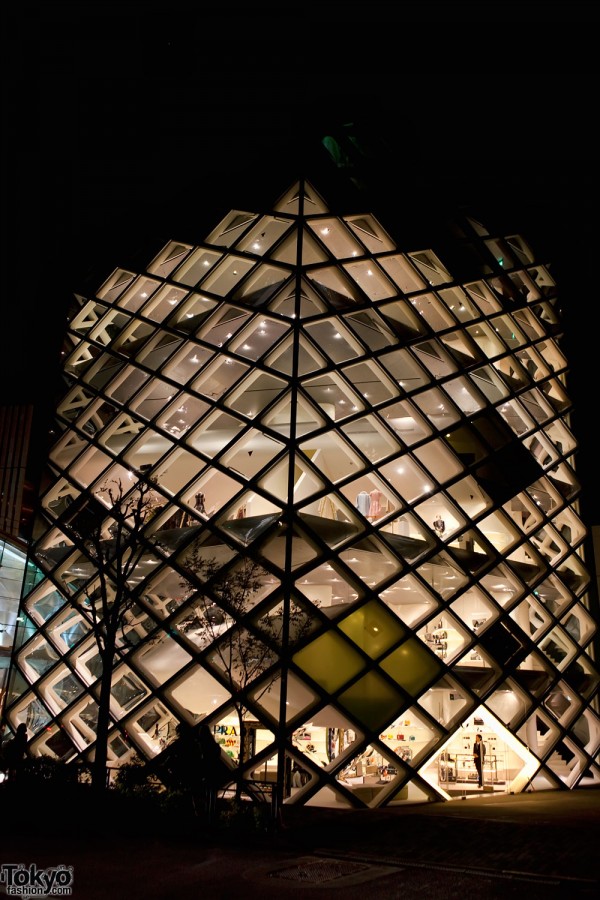 The legendary Prada Aoyama building. If you see one building in this area, see this one.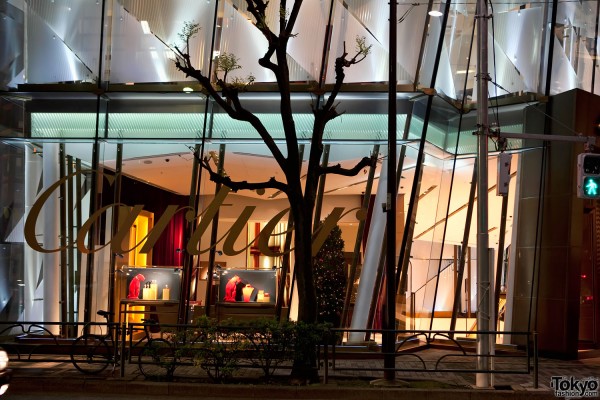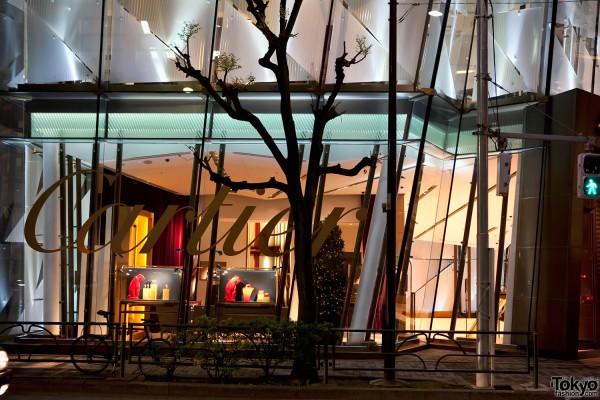 Cartier, right next to Prada. We're shooting across the street now because these buildings look better from a distance.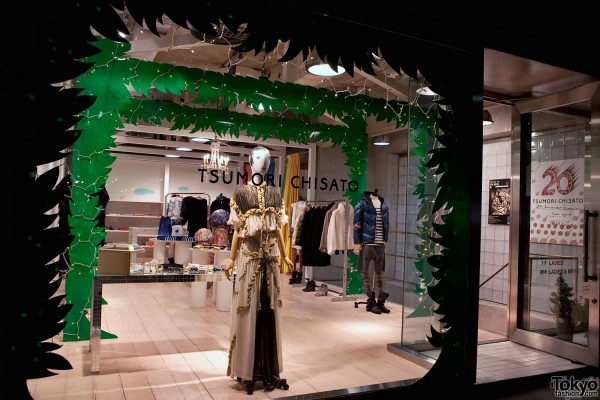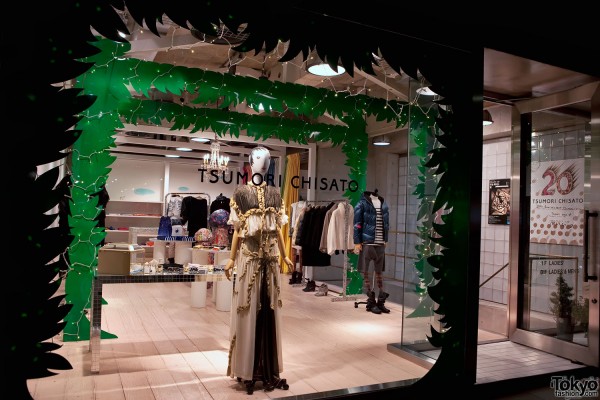 The Tsumori Chisato flagship store always has a nice Christmas window. This year isn't as elaborate as last year, but it still looks great.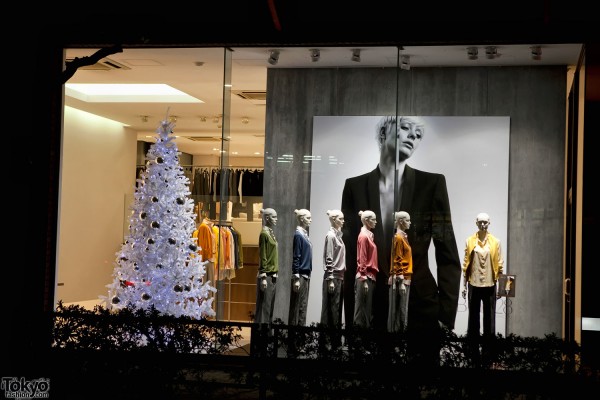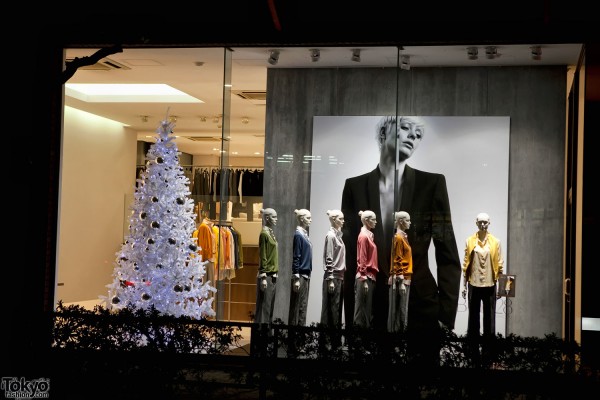 A white Christmas tree in a shop across the street.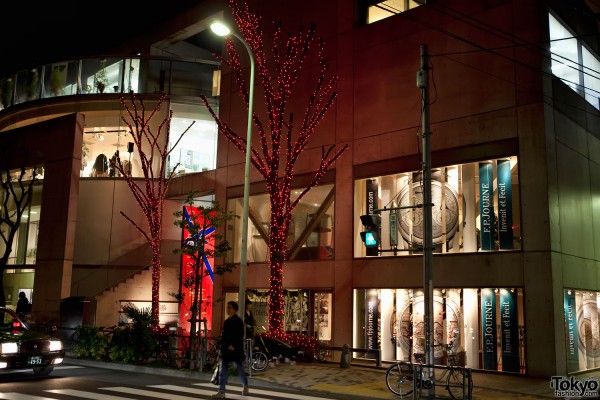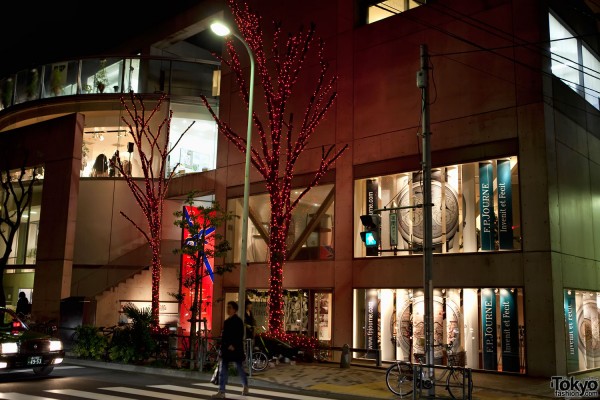 This is where we cross to the other side of the street and start walking back toward Aoyama Dori. If we kept going down this street really far, we'd eventually reach Roppongi. If we went just a little further and then took a right, we'd be at the Rick Owens shop. I love Rick Owens, but what are the odds that his shop will have any sort of holiday decorations? Very small odds. So, let's get moving back in the other direction!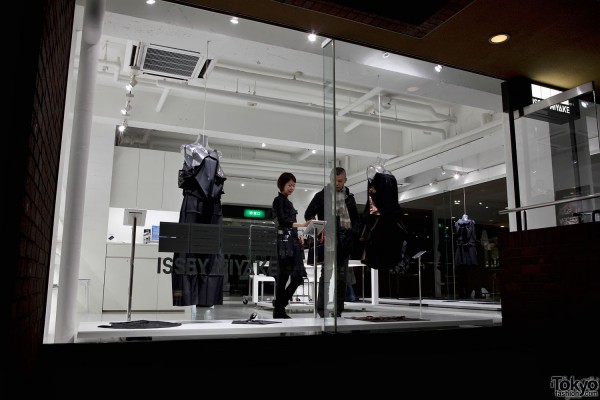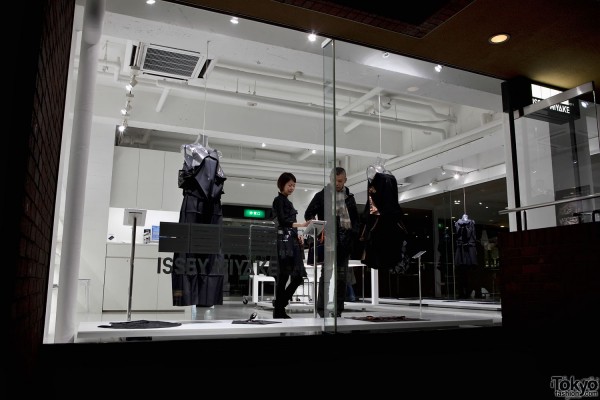 This is the new Issey Miyake 132 5 shop. The interior design looks so clean and minimalist. Christmas, not so much.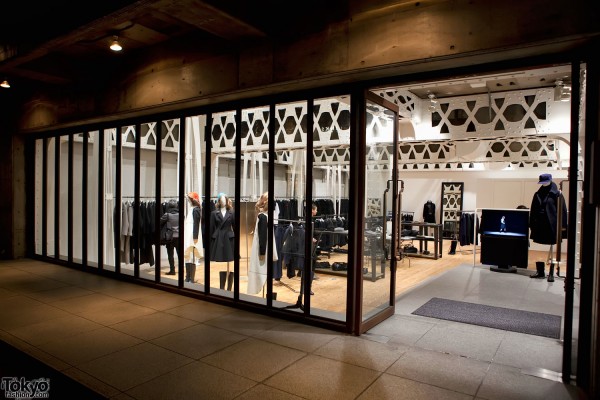 Cool architecture and interior design reign in this part of town.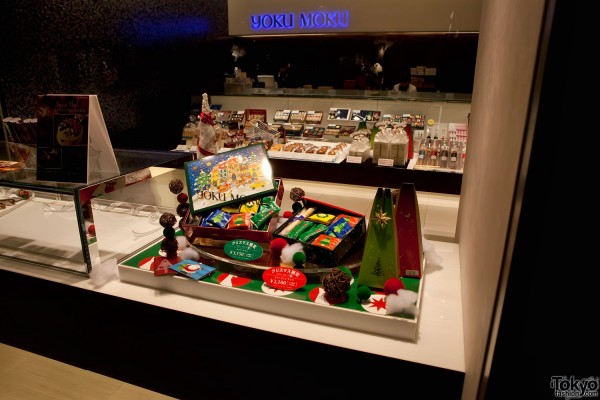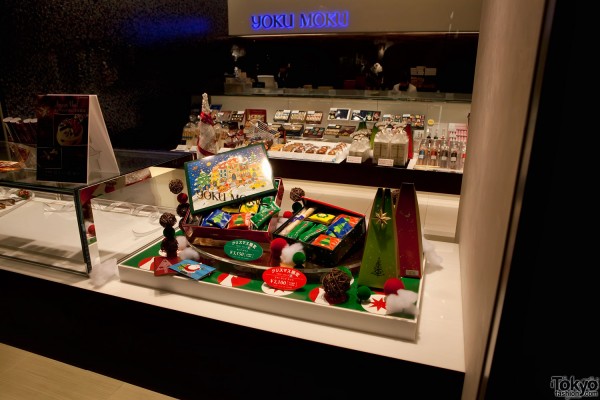 Yoku Moku holiday sweets.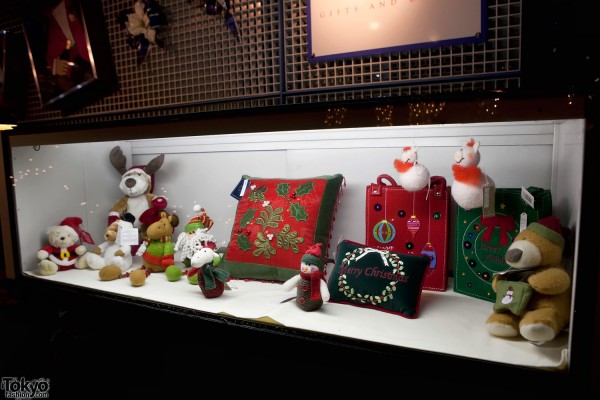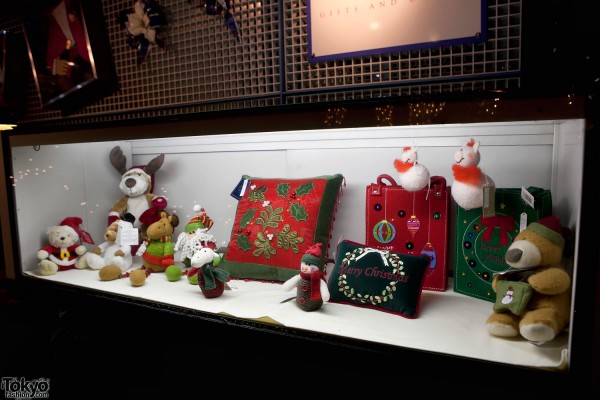 Merry Christmas from cute stuffed animals.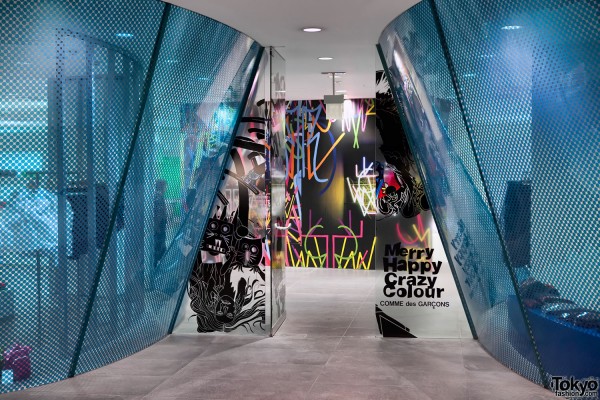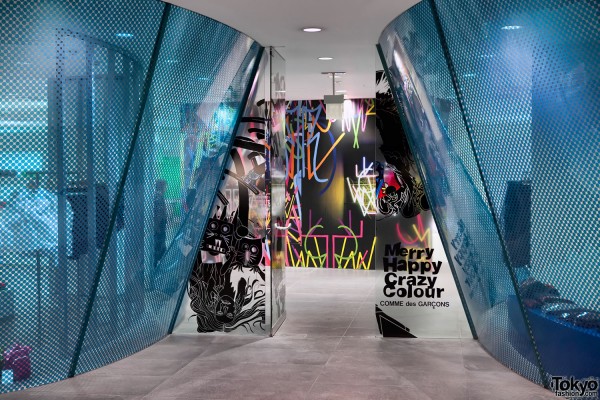 Merry Happy Crazy Colour at the legendary Comme des Garcons shop – a do-not-miss on your Tokyo visit.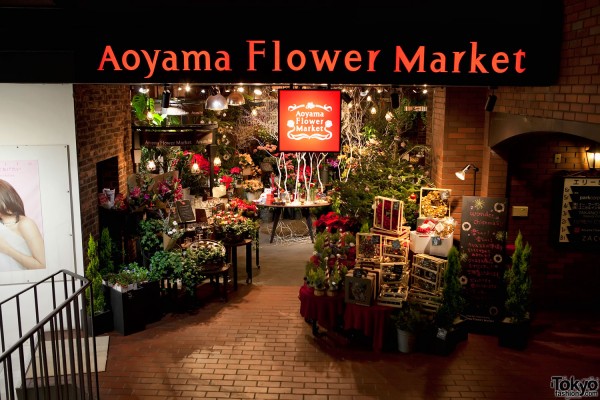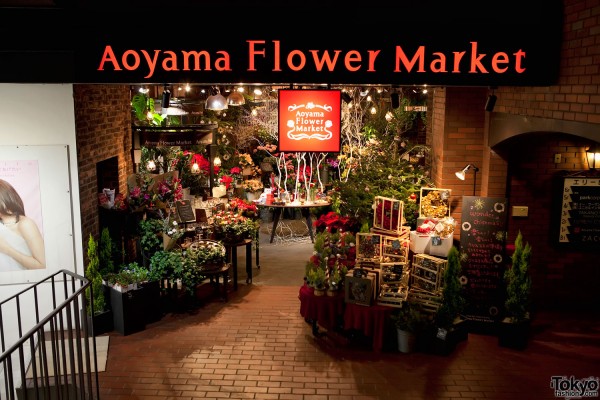 Passing by Aoyama Flower Market means that we are about back to Aoyama Dori, which is also the location of Omotesando Station. We'll continue down toward Meiji Dori, the same way we came from but on the other side of the street.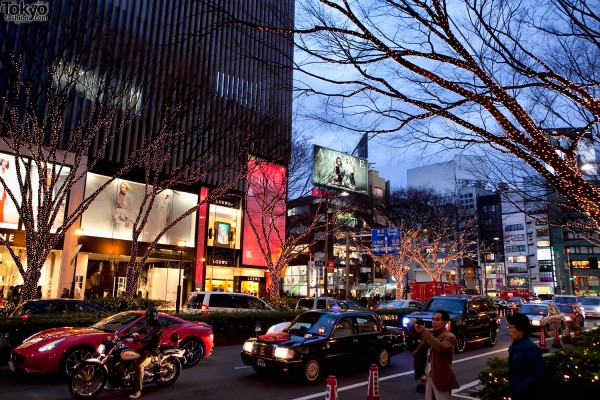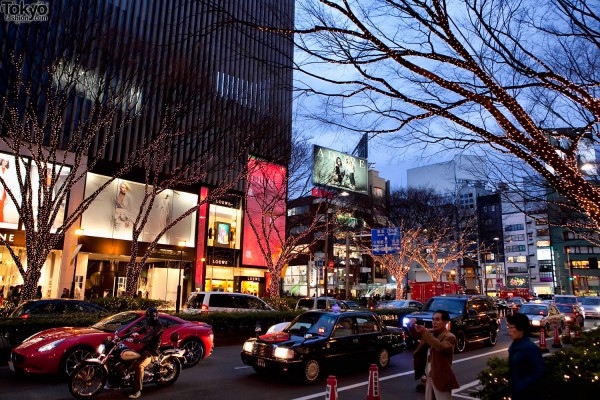 Another quick shot of the Omotesando Illumination – this is looking back up the way we just came from, toward Aoyama Dori.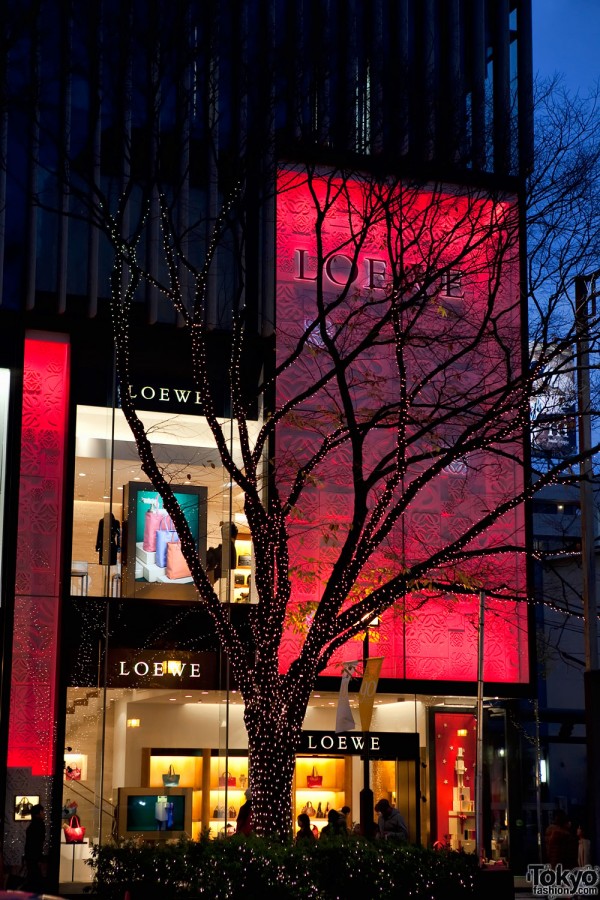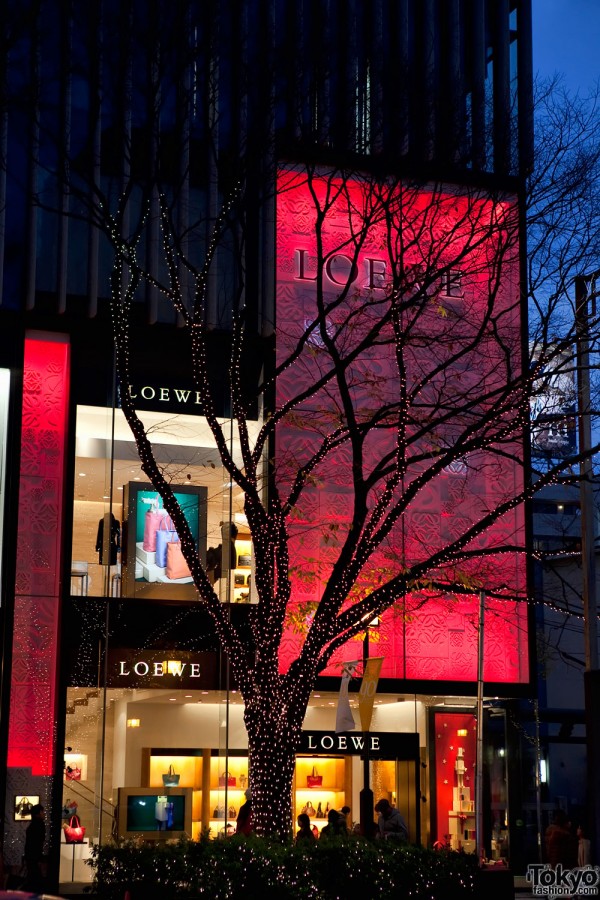 The Loewe shop that we photographed earlier, but this time you can see the whole thing from the other side of the street.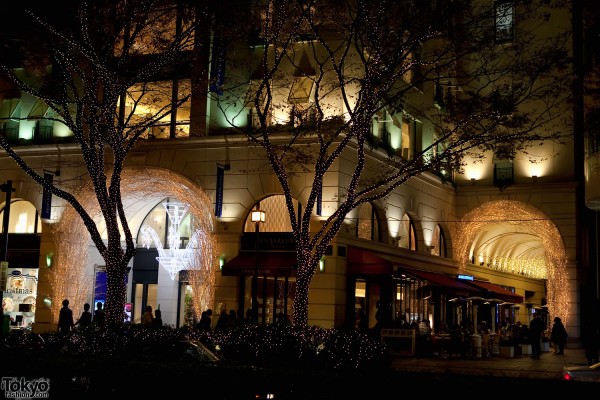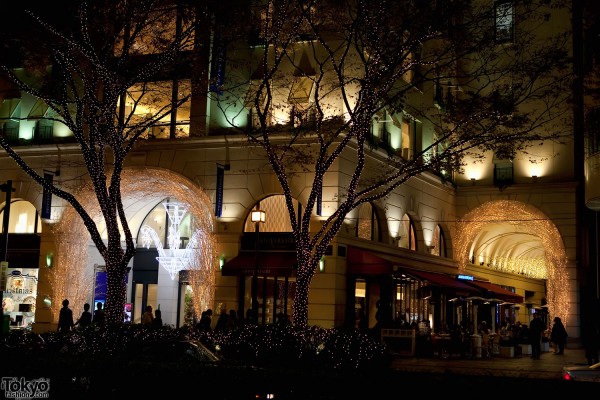 Anniversaire Omotesando from the other side of the street.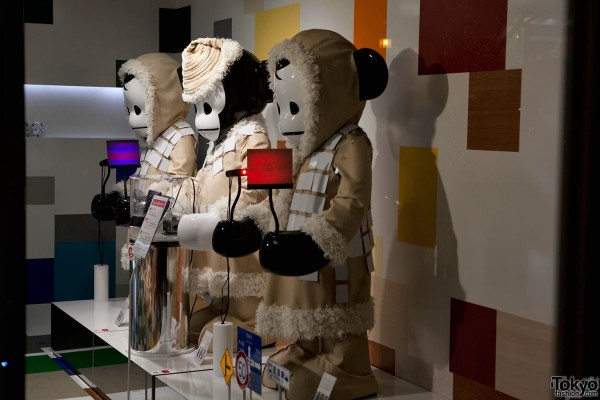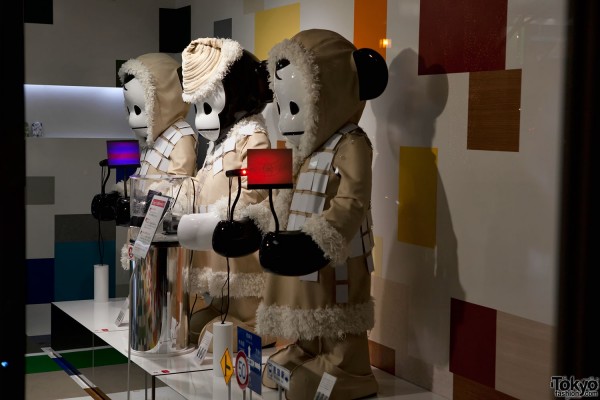 Are those monkeys inside of the 3M Omotesando showroom?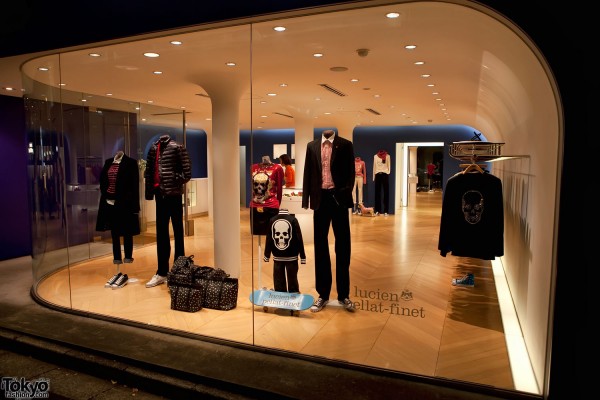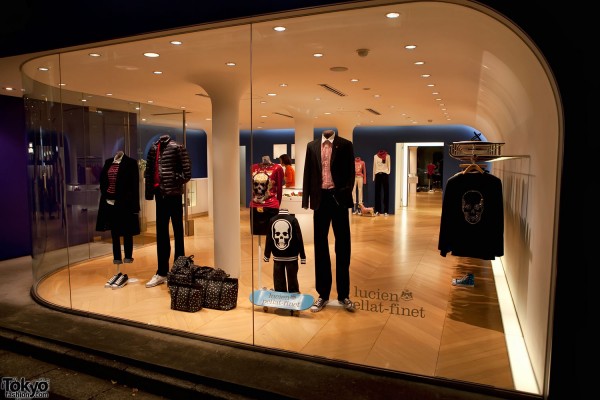 Once again we do what we said we wouldn't do and snuck off onto a little side street. In this case, we didn't want to miss several awesome H.P. France shops. On the way down the street, we see Lucien Pellat-Finet Omotesando. Cashmere anyone?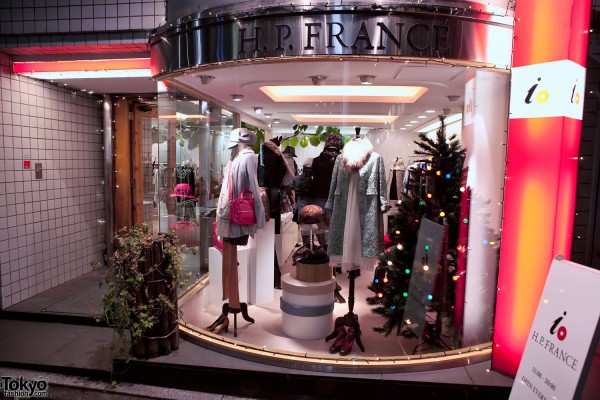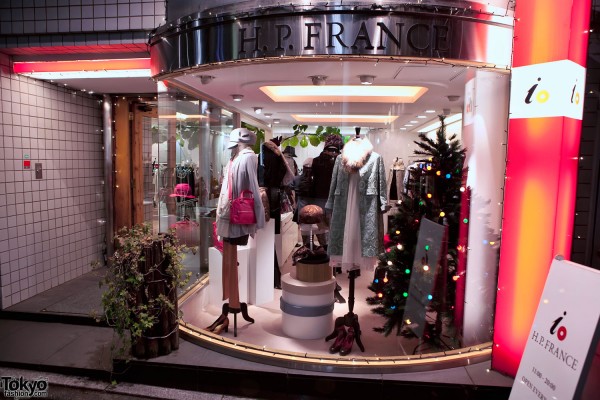 The first of the H.P. France stores on this little street.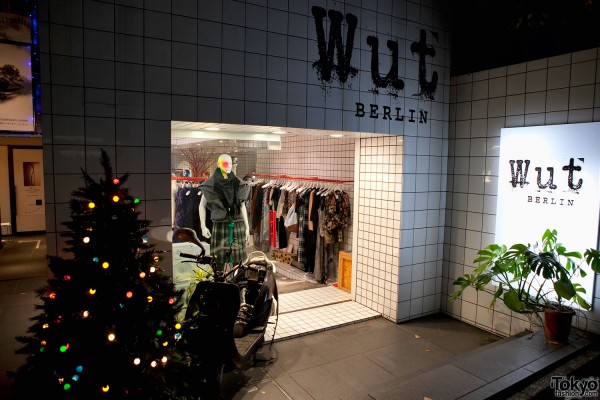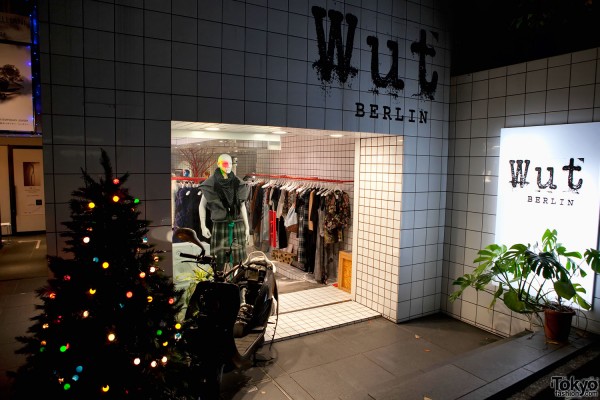 The reason we turned down this street – Wut Berlin by H.P. France. This is a cool shop and you should check it out – along with some of the other H.P. France shops – if you get a chance.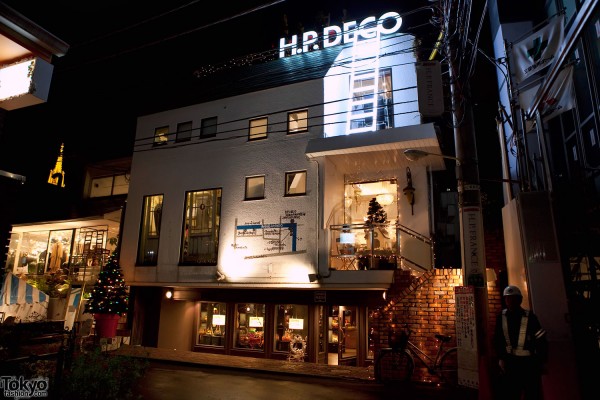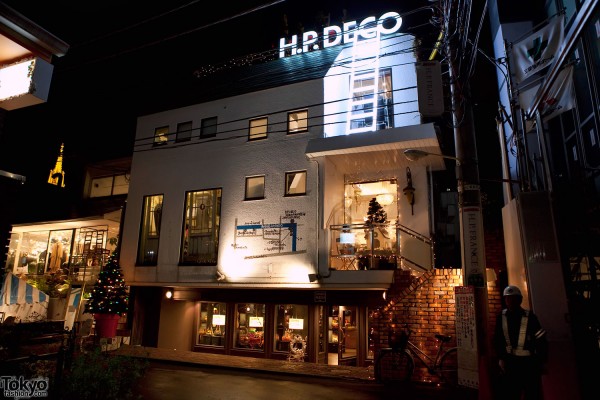 H.P. Deco – do you think maybe that's part of H.P. France too? Just maybe. :-)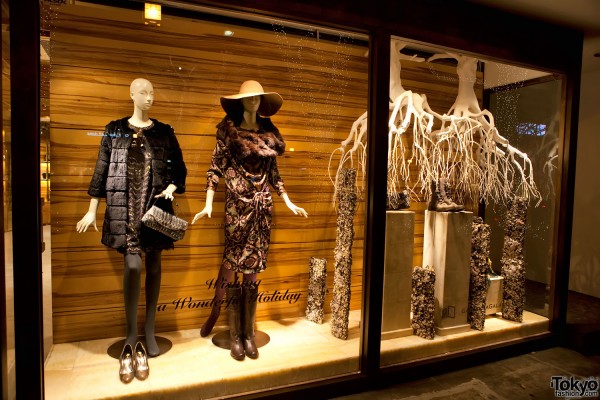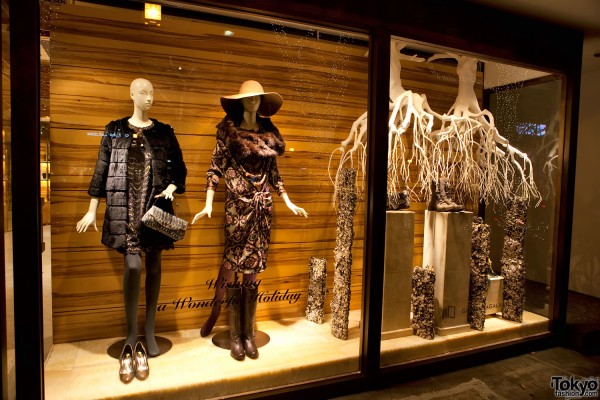 Detour over! We're back on Omotesando Dori. Here's the strange Gallarda Galante holiday window.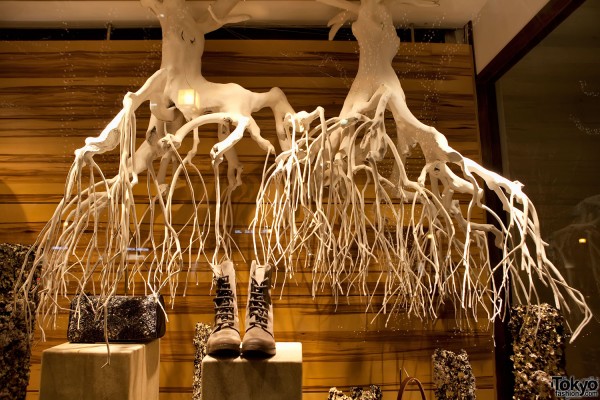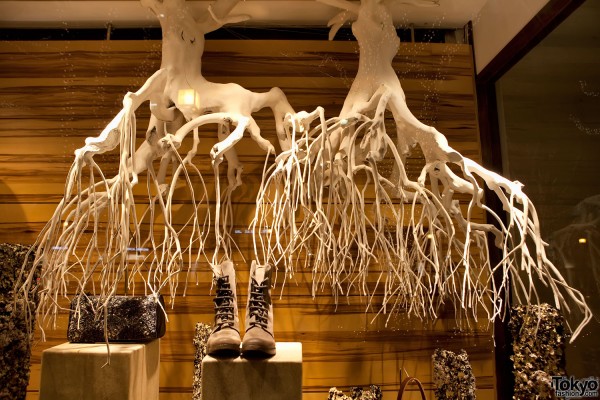 Wow, this Gallarda Galante window looks like something out of a manga, or maybe from a science fiction movie.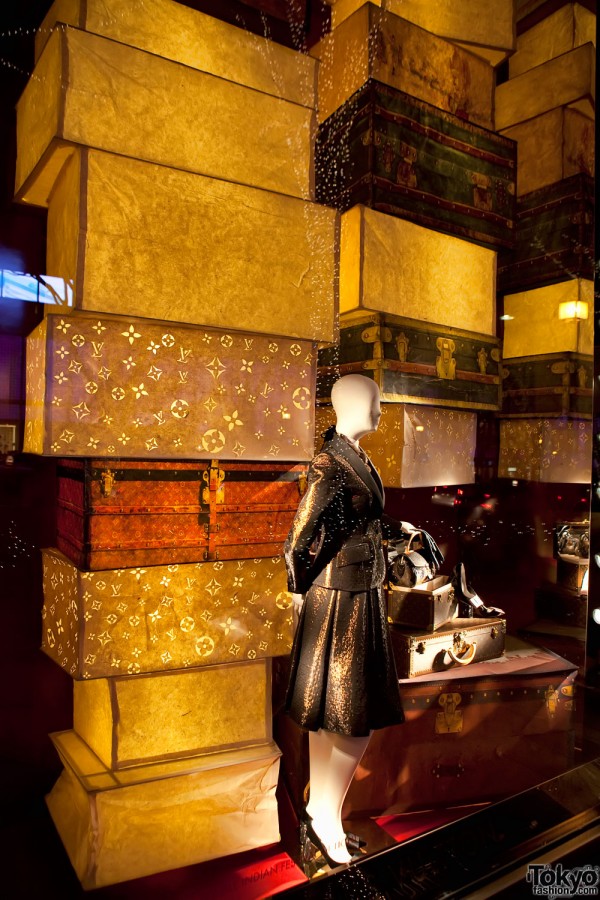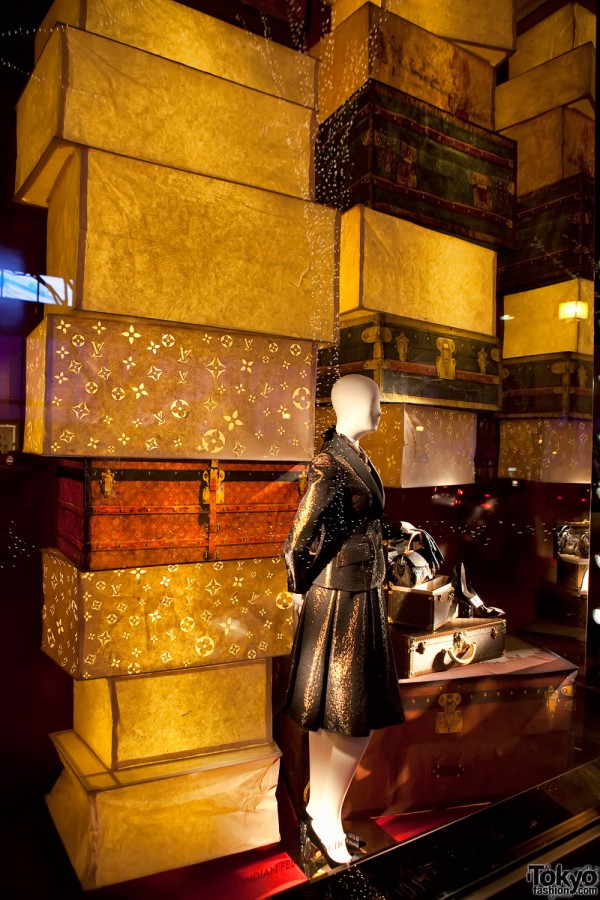 Golden trunks at Louis Vuitton Omotesando. LV has become synonymous with shopping in Tokyo. This shop has recently been remodeled, so we couldn't miss photographing it.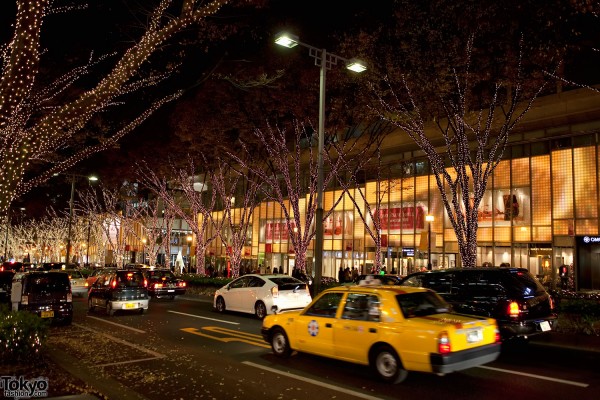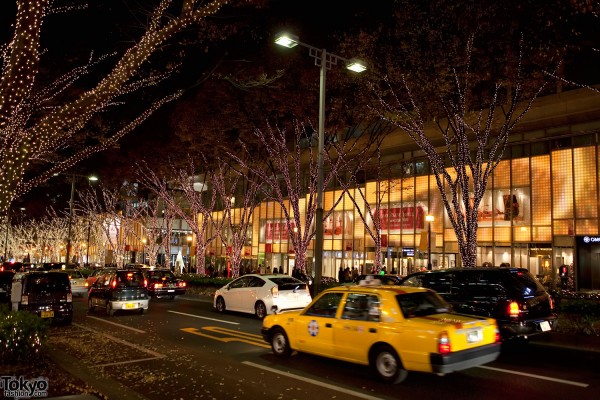 Looking across the street from in front of the LV building, we see the outside of Omotesando Hills.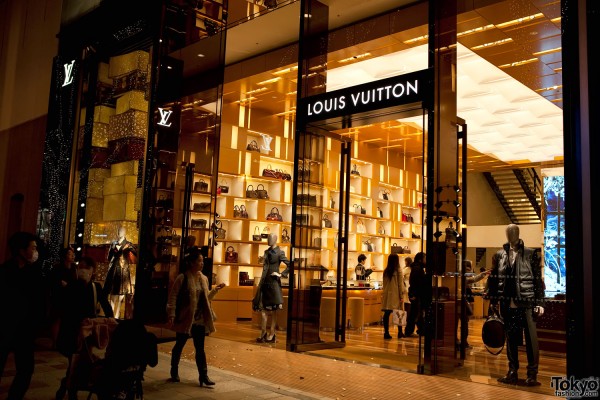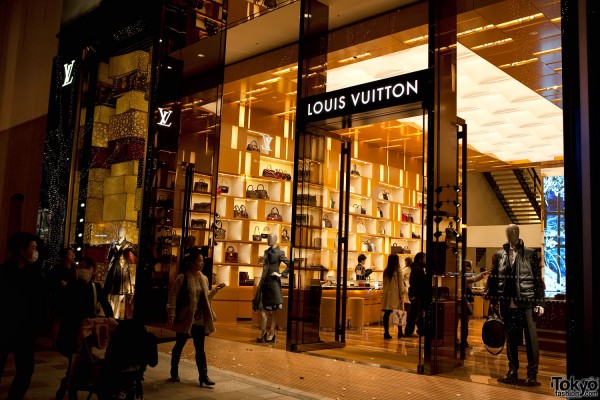 One last shot of the Louis Vuitton – and all the handbags on the wall – before we continue on down the street.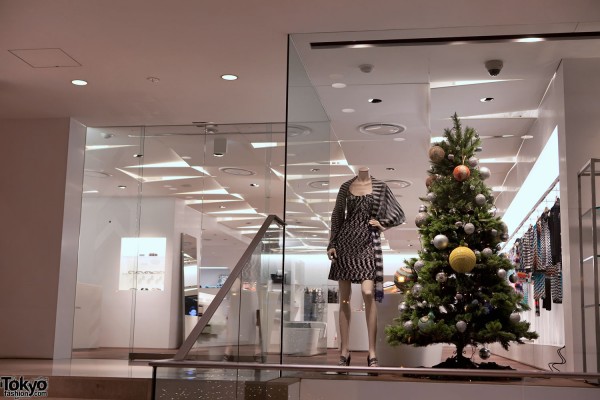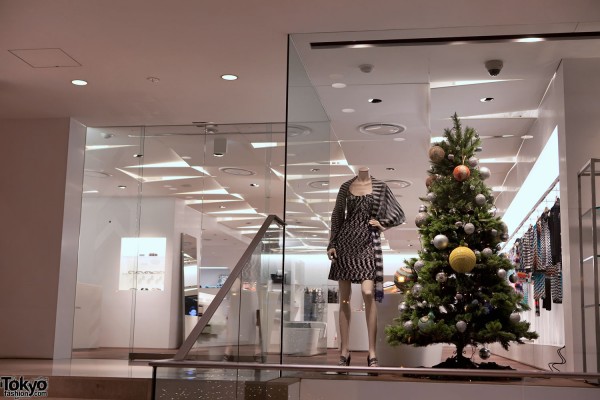 Missoni Christmas tree!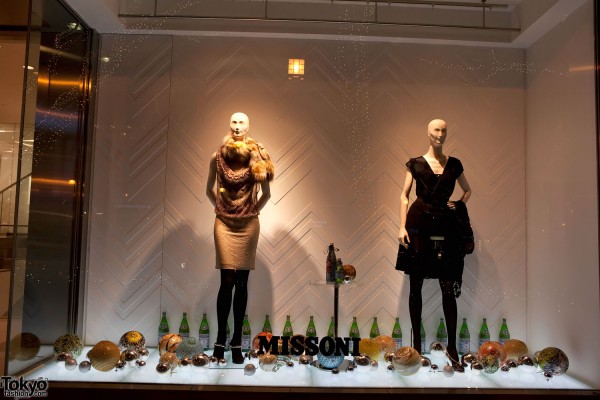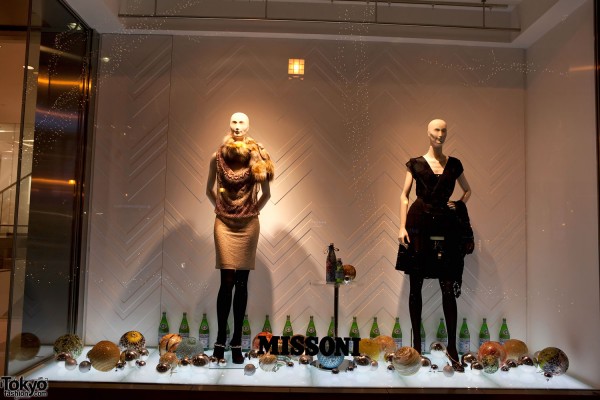 More Missoni.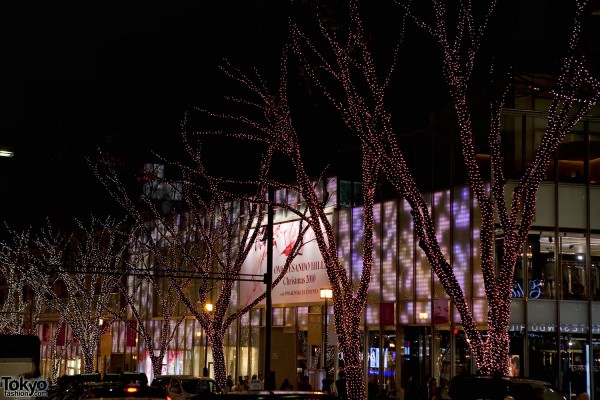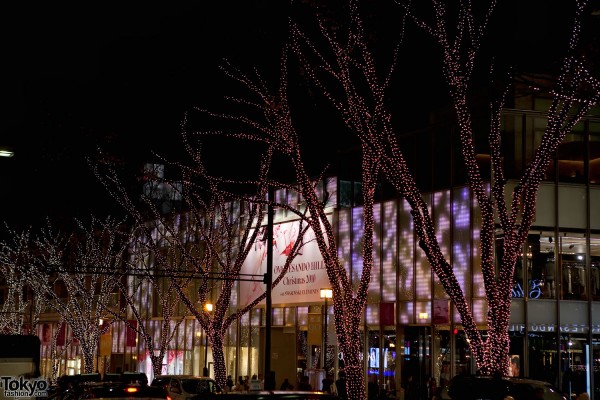 Another shot across the street at Omotesando Hills. The lights on the side of the building change shapes and colors constantly.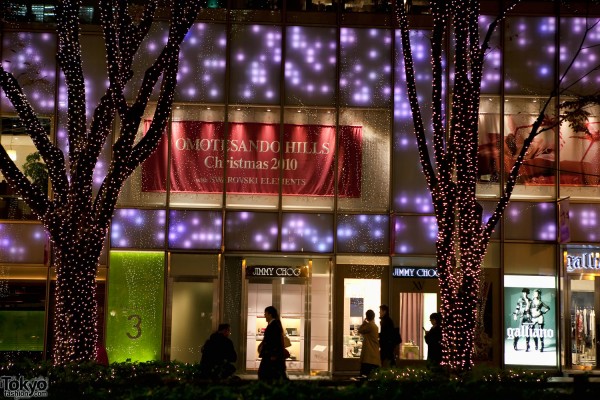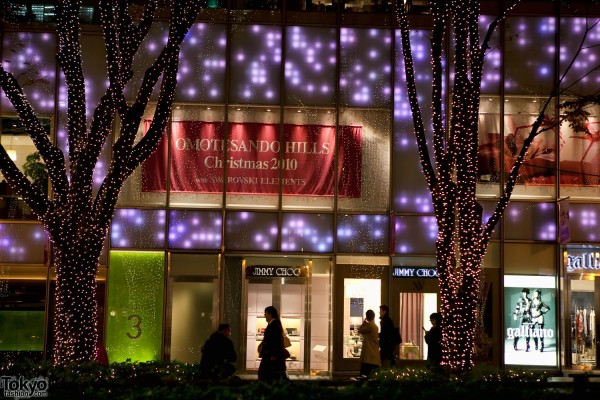 Omotesando Hills Christmas 2010.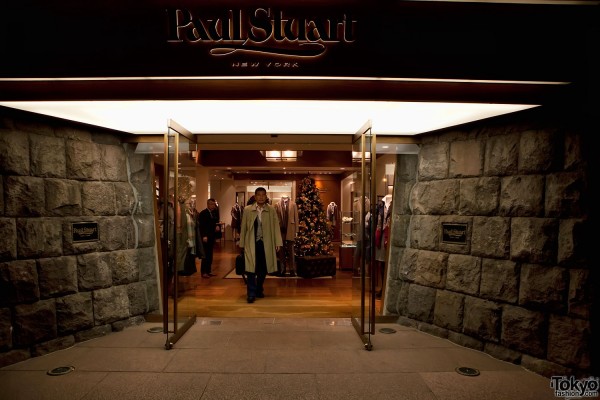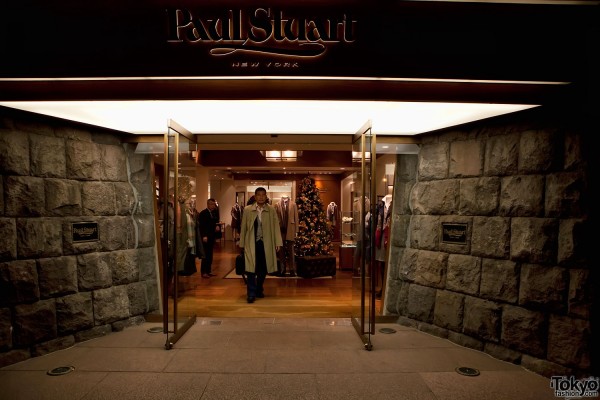 Back on this side of the street, it's the Paul Stuart shop.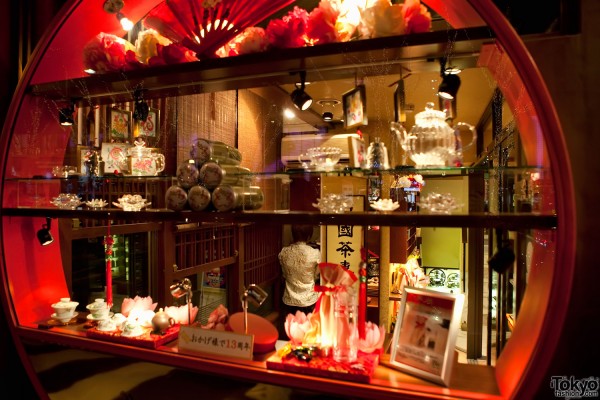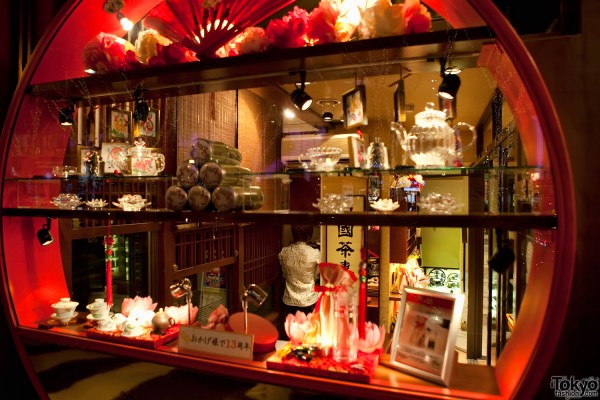 The Chinese tea room!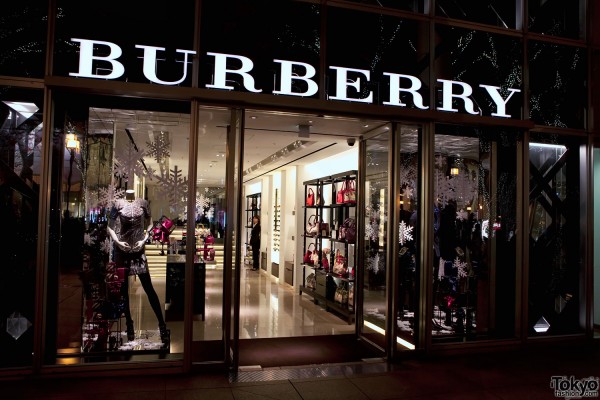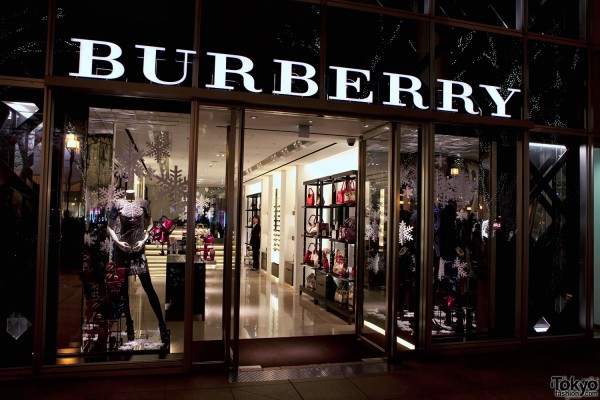 Burberry Christmas window.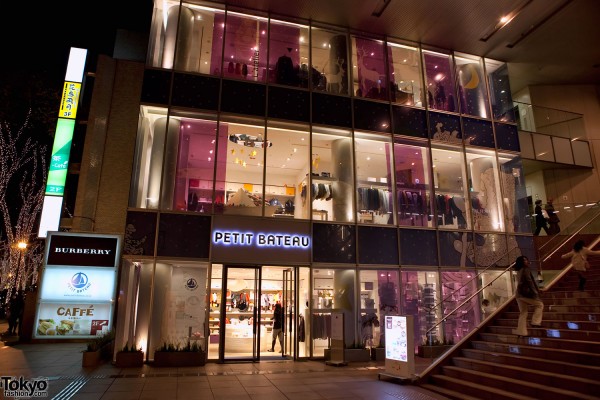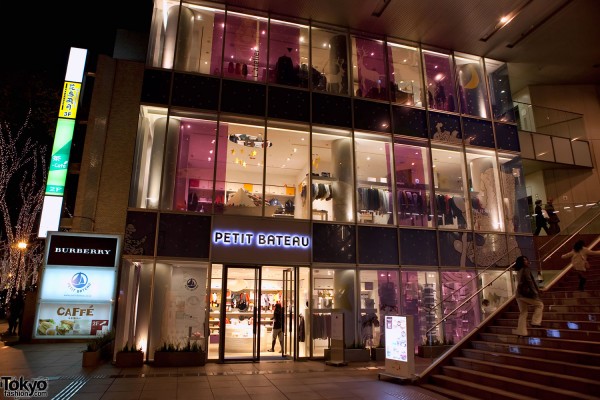 The Petit Bateau Omotesando store.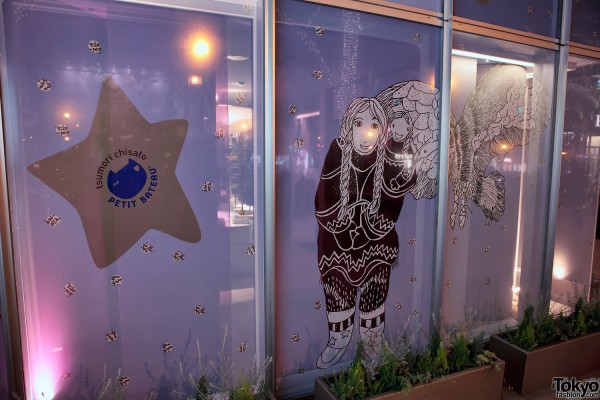 Tsumori Chisato x Petit Bateau.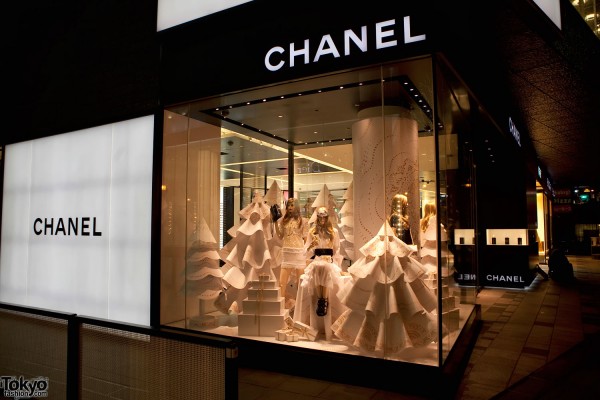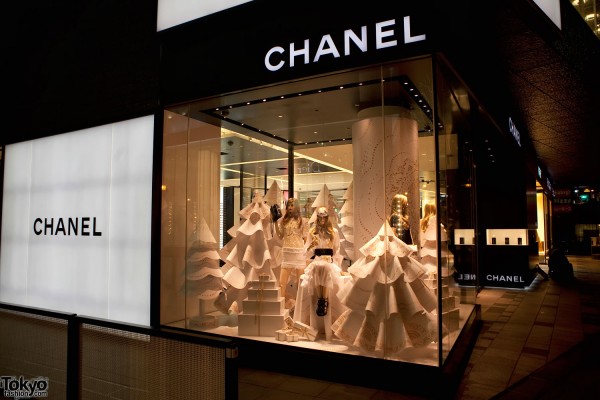 Seeing the Chanel holiday window display means that we've almost reached Cat Street again.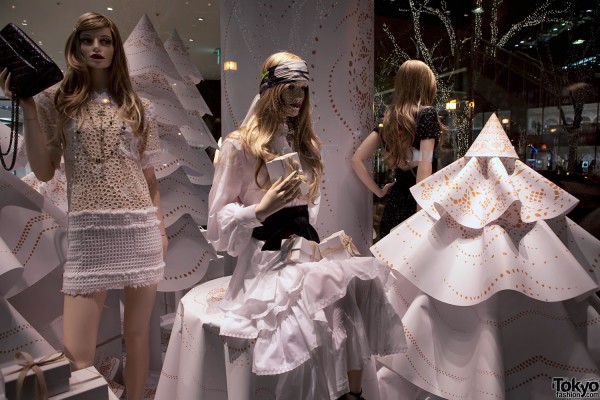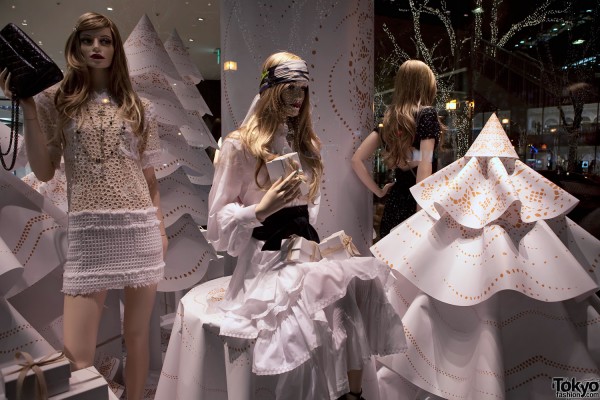 A close-up of the Chanel Christmas tree forest.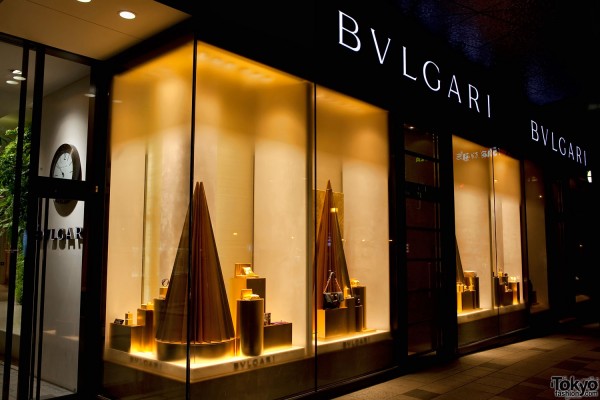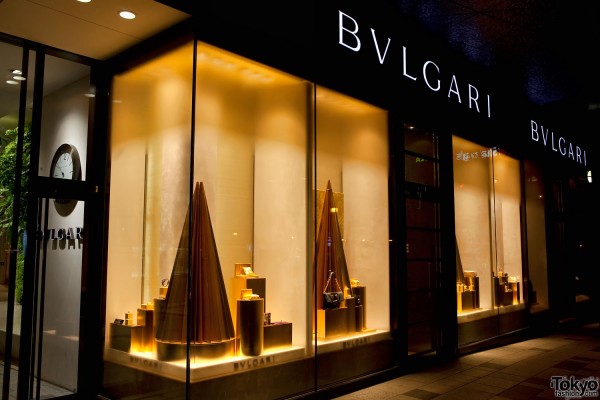 Bulgari Omotesando looking very gold.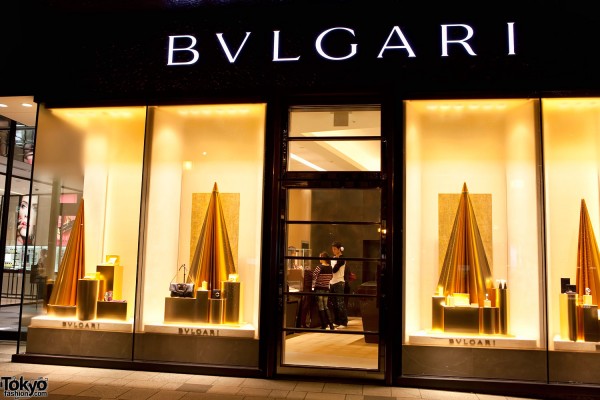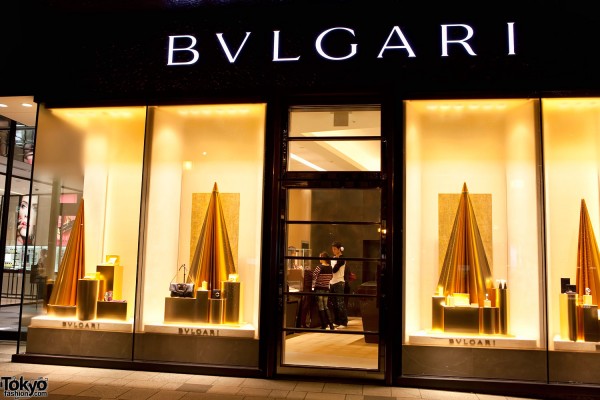 Even the Christmas trees are gold in Bulgari land.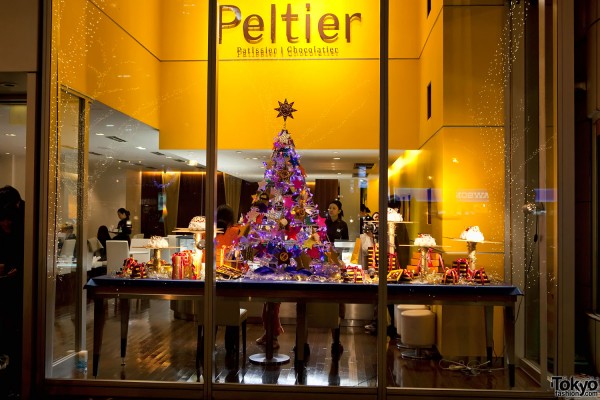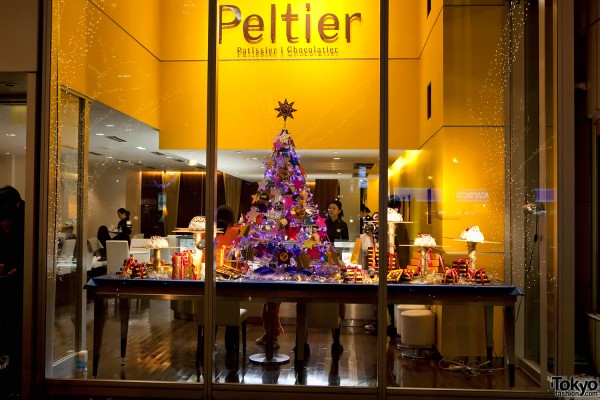 The Peltier chocolate shop on Omotesando Dori. I quite often get chocolate here for holiday gifts.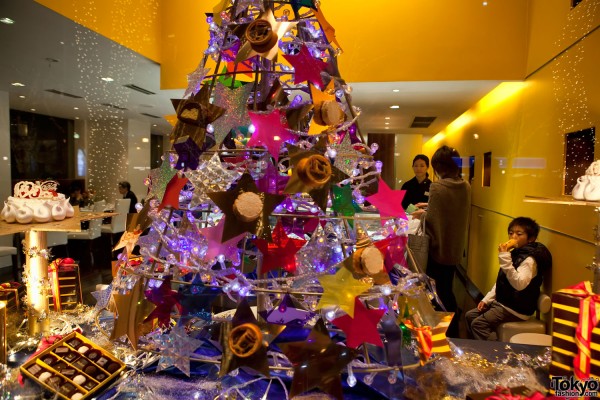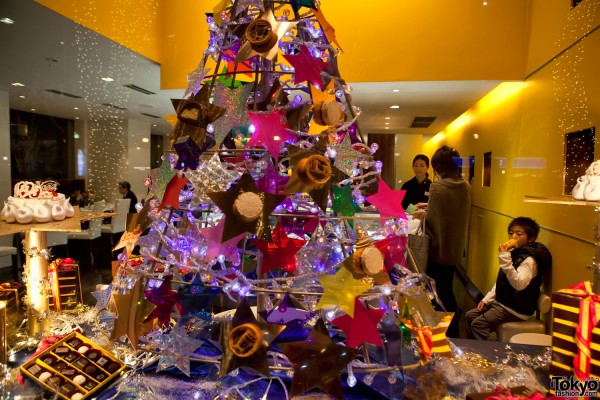 Peltier's chocolate Christmas tree – and a cute kid.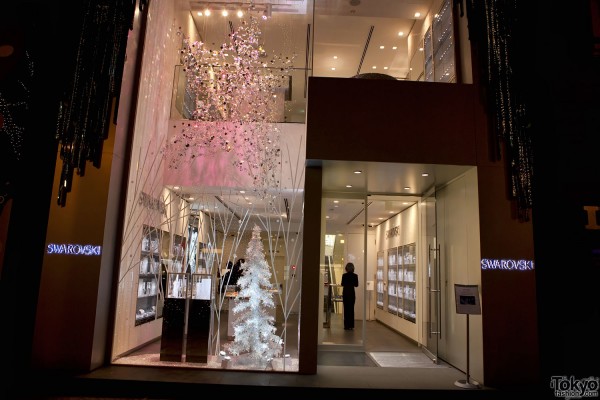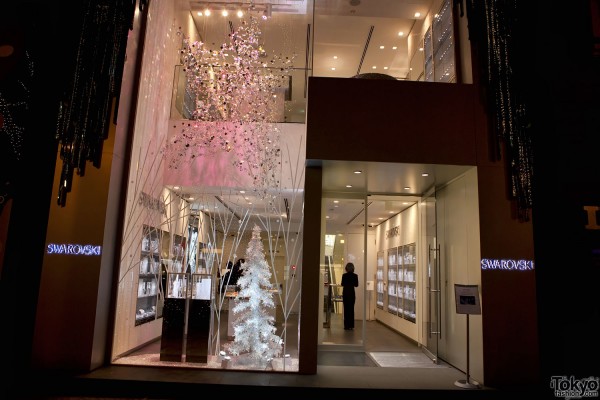 Swarovski Christmas tree. You can bet it sparkles.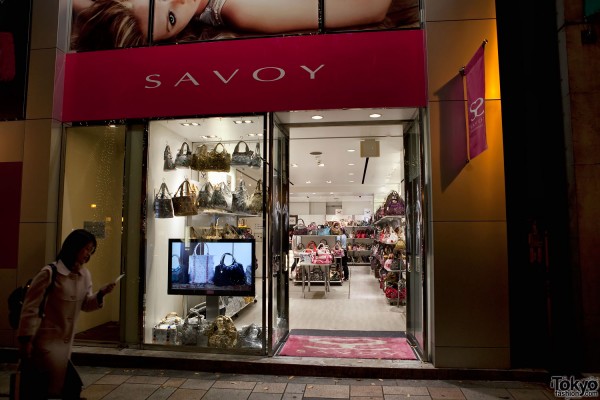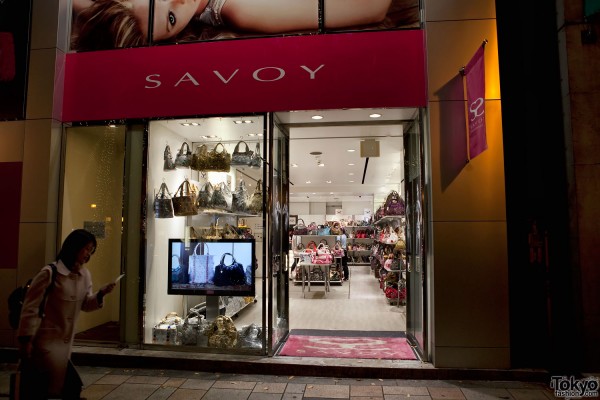 Savoy bag shop.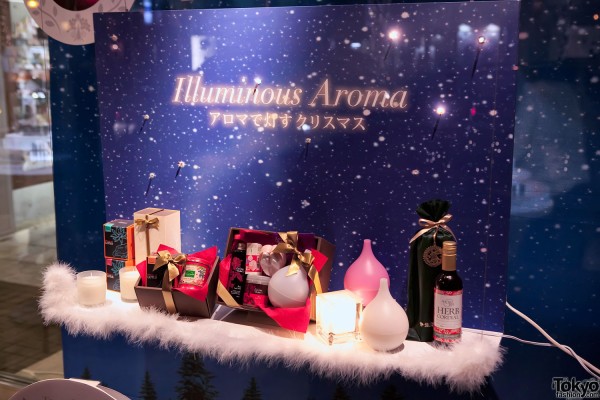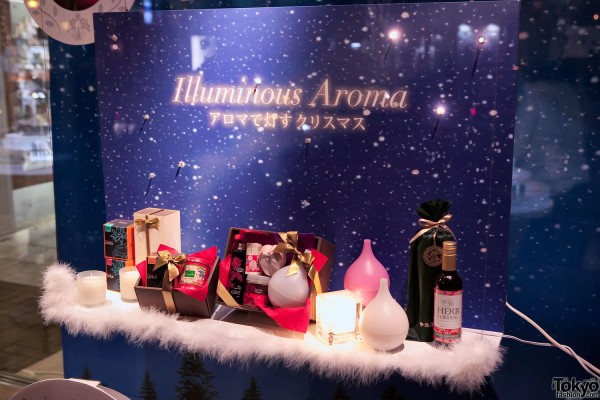 Illuminous Aroma from Tree of Life. Hmmm.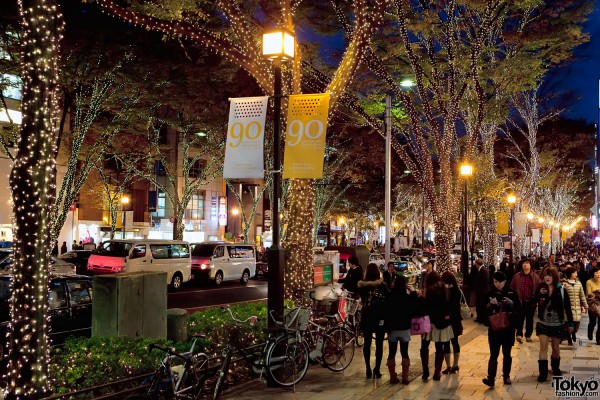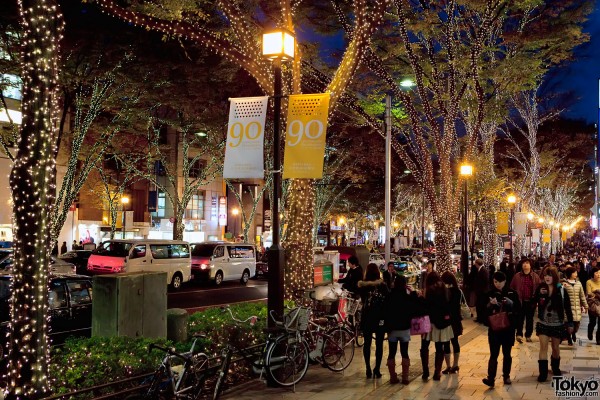 Guess what? We've now made it all the way back down to Meiji Dori! We are now on the corner directly across from where we started this walk. There is a Lotteria fast food place on this corner, but that photo doesn't sound very exciting. How about aiming our camera back the way we came to show all of the people and lights?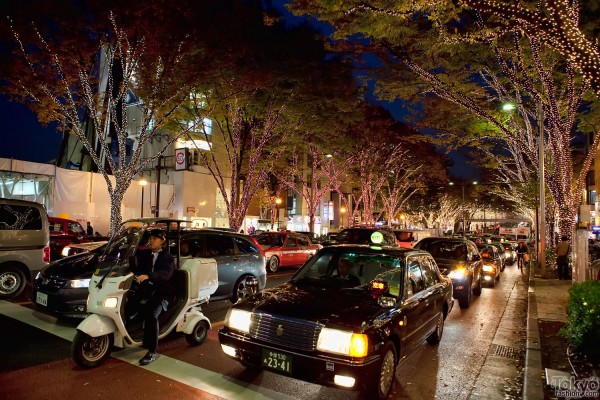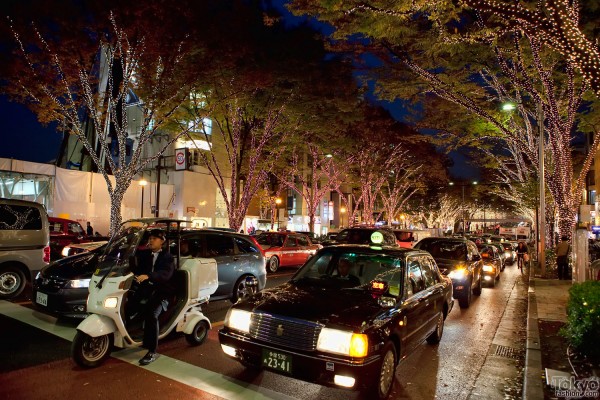 And, for our last photo, here is a final look at the Omotesando Dori 2010 Christmas Illumination.
We hope you've enjoyed this walk! Unlike most of our other Tokyo holiday photo walks, this one was pretty much straight up one side of Omotesando Dori and then straight back down the other side. If you visit Tokyo, we highly recommend that you give yourself a few hours to do a walk like this – on top of exploring all of the surrounding neighborhoods. Even if you aren't looking for extreme luxury items, the architecture and ambiance of this area is unique in the world.
Happy Holidays and don't forget to check out our other photo walks, including Harajuku, Shibuya, Shinjuku, and Roppongi!