Omotesando Hills Christmas Pictures – A Swarovski Tree, Tokyo Sweets Collection & Ice Skating
Of all the major shopping neighborhoods in Tokyo, Omotesando is one of the most Christmas-friendly year after year. From their beautiful illuminations to the abundance of store windows and other holiday displays, they go all out. We'll show you plenty of pictures of the lights and shops along Omotesando Dori in another article. But first, we want to share some of the end-of-year goings-on inside of Omotesando Hills – the large luxury shopping mall directly in the center of Omotesando. The Omotesando Hills Christmas 2010 theme is "Sweet & Happy", and includes lights, music, jewels, cakes, and even an ice skating rink!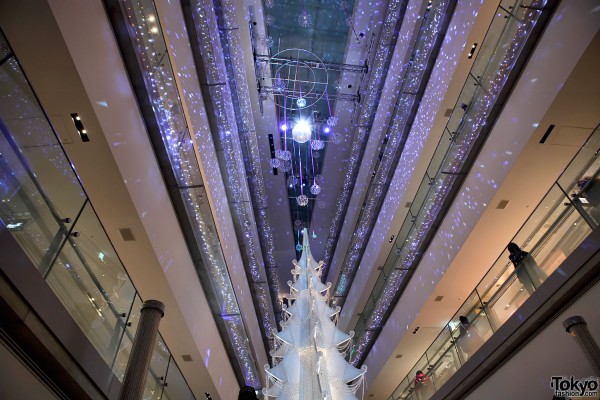 The centerpiece of the Sweet & Happy holidays is a large white tree sculpture bejeweled with "Swarovski elements". Lights from above play on the tree and on several large disco balls hanging from the ceiling while upbeat pop versions of traditional Christmas songs play over the sound system. While we were at Omotesando Hills, mallgoers by the hundreds stopped to admire the tree and snapped photos with their mobile phones. The atmosphere was very festive.
If a bejeweled Christmas tree leaves you hungry for more holiday fun, how about something sweet? Lining both sides of the stairs leading down from the tree are a series of lighted display boxes containing Christmas cakes. The twelve cakes were designed by chefs from all over Japan as part of the annual Tokyo Sweets Collection, and are topped with everything from glass butterflies to soccer shoes to an ornament-adorned Bearbrick. If you're early, you can reserve your own Christmas Sweets Box – some of which come with limited edition "Swarovski element" goods.
At the bottom of the stairs lies a tiny skating rink. Mallgoers can rent skates and dance around the rink until they're so tired that they collapse onto the soft seats in the center. If you're on the ice on the right day – and you're a kid – you might even be able to get a skating lesson from Disney on Ice choreographer Miki Sakagami.
Once you've enjoyed the tree, reserved your cake, and are worn out from ice skating, you can find refreshments in one of Omotesando Hills' many restaurants and cafes.
Below are photos of the Omotesando Hills Christmas 2010 experience. Hope they make you feel "Sweet & Happy!" As usual feel free to click on the pics to see them in near-life size.
Click any of the pictures to see them in high resolution.
Don't forget to check out the rest of our Tokyo Christmas 2010 pictures, including holiday photo walks in Shibuya, Shinjuku, Harajuku, Roppongi, and other areas of town!
External Links:
Happy Holidays!