"OSHARE MACROSS" – Fashion x Anime Event at the Marui One Department Store in Shinjuku
The Marui One department store in Shinjuku is usually the haunt of Gothic Lolita girls and teenagers seeking glam-punk-rock style. But on this day (Saturday, February 26, 2011), the building is under siege by hordes of rabid anime fans, most of them male. On the first floor (aka ONE Labo) otaku dudes in flannel and fanny packs snap up collectible items ranging from trading cards to model kits of transformable "Valkyrie" robot fighter jets, and eagerly snap pictures of the mini-shop's staff: a pair of lady cosplayers in green and blonde wigs.
Welcome to the paradoxical madness that is "Oshare Macross"…
***
Here's two words that normally don't go together: "Macross" and "oshare".
Macross is an science fiction anime franchise loved by millions of nerds around the globe, best known for being a key part of the mid-'80s Robotech saga. Oshare means "fashionable" in Japanese and is sometimes even translated as "trendy". Normally, these two forces occupy opposite ends of the pop culture spectrum.
But as anyone who has invested in a cool 8-bit inspired video game T-shirt hopes, it is sometimes possible to find an agreeable halfway point between "geek" and "chic". And Marui One's "Oshare Macross" campaign, in effect until March 15th, tries (with varying degrees of success) to do just that.
Designed as a promotional tie-up with the new Macross Frontier feature film (aka "Macross Frontier The Movie: The Wings of Goodbye"), which opened in theaters across Japan on February 26, 2011, Marui One has – for a limited time – decked their halls with Macross items, collaboration goods, and even a gallery of artwork by renowned painter of Macross mecha Tenjin Hidetaka. And as you might expect, fashion is foremost on the marketing agenda.
In addition to all manner of toys and trinkets, the ONE Labo Macross store also sells a range of designer-y Frontier T-shirts from Bandai which go for about 2,940 yen a pop. But this is only the beginning…
You have to make for Marui One's escalators to see the crown jewels of the "Oshare Macross" collection. On the 6th and 7th floor lurk a range of anime-inspired limited-edition clothes from stalwart Lolita and Gothic brands such as Baby The Stars Shine Bright, METAMORPHOSE, Putumayo, and Atelier BOZ.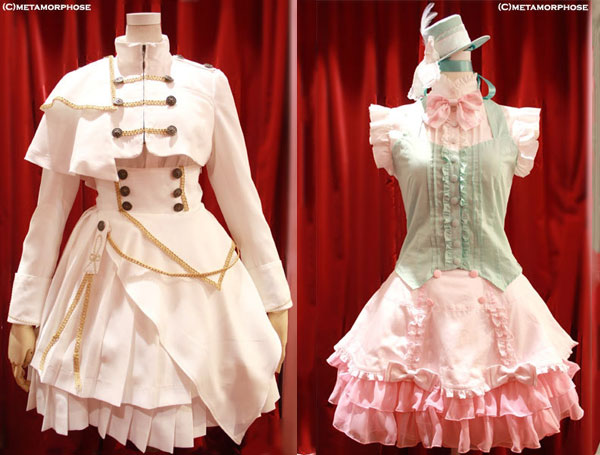 METAMORPHOSE's collaboration items perhaps best exemplify the spirit of "Oshare Macross": pastel bustier blouses (15,540 yen) and frilled skirts (17,640 yen) that look like something teenager anime idol singer Ranka Lee — Macross Frontier's cutie-pie protagonist — might want to wear to an intergalactic tea party.
Meanwhile, at Goth clothiers Atelier BOZ, the flowing black mantle cloaks (27,090 yen) and elegant white blouses (17,640 yen) on display were said to be inspired by Macross character Sheryl Nome, but hardly seem to have any connection to her colorful anime incarnation at all.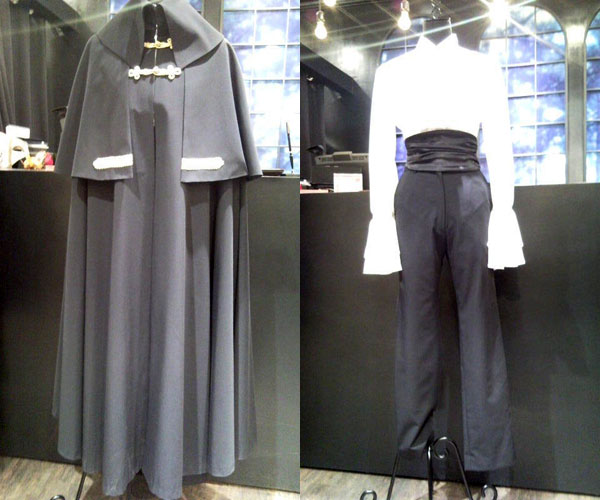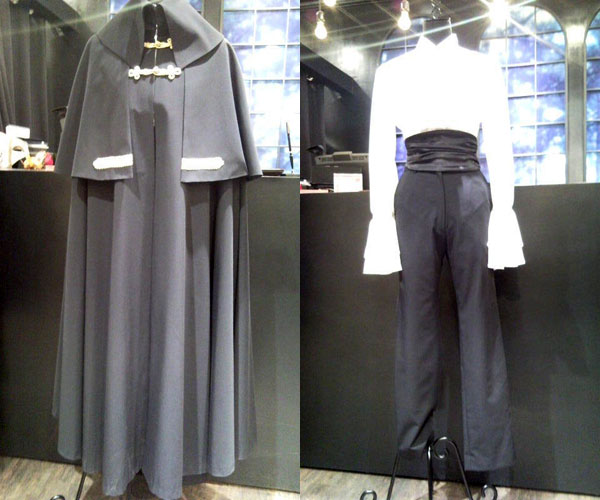 Since Baby, The Stars Shine Bright is probably the best known brand involved in the "Oshare Macross" scheme, I did my best on opening day to bring back evidence of their original one-piece creation, a classic Lolita one-piece dress that sells for a hefty 34,400 yen. I reached for my camera, but a spring-heeled store clerk quickly intercepted me saying, "no photos" while making a X in front of my face with her tiny crossed arms (She wasn't kidding, the only mention of the Macross collaboration items on Baby's official blog consists of a picture of a question mark and price tag!).
Back on the first floor of Marui One, a wild otaku party was still underway. A line of customers, fresh out of a theater playing the new Macross Frontier movie a mere block away, patiently waited for their turn at the register. I couldn't help but notice what many of them were buying: not frilly frocks or Lolita-approved gear, but drink bottles shaped like female torsos of Macross Frontier's female characters and "oppai" pudding cups designed to look like edible versions of Ranka Lee's cartoon breasts.
You can click on most of the pictures to enlarge them.
Here's all the important info on the Macross event:
What: "Oshare Macross" event space (closes March 15)
Where: Marui One department store in Shinjuku
Address: 3-1-20 Shinjuku, Shinjuku-ku, Tokyo
Hours: 11am – 9pm (8:30pm on Sunday)
Phone: 03-3354-0105
Website: Marui One Official Site (Japanese)
Article by Patrick Macias, photos courtesy of the author or the featured fashion brands.
About the author:
Patrick Macias is the owner of media company jaPRESS and the author of
"Japanese Schoolgirl Inferno: Tokyo Teen Fashion Subculture Handbook"
(Chronicle Books). He has written for a variety of publications in the
US and Japan including Wired, Studio Voice, and Weekly ASCII. His blog
can be found online at patrickmacias.blogs.com.