"Pop N Cute" Kawaii Party by Harajuku Fashion Walk – Pictures & Video
Harajuku Fashion Walk is a fun event that brings together fans of kawaii and colorful Japanese fashion. However, Harajuku Fashion Walk only takes place every few months. So what do the Harajuku Fashion Walkers do when they're not parading around Harajuku? They get together with friends and party!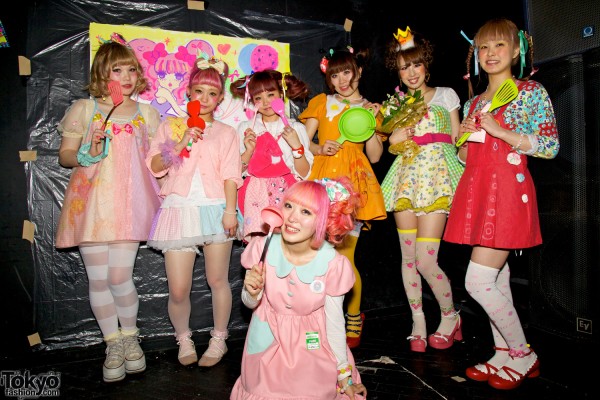 "Pop N Cute" was the name of the latest Harajuku Fashion Walk-produced party, held recently at club Milky Way in Shibuya. The concept behind the Harajuku Fashion Walk parties is that they are produced BY Harajuku kids FOR Harajuku kids. All of the participants are from the Harajuku scene – from the bands to the fashion labels to the models to the artists to the people making the sweets. Pop N Cute – and the previous HFW Halloween Party – are all about Harajuku kawaii fashion and fun.
The lineup for the Pop N Cute party was packed with kawaii goodness – including a Broken Doll live set (featuring a cover of "Material Girl"), several DJs (including Choco from Panama Boy & Niko), fashion shows (Hyper Core, Party Baby & Super Lovers), live painting (by Kera model Kurebayashi and Machico & Karin), popup shops (Broken Doll, Party Baby & more), a performance by Nantoka Kantoka (complete with a Panda-headed idol), and even cake!
We know that many of the people who follow this website aren't in Japan. So, several of the TokyoFashion.com were happy to be invited to the party so that we could shoot Pop N Cute pictures and video to share with you! The video starts out with a special "behind the scenes" segment to give you a sneak peak at all of the work that went into preparing for the party. As Sebastian from 6%DOKIDOKI famously said last year, "Kawaii is hard work!"
Enjoy all of our Pop N Cute party pictures and video! Remember that you can click on any of the pictures to see them in super high resolution. Also, don't miss our second report with a bunch of Harajuku Kids fashion snaps from Pop N Cute!
Pop N Cute Party by Harajuku Fashion Walk Video
Don't forget to Follow TokyoFashion.com on YouTube.
Pop N Cute Party by Harajuku Fashion Walk Pictures
Click any of the Pop N Cute party pictures to enlarge them.
A big thank you to the Harajuku Fashion Walk crew for inviting us to yet another of their fun events. We hope you enjoyed the pictures and video! Don't forget to check out the second part of our report in which we show you lots of cute and colorful Pop N Cute party fashion snaps!
For more information on the Pop N Cute party participants, check the following links:
Photos by Kira. Video by 1K Films.
***
About the photographer:
Born in Japan, educated in Japan and the US, Kira shoots exclusively with Canon DSLRs. Photography assignments include fashion, bands, sporting events, and portraiture for various companies and bands throughout Japan & the world. His portfolio can be viewed at Artist-Photo.
About the filmmaker:
1K Films is a full production independent video company working in both the US & Japan. For more info, check out the 1K Films website.