Shinjuku Christmas 2008 Pictures
We are working on a series of updates to show you holiday pictures of each of the major fashion shopping areas of Tokyo for the 2008 Christmas and New Years season. This is the first of those updates and we'll be covering the area of Shinjuku. There really isn't much to say, but lots to see, so let's get started!
Isetan Department Store Shinjuku decorated for the holidays: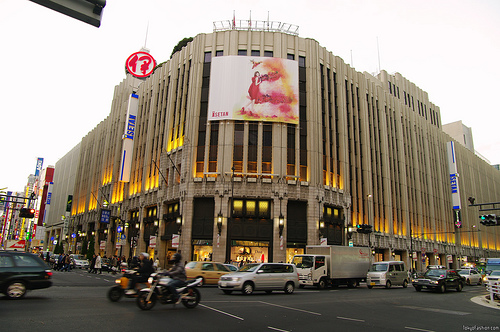 Marui Shinjuku with a few holiday lights, but not too many:

Takashimiya on Shinjuku Southern Terrace:

Of all of the areas of Shinjuku, the Takashimaya Christmas Illumination and the Shinjuku Southern Terrace illumination, are probably the best if you want to see traditional Christmas lights. They are very easy to find if you just exit the Southern Terrace exit of Shinjuku Station and then head for Takashimiya Times Square. Next…
MyLord Department Store lights:

Lumine billboard on the JR Shinjuku Station:

ABC Mart with giant Christmas bows and lights:

United Arrows with a Christmas tree in the window:

Isetan X-mas Window with Donald Duck:

Hello Kitty and Gift Gate Christmas:

For the sake of Shinjuku department store completeness, we would have like to have gotten some Odakyu holiday photos, but we couldn't find anything very exciting from them when we last checked. If anything changes, we'll let you know. We did get pictures of the Keio x-mas displays and we'll post those in their own update later (because they are interesting and deserve and explanation).
There are obviously a lot of other fashion-related shops in Shinjuku, but we didn't want to bore you with 1000 pictures. These photos cover many of the major shops and department stores – at least the ones that had interesting holiday displays. If we see more as the holidays get closer, we'll post more updates then.
We've got 2008 holiday pictures from Omotesando, Aoyama, Harajuku, and Shibuya that will be posted soon as well. We're also planning to do Ginza and maybe Ikebukuro if we have time. Check back soon for more Tokyo Fashion holiday goodness!