Shinjuku Christmas Pictures 2010
Welcome to our first Christmas Photo Walk of 2010. This time, we're going to walk around a little Tokyo neighborhood you may have heard of called Shinjuku. Wikipedia says that over 3.5 million people transit through Shinjuku Station every day – wow! Luckily for us, many of those people never leave the station. Shinjuku is one of the most amazing places on the planet. When people all over the planet think of Tokyo, many of the futuristic images that come to mind (neon, skyscrapers, etc.) originate in Shinjuku. Of importance to fashion fans, Shinjuku is also the home of the world-famous Bunka Fashion College!
Most of our holiday photo walk will focus on the east side of Shinjuku Station. Higashi (East) Shinjuku is packed with an unbelievable number of shops, bars, cafes, restaurants, and department stores. It's a shopping and night life mecca. Shinjuku's west side (Nishi Shinjuku) – where we will also make a very brief visit – is most famous as Tokyo's main skyscraper district. Should I mention "Lost in Translation"? No? Okay, enough talking…let's get walking! Wait, one more thing: please be aware that you can click on any of these photos to see them in super high resolution! In fact, to see some of the details in these pics, we really do recommend that you blow them up.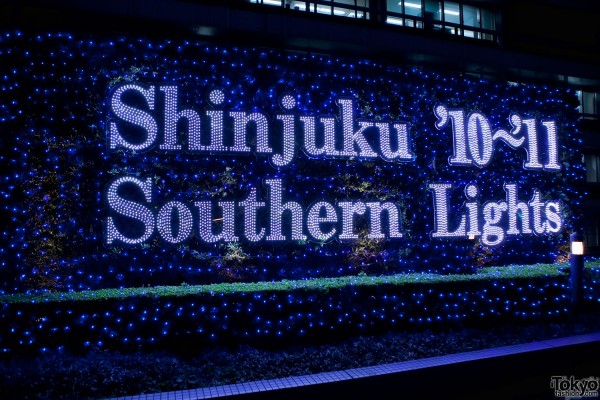 We're starting this walk on the South Side of Shinjuku Station. Why? Because it's close to the first-ever Krispy Kreme Donuts location in Japan? No (but nice guess)! The South Side is the closest part of Shinjuku to Harajuku, so that's where we started out from on this walk.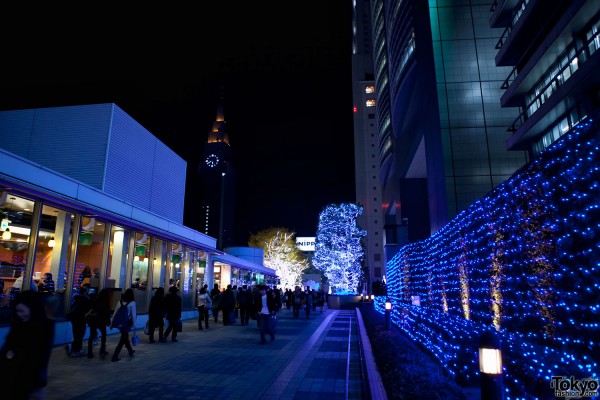 The Shinjuku Southern Terrace is a great place to visit around the holidays if you're into Christmas lights. They illuminate all of the trees and bushes, you can see the Docomo Building overhead, and lots of couples and families come to the area to enjoy the lights and ambiance.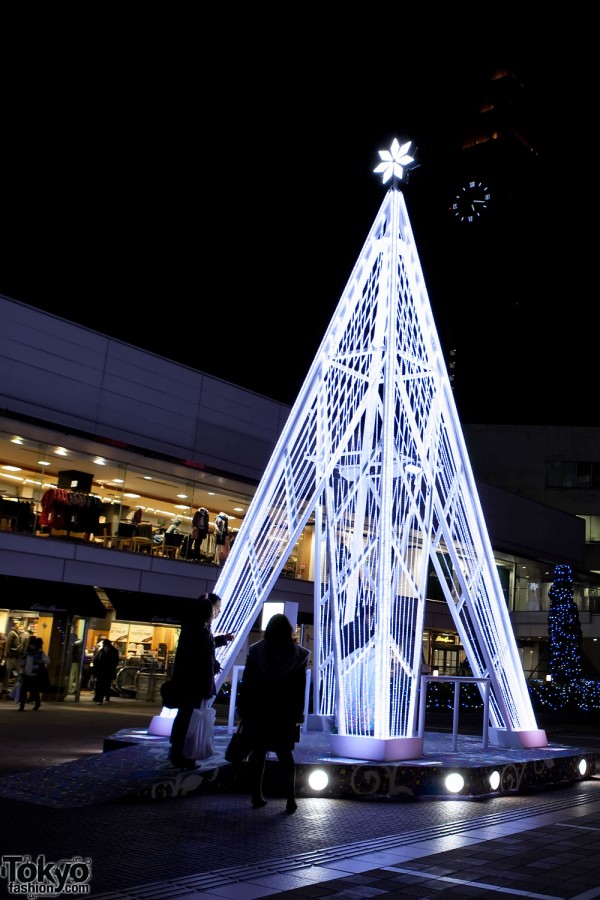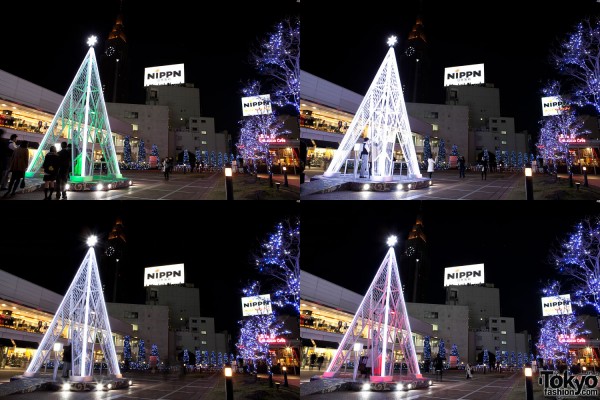 You could go inside this futuristic Christmas Tree, touch something, and the lights go on – or was it off? Either way, it was hard to photograph because people kept going in and the lights would turn on and off randomly. Now that I think of it, a lot of people went in, but did anyone ever come out? Hmmmm…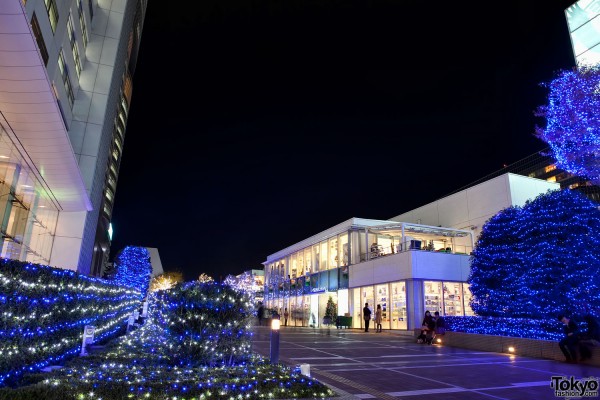 I like how this photo came out. However, this is where I got busted by the Tokyo Christmas Police for the first time. Short story long – I carried my tripod on this photo walk, but the holidays are so crowded that they have security guards all over the place at the various illuminations that come running the second you setup a tripod. I tried again a little later, but somehow the Christmas Police can sense that you are thinking about tripods and appear magically as soon as you get the first leg extended. Looks like we're going handheld for the rest of the night.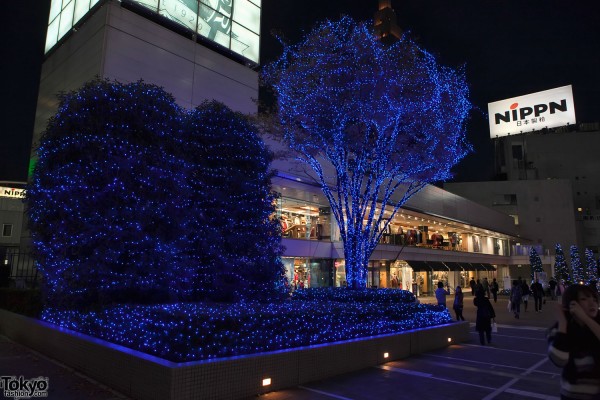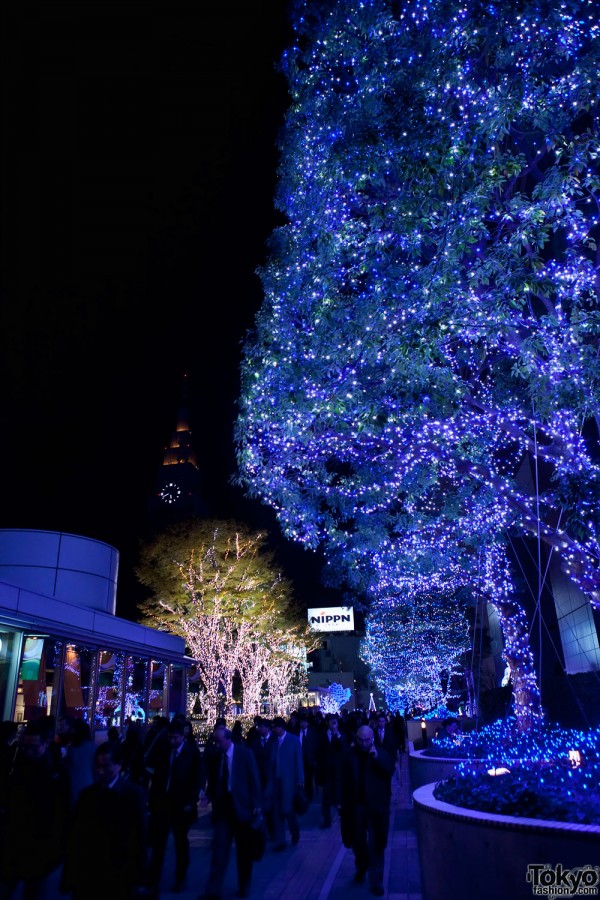 Not into futuristic Christmas trees? How about old fashioned trees with lights in them?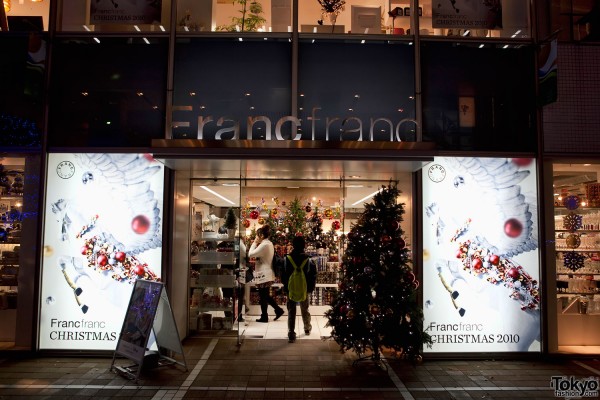 Francfranc has their own Christmas tree, but it looks a bit dark!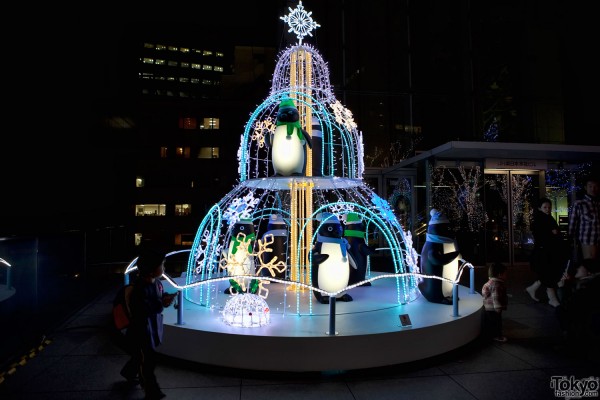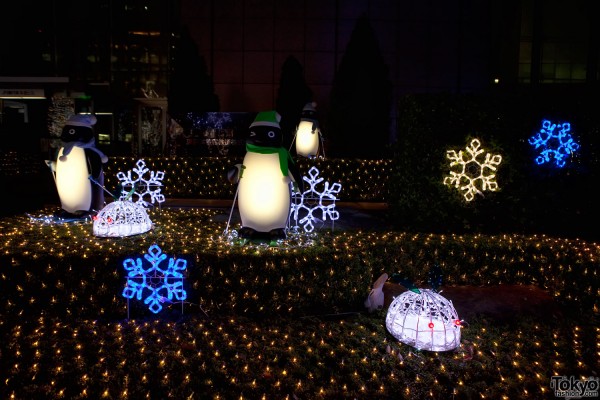 Yes, there are penguins at this part of Shinjuku every year at Christmas, though I'm not sure why. Maybe the company's logo has penguins, or it's something to do with the Suica card, or something else. Who knows? Whatever the reason, penguins are cute. Just to the left of these penguins is El Torito Shinjuku. It's not the best Mexican food in the world, but Tokyo is a long way from Mexico City,.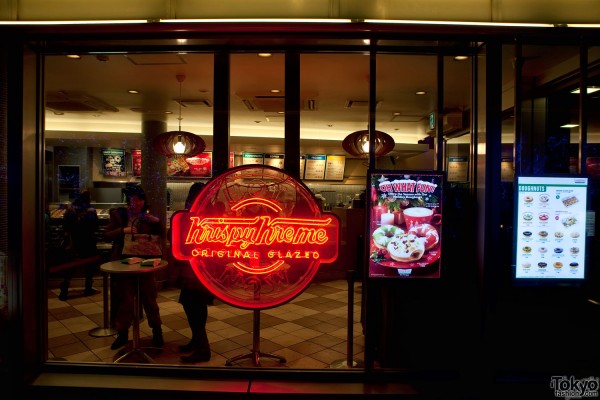 Did I mention Krispy Kreme? Oh, I did? Check the Christmas menu on the window.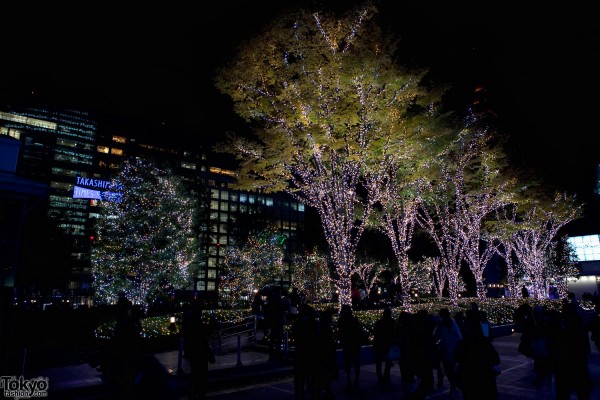 Across the way we can see Takashimaya Times Square, one of Shinjuku's famous (and huge) department stores. The Takashimaya sign is bit little blown out in this picture. Don't blame me, blame the guy who won't let me use my tripod!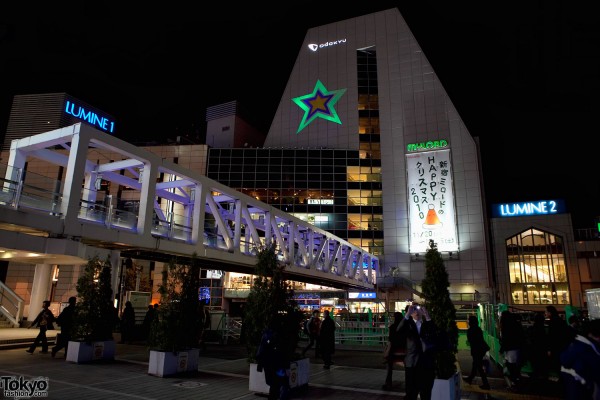 Now we're near the New South Exit of Shinjuku Station. It's not really that "new" anymore, but it's definitely South. Looking across the street, we can see Shinjuku Station and the Lumine Department Store. Later in the night, we'll find out way back to Lumine, so don't fret. Also, can you see that guy taking a photo of us? His flash went off right as I took this picture. How cool is that? Yeah, I'd like to see his picture of me!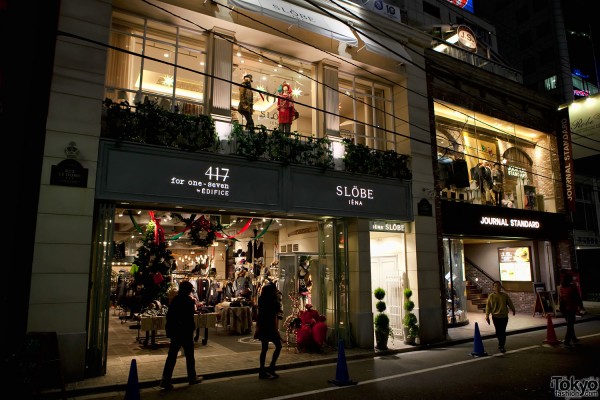 Now we're moving away from the station on the East side, still a bit South. We're basically outside of Takashimiya, near Meiji Dori. The Edifice and Journal Standard shops are looking nice tonight. On the top floor of this Journal Standard building is the JS Cafe. They have tasty hamburgers if you're ever in the mood.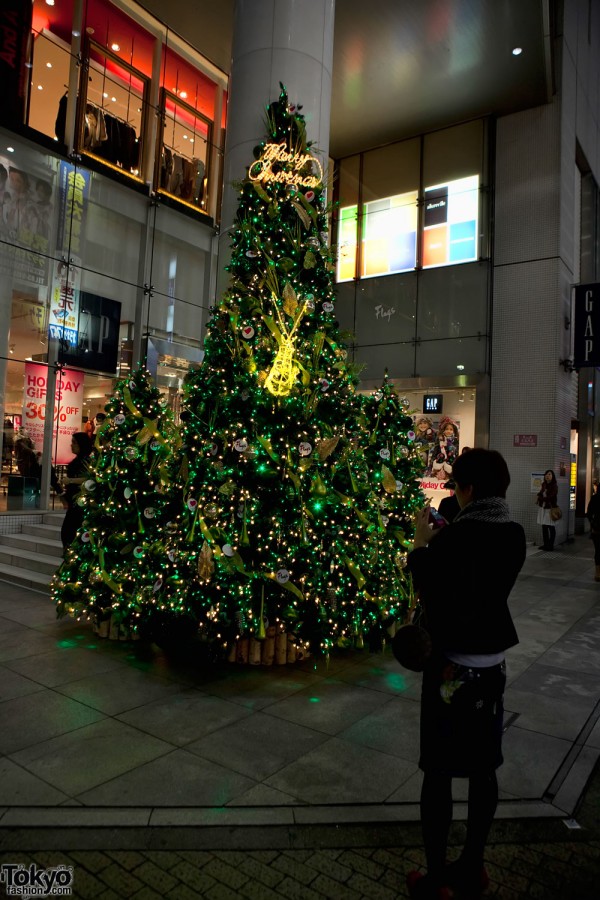 Here is a girl taking a picture of Christmas tree! Right above our head is Tower Records, and behind us is Green Peas. To the left is the South East entance to Shinjuku Station. I think this exit has the highest concentration of touts besides the East Exit.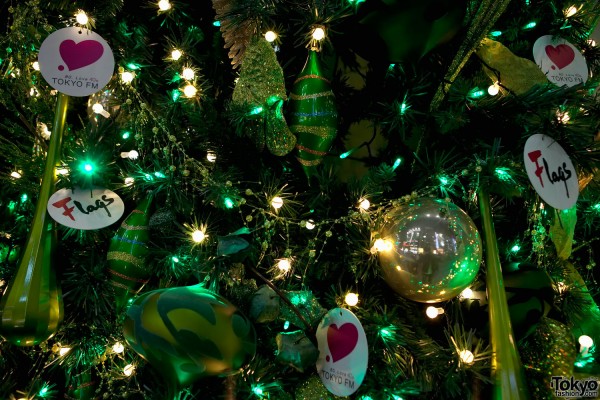 Tokyo Christmas Tree close-up!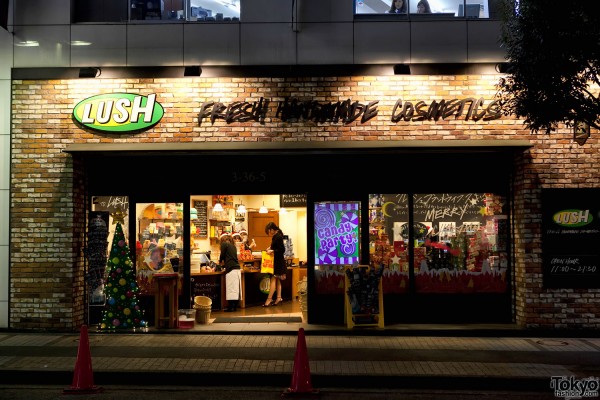 Lush girls in Christmas hats!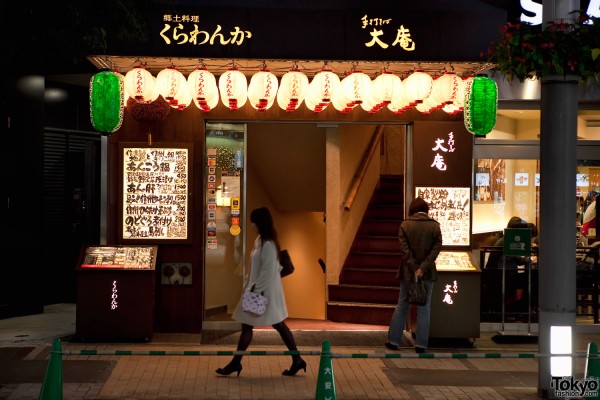 Wandering around East Shinjuku, you can see many cool Japanese restaurants.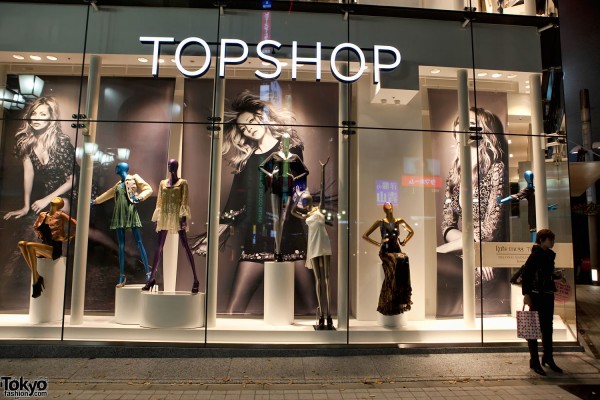 It's the final Kate Moss Collection for Topshop. This isn't really Christmas-related, but the end of the year seems like a good time to say farewell to Kate!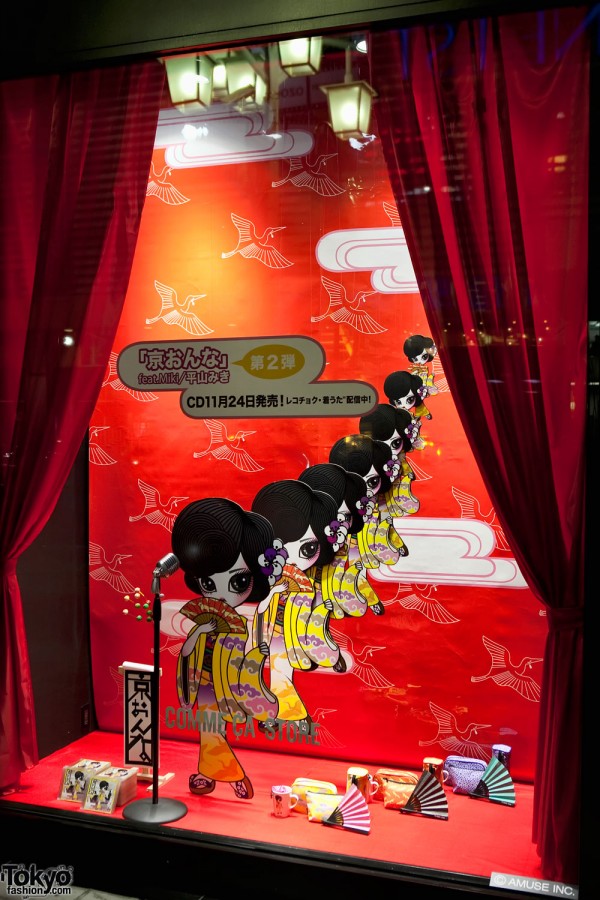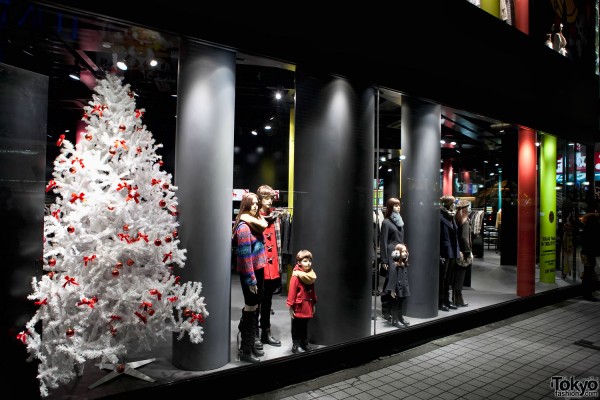 The two photos above are windows at the Comme Ca store near the station. They have some of the cutest window displays in Shinjuku, as well as a nice white Christmas tree.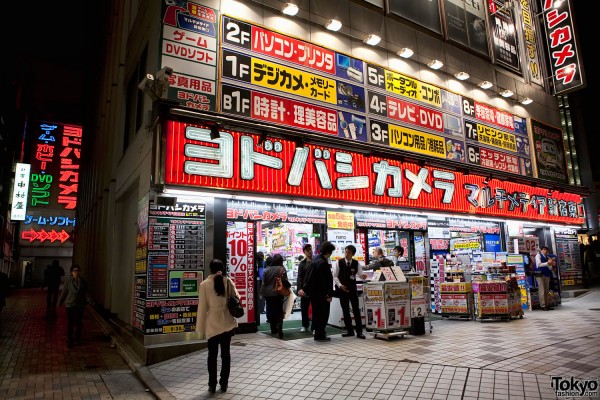 Yodobashi Camera – all camera & tech geeks rejoice! Their huge stores are actually on the other (West) side of the station. This is just a small one (only 8 floors).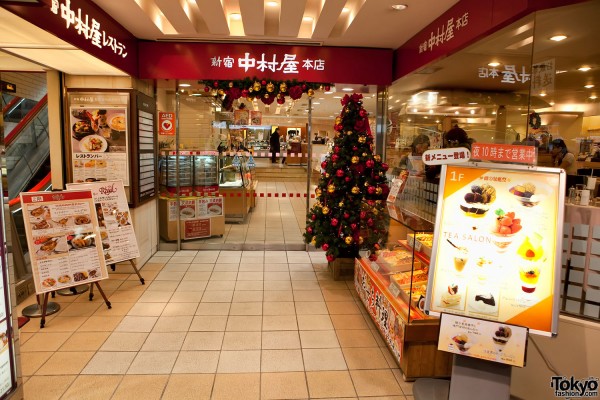 Lots of sweets shops offering holiday sweets.

Looking for Japanese books or music? Don't miss Tsutaya!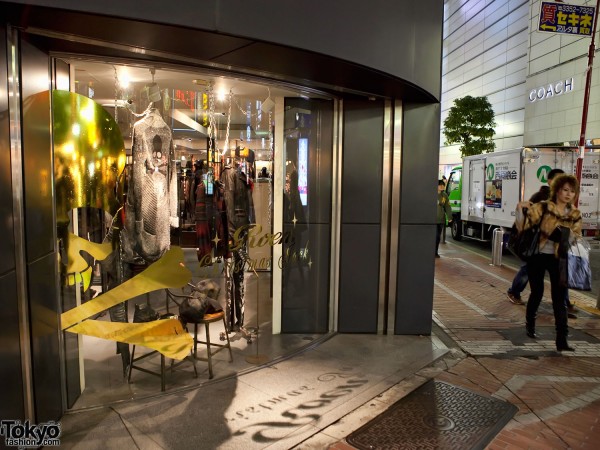 Roen Shinjuku. Nothing says "Merry Christmas" like a giant gold skull!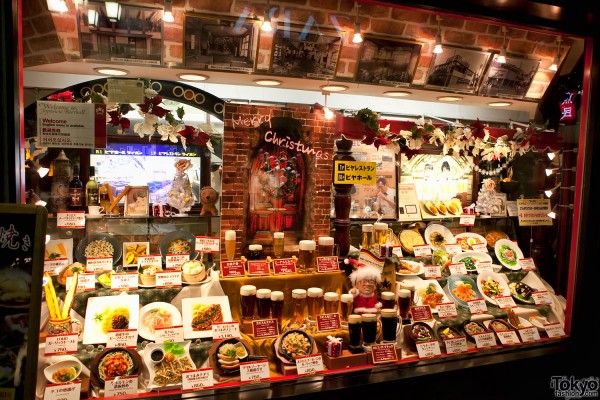 Welcome to the top BEER HALL in the world!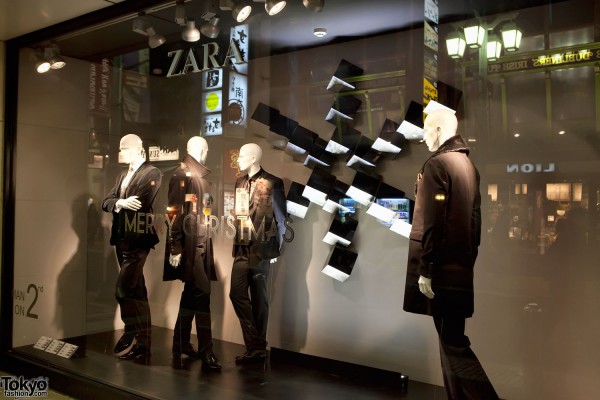 Everywhere I go in Tokyo, Zara is there. This is one of several Zara stores in East Shinjuku.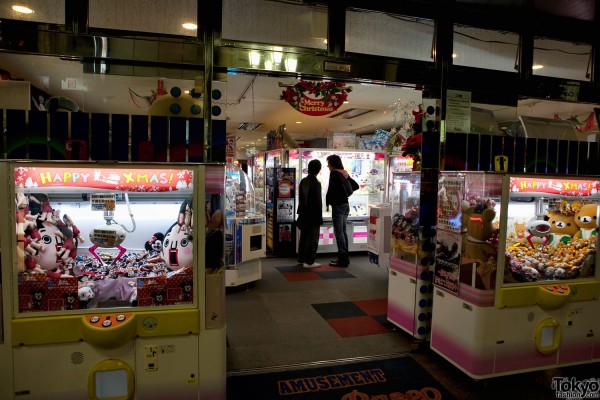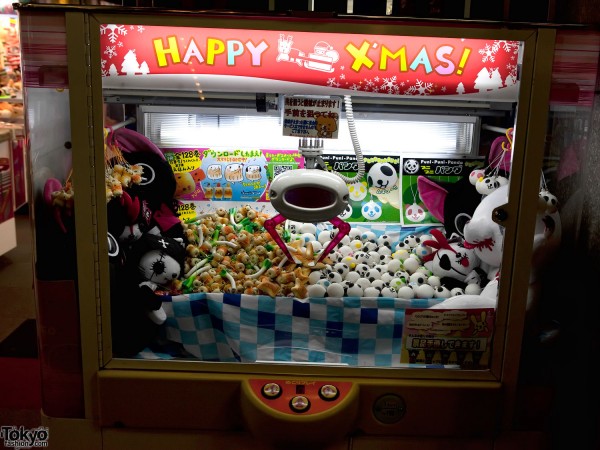 Happy X-mas UFO Catcher machines at one of Shinjuku's many arcades.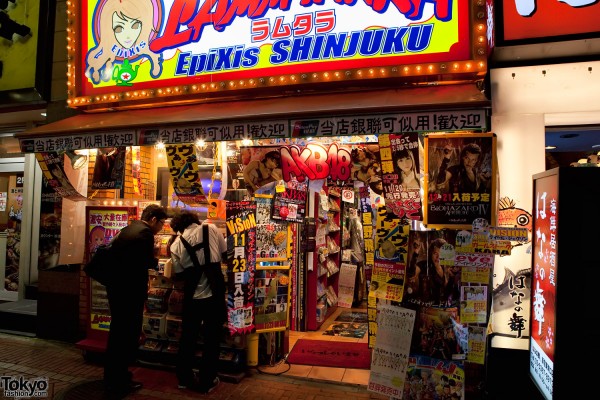 Nothing much to do with Christmas, but it says "AKB48".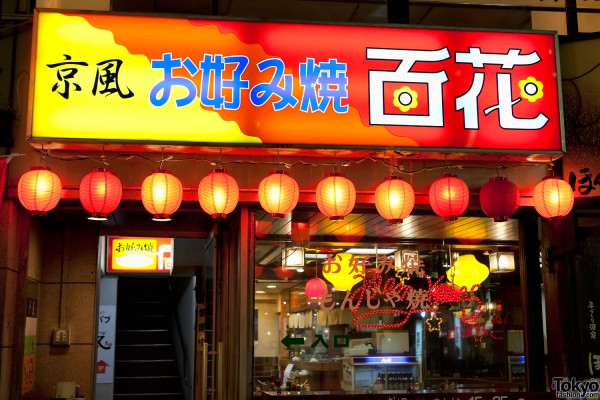 A lighted "Merry Christmas" sign in the window along with all of the lanterns. Just couldn't pass up this photo.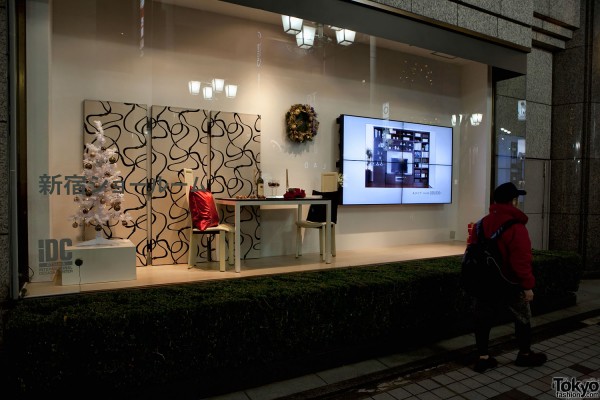 The Christmas window display in the IDC building. If you need nice interior products and/or furniture (and you've got plenty of money), check out IDC.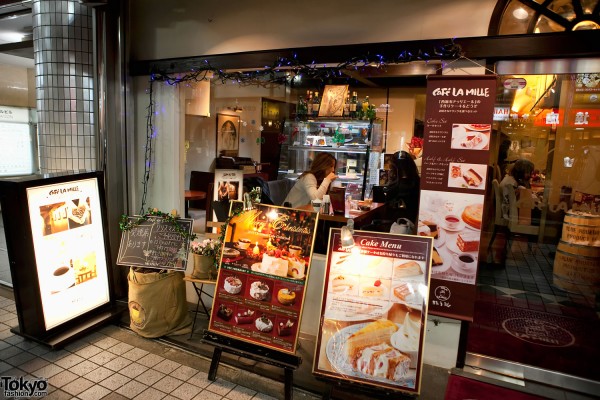 Christmas cake at a Shinjuku cafe. You can see people eating in the window.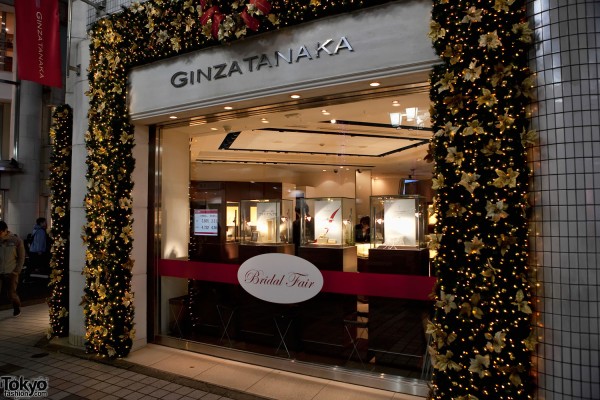 What's Christmas in Japan without jewelry?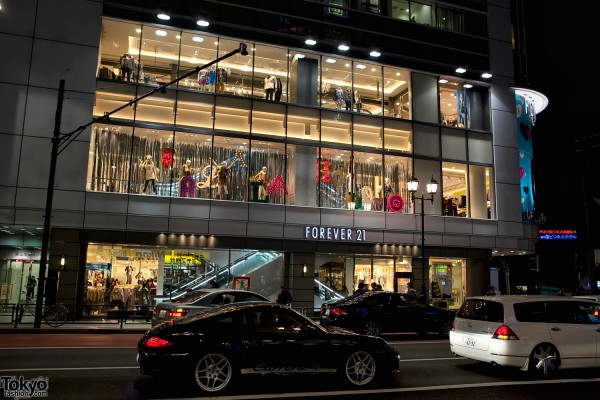 Now we've made it over to Meiji Dori. Here's the Shinjuku Forever 21 store – and a nice Porcshe.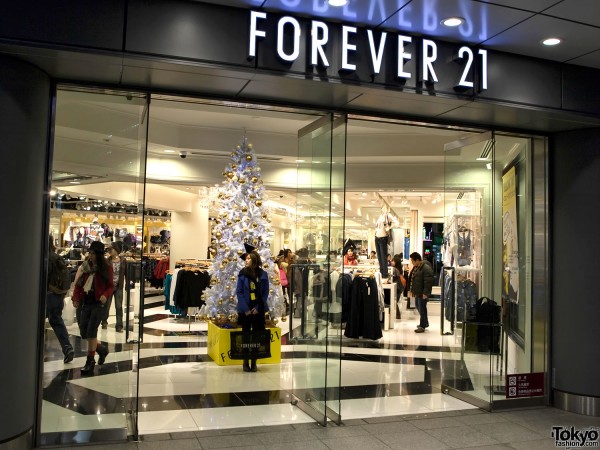 The Forever 21 greeter is wearing a huge hair bow. The store has a big Christmas tree.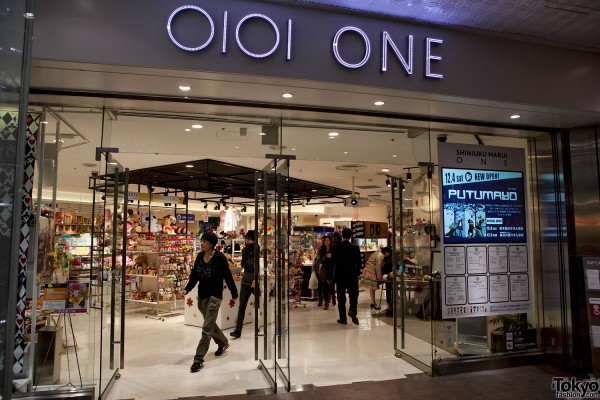 Marui One! Again, not much Christmas here, but they are having a Putumayo fair. :-)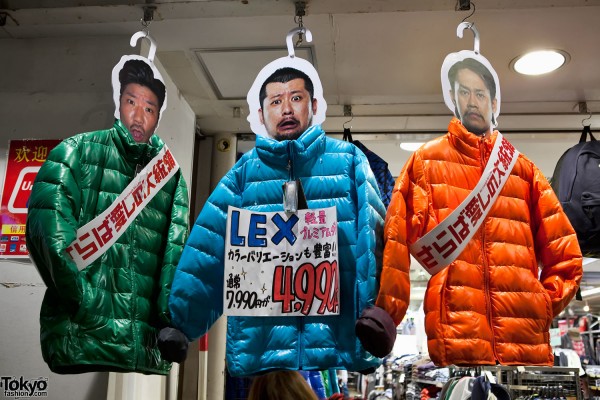 Hey, I photographed these guys last year at Christmas. They were making the same faces back then!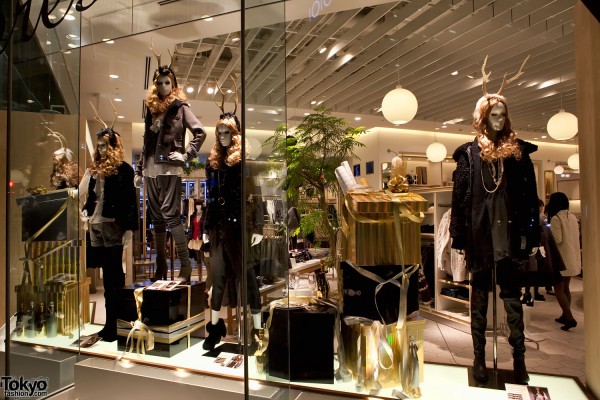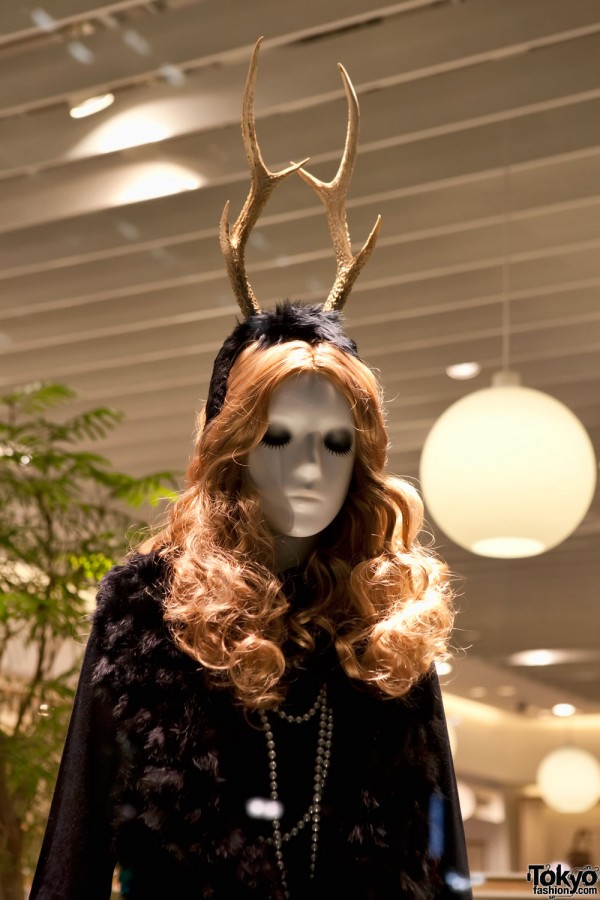 Collect Point Shinjuku opened very recently. Love the female mannequins with reindeer antlers. Collect Point is a group of brands that includes the popular Lowrys Farm and Hare.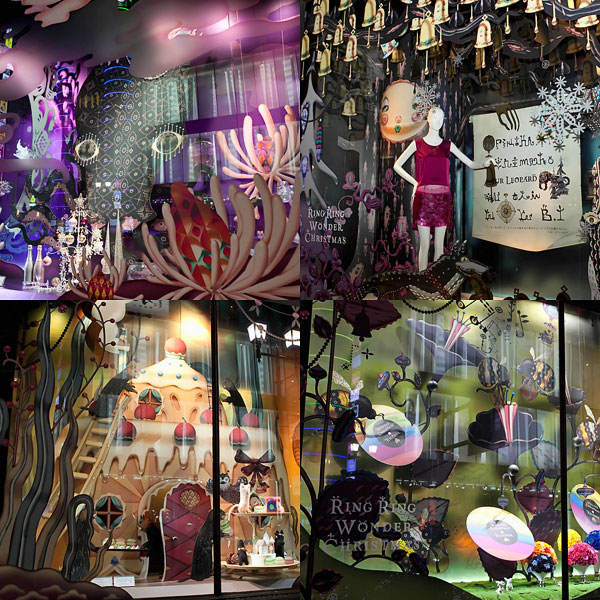 If you turn 180 degrees from the front window of Collect Point and look back across the road, you'll see the massive Isetan Department store. Isetan Shinjuku is one of the coolest department stores in all of Japan. Every year, they put up a great Christmas window display. Because they have so many holiday windows, we split Isetan out into another article. Please check out the Isetan Shinjuku Christmas Window Pictures Here!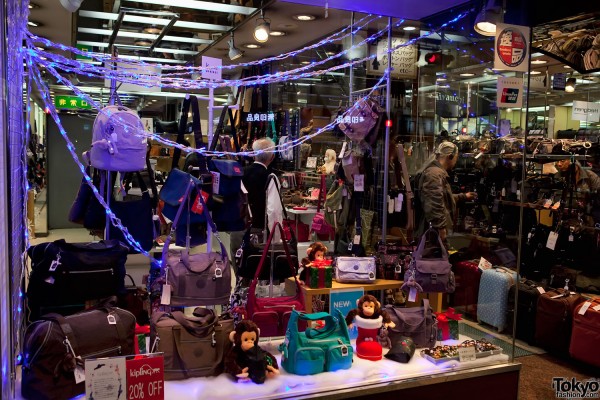 Now we're walking back toward the station (sort of). Here are the Kipling monkeys looking like they are enjoying the holidays.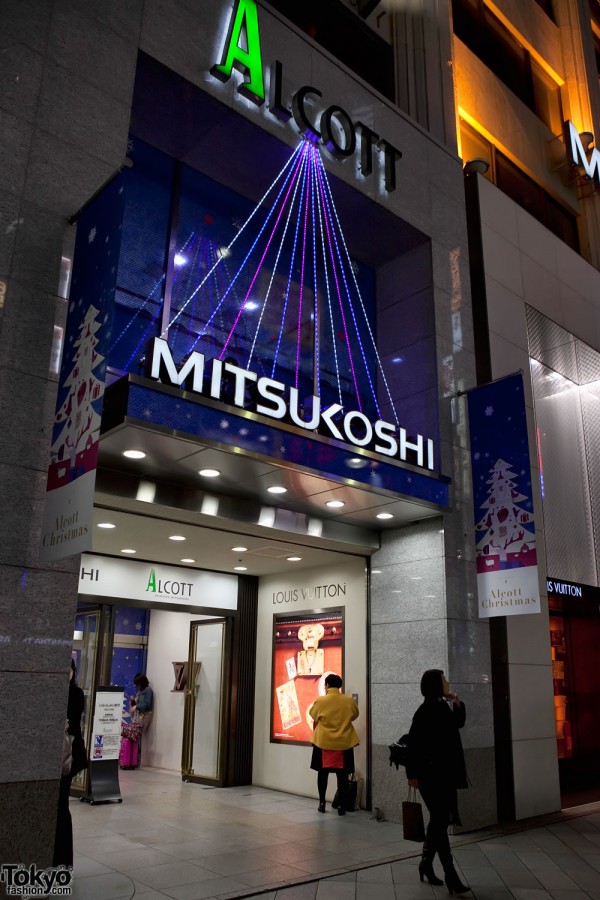 Another Japanese department store – Mitsukoshi/Alcott.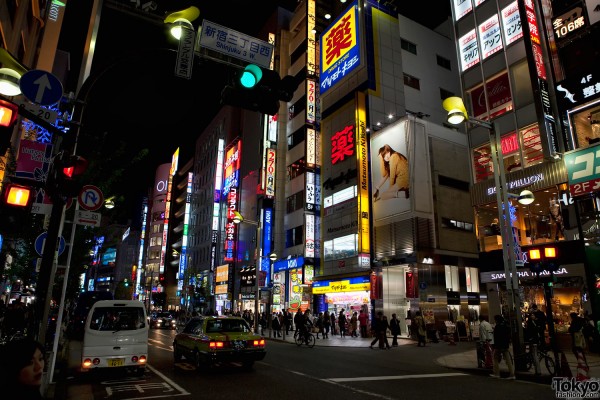 Here's a quick look down the street so that you can see the lights everywhere. It's not Christmas-y, but definitely Shinjuku.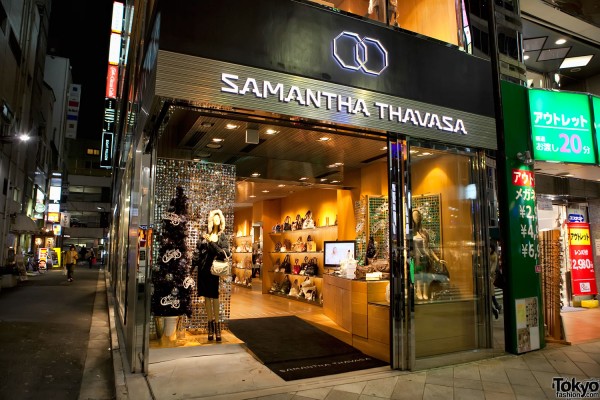 Popular Japanese bag brand Samantha Thavasa has a nice Christmas tree in the window.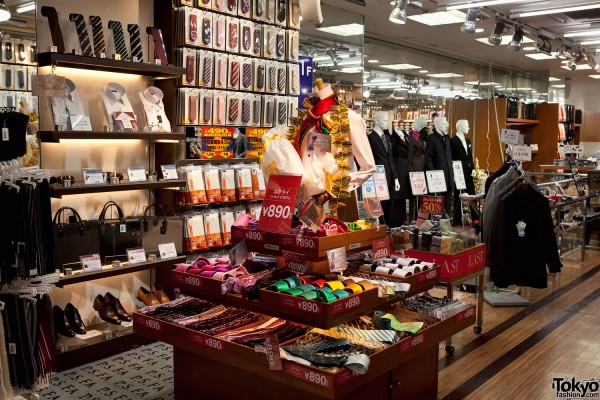 One of Tokyo's billion suit shops offering Christmas ties for your inner salaryman.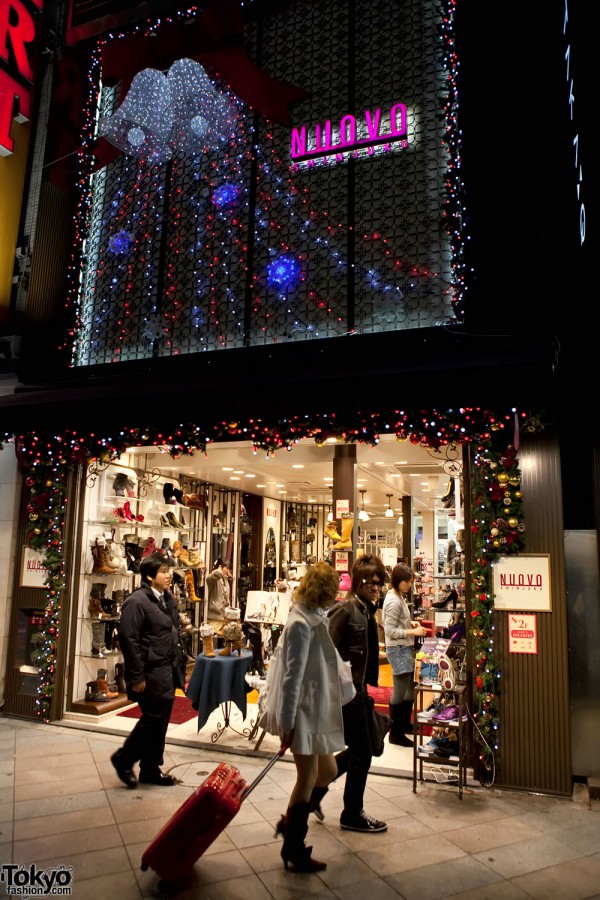 A shoe shop decorated for the holidays – and some awesome Shinjuku-ites walking by.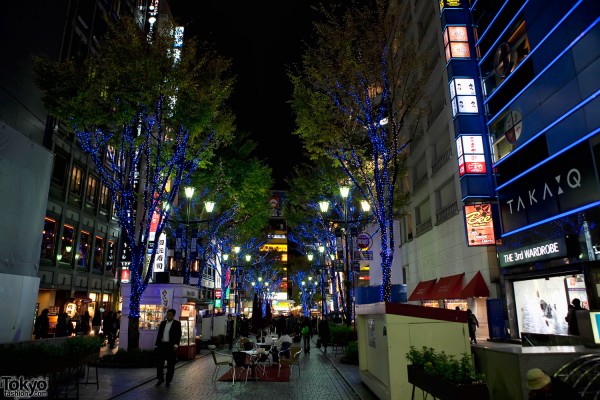 Rather than walk all the way to the station, we've taken a right just after ABC Mart and just before Alta. This is a nice walking area with cafes and cool shops. If we keep walking straight down this way, we'll eventually end up in Kabukicho.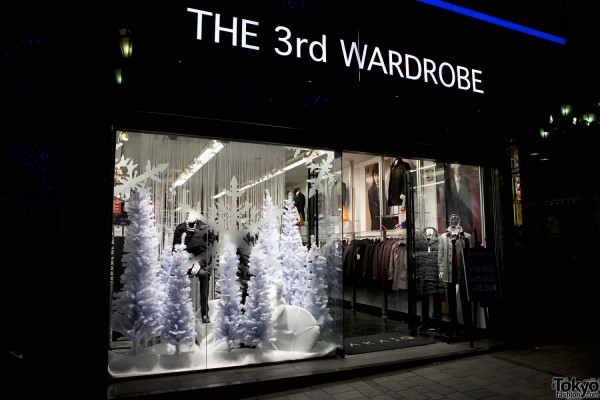 Another suit shop decorated for the holidays.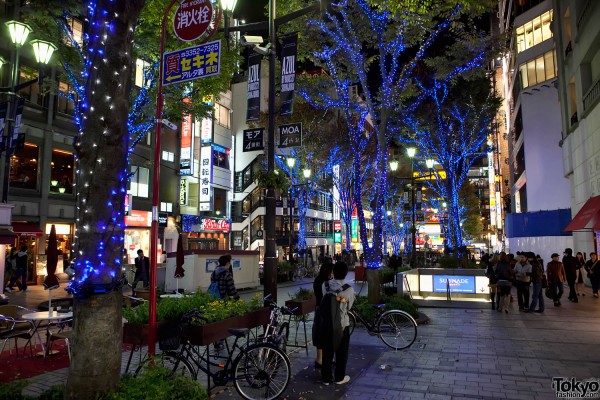 More illuminated trees and lots of people wandering and shopping.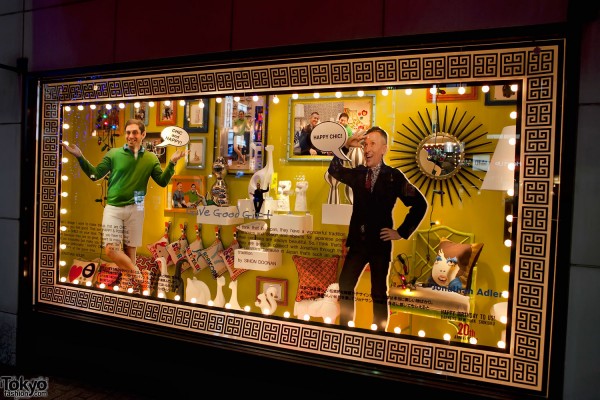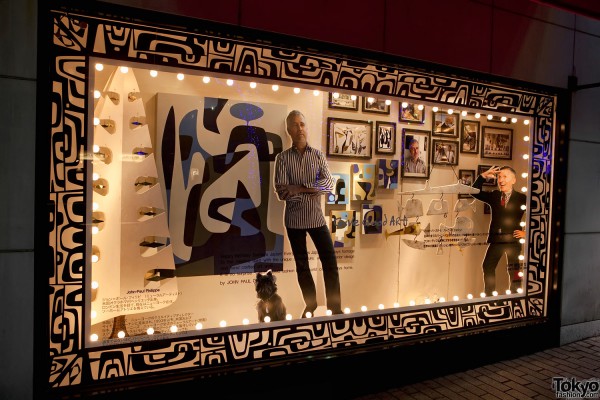 These are the funny Barney's New York 20th anniversary window displays. Barney's Shinjuku always has good window displays.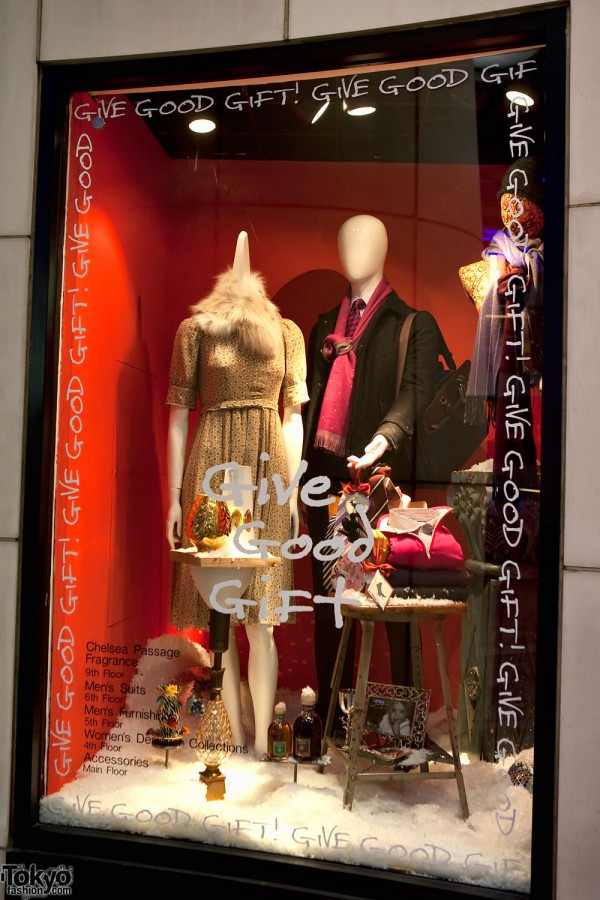 The actual Barney's Christmas windows say "Give Good Gift!"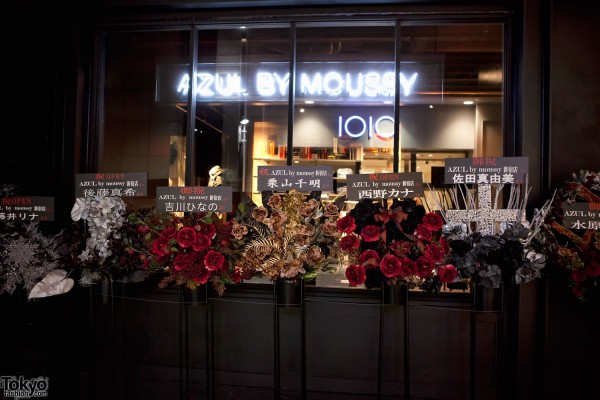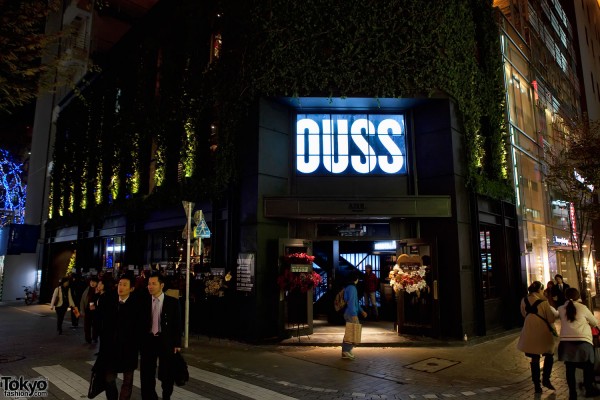 This is the brand new Azul by Moussy shop, which just opened a week or two ago. The building is really cool, but so dark that it's hard to photograph at night. The are not Christmas flowers, but rather the traditional Japanese "congratulations" flowers that everyone sends when you open a new store.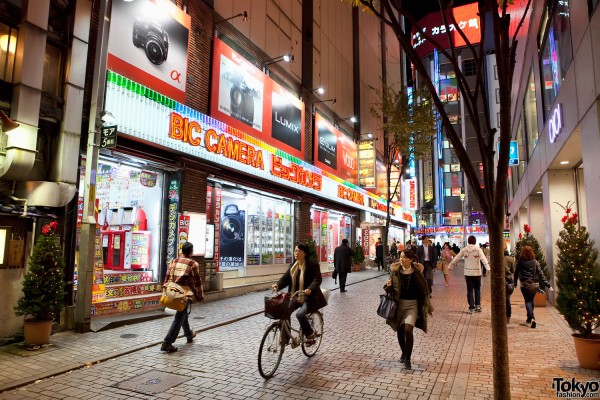 We saw Yodobashi earlier. Here's their competitor Bic Camera – and more Christmas trees.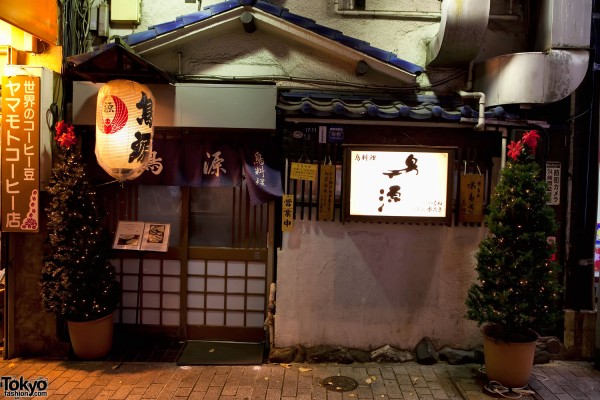 Cool old building with Christmas trees in front of it. I'll never get tired of the East/West contrast.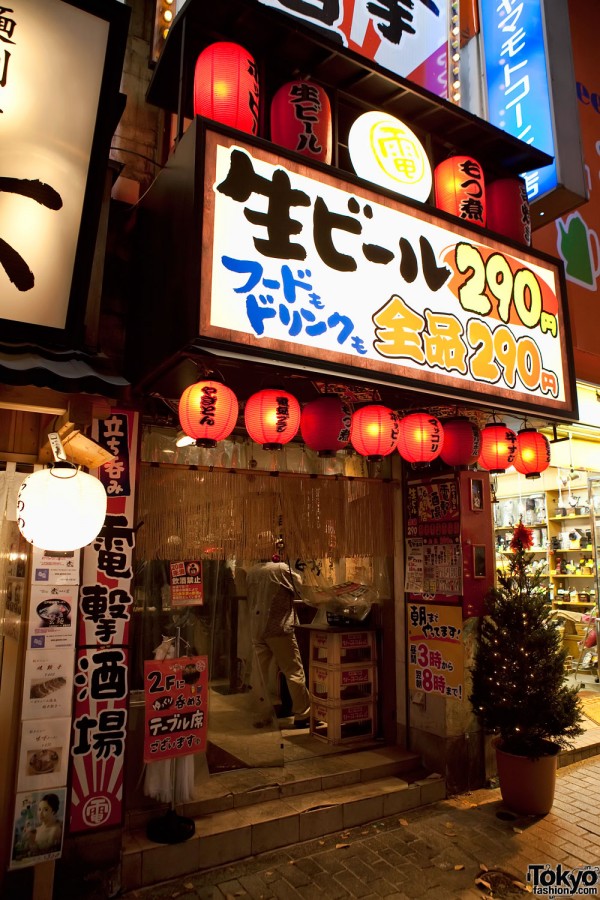 And another one!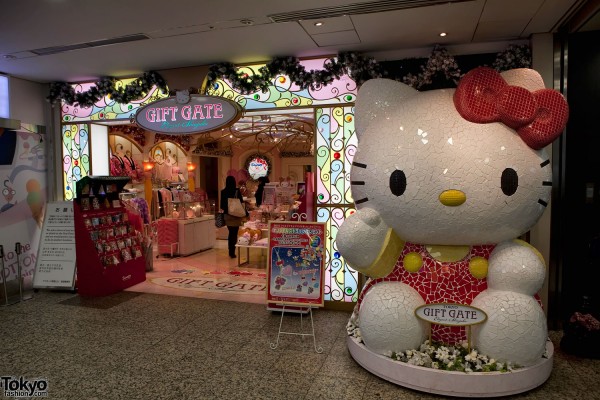 This is the famous huge Hello Kitty outside of Gift Gate on Yasukuni Dori. Just to the left of this photo is a Baskin Robbins ice cream shop. Just off the screen to the right are two uniformed Japanese schoolkids feeding each other ice cream. It was cute, but I didn't want to invade their privacy by photographing their cuteness.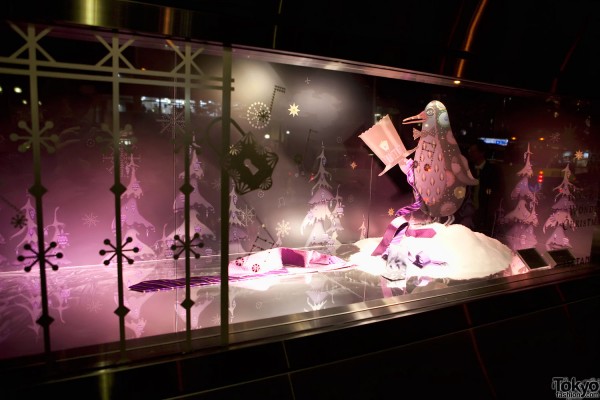 This is a terrible photograph of one of the windows at the amazing Isetan Mens department store. If you are a guy – or you know any – and you haven't visited Isetan Mens, you're really missing out. Go to the Creators Floor and check out all of the amazing brands and designers they carry. You'll leave broke, but happy. And another reminder (in case you missed it previously), make sure you check out all of our Isetan Shinjuku X-mas Windows!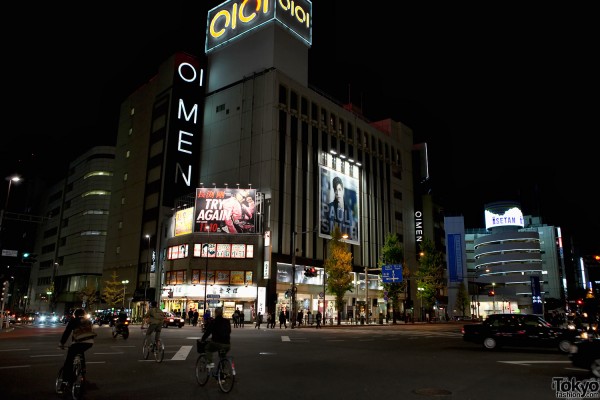 Now we are way back in Shinjuku Sanchome (3-chome). Here is another awesome mens department store – Marui Men. I think this is one of the coolest shops in Tokyo if you want to see what the hosts/scouts are wearing. It's like the 109-2 of Shinjuku. Don't miss it.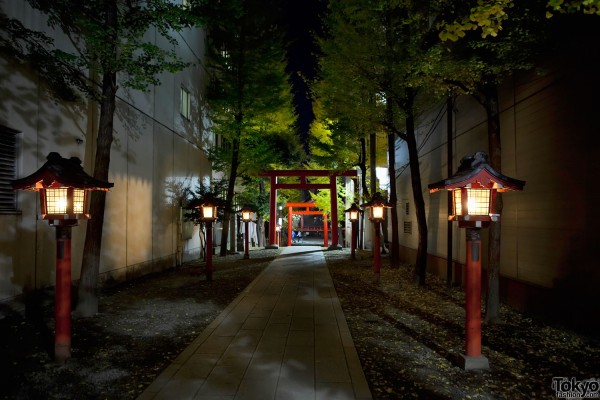 Walking back down Yasukuni Dori now toward the station. This looks like a postcard or a dream, but it's real. Only a few minutes walk from the craziness of Kabukicho too. Amazing.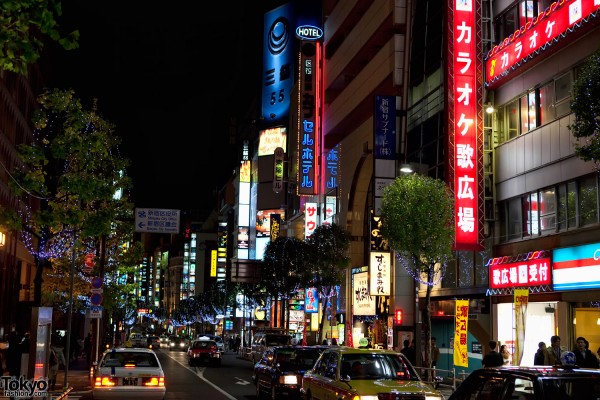 On the street and heading for Kabukicho.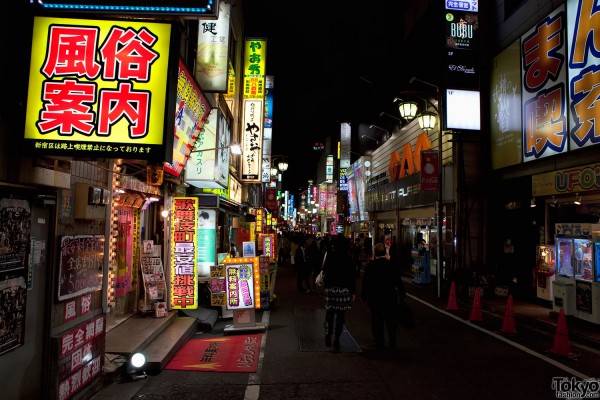 This is Kabukicho – the nightlife capital of Japan. If you're looking for Tokyo's red light district, you've found it! Some people don't like Kabukicho or are scared to visit here or whatever, but I really think it's a must-see.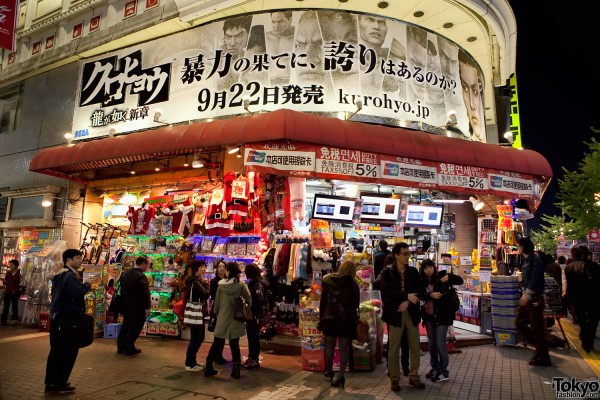 Kabukicho's famous all-night Don Quixote, where you can buy Christmas cosplay costumes to impress your favorite host or hostess.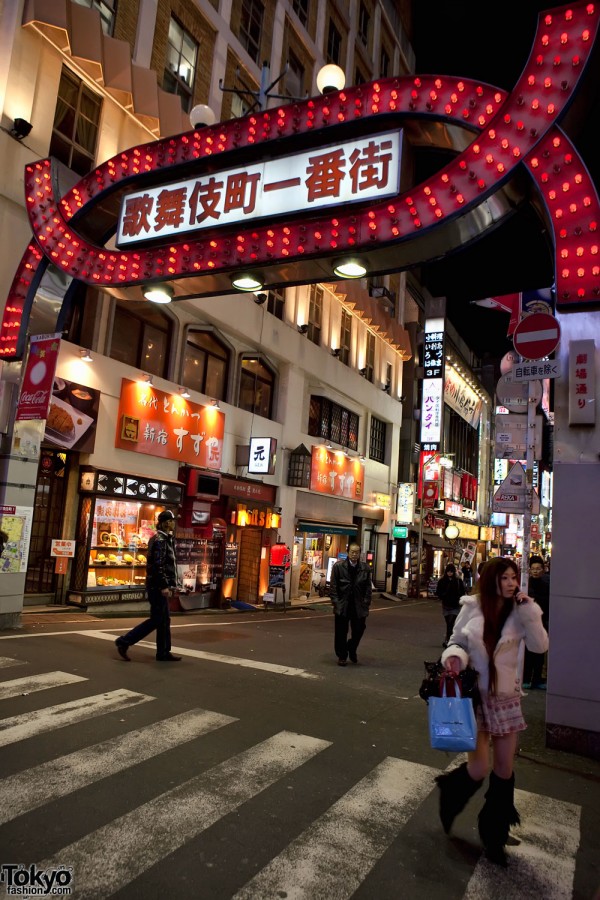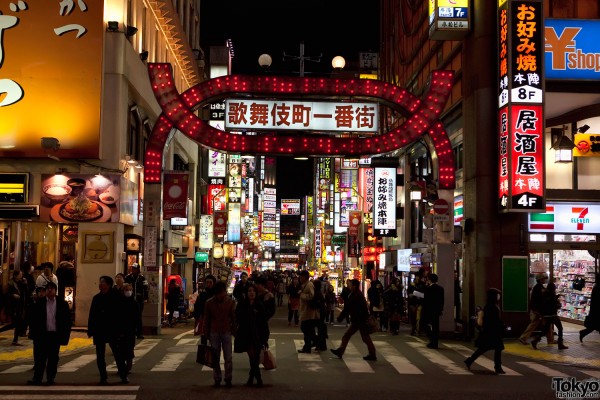 Welcome to Kabukicho – the playground for adults. Goodbye to Kabukicho – now, we're crossing the street now and heading back toward the station.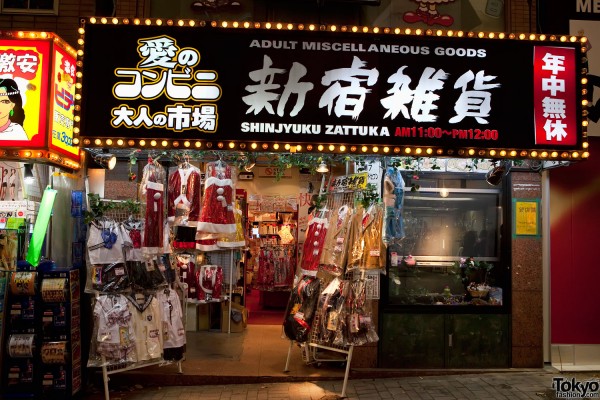 More adult Christmas costumes (and miscellaneous goods)!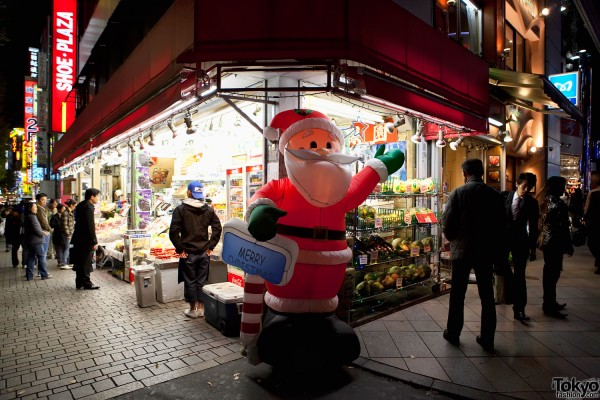 Inflatable Santa in front of the most awesome late-night fruit stand in Shinjuku.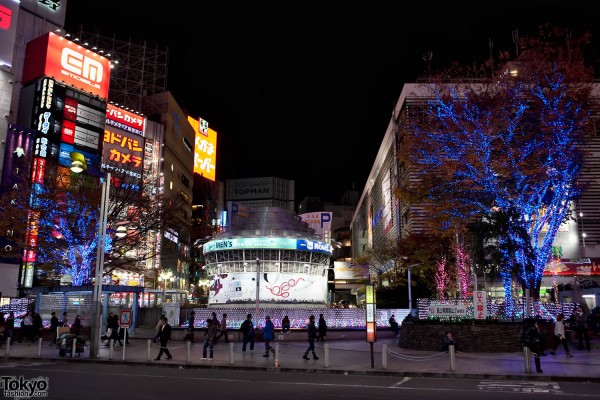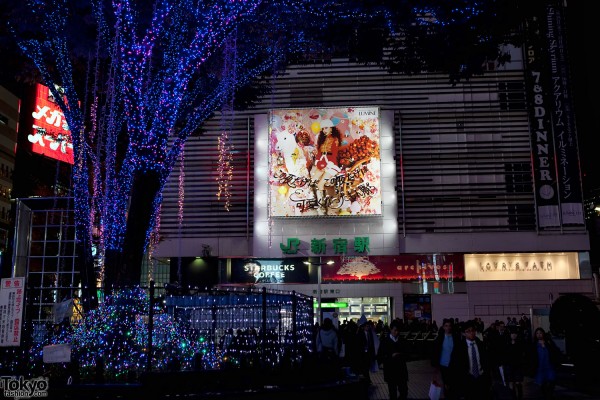 Christmas lights outside of the East Exit of Shinjuku Station.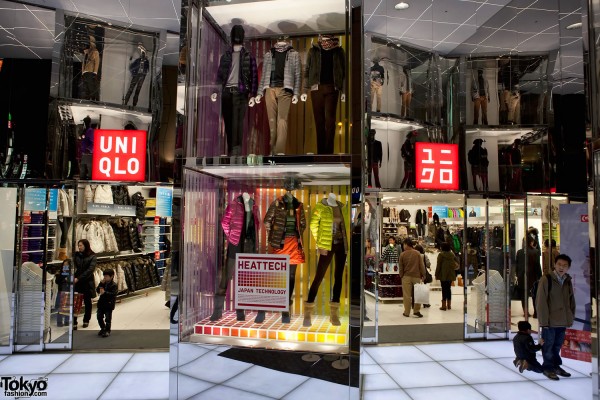 We walk under the train tracks and pop out on the West Side of Shinjuku Station. Here is the big Uniqlo Shinjuku Store that opened this year (or was it last year?). They are still promoting Heattech!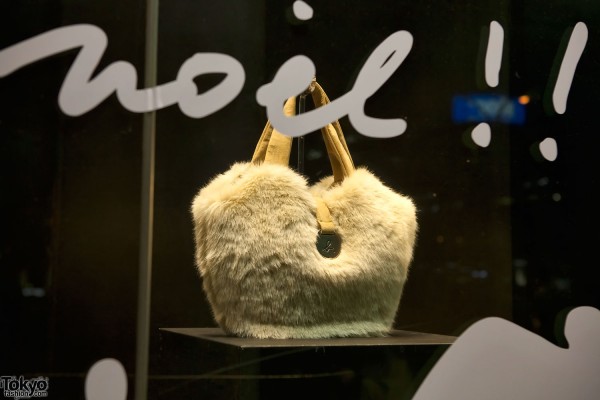 A nice furry Agnes B. bag for Christmas?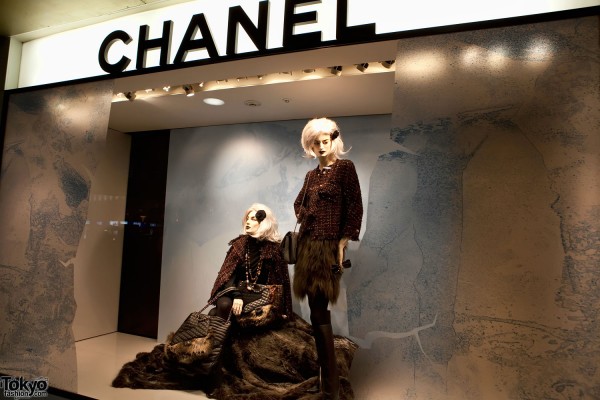 Speaking of fur – we probably can't afford this, but the window looks like winter.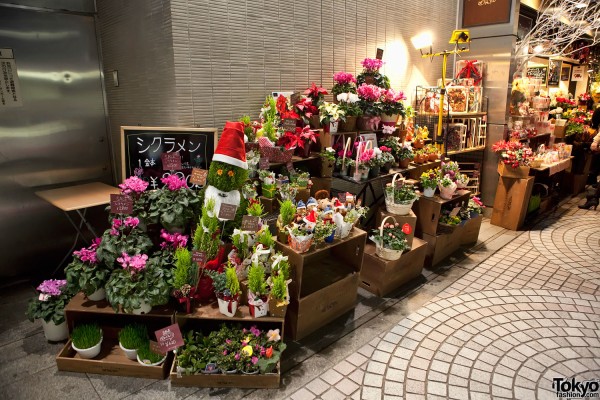 There are many florists promoting Christmas trees and other holiday items. Here is a cute one at Odakyu Shinjuku!

It's just not Christmas without the "MyLord [pronounced "Mee-Lordoh"] Box"!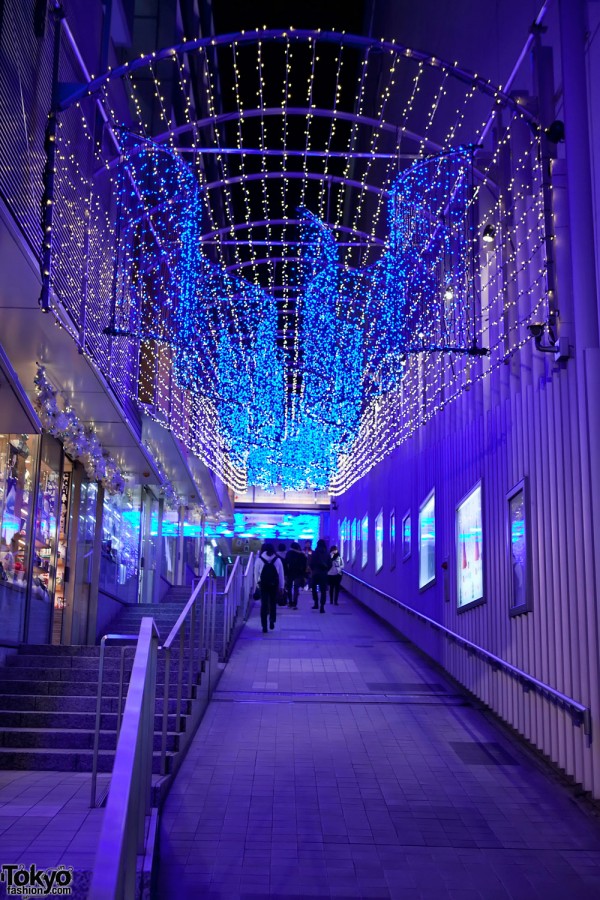 More of the MyLord Department Store holiday illumination.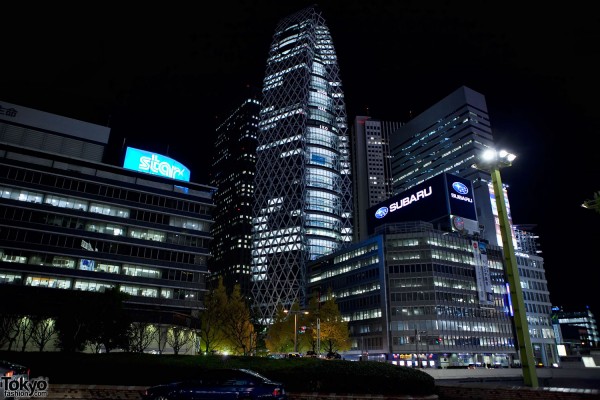 A quick shot of the skyscraper district west of Shinjuku Station.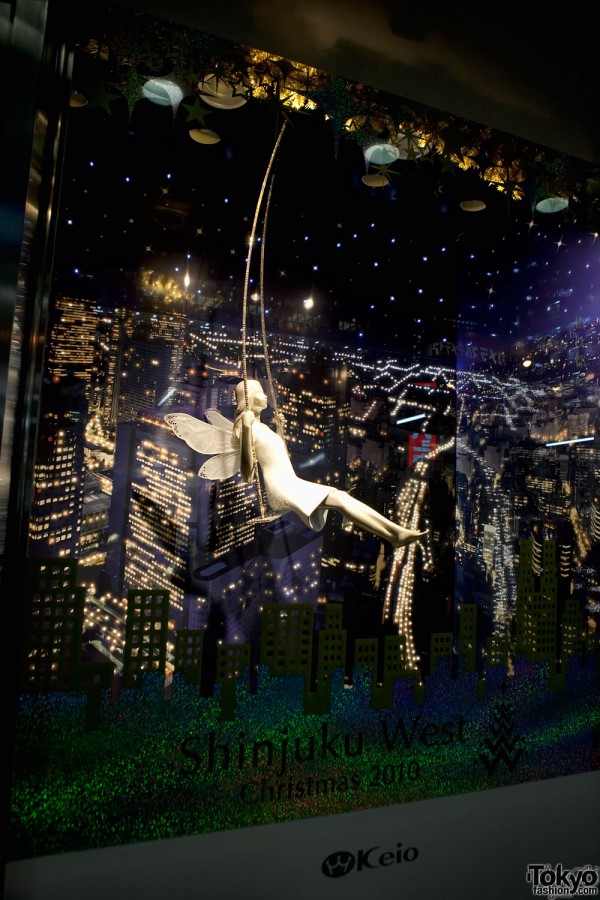 The Keio Department Store has beautiful holiday windows this year – lights, angels, swans, just awesome.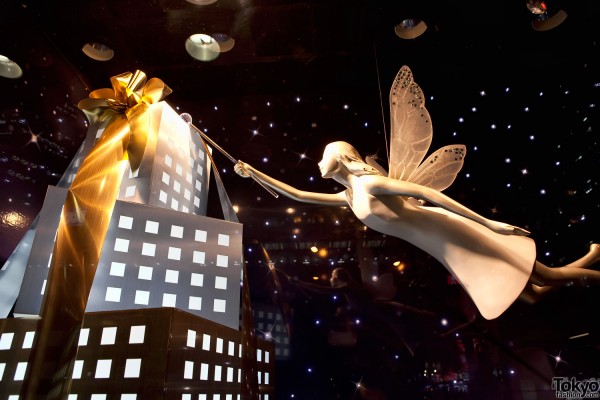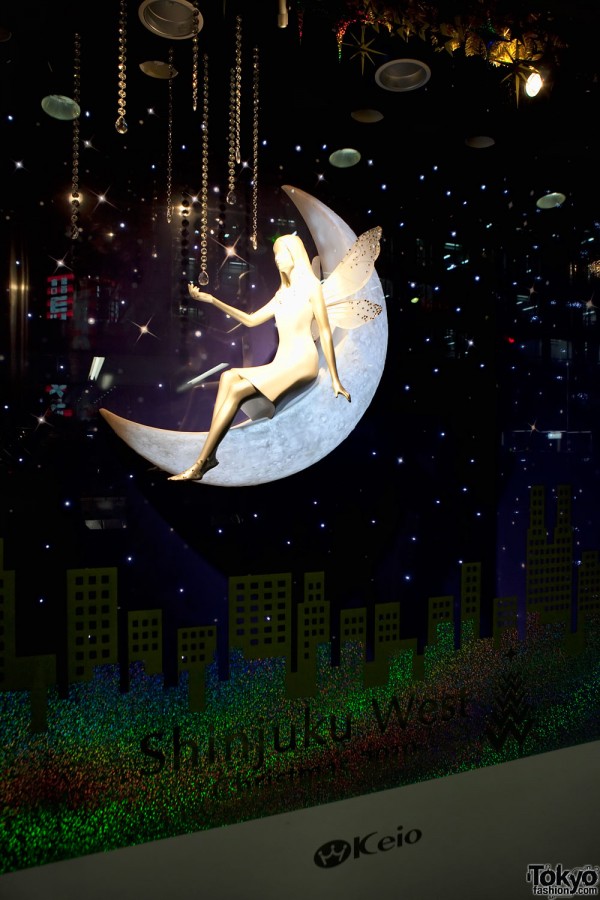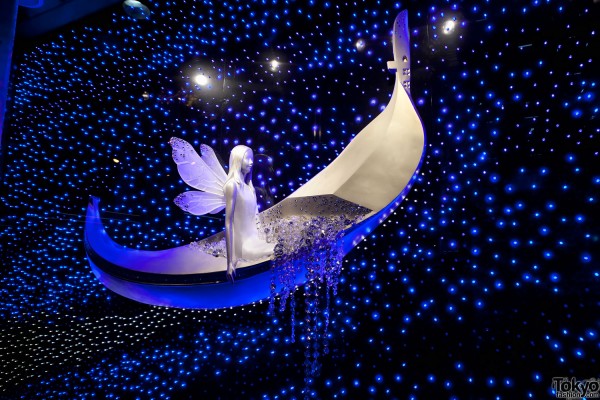 More pretty Keio Christmas windows.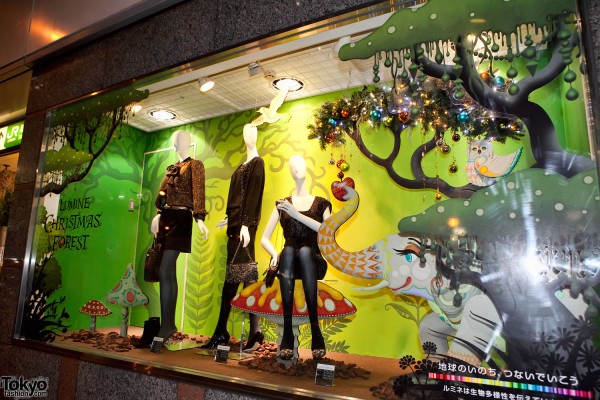 Walking along the West side of Shinjuku Station, we passed MyLord, Odakyu, and Keio. We've now reached Lumine. We photographed this department store near the start of our walk from the South side of the station. Do you remember? This is the "Lumine Christmas Forest" window display. It looks a lot like the Isetan Shinjuku holiday windows. Sorry about the flash on the window. :-)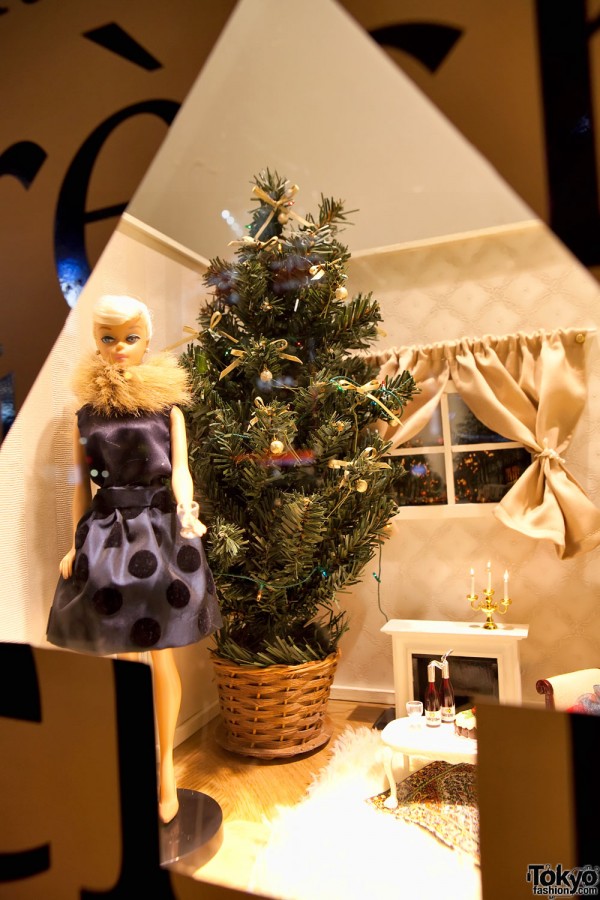 This is a little doll in a Christmas setting inside of a big "IENA Noel de Paris" text Christmas tree. I know it sounds strange, but would I lie to you?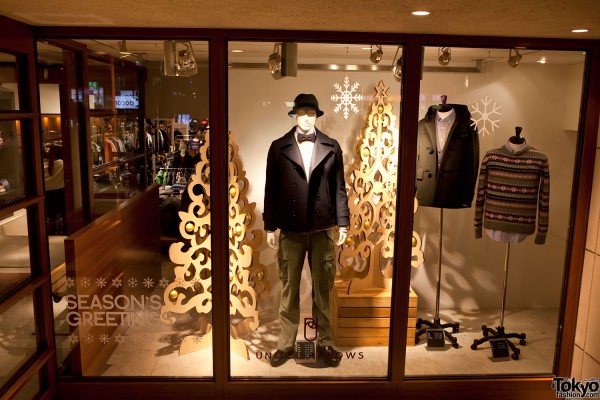 United Arrows Season's Greetings window, as we look around Shinjuku Station back toward where we started (sort of).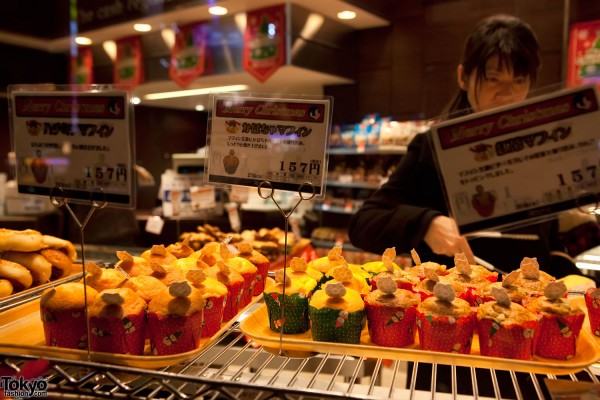 Here are Christmas muffins looking very, very tasty. This is where we actually turn and enter Shinjuku Station via the South Entrance.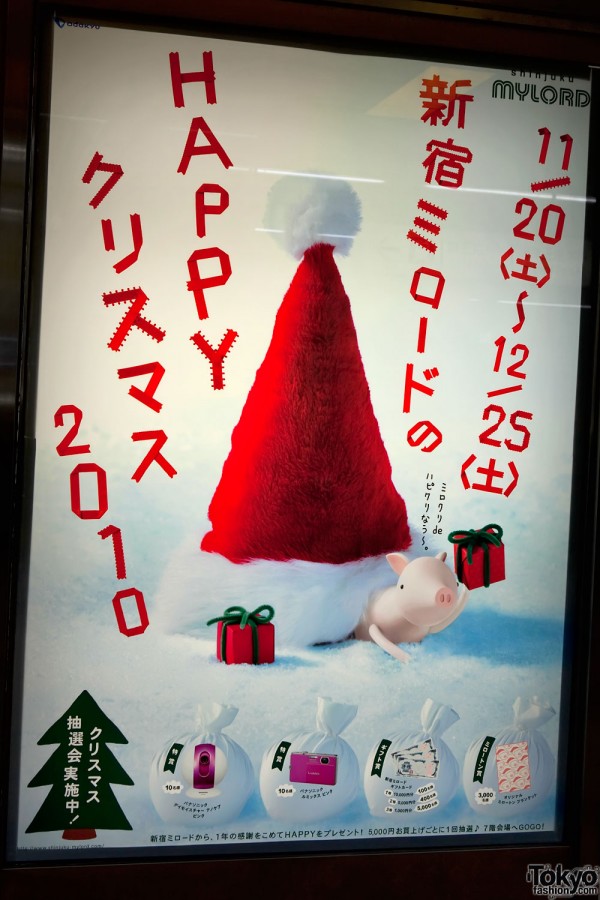 Inside the station, a MyLord Happy Kurisumasu pig to go with your MyLord Box.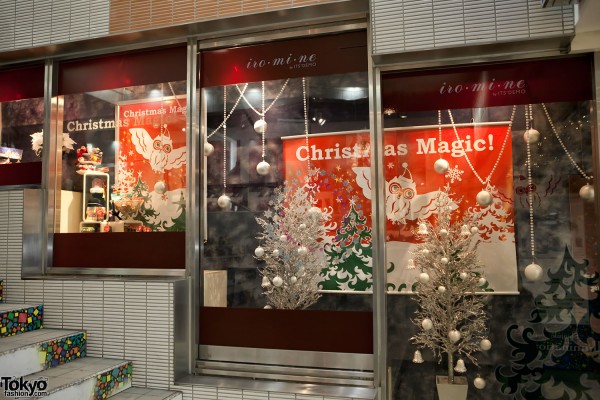 Christmas Magic trees.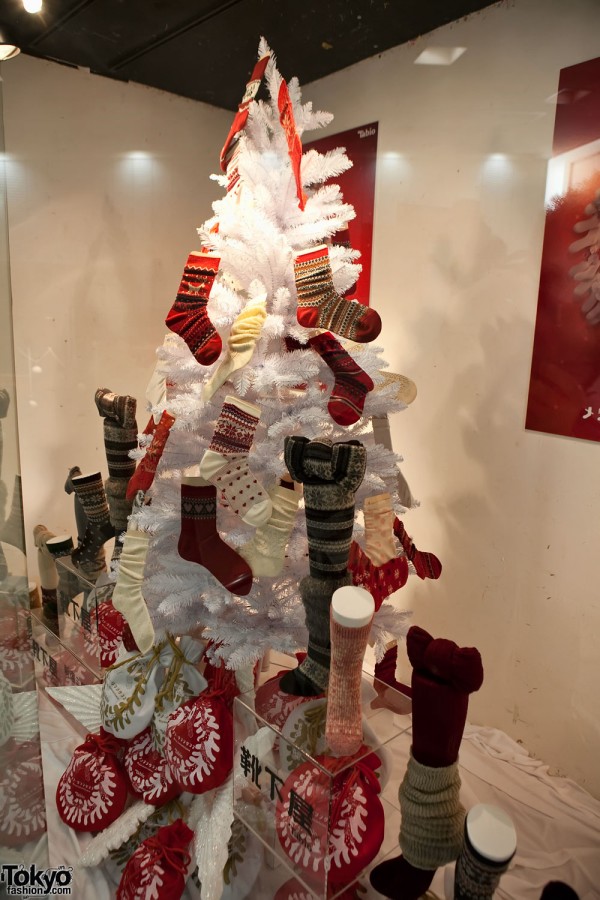 And for our last photo of this photowalk, how about a Christmas tree decorated with warm, cozy socks?
After checking out the sock Christmas tree, we hopped on the next train back to Harajuku. Many of the stores that we are photographing in these holiday photowalks close around 8pm (some as early as 7pm!), so we basically have from dusk until closing time to shoot as many Christmas photos as we can. Besides the photos above, you can also check out some bonus/alternate pics below. Also, don't forget to look at our related article showing all of the Istetan Shinjuku Christmas windows.
Click any of the pictures to blow them up!
That concludes our 2010 Shinjuku Christmas Photo Walk. This is just the start of our Tokyo holiday walks. For more info on the upcoming Shibuya, Harajuku, Aoyama and other photo walks, check out our Tokyo Christmas 2010 page (coming soon)! Please leave comments and let us know what you think and what you'd like to see more/less of in future photo walks.
Thank you all and Happy Holidays!