Snidel
Designed by Asami Kusugami, Snidel is one of the fastest growing Japanese street fashion brands today.
Snidel opened its first store on Cat Street in Harajuku on April 2005. It has since opened stores in Shibuya, Shinjuku, Nagoya, Yokohama, and all of the major cities across Japan. Snidel can also be found in major Japanese department stores – including Marui, Lumine, and Isetan.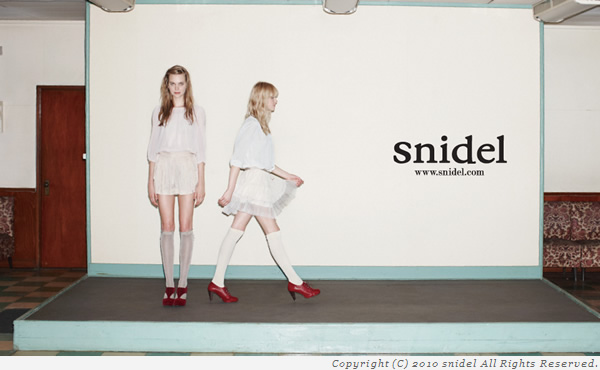 The brand goes by the slogan "Street Formal"-meaning designing clothes that are casual but formal at the same time. Snidel is particularly popular among university students and young Japanese women. Snidel is showcased by Japanese models and celebrities at the famous Tokyo Girls Collection.
The brand mainly focuses on clothes, but carries handbags, accessories, and shoes as well. Additionally, Snidel just opened its junior line in 2010 called Snidel Girl, catering to fashionable kids and their moms.
Snidel and Snidel Girl are both owned by the company Mash Style Labo, which also owns the popular sleep wear brand Gelato Pique.
Snidel gained popularity through frequent editorials on popular fashion magazines such as ViVi and Sweet.
The clothes offered by Snidel are not extreme or mind-boggling like Gwen Stenfani's Harajuku Girls. That said, if you are looking for Japanese clothes that you can actually wear back in your hometown, we believe Snidel is the place to go.
External Links for Snidel:
About the author:
Eri is a Student at Keio University studying luxury/retail marketing, but more than anything she loves shopping. Fluent in both English and Japanese, Eri runs her own blog where she shares her opinions on fashion, Japan, and other random topics.