The second Monday of each new year is Coming of Age Day (Seijin no Hi) in Japan. This holiday is a celebration of Japanese young people who are making the transition from childhood/adolescence into adulthood. Young men and women who have reached their 20th birthday (the age when you legally become an adult in Japan) within the last year participate in ceremonies organized by local governments, as well as making visits to shrines, and partying with their friends.
One of the coolest things about this holiday for fans of Japanese fashion is that young women who are celebrating the arrival of adulthood usually dress up in beautiful furisode kimono. These young women can be seen on the streets of Tokyo (and other cities across Japan) as they make their way to shrines, events, and parties. Coming of Age Day is one of the only days of the year where you can see lots of hip young Japanese women dressed up in full kimono.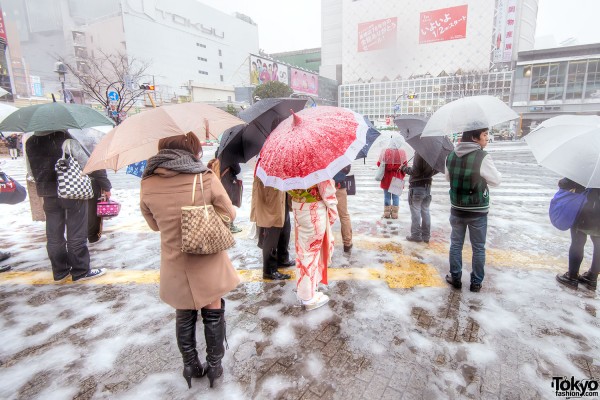 Every year, we enjoy spending time in Shibuya and Harajuku taking photos of girls in kimono (and guys in suits) to document this fantastic holiday. We are always happy to share these pictures of beautiful kimono with all of you. Unfortunately, for the first time in a long time, a snow storm hit Tokyo on Coming of Age Day 2013. This meant that Meiji Jingu Shrine in Harajuku closed early, trains were delayed, roads and businesses were closed, and it was extremely cold.
Because of the Tokyo snow storm, we couldn't get many pictures of kimono this year (as most of the few girls we did see were too cold to stop for snaps). We encourage you to check out our 2012 Coming of Age Day Kimono Pictures to see what the holiday usually looks like. However, to make up for missing out on all of the wonderful kimono, we spent several hours taking pictures of something else beautiful – Tokyo covered in snow! Please enjoy these 100+ pictures (and video) of Harajuku (Takeshita Dori, LaForet, Cat Street, Harajuku Station, Jingu Bashi, etc.) and Shibuya (Shibuya 109, Shibuya Station, Hachiko, Center Street, etc.) covered in pretty white powder!
Snow in Harajuku and Shibuya on Coming of Age Day 2013 – Video
Don't forget to Follow TokyoFashion.com on YouTube.
Snow in Harajuku & Shibuya – Pictures
Click on any Harajuku and Shibuya snow photo to see it in high resolution.