Somarta 2012 S/S Collection
The 2012 S/S edition of Japan Fashion Week (aka Mercedes-Benz Fashion Week) in Tokyo is under way! Several times each day, TokyoFashion.com's contributors are reporting back from runway shows and events all over town. Be sure to check out all of our Mercedes-Benz Fashion Week Tokyo coverage.
On Thursday, October 20th, Japanese label Somarta showcased their 2012 Spring/Summer collection on the runway at Tokyo Midtown.
Somarta has been showing at JFW since 2007 Spring/Summer, where the label won the Newcomer's Prize at Mainichi Fashion Grand Prix. The label was founded by Bunka Fashion College graduate Tamae Hirokawa. She joined Issey Miyake Co., Ltd. shortly after graduation. Hirokawa's talent and hard work led to a quick rise within the company. In less than five years, she was in charge of the Issey Miyake Men and Issey Miyake lines. In 2006, she started her own design firm called Soma Designs, where she worked on projects ranging from fashion to graphic design to sound direction. The label Somarta was a part of this firm.
Somarta 2012 S/S collection show at Japan Fashion Week was inspired by birds (specifically falcons and thunderbirds), and the models' amazing hairstyles reinforced that imagery. The outfits in the collection included the beautiful fishnet bodysuits that the brand is famous for along with dresses printed with futuristic geometric patterns. The jackets in this collection were also exceptional. The bird theme came back again and again in the details and materials found throughout the collection. Impressive.
Please click any of the Somarta collection images below to see our high resolution pictures.
Somarta 2012 Spring/Summer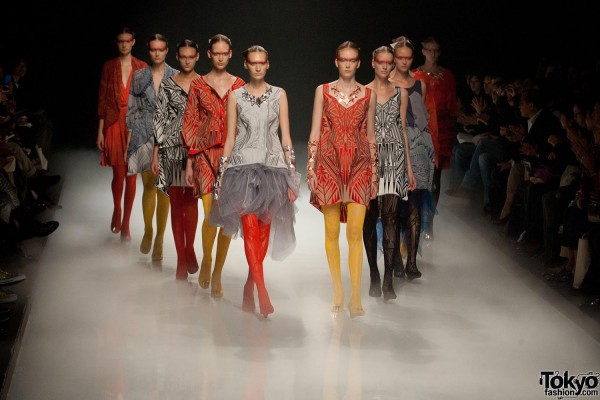 Click any of the Somarta pictures to enlarge them!
External Link: Somarta Official Website
***
About the photographer:
Michael Steinebach has been fortunate enough to travel and see the world. Exposed to the limitless possibilities of photography 20 years ago, he grew up looking at things differently. He currently shoots in the areas of people, fashion, and news photography in Japan. He maintains a Facebook page with samples of his work. He can be emailed about contract work or with questions or comments on his photography.