Spinns Harajuku 02 Grand Opening & Choco Moo Live Painting Pictures
Spinns is one of the most popular stores in Harajuku nowadays. Located next door to international fast-fashion juggernaut Forever 21 (and not far from other Harajuku landmarks including LaForet, H&M, and Takeshita Dori), the flagship shop of this Japanese fashion chain is packed day and night with young trend-loving shoppers. Spinns Harajuku has done well since the day they opened back in 2010, but the rise of Kyary Pamyu Pamyu – someone who they were working with before she was famous – catapulted Spinns to new heights in 2012 (as reported in our Harajuku Top 10 of 2012). In December, Spinns expanded their Harajuku presence with the opening of Spinns Harajuku 02, a new shop just down the street from their main location.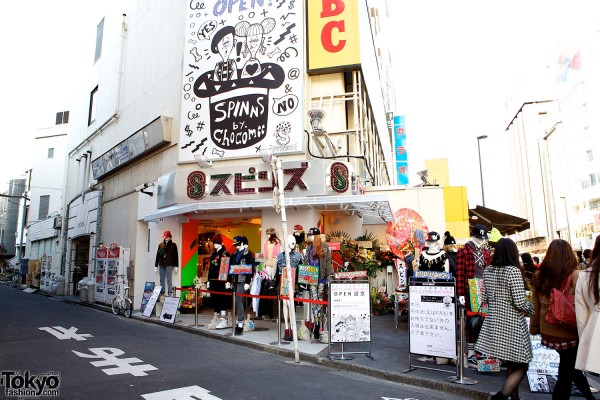 The brand new "Spinns Harajuku 02" – which official opened on December 21st – is actually the 3rd Spinns store in central Harajuku. In addition to their popular flagship store (Spinns Harajuku 01), they also have a Spinns resale (furugi) shop under the WEGO at the intersection of Meiji Dori and Omotesando Dori. The grand opening celebrations for Spinns Harajuku 02 lasted for several weeks and included a number of special events attended by well-known Japanese magazine models, performers, and artists.
One of the grand opening events was a live painting performance by red-hot Japanese artist Choco Moo (who also created signage and wall art for the new shop). The tights Choco Moo designed for AvantGarde Harajuku were everywhere on the streets of Harajuku in 2012. Additionally, her designs have been worn by everyone from Japanese celebrities (she even designed tour good for Kyary) to American pop stars (Kreayshawn, Nicki Minaj, etc.) to the big names in K-Pop (Girls' Generation), fashion brands, and magazines.
Spinns was nice enough to invite us to preview the new store before it opened so we could share pictures with those who couldn't make it to Harajuku. We also saw Choco Moo work her magic at the shop's live painting event. The pictures don't really do justice to Choco Moo's amazing ability to transform a blank canvas into a cute whimsical pop-culture filled artwork in a matter of minutes with nothing more than a black marker and her imagination. We hope that you'll enjoy these images of both Spinns Harajuku 02 and Choco Moo. Click any of the pics to see them in high resolution!
Spinns Harajuku Store #2
Click on any of the Spinns Harajuku Store 2 pics to enlarge them.
Japanese Artist Choco Moo Live Painting at Spinns Harajuku 02
Click on any of the Chocomoo pictures to enlarge them.
If you'd like to visit Spinns Harajuku 02 for yourself, it's located on Meiji Dori between LaForet Harajuku and ABC Mart, on floor B1F. Just look for the big Choco Moo-illustrated sign!
For more info: