Spinns Harajuku Grand Opening
Saturday, November 20th is the grand opening of Spinns Harajuku! Located next door to Forever 21 on Meiji Dori, this large, centrally-located store appears poised to become a major new player in the neighborhood. While many of the big Harajuku openings in the last few years have been international stores (H&M, Nike, Kitson, F21, Tommy, etc.), Spinns is a funky, street-level Japanese fashion company. It is exactly the kind of place that put Harajuku on the world fashion map. Excited about the prospects, we stopped in to preview the new Spinns Harajuku shop space, to talk to the staff, and to ogle their vast and varied array of fashion and lifestyle goods.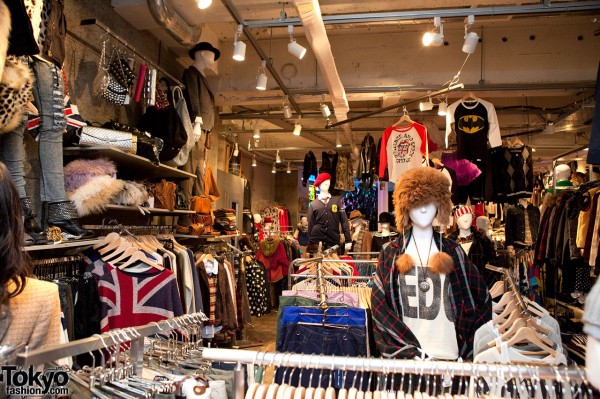 The first thing you notice when you enter the shop is the fun and frantic decor – from the multitude of scrolling LCD signs flashing cryptic messages like "Welcome to China", to artwork scrawled near the ceiling, to walls covered in stuffed animals, pop culture curiosities, and random toys. The next thing you notice is that the place is huge – over 3000 square feet (300 square meters). The narrow front belies the depth of the shop, which seems to go back more than a block. Walk far enough inside and you'll find yourself sandwiched between a shrine to Mexican traditional art and kitsch (just missing the velvet Elvis paintings) and a wall display that looks like it was brought to Harajuku straight from a Thai street market.
Besides the big interior, the variety of fashion on offer at Spinns Harajuku is also astonishing – wall to wall, floor to ceiling, no space is wasted. They carry menswear and womenswear, footwear, head wear, outerwear, accessories, jewelry, and lots more. Many of the fashion labels carried by Spinns Harajuku are exclusive brands created by young Japanese designers – and available only at this location. Their willingness to embrace and support up-and-coming Japanese fashion designers is one of the main things that excites us about the new store.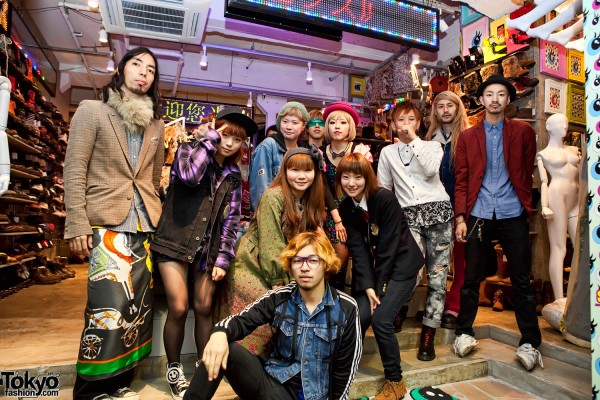 Exclusive brands carried at Spinns Harajuku during the opening include the Spinns official fashion brand (seen in Zipper and many other Japanese fashion magazines); Omocha Party (a colorful remake fashion brand created by designer Kenji); CRAZY*TOYGANG (original brand created by Japanese fashion student Kaho); and several others which we don't have the info on yet. Much of the fashion is handmade or hand re-made from used, new, and vintage clothing. The store manager showed us a number of pieces that were re-made. It's obvious that the Spinns designers are putting a lot of work into creating interesting one-of-a-kind pieces.
Besides the fashion, Spinns Harajuku also carries a variety of lifestyle items – from iPhone and iPad accessories to random small interior goods to bizarre life-sized rubber chickens that squeal when you squeeze them (scary!). There is also a small section of the store with a selection of books and magazines, as well as a listening station with a few select CDs. Add to all of the that the fact that the store's staff is both fashionable and friendly, and the reality is that once you go inside Spinns Harajuku, you may never want to leave!
When we went to preview the store, we brought back lots of photos. Please check them all out – and don't forget that you can click on any of the images to see high resolution versions.
Click any of the photos to enlarge them.
Spinns Harajuku Info:
What: Spinns Harajuku Boutique
Where: Meiji Dori in Harajuku, next to Forever 21
Access: Meiji-Jingu Mae Station or Harajuku Station
Address: 1-8-8 Jingumae, Shibuya-ku, Tokyo, Japan 150-0001
Hours: M-F 11:00 – 21:00; Sat, Sun, Holidays 10:00 – 21:00
Website: Spinns Official Website
Map: Spinns Harajuku Map
All photos by Kira.