Spinns Harajuku – A Preview of Harajuku's New "Forward Thinking" Fashion Boutique
On November 20, 2010, the Japanese fashion company Spinns will open their new flagship shop in Harajuku. Spinns Harajuku will be located on Meiji Dori – right next door to Forever 21 and very near to H&M, LaForet Harajuku, and the famous Takeshita Dori shopping street. The new Spinns shop will carry a mix of exclusive independent Japanese fashion brands as well as resale, vintage, import, remade fashion, and a wide variety of hand-selected fashion accessories and design goods. In addition to carrying an original and eclectic stock, the interior design of the shop is promised to be one-of-a-kind.
One of the most interesting aspects of the new Spinns Harajuku shop is that they plan on directly supporting and incubating young and independent Japanese fashion designers. They've said that they will develop fashion from five to ten new designers at a time. The designers supported will be changed regularly depending on the interest of customers and other factors. It sounds like this new shop has the potential to not only be an interesting place to shop, but also a positive force in the Tokyo fashion community. Since many have voiced concerns about the rise of Fast Fashion in Harajuku, any shop that promises to cultivate up-and-coming indie designers is a step in the right direction.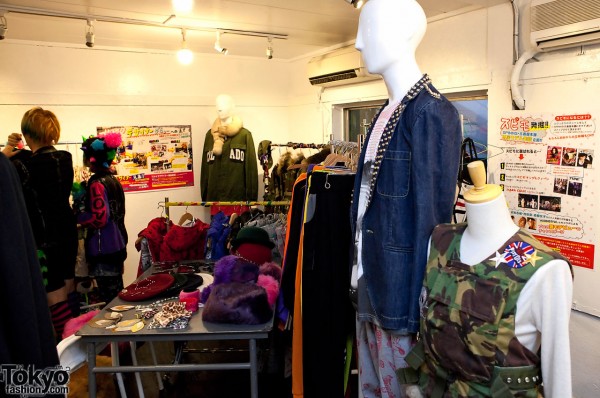 Recently, Spinns held a special preview event at Design Festa in Harajuku to show off some of the clothing and accessories that will be carried in their new shop. Included in the preview was one of the independent fashion brands that will be premiering at the new shop – Omocha Party.
People wearing Omocha Party clothing have been featured in street snaps several times here on TokyoFashion.com. Also, work by the designer has appeared in Japanese fashion magazines KERA & SPA. Not too bad for a brand that until now has been almost impossible to get your hands on. All of that will change when Omocha Party's collection goes on sale at Spinns next month. Because the items in their collection are hand made by Omocha Party's designer Kenji, most pieces are very limited, and every item is unique.
Here are couple of friends of the Omocha Party designer – wearing his original creations – who we photographed recently on the street in Harajuku: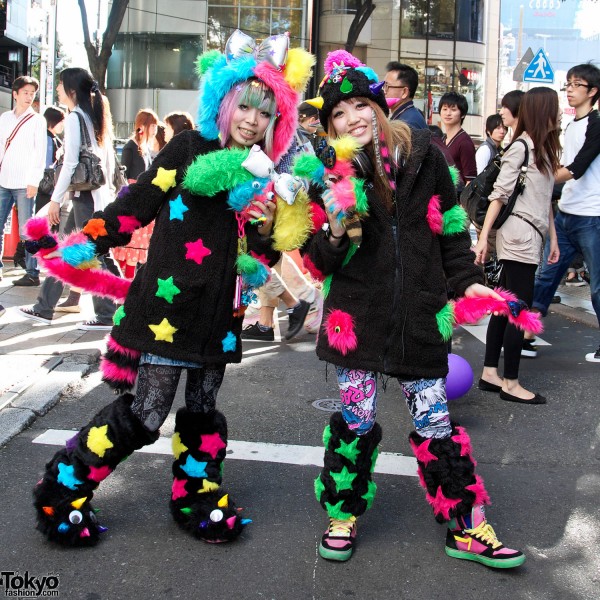 Since its founding in 1997, Spinns has opened 16 stores in 12 cities across Japan. Besides the main Spinns brands, the company also manages the fashion brand Monomania (which is very popular in Harajuku), several chains of vintage and select clothing boutiques, and even coffee shops.
The new Spinns Harajuku shop – which the brand is describing as "experimental", "forward thinking, and "future look" – will feature original products that the company is offering for the first time, along with an original interior design that promises to give customers a one-of-a-kind shopping experience. The actual look of the interior design has not yet been unveiled to the public.
Please enjoy these pictures from the Spinns Harajuku preview – and don't forget that you can click any of the images to see more details.
Spinns Harajuku info:
What: Spinns Harajuku
When: Opening Saturday, November 20, 2010
Where: 1st Floor, 1-8-8 Jingumae, Shibuya-ku, Tokyo, Japan 150-0001
Hours: Weekdays 11:00 – 21:00; Saturday, Sunday, Holidays 10:00 – 21:00
Spinns Harajuku map:
(The new shop is where the big red "S" is on the map.)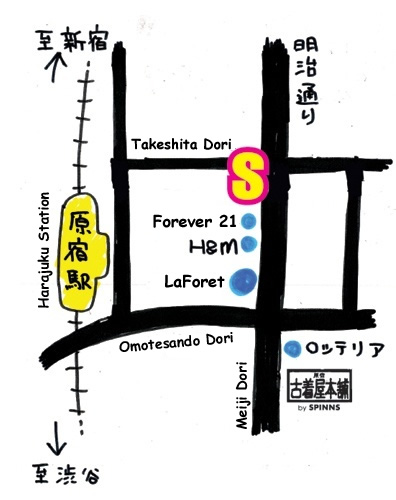 External link: Spinns Official Website (Japanese)
Photos by Kira.
Map courtesy of Spinns.