Spinns x Melancholy of Haruhi Suzumiya Fashion Collection
Spinns Harajuku is a shop we've covered extensively since its grand opening last year. Located in the heart of Harajuku (not far from TokyoFashion.com headquarters), Spinns has quickly become a force in Tokyo's street fashion scene.
In addition to selling cool affordable and trendy fashion, Spinns have also boosted their cred considerably via a series of collaborations with everyone from quirky indie Japanese designers to popular bloggers like Kyary Pamyu Pamyu to the hugely-famous-but-still-hip Japanese electro act Capsule. Spinns' next collaboration is sure to excite fashion otaku everywhere. Get ready for the Spinns x The Melancholy of Haruhi Suzumiya collection!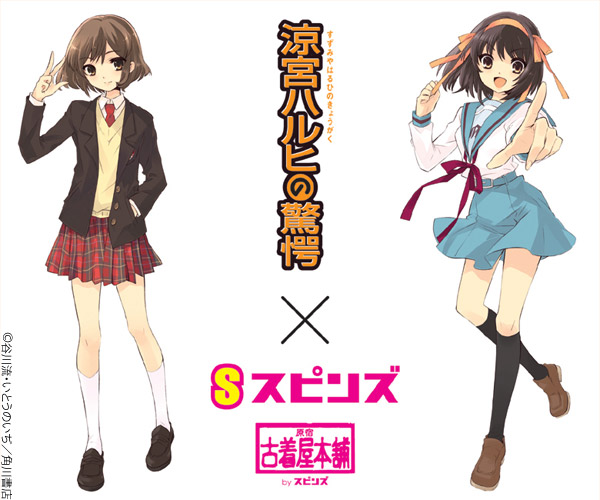 The Haruhi Suzumiya manga, light novels, and anime have sold tens of millions of copies in Japan (and worldwide), so this new collaboration with Spinns has already generated a lot of fan interest. The Spinns x The Melancholy of Haruhi Suzumiya collection includes various t-shirts, a series of cloth bags, a huge variety of pins/buttons, and – most notably – a full uniform from the series.
As soon as the The Melancholy of Haruhi Suzumiya collection was launched last week, we headed down the street to Spinns Harajuku to take pictures of the collection to share with you. The first thing you notice is that the billboard on the front of the shop is all Haruhi Suzumiya. Inside, there are signs of the collection everywhere. Even the Spinns shopping bags have been updated from their previous Capsule design to a new multi-colored Haruhi Suzumiya look.
Check out all of the pictures below for yourself. Items are available now at Spinns Harajuku and other Spinns shops around Japan. For Haruhi Suzumiya fans outside of Japan, Spinns doesn't yet have an official English language web store, but you may be able to find some of the items available for shipping to your country in their English-friendly store on Rakuten.
Spinns Harajuku x Melancholy of Haruhi Suzumiya Info:
What: Collaboration fashion collection between the Japanese brand Spinns & Melancholy of Haruhi Suzumiya
Where: Spinns stores in Japan & the Spinns web store.
Spinns Harajuku Address: 1-8-8 Jingumae, Shibuya-ku, Tokyo, Japan 150-0001
Official Website: Spinns
Photos by Kira. Other images courtesy of Spinns Harajuku. Haruhi Suzumiya artwork (C)谷川流・いとうのいぢ/角川書店