Summer Sonic Lineup 2011
February and March are big months for music fans in Japan – not because there are huge concerts going on, but because the Japanese summer music festivals begin making lineup announcements.
The famous Summer Sonic (Tokyo and Osaka) music festival makes their first major lineup announcement in February, and Fuji Rock and other festivals usually follow up in March with their initial lineups. There are a lot of festivals each summer in Japan, so it's a competition to see which fest ends up with the most-wanted bands. With all of that in mind, it's time for SummerSonic to fire the first shots in the war of the Japanese 2011 summer music festivals!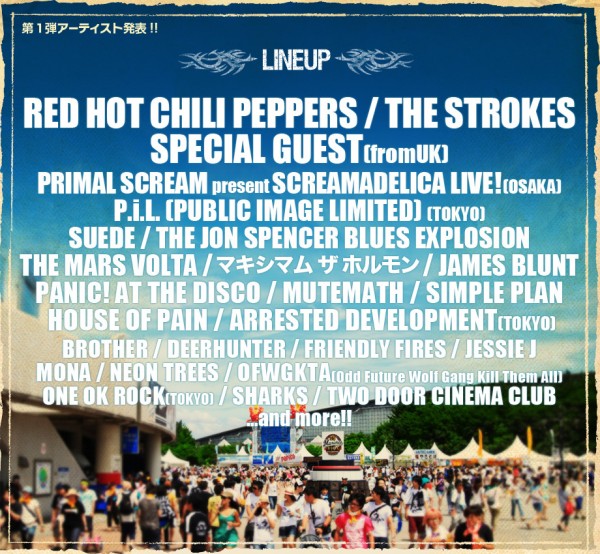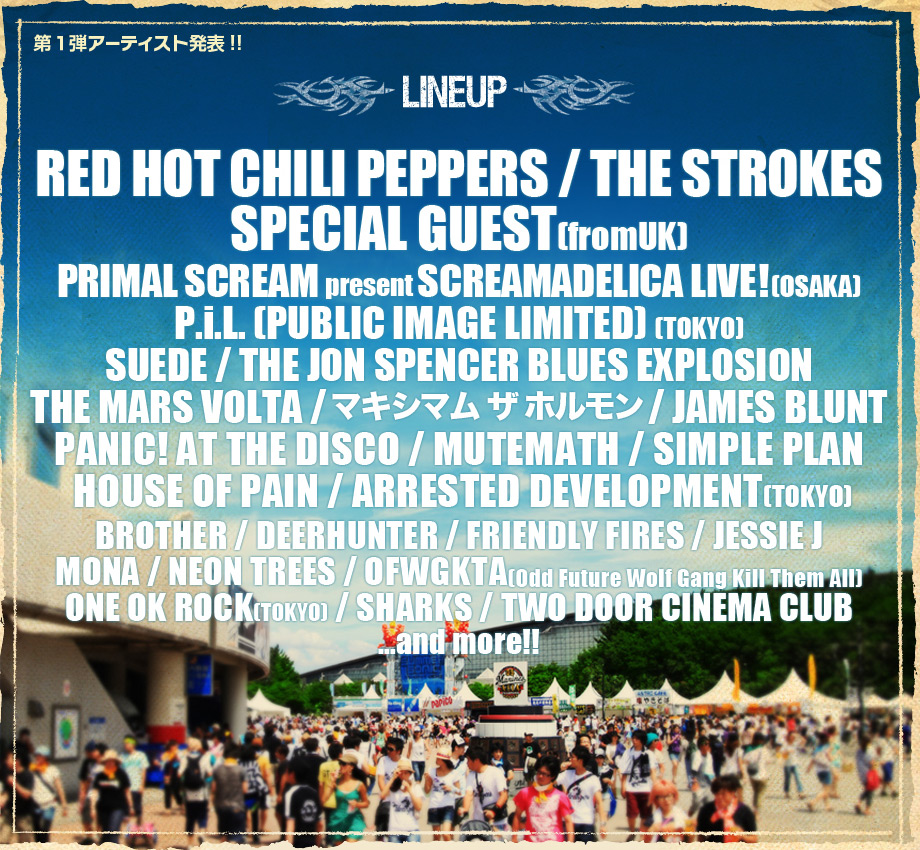 The first Summer Sonic lineup announcement for 2011 includes the following acts:
Red Hot Chili Peppers
The Strokes
Primal Scream presents Screamadelica Live (Osaka)
PIL (Public Image Limited aka Johnny Rotten)
Suede
The Jon Spencer Blues Explosion
The Mars Volta
Maximum the Hormone
James Blunt
Panic at the Disco
MuteMath
Simple Plan
House of Pain
Arrested Development (Tokyo)
Brother
DeerHunter
Friendly Fires
Jessie J.
Mona
Neon Trees
Odd Future Wolf Gang Kill Them All
One OK Rock (Tokyo)
Sharks
Two Door Cinema Club
Besides the announced bands, they also list a headliner as "Special Guest from the UK". We aren't sure who that might be yet, but you'd think it would be someone really big the way they are listed on the Summer Sonic website. Also, it's interesting to note that they didn't announce any big hip hop/urban headliner, something that Summer Sonic has been doing for the last few years (Alicia Keys, Beyonce, Jay-Z, etc.). Not sure if they are ditching that idea this year, or if an act in that genre will be added a later date.
This is just the first lineup announcement. Summer Sonic will keep adding bands for the next few months, so check their official website for updates. Summer Sonic 2011 will take place August 13th & 14th in Tokyo and Osaka. Also, we'll let you know as soon as Fuji Rock fires back with their first lineup announcement, likely in the next few days. See you at Makuhari!