Superman & Batman Lingerie For Harajuku Girls
I was racing down Takeshita Street in Harajuku faster than a speeding bullet (but not as powerful as a locomotive) when something suddenly stopped me in my tracks. One of the many stores on the main drag was awash in apparel bearing the logos and likenesses of two DC Comics superheroes: Batman and Superman!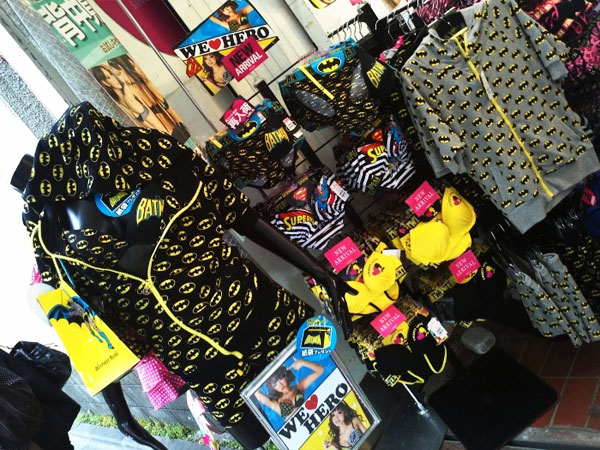 This collection of bras, panties, and hoodies turned out to be part of a larger "We Love HERO!!" campaign designed to lure in gyaru looking for "Pop and Cute" American-inspired goods.
Once safely back in my fortress of solitude, I became determined to try and solve the mystery behind these items. Who was dastardly enough to combine two of my favorite things in the whole wide world – Japanese gyaru fashion and geeky comic book crime fighters? Had the Joker moved east to Japan? Could the Riddler be to blame for this confounding conundrum?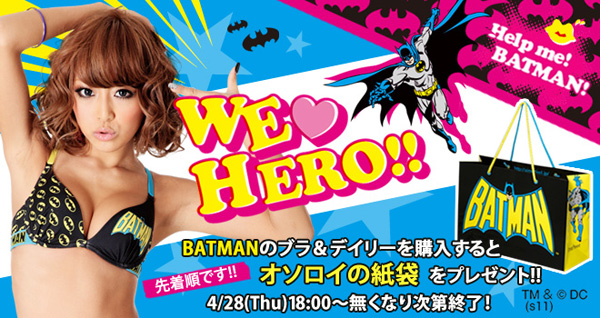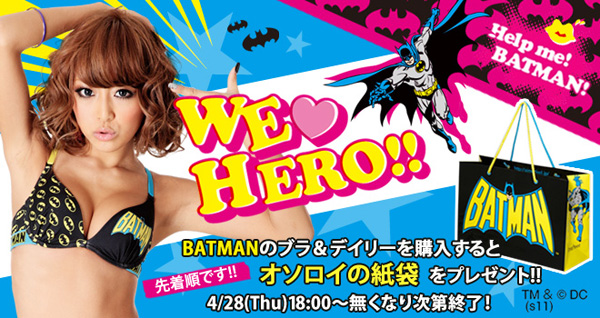 It turned out the "We Love HERO!!" apparel comes from a brand called aimerfeel, who specialize in self-described "Sexy&Cute Lingerie". Their Batman and Superman goods are officially licensed through DC Comics (making the city safe from copyright infringement at least) and use classic superhero imagery from the '70s. Purchase of a Bra and Shorts Set via their webshop or at their retail store on Takeshita street entitles one to a free Batman bag, suitable for lugging around moldy back issues of Action Comics.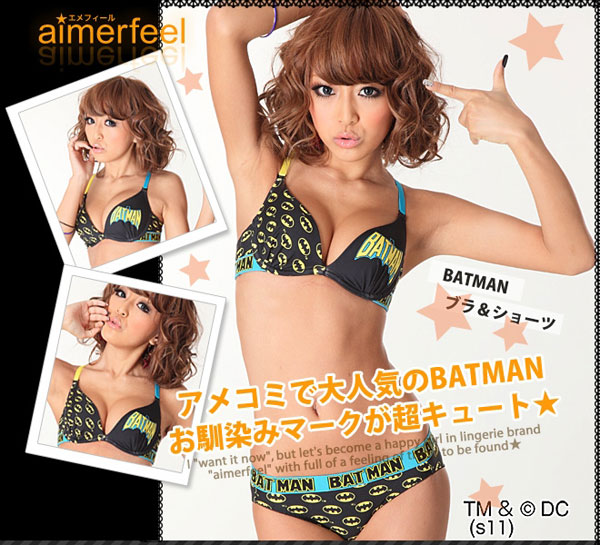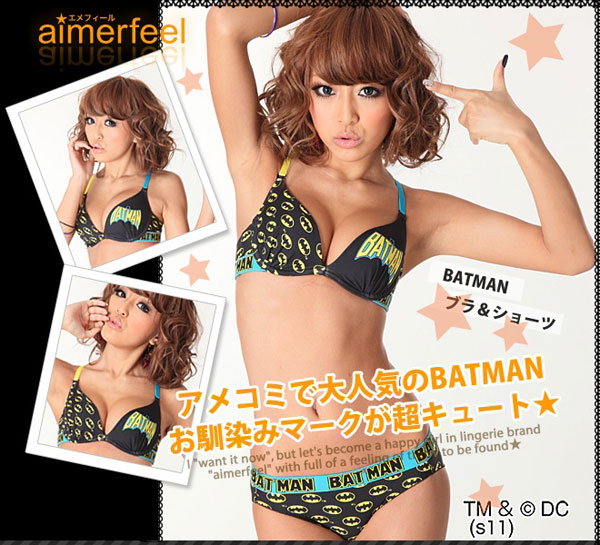 This Batman Bra and Shorts set retails for 3,465. According to aimerfeel, it features "the popular American comic character Batman" in a "cute blue and yellow color scheme". Aspiring Batgirls may want to know that the casual bra also features removable straps.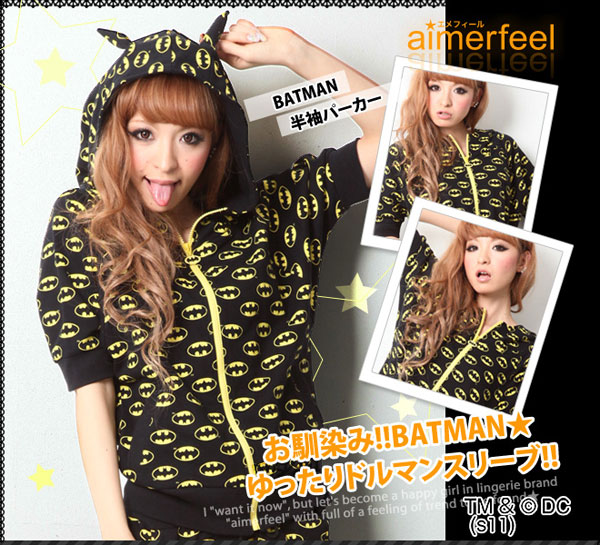 My absolute favorite item in the "We Love HERO!!" collection has got to be this short-sleeved Batman parka (4,095 yen) which features adorable little bat ears on the hood. I sincerely hope this model is running around Harajuku, fighting crime while wearing this.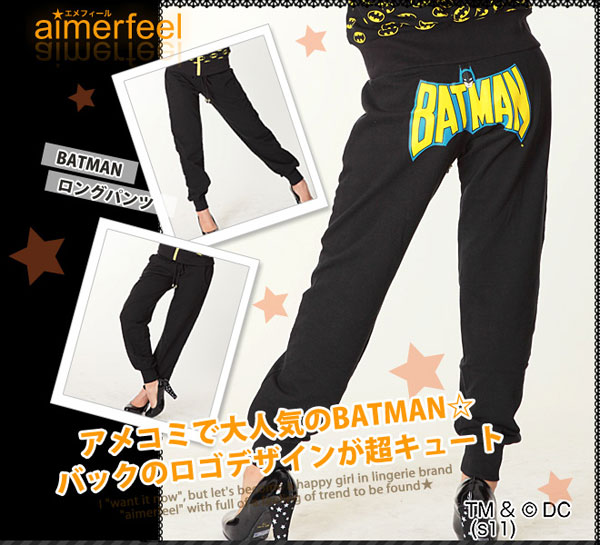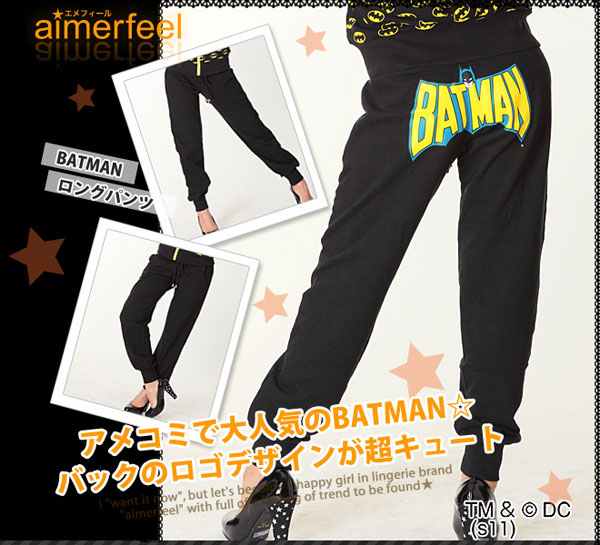 Really daring types might want to try out these Batman long pants (3,045 yen), which we can only hope will keep evildoers at bay with it's *ahem* innovative use of the Bat Signal.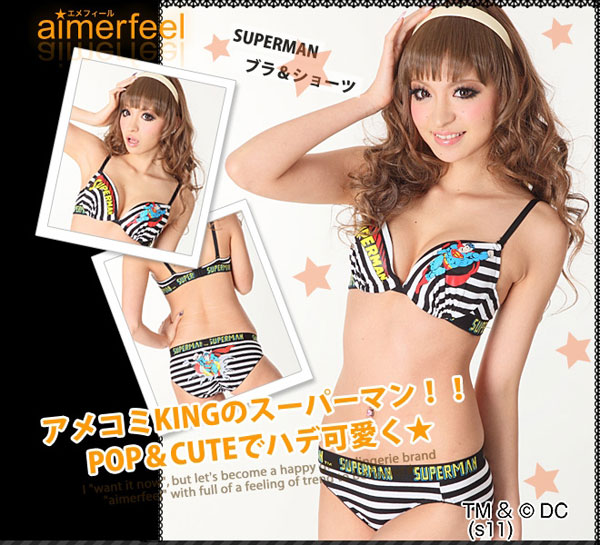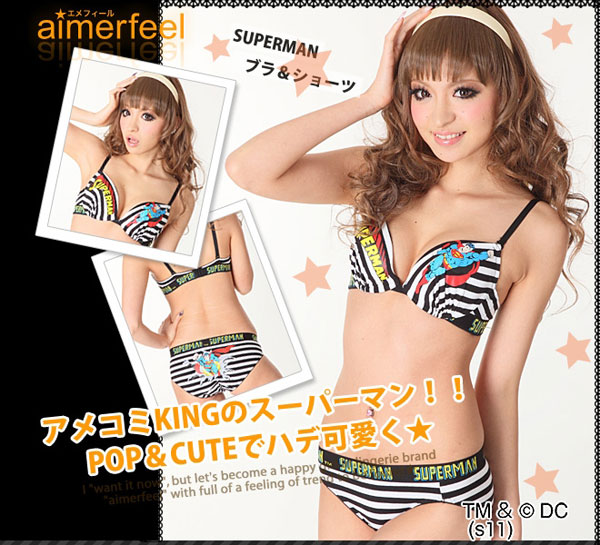 Never to be forgotten, Superman, the man of steel, is also represented via a Bra and Shorts Set (3,465 yen) of his very own. The product description claims that he is "the king of American comic characters", and that wearing this will "let you be transformed into a Supergirl".
My mega comic geek friend Robert McCarthy informs me that the Batman materials used by aimerfeel come from Detective Comics circa the 1970's, while the Superman they are using was originally drawn by artist José Luis García-López during the same timeframe. I'm sure the models wearing these items would be really interested in hearing these and other fascinating bits of four-color trivia.
After all, THEY LOVE HERO!
External Link:
Article by Patrick Macias, photos courtesy of Aimerfeel.
About the author:
Patrick Macias is the owner of media company jaPRESS and the author of "Japanese Schoolgirl Inferno: Tokyo Teen Fashion Subculture Handbook" (Chronicle Books). He has written for a variety of publications in the US and Japan including Wired, Studio Voice, and Weekly ASCII. His blog can be found online at patrickmacias.blogs.com.