Tokyo Gay Pride Parade 2010 Pictures
The annual Tokyo Gay Pride Festival took place this weekend in Shibuya. For the first time since 2007, the Tokyo Gay Pride Parade returned as part of the festivities.
The Gay Pride Festival was held at the event space on Shibuya Koen Dori near Yoyogi Park. Starting Saturday morning, there were live performances by various Pride-supporting groups on the stage, as well as informational booths and tasty food on the event grounds. The booth participants included a group of international banks catering to the GLBT community in Japan, Google Japan displaying really cute t-shirts, many magazines – including The Big Issue, Amnesty International and other rights groups, and the Japanese fashion and eyeglass brand Less Than Human.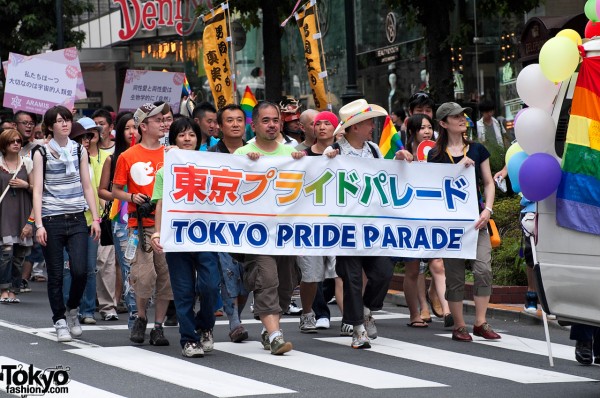 At around 3:00 p.m., attention turned from the stage and booth area to the parade. According to the organizers, more than five thousand people were expected to participate in this year's Tokyo Gay Pride Parade. We didn't count all of them ourselves, but the parade seemed bigger than the 2007 parade. This year's parade route wound its way down Shibuya Koen Dori, turned left at Parco, left again at Meiji Dori, then went all the way down to Omotesando Dori and finally turned left toward the starting point near Yoyogi Park.
Besides the thousands of people who came out specifically to join in the fun and support the event, there were many Tokyo locals enjoying the festivities, along with Japanese and foreign tourists who just happened to find out about the parade as it noisily passed them by. They say that everyone loves a parade – and judging by the fun that the crowds along the route seemed to be having, we think this very true for the Tokyo Gay Pride Parade. Rather than try to explain any more, we'll just show you the pictures and let you see what you missed!
Click any of the pictures to see them in high resolution…
We've posted more pictures at the Tokyo Fashion Flickr page if you'd like to see even more Tokyo Gay Pride fun.
If you are interested in attending next year's Gay Pride Festival or participating in the 2011 Tokyo Gay Pride Parade, the official website is here.