Uniqlo Ginza Megastore Opens In Tokyo – 100+ Pictures
Global Japanese retailer Uniqlo has opened a huge flagship store in Tokyo's Ginza district. Designed by Wonderwall's Masamichi Katayama, famous for his innovative work with BAPE and chic Parisian boutique Colette, the Ginza flagship, which has twelve floors and takes up a whopping 5,000 square meters, is the company's biggest store in the world.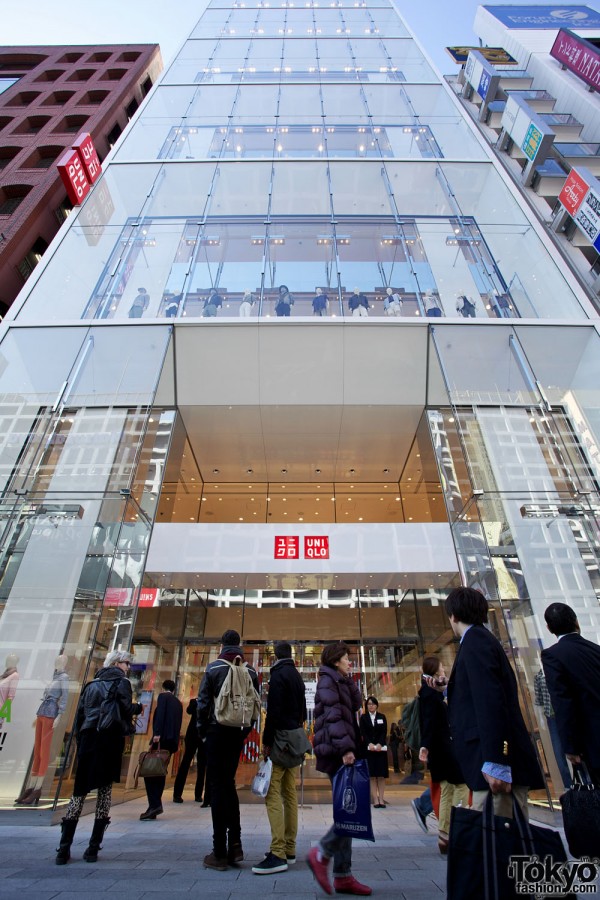 While Uniqlo is celebrated for its low price points and staple, basic apparel, the Ginza store goes one step further and introduces its large and diverse customer base to a whole host of exciting collaborations with brands such as Jun Takahashi's Undercover and tie-ups with cult film director David Lynch and traditional English womenswear brand Laura Ashley. The Japanese retailing giant, founded by Tadashi Yanai – CEO of parent company Fast Retailing and Japan's richest man, is never happy to rest on its laurels. Over the past few decades the firm has progressed from a small clothing firm based in Hiroshima into a global apparel giant with the aim of becoming the world's biggest retail company in the coming years.
The 12 storey complex, situated next to Comme des Garcons' newly opened Dover Street Market, includes everything from business attire, casualwear, baby and kids clothes, toys and a whole kaleidoscopic floor devoted to its UT t-shirt store which carries designs from DC Comics, David Lynch, popular Japanese comic One Piece, Disney, The Beatles, Winnie the Pooh, Hello Kitty, Andy Warhol and corporate collaborations with Wendys, Suntory, Dominos and MTV.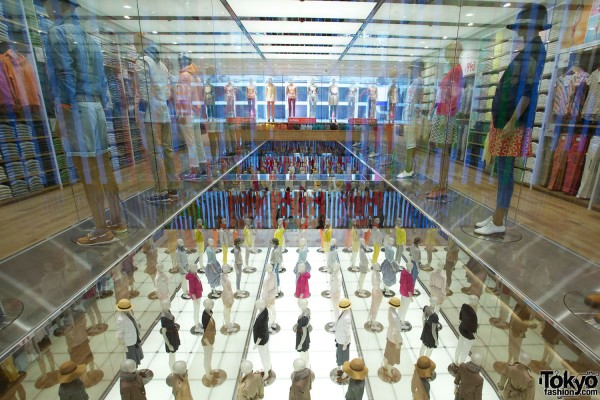 Uniqlo – which has made a name for itself over the past few years for its collaborations with everyone from Charlotte Ronson and Jil Sander to Costello Tagliapietra and Philip Lim – surprised everyone, however, with the announcement that it would unite with enigmatic, cult Japanese designer Jun Takahashi. It's not the most obvious pairing but Takahashi's line, which is aimed at all the family, fits in nicely with Uniqlo's motto – Made For All.
The children's collection was designed by Takahashi's wife Rico, while Takahashi's own designs have been noticeably toned down and simplified for Uniqlo's more mainstream customers. In a recent interview with honeyee Takahashi said, "I wanted to offer our creations to people who until now had never heard of Undercover. In this regard, we have a bigger footprint than other brands. It would be a wonderful thing to have many people wearing the clothes I had designed. Price-wise and design-wise Undercover clothing was not for everyone, but now it could be."
David Lynch's involvement with Uniqlo also surprised many critics. Four of his cult classics – Eraserhead, Lost Highway, The Straight Story and Mulholland Drive have been brought to life in his t-shirt series. While H&M continue with its collaborations with high end fashion brands such as Marni and Comme des Garcons, Uniqlo seem to revel in dabbling with artistic outsiders keeping everyone from fashion critics to its world-wide fan base constantly guessing.
Katayama's inventive interiors are astounding and delight in quirky designs such as rows of revolving mannequins, stunning LED displays and a recreation of a family home for the Uniqlo x Undercover floor. The store, which hopes to attract Ginza's many retail tourists as well as Tokyo natives, has 15 speakers of 6 different languages (Japanese, English, French, Spanish, Chinese and Korean) making it a lot easier to get your hands on what you want without language barriers.
Uniqlo Ginza Interior Pictures
Uniqlo x Undercover Collection at Uniqlo Ginza
Uniqlo Ginza UT T-Shirt Collection
Click any of our exclusive Uniqlo Ginza store pictures to enlarge them.
Here's all of the important info on the new Uniqlo Ginza:
What: Uniqlo Ginza Store
Address: Ginza Komatsu East Wing, 6-9-5 Ginza, Chuo-ku, Tokyo
Tel: 81 03 6252 5181
Uniqlo Ginza Map: Map
More Info: Uniqlo/Undercover collaboration website and main Uniqlo website.

Article text by Paul McInnes and all shop photos by Will Robb.

About the author:
Paul McInnes is a fashion and arts journalist based in Tokyo. He is the fashion editor (menswear) and contributing arts editor of The Japan Times. He is also the Tokyo editor of Sportswear International and contributes to publications such as High Fashion, Dazed Digital, JC Report and Japanese Streets. He has also been interviewed for TV including NHK's Tokyo Fashion Express and lifestyle magazines such as Metropolis and Kaleidoscope magazine.

About the photographer:
As long as he is behind his camera Will is a happy man. He has photographed everything from the slums of Bangkok to the catwalks of Tokyo. He is a contract photographer for Lonely Planet, his images and photo essays have appeared in Time Out, The Japan Times, Sportswear International and a variety of other newspapers, magazines and guidebooks around the world and his photo essays from Iraq for The Griffith Review even earned him a mention in the Australian book review of the year in 2006. In addition to his media related work, Will also shoots events, portraits, weddings and the occasional CD cover. Whatever he's working on, he always writes about his jobs and how he goes about them at Will Robb Photography.