YELL FROM SHIBUYA: Onii-kei Earthquake Relief
The male dandies of the Shibuya-based onii-kei ("big brother") fashion scene are known for being many things: narcissistic, preening, and girl-crazy to a fault, to name a few. But the tragic and catastrophic events of the Great Tohoku Earthquake have roused these world-class peacocks to take action.
Online onii-kei clothing outlets BEEAST and CRAZE have joined forces and announced a campaign to help with quake recovery efforts. The project is called "Shibuya kara genki", or, as they are calling it in English, YELL FROM SHIBUYA.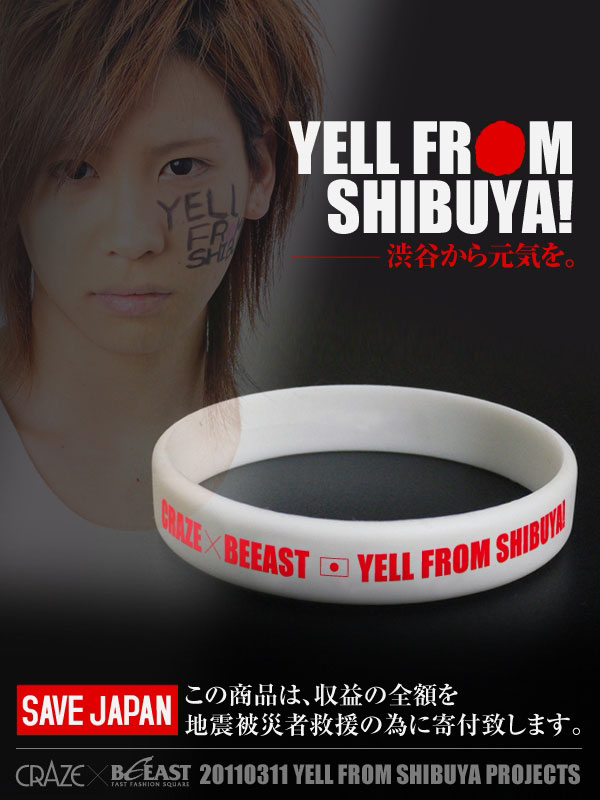 What's with the name? Shouldn't people be trying to keep calm right now instead of screaming? Sure, but the word "yell" (エール) has also come to mean "shouting encouragement" in Japan, such as cheering on athletes in sporting events. So, given the circumstances, a bit of yelling makes sense.
The CRAZE x BEEAST YELL FROM SHIBUYA campaign takes the form of a charity white band retailing for 980 yen. All proceeds from sales will be donated to the Japanese Red Cross Society to help fund emergency hospitals and rescue efforts. Plus – as an added incentive – buyers of the band will also receive 98 store points which can be used for discounts on clothing from such awesomely-named onii-kei brands as BUZZ SPUNKY, Barfait Empereur, and VICE FAIRY.
CRAZE and BEEAST are web stores closely affiliated with onii-kei style bibles "men's egg" and "men's egg youth" magazines, which explains why models from both publications are now popping up on the BEEAST web site with the words "YELL FROM SHIBUYA" written on their faces.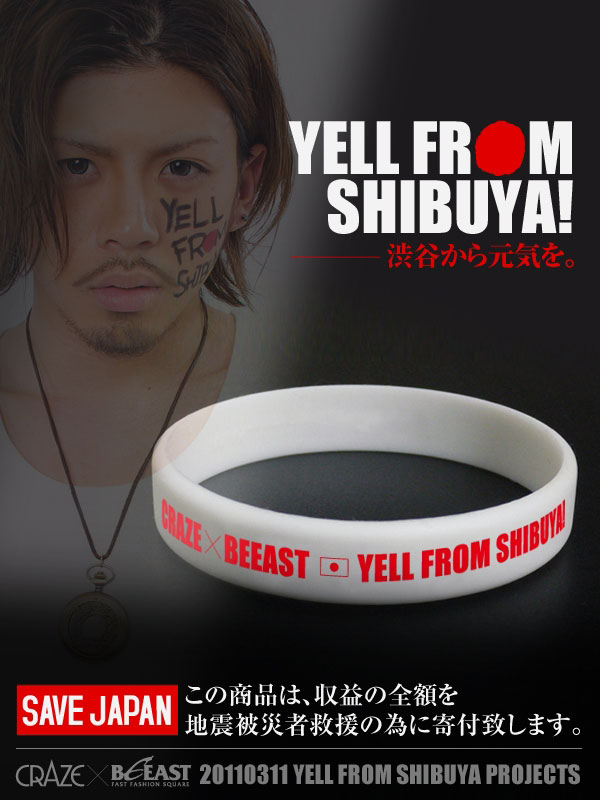 "Men's Egg" model Chibo says in a message regarding relief efforts, "I have experienced a truly terrifying thing, but I experienced it from outside of the disaster zone. I can only assume how scary it was for people who were there…people are now lacking things we normally take for granted, like electricity, gas, and food…now is the time to prove that Japan is a great country. Just as the old saying goes, 'Even dust amassed will grow into a mountain.' Let's do what we can little by little."
So let's hope more of Tokyo's bad boys of fashion put down the hair wax and straightening iron and do the right thing in this time of crisis. And that once things get back to normal, the only yelling we hear from Shibuya will come during some much-deserved partying.
Note: CRAZE x BEAST do not accept overseas orders. Please consider donating to such charities as your local Red Cross Society and the Japan Earthquake Relief Fund.
External Links: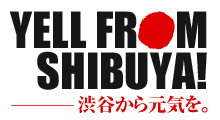 Article by Patrick Macias, photos courtesy of the YELL FROM SHIBUYA project.
About the author:
Patrick Macias is the owner of media company jaPRESS and the author of
"Japanese Schoolgirl Inferno: Tokyo Teen Fashion Subculture Handbook"
(Chronicle Books). He has written for a variety of publications in the
US and Japan including Wired, Studio Voice, and Weekly ASCII. His blog
can be found online at patrickmacias.blogs.com.