Yuki Torii International 2011 S/S
The 11th Japan Fashion Week in Tokyo is under way! Several times each day, TokyoFashion.com's contributors are reporting back from runway shows and other events all over town.
On Thursday, October 21st, Japanese label Yuki Torii International showcased their 2011 Spring/Summer collection on the runway at Tokyo Midtown. The featured model in this show was Japanese supermodel Ai Tominaga, who you can see was looking gorgeous in the pictures below.
When she was young, Yuki Torii's mother Kimiko admonished her to "find out all the beautiful things in the world!" It's not unusual for daughters to listen to their mothers – but when the mother is a renowned designer herself, her advice is probably especially noteworthy. Though as a child she dreamed of being a painter, Torii eventually changed to fashion design. She studied at the Bunka College of Art in Tokyo, then worked at her grandmother's Ginza boutique. In 1962, at her mother's behest, Torii went abroad to find herself. She fell in love with Paris, settling there in 1972 and presenting her first show at the 1975 Paris Collection. That first small show – held in a Japanese restaurant with 30 models dressed in designs inspired by the form and style of the kimono – was well-received, and she became a well-known name in the Paris fashion scene.
Yuki Torii is heavily influenced by Japanese traditional fashion, particularly the kimono. Many of her designs are modern interpretations of the kimono – flowing, wide cut skirts and blouses and bold patterns. Her concept is wearable, comfortable womenswear with traditional Japanese aesthetic. Currently, she has three brands under her name – Yuki Torii, consisting of formalwear; Yuki Torii International, which is geared towards overseas buyers; and P. S. Tori, which has a wider variety of sizes and styles to appeal to women not served by the other two brands. She also designs school uniforms.
Please click the thumbnails below to check out the full sized versions of all of the pictures for yourself.
Yuki Torii International 2011 Spring/Summer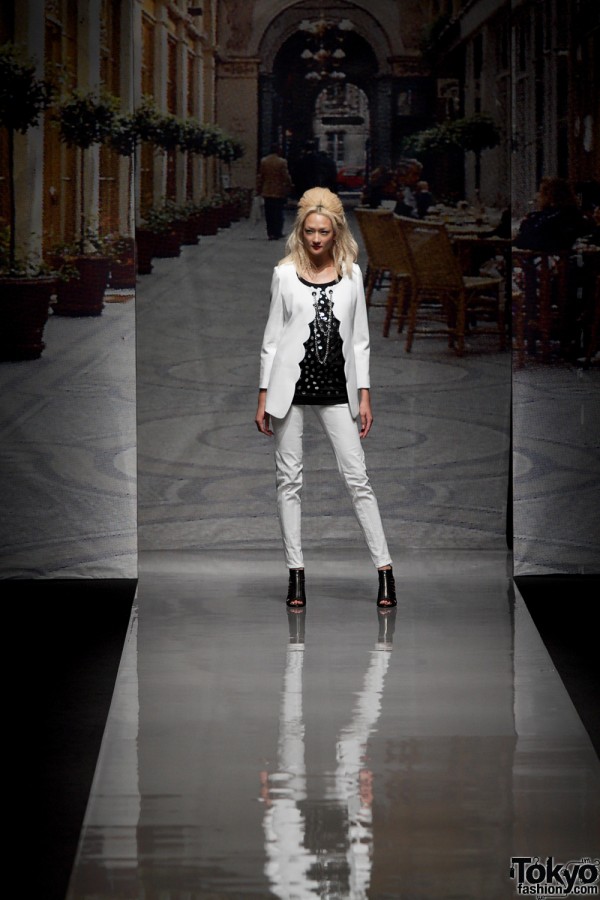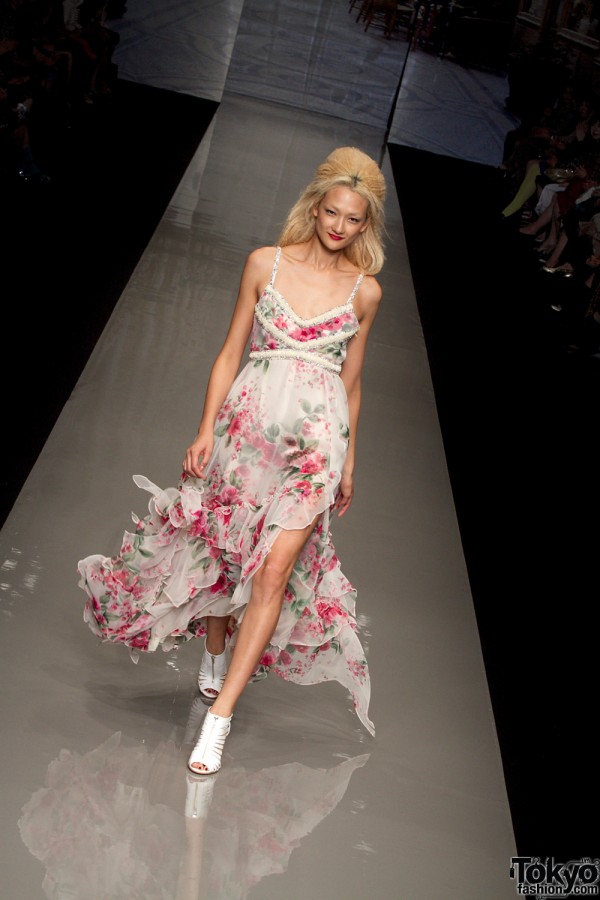 External Link: Yuki Torii International Official Website
About the photographer:
As long as he is behind his camera Will is a happy man. He has photographed everything from the slums of Bangkok to the catwalks of Tokyo. He is a contract photographer for Lonely Planet, his images and photo essays have appeared in Time Out, The Japan Times, Sportswear International and a variety of other newspapers, magazines and guidebooks around the world and his photo essays from Iraq for The Griffith Review even earned him a mention in the Australian book review of the year in 2006. In addition to his media related work, Will also shoots events, portraits, weddings and the occasional CD cover. Whatever he's working on, he always writes about his jobs and how he goes about them at Will Robb Photography.