Candy Stripper
A profile of the Japanese cute fashion brand Candy Stripper.
Articles containing the brand: Candy Stripper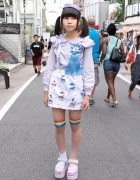 Twiin-tailed Harajuku girl on Cat Street wearing a lavender hat, a Milk ruffle top, a suspender skirt from Spank!, and a crocodile backpack.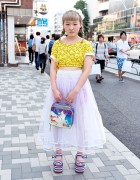 Harajuku student wearing a resale smiley faces crop top with a sheer skirt and Candy Stripper platform sandals.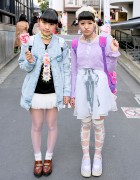 Harajuku girls wearing kawaii fashion from Candy Stripper, Jouetie, 6%DOKIDOKI & Bubbles.
Blonde girl in strawberry print dress, animal print pants, panda sneakers & plastic necklace with child in cape & pants.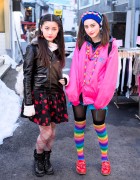 Sisters in twintails on the street in Harajuku wearing rainbow socks, tartan tights and tiger backpacks.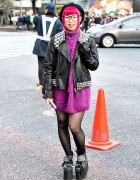 Japanese entertainer with pink hair on the street in Shibuya wearing fashion from Glad News, Jouetie, Spinns and Candy Stripper.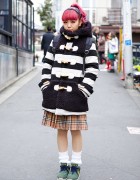 Pink-haired girl in Harajuku with Candy Stripper duffle coat, plaid skirt and green platform sneakers.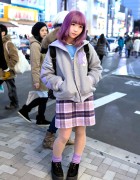 Harajuku girl with purple hair wearing a pastel Candy Stripper jacket, plaid pastel skirt and platform creepers with purple socks.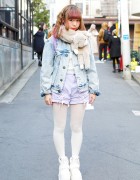 Harajuku kawaii model with pastel hair wearing denim shorts and jacket, platforms, and a cute plushie muffler.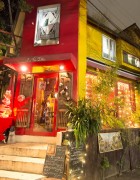 Over one hundred pictures of the 2013 Christmas season in Harajuku – featuring the shops and sights of Cat Street and the Ura-Hara area.