Candy Stripper
A profile of the Japanese cute fashion brand Candy Stripper.
Articles containing the brand: Candy Stripper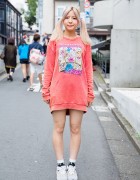 Harajuku girl with twin tails and cute oversized sweatshirt, heart and bow rings, socks and sneakers.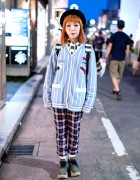 Harajuku girl wearing a Candy Stripper striped cardigan with pink plaid pants, platform sneakers, and a striped backpack.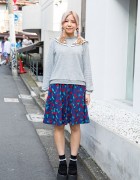 Harajuku girl with braided tails wearing a sailor collar sweatshirt with a cherry print skirt, bow ring and platform loafers with heart socks.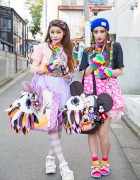 Harajuku sisters with Disney bags, t-shirts, mini-skirts, hair accessories and socks with sandals.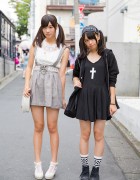 Harajuku girl wearing a cross dress with hoodie, tote bag and sneakers vs. girl wearing lace top and suspenders skirt, heart shaped bag and low heels.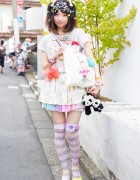 Harajuku girl with decora hair pins wearing a pastel top and layered skirts, with over the knee socks and sandals, milkshake tote bag, plastic jewelry and panda plushies.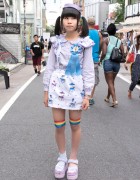 Twiin-tailed Harajuku girl on Cat Street wearing a lavender hat, a Milk ruffle top, a suspender skirt from Spank!, and a crocodile backpack.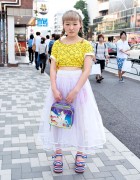 Harajuku student wearing a resale smiley faces crop top with a sheer skirt and Candy Stripper platform sandals.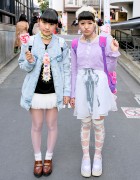 Harajuku girls wearing kawaii fashion from Candy Stripper, Jouetie, 6%DOKIDOKI & Bubbles.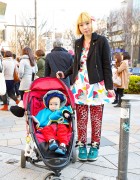 Blonde girl in strawberry print dress, animal print pants, panda sneakers & plastic necklace with child in cape & pants.