Candy Stripper
A profile of the Japanese cute fashion brand Candy Stripper.
Articles containing the brand: Candy Stripper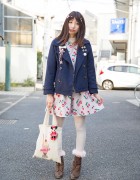 Harajuku girl in cherry print dress, blue jacket, tote bag, lace-up boots and plastic accessories.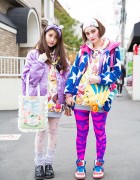 Harajuku girls in colorful outfits, wearing matching ice-cream print sweatshirts with animal-shaped bags, printed leggings, hair accessories and heart rings.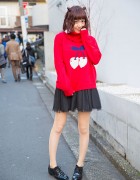 Harajuku singer with a cute cherry print sweater, cherry pom-pom earrings, mini skirt and patent oxfords.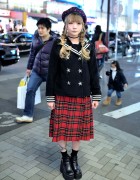 Harajuku girl with a twin braids hairstyle wearing a sailor jacket with a plaid midi skirt, platform heels, and a Michelin backpack.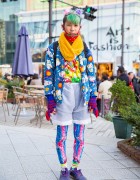 Harajuku guy with partially shaved hair & green bangs wearing a Hello Kitty jacket over M&M t-shirt, shorts and leggings, yellow muffler and backpack, knitted gloves & sneakers.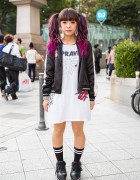 Harajuku girl with dip dye twin tails wearing a t-shirt dress and bomber jacket with sneakers and studded backpack.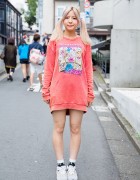 Harajuku girl with twin tails and cute oversized sweatshirt, heart and bow rings, socks and sneakers.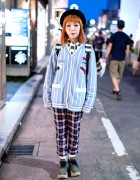 Harajuku girl wearing a Candy Stripper striped cardigan with pink plaid pants, platform sneakers, and a striped backpack.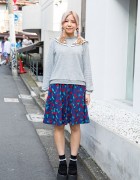 Harajuku girl with braided tails wearing a sailor collar sweatshirt with a cherry print skirt, bow ring and platform loafers with heart socks.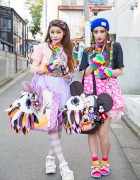 Harajuku sisters with Disney bags, t-shirts, mini-skirts, hair accessories and socks with sandals.