Candy Stripper
A profile of the Japanese cute fashion brand Candy Stripper.
Articles containing the brand: Candy Stripper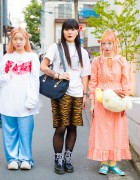 Harajuku girls in resale fashion with gingham dress, camisole over sweater, turtleneck top and Pompompurin plush accessories.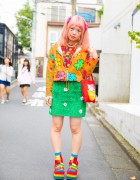 Harajuku girl in pink twin tails sporting decora-inspired fashion with colorful and printed pieces.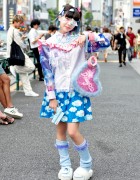 Cute Harajuku street style with ruffles and clouds, handmade fashion, furry platform sandals, a heart bag, and loose socks.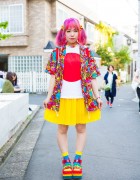 Harajuku girl in colorful fashion style with hoodie jacket, flag shirt, pleated skirt and rainbow platform sandals.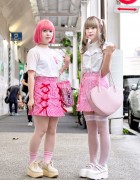 Harajuku girls in gingham ribbon skirts by Candy Stripper with white tops, platform shoes, and cute handbags.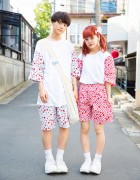 Harajuku remake fashion couple in matching printed t-shirt, matching shorts, and Tokyo Bopper platform sneakers.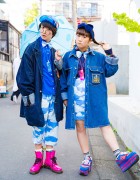 Harajuku dancers in matching outfits with denim jackets, blue shirts and cloud print bottoms.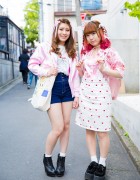 Harajuku girl with pink hair wearing a pajama top and heart suspenders skirt with creepers and pink backpack vs. Harajuku girl in pink jacket, bunny t-shirt and bag, denim shorts and heeled ankle boots.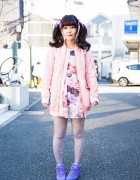 Harajuku girl with twin tails wearing a donut print dress, pink jacket, heart print tights, lilac backpack and sneakers.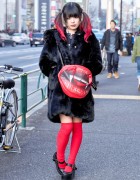 Harajuku girl with pink hair wearing a faux fur coat with knee socks, platform shoes, and a lip print bag.