Candy Stripper
A profile of the Japanese cute fashion brand Candy Stripper.
Articles containing the brand: Candy Stripper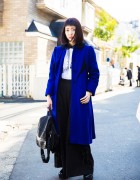 Stylish Harajuku girl in electric blue coat, wide leg pants, backpack and platform shoes.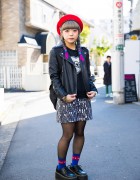 Harajuku girl with dip dye twin braids in rock fashion with motorcycle jacket, graphic print skirt, tights and platform creepers.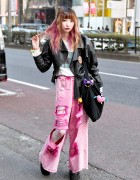 Harajuku girl with pink hair and cute fashion in a leather jacket and ripped pink denim, platform shoes and colorful accessories.
Harajuku girl in cute colorful fashion with a faux fur coat over a Porter Robinson t-shirt, Candy Stripper pants, and Love Drug Store heart slipons.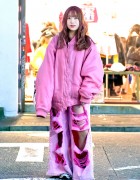 Harajuku girl with pink hair, oversized pink bomber jacket, ripped pink jeans, sneakers, and a canvas tote bag.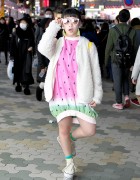 Japanese dancer on the street in Harajuku wearing a watermelon print dress and watermelon socks, platform sneakers, and a fuzzy sweater.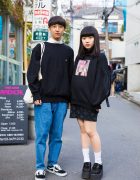 Harajuku duo in chic sweater fashion styles featuring printed skirt, jeans, platform creepers, leather backpack, canvas tote and running shoes.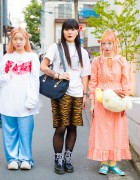 Harajuku girls in resale fashion with gingham dress, camisole over sweater, turtleneck top and Pompompurin plush accessories.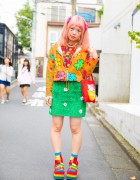 Harajuku girl in pink twin tails sporting decora-inspired fashion with colorful and printed pieces.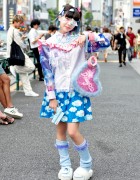 Cute Harajuku street style with ruffles and clouds, handmade fashion, furry platform sandals, a heart bag, and loose socks.