Candy Stripper
A profile of the Japanese cute fashion brand Candy Stripper.
Articles containing the brand: Candy Stripper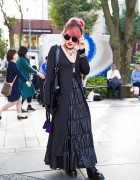 Moth in Lilac guitarist Lisa13 with pink hair, a maxi dress, long cardigan, various accessories, monster bag and lace-up boots.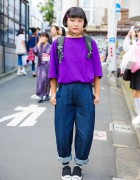 Harajuku girl with bob hairstyle, purple t-shirt, boyfriend jeans, black backpack and canvas sneakers.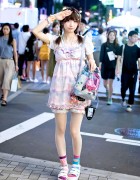 Harajuku girl wearing a colorful cute look by the Japanese brands 6%DOKIDOKI, Candy Stripper, Shimamura, Gemme, and WEGO.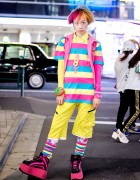 Harajuku Fashion Walk organizer wearing kawaii street fashion from Candy Stripper, Walter Van Beirendonck, 6%DOKIDOKI, and Buffalo platforms.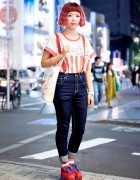 Harajuku girl with pink hair wearing a Candy Stripper tee with suspenders, Spinns pants, and a resale Gremlins tote bag.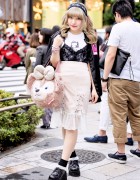 Blonde Harajuku girl in a Candy Stripper headband with a Bubbles Harajuku jacket over a Katie top, Mon Lily skirt and WEGO platform shoes.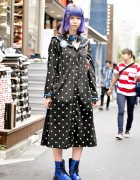 Harajuku girl with purple hair wearing a polka dot sailor collar dress from Candy Stripper and cute accessories.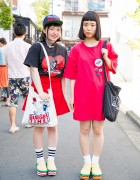 Harajuku girl in oversized t-shirt, black tote bag and burger shoes vs. Harajuku girl in t-shirt and mini skirt, white tote bag and burger shoes.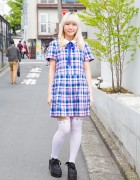 Blond Harajuku girl in plaid dress with collar and bow, hearts over-the-knee socks and platform Tokyo Bopper shoes.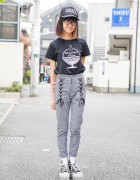 Harajuku girl with glasses and Suicidal Tendencies cap in t-shirt and gingham pants with Converse platform sneakers.