6%DOKIDOKI Fashion Show at Rune Boutique Los Angeles – With Kyary Pamyu Pamyu, Yuka & Vani
The opening party of the Rune Boutique exhibition in Los Angeles earlier this month drew thousands of Japanese fashion and art fans. The event featured original artwork by the "Father of Kawaii" Rune Naito, a live performance by the current face of Harajuku Kyary Pamyu Pamyu, and a fashion show by Harajuku kawaii brand 6%DOKIDOKI. We've already published a huge Rune Boutique report with over 500 pictures. Now it's time to take a closer look at the 6%DOKIDOKI fashion show – and the world debut of the 6%DOKIDOKI menswear collection!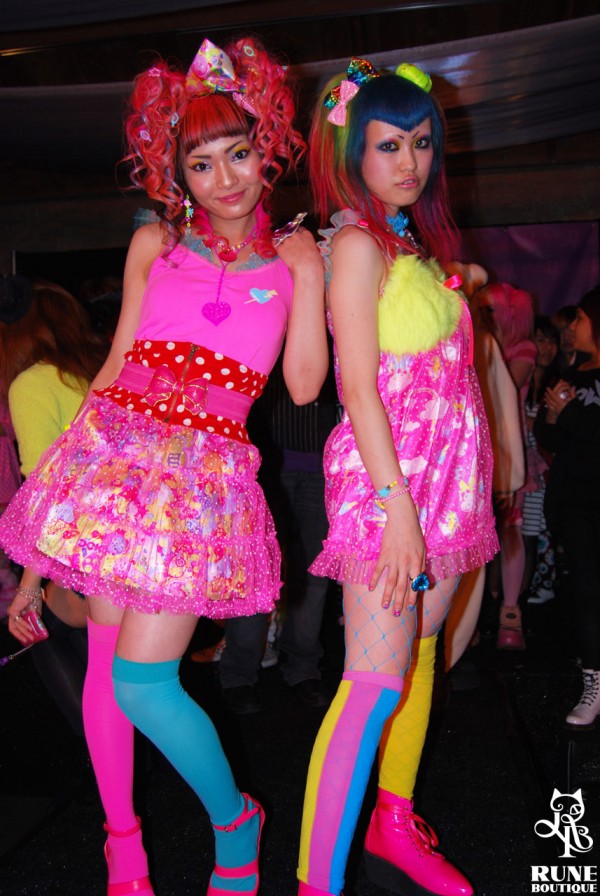 6%DOKIDOKI fashion shows are not known for their conventionality – unless you consider neon rainbow colors, lots of candy-sweet accessories, and the occasional runway appearance of mutant creatures and robotic rabbits to be conventional. 6%DOKIDOKI's show at the Rune Boutique opening party was all of that – and more! The "more" in this case was the debut of the 6%DOKIDOKI menswear line.
6%DOKIDOKI director Sebastian Masuda has his own unique sense of style. This is apparent not just in his creations for 6%DOKIDOKI, but in the way he is dressed whenever we see him around Tokyo. With Sebastian's personal interest in menswear, and the interest from Japanese guys we see at 6%DOKIDOKI events here in Japan, it was no big surprise to us that the brand eventually decided to expand in that direction. The men's collection shown at Rune Boutique didn't feature too many items, but what it did feature was bright, colorful, and had a youthful vibe.
After the menswear was presented, the main fashion event of the night began – the 6%DOKIDOKI womenswear fashion show! Harajuku models and 6%DOKIDOKI shopgirls Yuka and Vani both participated in the show, along with local models. The crowd was ecstatic when Kyary Pamyu Pamyu appeared on the runway, fully decked out in 6%DOKIDOKI fashion and a gravity-defying hairstyle. Just in case Kyary, Yuka, and Vani dressed in amazing colors weren't enough kawaii-ness, one of the bizarre creatures that 6%DOKIDOKI has used in their visual art shows in Japan joined them on stage. As the show wound down, the 6%DOKIDOKI models danced with audience members. The whole scene morphed from a fashion show into one big colorful party. That's the power of kawaii!
Enjoy our 6%DOKIDOKI fashion show pictures from Los Angeles. You can click on any of the images to see them bigger. Also, don't forget that the Rune Boutique exhibition – with a 6%DOKIDOKI popup shop – is running through January 9, 2012 at Royal/T Cafe.
Click any of the 6%DOKIDOKI fashion show pictures to see them in high resolution.
Now that you've seen the 6%DOKIDOKI fashion, don't forget to check out our full Rune Boutique party report, with over 500 additional pictures of Japanese kawaii fashion, music, and art!
For more information on 6%DOKIDOKI & Rune Boutique, check out these links:
Photos by Dianne Garcia.