9mm Parabellum Bullet "Revolutionary" USB Drive
The Japanese rock band 9mm Parabellum Bullet has announced a new single to promote their upcoming album, "Revolutionary". Instead of releasing the single on CD, it will go on sale as a limited edition USB flash drive printed with the 9mm Parabellum Bullet logo. This may not technically be fashion news. However, since the singer for 9mm has his own fashion brand (Eclodevice), since we sometimes listen to their music here at Tokyo Fashion HQ, and because the lead singer has the best Japanese afro we've seen in the last few years, we figured we'd let you know about it.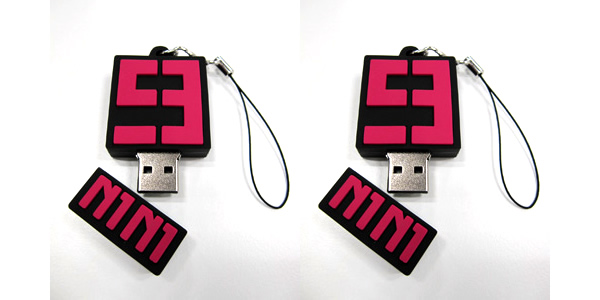 The "Revolutionary" USB single will feature four items, including a high quality (they claim higher than CD quality) version of the first single from the band's upcoming album and a music video. The contents of the USB flash drive are listed as follows:
1. Music "The Revolutionary" (WAV,MP3)
2. Music Video "The Revolutionary" (MPEG4)
3. Digital booklet
4. Original desktop icons (for Win/Mac)
The coolest thing about release is that the USB drive is a fully functional 2 gig flash memory drive imprinted with the 9mm logo in pink and black. 2 gig is a bit small for a flash drive these days, but a drive that looks cool is better than one that's high capacity, right?
The 9mm Parabellum Bullet USB single will be released on April 14, 2010. One week later on April 21st, the band's third studio album "Revolutionary" hits stores in Japan. The USB flash drive will be a limited edition release and 9mm has a hardcore army of fans in Japan, so you might think of pre-ordering if you want one.
Official site: 9mm Parabellum Bullet