Alice Black 2012 S/S Jewelry Collection
The 2012 S/S edition of Japan Fashion Week (aka Mercedes-Benz Fashion Week) in Tokyo is under way! Several times each day, TokyoFashion.com's contributors are reporting back from runway shows and events all over town. Be sure to check out all of our Mercedes-Benz Fashion Week Tokyo coverage.
During JFW (though not as an official participant), Japanese accessory label Alice Black showcased their 2012 Spring/Summer "CLASH CITY ROCKERS" collection as part of a joint exhibition with the apparel brand Gender.
Alice Black creator Norimi Tanabe is a familiar face to fans of Tokyo Fashion. Not only is his exceptional personal style regularly featured in Japanese fashion magazines and in street snaps all over the web, but he's also frequently seen at fashion parties in Tokyo, either DJing the event or just partying.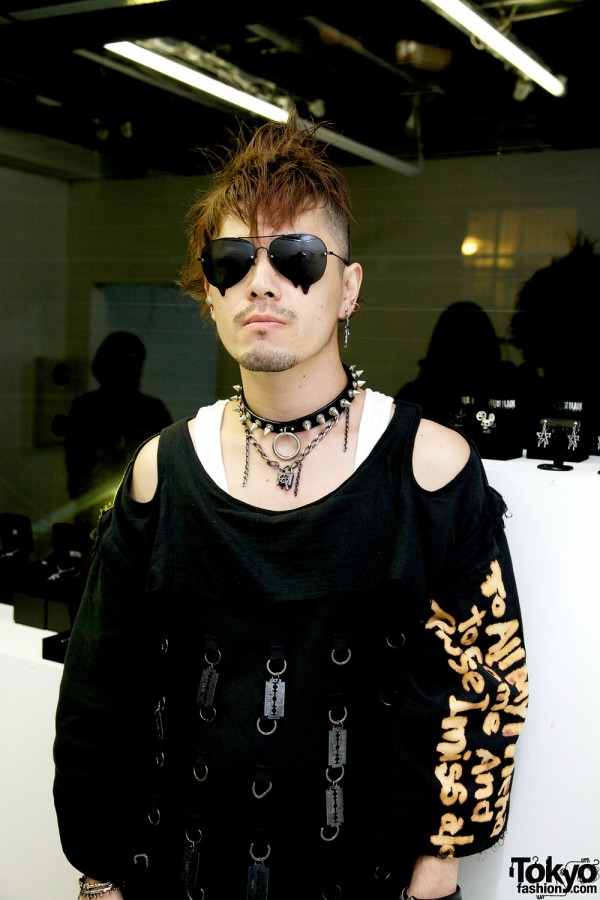 Sharp eyes will also recognize his Alice Black accessory line from fashion-forward Japanese shops like Candy, Cannabis, Berberjin, and Wall (at LaForet Harajuku). Lately, we've been seeing Alice Black jewelry on Tokyo's coolest kids in only slightly lower numbers than we see of the forever queen of hip street accessories, Vivienne Westwood herself. The Alice Black brand takes inspiration from London 1970s & 80s punk and mixes it with Alice in Wonderland imagery and Japanese street cool to create unisex silver accessories that are sometimes cute, sometimes grotesque, and always memorable.
Fans of Japanese visual kei music may also know Alice Black through the limited edition rings created in collaboration with SuG singer Takeru's brand Million$Orchestra.
The jewelry in the Alice Black 2012 S/S collection shown during Japan Fashion Week (off the official event schedule) incorporated chunky silver rings, necklaces, and earrings with designs that included crosses, bows, and the Union Jacket. Some items featured Alice Black's trademark character, which melds skulls and twisted anarchy signs into an evil Mickey-esque mouse. The rings from the Million$Orchestra collaboration – where the anarchy sign on the mouse's ear twists into a dollar sign – were also on display. With Alice Black's popularity on the streets of Tokyo, we fully expect to see these accessories attached to ears, necks, and fingers all over Harajuku as soon as they're available in the shops.
Please click the Alice Black images below to see the jewelry in high resolution.
Alice Black 2012 Spring/Summer
Click any of the Alice Black pictures to enlarge them!
External Links:
***
About the photographer:
All photographs by KIRA.